Real Betis vs Manchester United summary: score, goals, highlights, Europa League
Betis vs Man Utd: as it happened
Thanks for reading!
We're going to close this live feed out.
Having been on the back foot for much of the first half in Seville, Manchester United ended up easing through after the break. They'll now find out the identity of their quarter-final opponents in Friday's draw in Nyon, as they continue their bid to win the Europa League for a second time.
We'll be running a live blog of the draw, which begins at 8am ET. We'll also have live coverage of the Champions League quarter-final draw, which gets underway an hour before then. Be sure to join us for both!
"Positive talks" over United takeover
Off the field, it's being reported that the Qatari takeover at United is on course after "positive talks" at Old Trafford today.
Here's our piece from earlier this afternoon about Sheikh Jassim bin Hamad al-Thani's efforts to buy the Premier League club from the Glazer family.
Ten Hag reacts to United's win in Seville
Speaking to UK broadcaster BT Sport, Manchester United boss Erik ten Hag has said the Red Devils benefited from showing greater composure in possession after the break.
"I think in the second half we were much better on the ball, much more calm," Ten Hag said. "We kept the ball in the opponent's half and let them run, and you see it: we created chances."
When is the UEL quarter-final draw?
The draw for the quarter-finals will take place in Nyon at 8am ET on Friday 17 March, just after the draw for the Champions League last eight.
It'll be a completely open draw: there will be no seedings, and teams from the same national association can be drawn together.
Who's playing in the late UEL kickoffs?
With Manchester United, Sevilla, Juventus and Feyenoord all through to the quarters, four teams still have to join them in the last eight. That second set of qualifiers will come from the quarter of ties that are just kicking off now:
Arsenal vs Sporting (2-2 agg)
Ferencváros vs Bayer Leverkusen (0-2 agg)
Real Sociedad vs Roma (0-2 agg)
Union SG vs Union Berlin (3-3 agg)
Rashford edges clear at top of UEL goal charts
Marcus Rashford's goal - his 27th in all competitions this season - takes him one clear at the top of the Europa League scoring charts, with six.
Victor Boniface will have the chance to add to his five so far in this term's tournament when Union SG face Union Berlin in one of today's four 5pm ET kickoffs - they're about to get underway.
Feyenoords's Santiago Giménez also has five now, after netting one in the Dutchmen's thumping of Shakhtar.
(Photo: CRISTINA QUICLER / AFP)
UEL early kickoff results
Here are the results from all four of today's early kickoffs in the Europa League last 16.
United are joined in the last-eight hat by Juventus, Sevilla and Feyenoord.
Sevilla, who are six-time winners of the Europa League, have held on in Turkey for a 2-1 aggregate victory, while Juventus' 2-0 triumph in Germany has taken them past Freiburg.
The story of the day so far, though, is that 7-1 win for Feyenoord over Shakhtar. That's after the sides had drawn the first leg 1-1.
Guardado: "If you don't take the chances you have against a side like this..."
Betis' Andrés Guardado has spoken to Spanish TV channel Movistar, the Mexican lamenting his team's inability to convert the opportunities they created in the first 45 tonight
"We had chances in the first half to close the gap," he said. "If you don't take the chances you have against a side like this, it's pretty much impossible. We'll just have to focus on the league now.
"We felt if we could go in at half with a lead, it would have been possible. The home fans would have put the pressure on, and who knows what could have happened."

Peeep peeep peeeep!
Betis might have made things interesting had they taken one of the good chances they created in the first half. They weren't able to - and the second half was very comfortable for United.
United have now knocked out two LaLiga teams in a row in the Europa League, and take their place in Friday's quarter-final draw.
Betis are given a warm ovation from the Benito Villamarín as they leave the field. They've lost 5-1 on aggregate and have definitely been second best - certainly in the second halves of each tie - but they gave it a right good go.
Elanga advances towards the Betis box and lets fly, but Pezzella gets a boot in the way. The ball ricochets back towards Elanga, who has a second bite at the cherry - and slaps a left-footed volley well off target.
"I love you Betis!" the home fans chant in unison.
Sabaly fires a low ball in from the right to Iglesias, who controls and tries to turn into a shooting position. Lindelöf does well to hold the striker off, and ends up winning a free-kick off him.
There'll be three minutes of time added on.
Elanga collects on the left wing and cuts inside in search of space to shoot or lay it off for a team-mate. He dallies a little, before trying to find Weghorst at the top of the box, and his pass is cut out.
Betis break, working it to Canales on the right. He lifts his head and slips a neat little ball into Juanmi on the penalty spot. Can Juanmi get a consolation? No, he cannot. He might have hit it first time, but instead chooses to take a touch - and his control is very heavy. United get it away.
Canales feeds it left for Miranda, who's got forward to the United byline. He fizzes a cross into the six-yard box that almost takes Juanmi's head off, and was slightly behind him, too. Had Miranda's ball been a little softer and a yard further forward, it may well have been an easy finish for Juanmi from close range.
Pezzella heads a left-wing corner well over the United bar.
At the other end, Pellistri releases Sancho in behind the Betis defence. He's clearly about five yards offside, but - such is football these days - the officials have to let the move finish before the flag goes up. Rui Silva comes out to block, offside is called, and the home fans voice their disapproval for the whole charade.
United work it right to Dalot, who advances into the box and towards the byline with plenty of space to choose from a gaggle of red shirts in the middle. His cut-back is blocked.
The Betis fans know only too well that their side is beaten, but break out in a stirring rendition of the club's anthem. Lovely stuff.
The home side create their first attacking moment of substance for quite some time when Sabaly brings it forward down the right and whips a dangerous cross into the centre, but United deal with it.
Two more United substitutions: Diogo Dalot and Victor Lindelöf replace Wan-Bissaka and Martínez.
Again United create an eminently presentable chance to score another. From the left-hand channel, Elanga lifts the ball into the box to Sancho's run to the near post. He touches it down to Weghorst, who fires it first-time at goal - and forces Rui Silva into another very decent stop.
There are definite parallels with last week's first leg. Betis have faded badly in this second half, and United are now completely on top.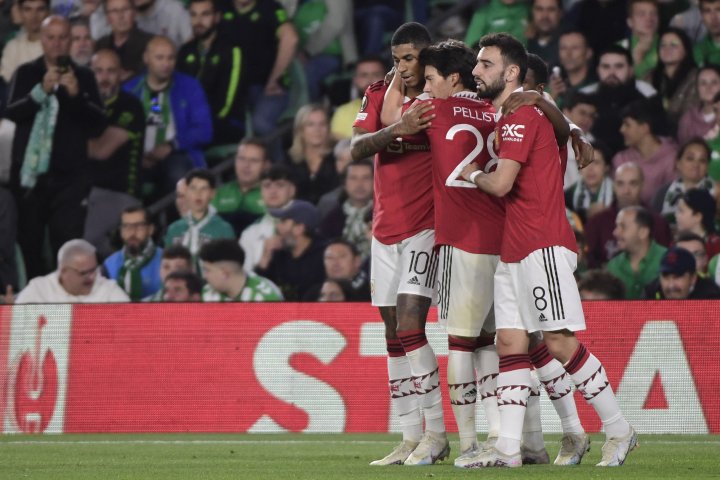 Marcus Rashford (left) celebrates his goal with Facundo Pellistri (centre), Bruno Fernandes (second right) and Tyrell Malacia.
(Photo: CRISTINA QUICLER / AFP)
United replace Bruno with Anthony Elanga.
Betis make another substitution, replacing Rodríguez with Andrés Guardado.
United look like they very well could go on and score one or two more. They're creating chances every couple of minutes now. Bruno carries the ball forward on the left, before slipping it into the box to meet Sabitzer's run. Sabitzer turns the ball on towards goal first time, and is only denied by a smart Rui Silva save!
Betis work it to Willian José, who tries to lift it over the United defence for Iglesias to chase. Iglesias doesn't read his colleague's intentions, and it bounces safely through to De Gea.
Now there's a chance for Sancho. He twists and turns on the left-hand corner of the Betis box, before his low shot is clearly deflects behind for what should be a corner. Goal-kick is given, though.
Maguire is so close to doubling United's lead on the night! Bruno clips in an inswinging corner from the left, sending his delivery right onto Maguire's head at the near post. The captain tries to glance it past Rui Silva and into the net, but directs his header just over the bar!
It's a lot quieter in the Benito Villamarín now.
Now United shuffle their pack: Fred and Rashford are off, with Marcel Sabitzer and Jadon Sancho on.
United are now 5-1 up on aggregate, and that surely is tie over.
Betis respond to that Rashford goal with a triple substitution: Ruibal, Ayoze and Joaquín are replaced by Sergio Canales, Willian José and Borja Iglesias.
Goal! Real Betis 0-1 Manchester United - Rashford scores again!
After that chance I told you about, Rashford had also missed another a few moments ago, firing over the bar after being released into the box by Bruno. With his third shot in as many minutes, though, he scores a terrific goal.
Receiving the ball some 25 yards or so out from goal, Rashford takes one touch to steady himself, before sending a dipping shot past Rui Silva and into the keeper's right-hand post. He was given too much time to shoot, but still; it's a sublime strike.
It's developing into end-to-end stuff in the opening stages of the first half. First, United create a really, really good chance for Rashford. It's worked to the England striker in space to shoot on the left-hand side of the Betis box, but Rui Silva dashes off his line and blocks!
At the other end, Joaquín's left-wing corner finds Ayoze, who sends a powerful, glancing header towards De Gea's corner. The United keeper has to look very alive to beat it out!
At one end, Maguire produces a crucial interception to stop William Carvalho's outside-of-the-boot through ball from releasing Ayoze in behind the United defence.
At the other end, Pezzella does very well to come across and cut out Pellistri's path to goal as the youngster bursts forward into the Betis area.
A moment later, Bruno touches the ball left for Fred, who has space to shoot from 25 yards. The Brazilian balloons his effort well over the bar.
On the left, Miranda works a yard of space with a flick that isn't executed with complete elegance, to be honest. It's more or less effective, though, but having got to the byline, his cross into the United box is too long.
Joaquín collects the loose ball and takes on Malacia... but slips over and loses control of the ball. United can clear.
Right away, Betis create an extremely inviting opportunity for Joaquín to shoot. Ruibal slips the ball into the winger's path, and he gets his head down and sets off towards the United box. From 20 yards or so out, he tries to bend a curler into De Gea's left-hand top corner, but his aim is ever so slightly off. The ball drifts a yard or two over the bar.
Peeeep! The second half is up and running in Seville.
No half-time changes for either side.
Speaking at half time, Betis CEO Ramón Alarcón tells Spanish TV that the club has welcomed only a pared-down delegation of Manchester United chiefs to the Benito Villamarín, given that United head honchos are at Old Trafford today on important business.
AS USA's Will Gittins has the lowdown on said important business.
All the UEL half-time scores
Here are the scores from around the grounds in today's early Europa League kickoffs:
Peeep peeep peeep! That's half time.
Betis had United on the ropes for two fairly sizeable spells of that first 45, and Juanmi has missed two very good chances to score for the hosts. They've also hit the post through a fine Joaquín effort from range, but the breakthrough has eluded them.
Unless my memory is failing me, that Pellistri shot in added time was the only occasion United truly threatened to find the net.
Pellistri hits the post! Bruno curls a free-kick into the Betis box from deep on the left, and Los Verdiblancos can only clear it right to Pellistri, just inside the area. He connects with a bouncing shot that has Rui Silva beaten, but bounces back off the upright! Weghorst stretches to try to snap up the rebound, but can't. That's as close as United have come in this first half.
Oh, that's a shame. Ruibal plays a give-and-go and heads towards the United box, with Juanmi at the top of the area. He plays it to the forward, who has Miranda arriving in acres of space behind him. If he can just turn it to his left, Miranda is one-on-one with De Gea. He can't, and the chance is lost.
There'll be a minute of time added on.
That's a crucial block by Maguire. From the right, Sabaly squares the ball to Juanmi, who's found a pocket of space just inside the United area. He gets a clean, first-time strike on it, but we'll never know whether his shot was headed in. Maguire gets himself in the way and the ball bounces back off his legs. Juanmi jumps up and down in frustration.
Joaquín lifts in a free-kick from the right wing. United clear it, but only as far as Rodríguez on the edge of the penalty box. The Argentine tries to wriggle into a yard of space to shoot, but he can't. The visitors get it away, but they're being pinned back at the mo.
Bruno loses it in an area where he really doesn't want to lose it, and after keeping the ball neatly for a moment or two, Betis work it to Miranda on the left. He cuts a first-time ball back from the byline, but Maguire is there to intercept just as Ayoze is winding up to meet the cross.
Pellistri bursts forward into crossing space on the right, but lifts his ball right into Rui Silva's arms.
At the other end, Ruibal looks to lift a ball from right to left into the United box, but overhits it massively. It flies behind.
Rashford controls a long ball forward, but is offside. He doesn't give Pezzella the ball back as quickly as the Betis defender would like him to, and the pair engage in a brief bout of shovey-shovey. It's a nonsense, and the referee is quickly over to tell them to stop being such silly chaps.
That's a fine save by De Gea, and again Betis spurn an eminently decent chance to get ahead! Ruibal feeds a smart through ball into Juanmi's run into the United area, but De Gea is very quickly off his line to meet the forward, who shoots on the half turn. The United keeper makes himself big, and Juanmi is denied.
Pellistri is the first man into the book, after catching Rodríguez with a bit of a wild challenge. After playing a one-two in the right-hand channel, the 21-year-old's first touch is slightly too heavy when he receives the return, and he ends up felling Rodríguez as he stretches to get the ball back under his control. A yellow card is maybe a bit harsh, but there we go.
Miranda gets his first involvement, lifting a high ball into the box from a deep position on the left. It's too close to De Gea, who steps off his line to claim.
Abner can't continue, and is replaced by Miranda.
United look to have weathered that Betis storm, and come forward again. Rashford slips it left to Malacia, who fizzes a low cut-back into the box, towards the penalty spot. The hosts get it away, but United win a corner.
Rui Silva flaps somewhat at Bruno's delivery, which arrows into a crowded six-yard box, but Betis clear.
That's fine defending from Sabaly, albeit the flag was up anyway. From inside the United half, Casemiro lifts the ball high over the Betis defence for Rashford to chase it into the box. He struggles to bring the bouncing ball under his spell, and is muscled off it by Sabaly, to huge cheers of approval from the Betis fans. But as I say, Rashford was offside.
From the right, Casemiro lifts the ball into the area, where there are three men waiting to finish off his cross. Rashford it is who connects with the delivery, with a strange, chested finish that's straight at Rui Silva. The flag is up for a pretty clear offside, though. It wouldn't have counted.
Bruno shots from 25 yards or so, and shoots well off target. He thinks his effort was deflected behind by a green and white shirt, but the officials disagree with him.
Ah. Abner appears to have hurt himself in the process of making that tackle on Wan-Bissaka. Juan Miranda is out to warm up on the touchline, and Betis may have to make a change.
Back come United, Wan-Bissaka scuttling forward into the box in search of a yard of space to cross. He has Abner all over him, and the left-back dispossesses him and clears. Excellent defending.
Fred receives 30 yards out and slips it to Weghorst, who has peeled off from the top of the box. He tries to touch it out wide to Pellistri, but misreads the Uruguayan's intentions and plays it behind him. The move breaks down.
Again Betis come thundering forward. It's played through to Ayoze, who scampers into the box behind Martínez - but is just, just beaten to the ball by De Gea.
United do not look comfortable at all.
Betis are enjoying a really good spell right now. They win another corner, prompting huge roars from their Benito Villamarín faithful.
The corner is whacked straight down De Gea's gullet, however, and United take the chance to clear and give themselves a bit of breather.
A moment later, Betis do get it to Joaquín in shooting space - and his effort grazes the post, with De Gea looking beaten! Ayoze plays it to the captain halfway inside the United half, and he sets off towards the top of the box before letting fly. He's so close to finding the net!
United win a free-kick on the right, which Bruno swings into the middle. Betis clear without too much trouble, and are suddenly haring forward at a back-pedalling visiting defence.
It's fed into Juanmi, who has Joaquín tearing into space to his right. His control lets him down badly, though, and by the time he's sorted himself out, Malacia has tracked back to cut out his pass forward towards Joaquín.
That's a terrific chance for Betis to open the scoring! Ayoze feeds a ball through for Juanmi to run clear of Maguire and into the United box. Maguire simply can't keep up with him. De Gea comes out to meet Juanmi, but his low, angled finish zips just past the far post! A real let-off for United; that would have been exactly the start Betis need if they're to turn this around.
Wan-Bissaka brings the ball forward down the right, but Juanmi has chased back and deflects the right-back's cross behind for a corner.
Bruno delivers the corner right onto Casemiro's head on the penalty spot... but the Brazilian glances wide!
The first promising moments for Betis in attack. Bruno misplaces his pass forward from the top of the United box, and in the blink of an eye the hosts have won it back and released Ayoze into space on the left-hand side of the box. He can't test De Gea, but back come Los Verdiblancos.
It's worked out right to Sabaly, who crosses towards Juanmi on the penalty spot. Maguire does enough to put the forward off, though. The United captain hurts himself in the process of doing so, but looks like he'll be OK.
It's been all United ball thus far. Mindful of their role in pulling off a famous comeback, the Betis fans are making a great deal of noise.
Right away, Bruno Fernandes' ball forward releases Pellistri into space to attack the Betis defence on the right. He surges to the byline and lifts a cross into the middle towards Rashford, but the youngster's ball is overhit. It flies over everyone's heads, and away from the danger area.
Peeeeep! Serbian referee Srdan Jovanovic gets us underway.
Who's on a yellow card?
The teams are now out and lining up for the Europa League anthem. There are five players - four of whom are starting - who are a booking away from picking up a one-match ban.
Betis: Germán Pezzella, Aitor Ruibal and Claudio Bravo.
Manchester United: Casemiro and Bruno Fernandes.
Almost time to go in Seville!
With five minutes to go at the Benito Villamarín, the teams are waiting in the tunnel and are about to make their way onto the field. A reminder of the teams:
Real Betis: Rui Silva, Sabaly, Pezzella, Edgar, Abner, Rodríguez, Carvalho, Ruibal, Juanmi, Joaquín, Ayoze.
Manchester United: De Gea, Wan-Bissaka, Martínez, Maguire, Malacia, Casemiro, Fred, Pellistri, Fernandes, Rashford, Weghorst.
Rashford close to 2022/23 goalscoring milestone
Incidentally, Rashford's return of 26 goals in all competitions this season is as many as he scored in the previous two seasons combined. The 25-year-old also netted three for England at the World Cup, so he's one away from making it 30 goals for club and country in 2022/23. He's having some season.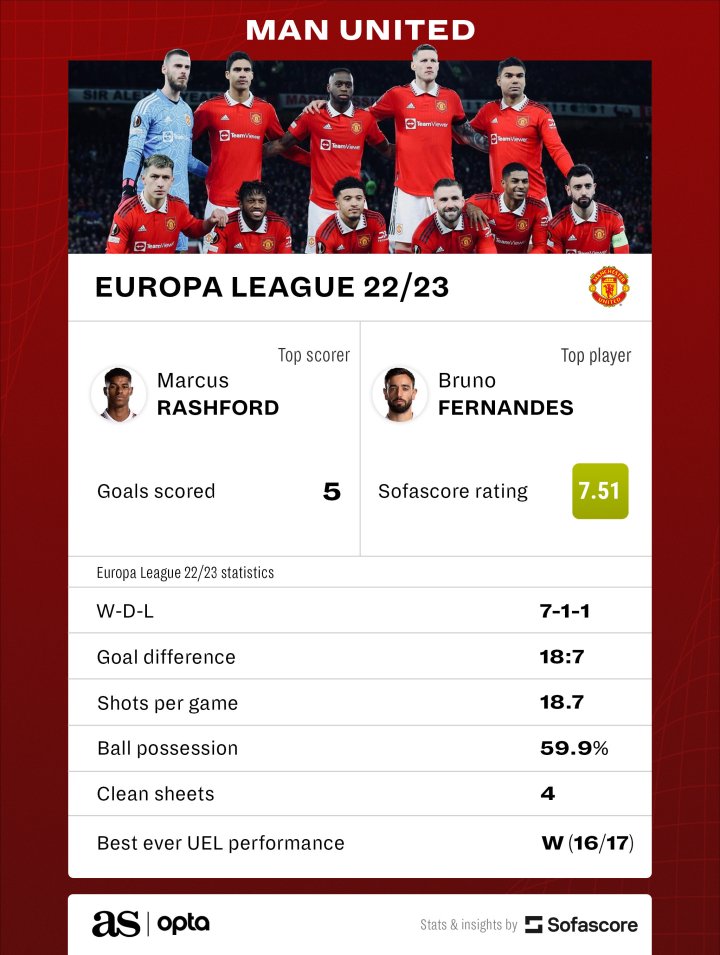 At a glance: Man Utd's 22/23 UEL stats
As for United, they've won seven out of eight in this season's Europa League - and are poised to play their sixth game of the campaign against LaLiga opposition.
Marcus Rashford is United's leading scorer in the Europa League this term - and is joint-top of the overall goal charts. His haul of five leaves him level with Union SG's Victor Boniface.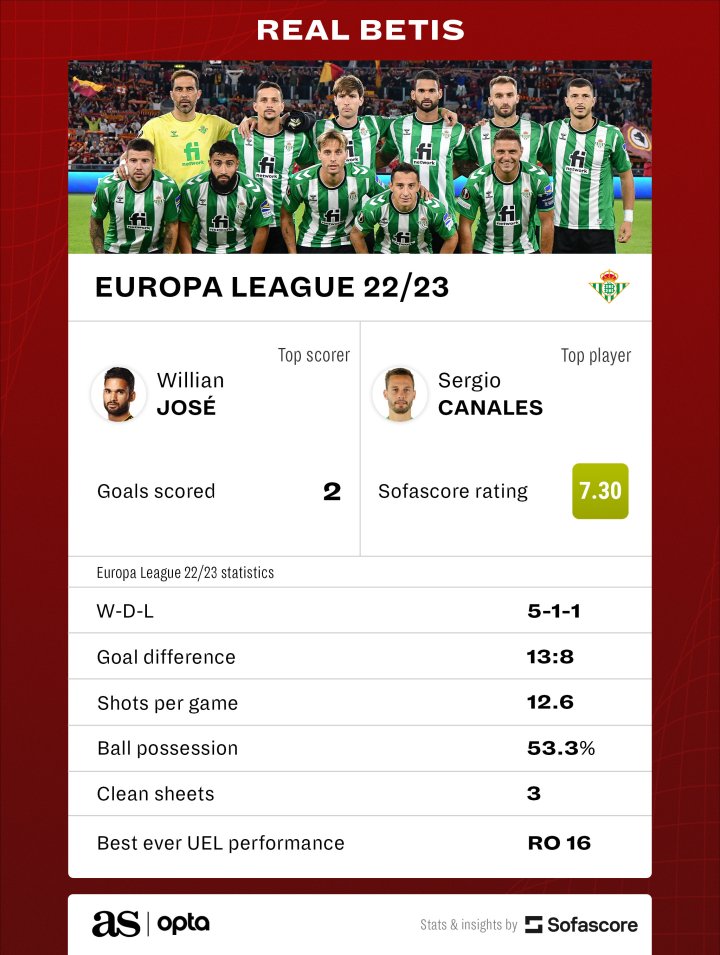 At a glance: Betis 22/23 UEL stats
Thanks to our colleagues at SofaScore, here's an at-a-glance look at Real Betis' Europa League form this season.
After picking up 16 points from 18 to win their group and qualify directly for the last 16, they suffered their first defeat of their European campaign when they went down to United last week.
As at Old Trafford, they'll have to do without their top-rated player - Sergio Canales - in their starting line-up.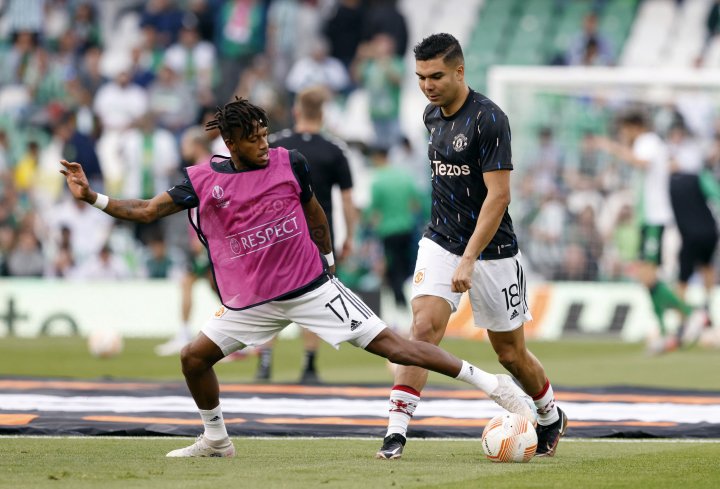 Manchester United's Fred (left) and Casemiro warm up at the Estadio Benito Villamarín.
(Photo: REUTERS/Marcelo Del Pozo)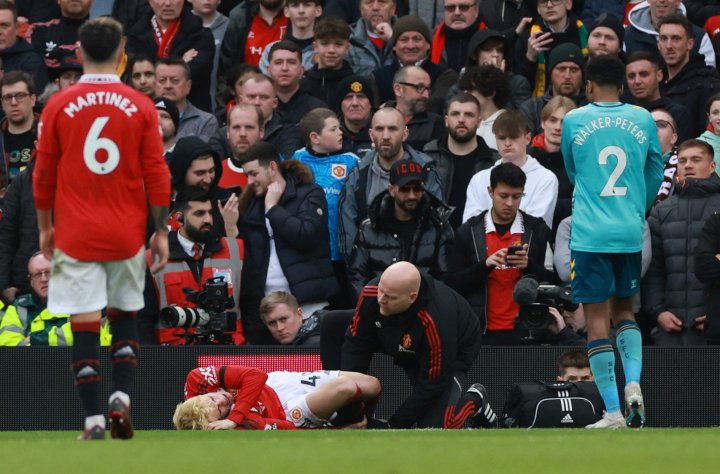 Walker-Peters abused online after Garnacho tackle
Alejandro Garnacho is unavailable to Manchester United tonight after picking up what Erik ten Hag has described as a "serious" ankle injury in the goalless weekend draw with Southampton.
Garnacho, 18, sustained the injury in a challenge with Southampton's Kyle Walker-Peters, who has since been subjected to racist online abuse, apparently from United fans aggrieved at the tackle.
In a statement on Monday, Saints said they had forwarded the messages to police, adding that they are "disgusted and disappointed in the behaviour of those online who lower themselves to abusing players for the colour of their skin".
Walker-Peters, who is Black, said on Instagram: "The racial abuse I received is something that no player or person should ever have to experience."
(Photo: PHIL NOBLE/Reuters)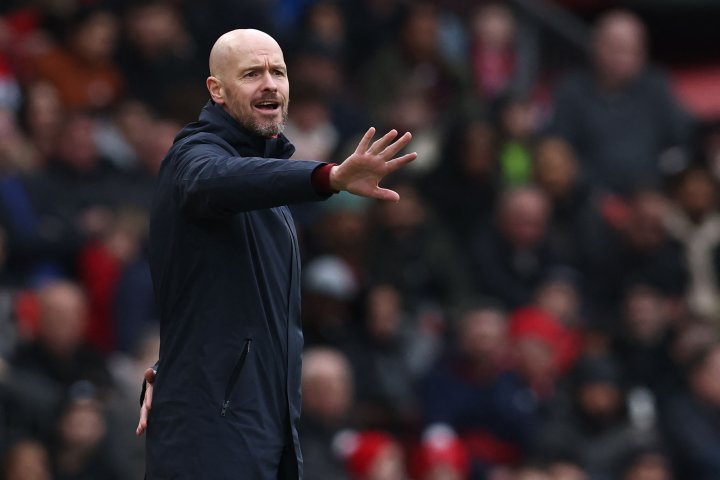 What the coaches said: Erik ten Hag, Man United
Casemiro and Bruno to play despite being a booking away from a ban:
"We play both because it's a very good opponent. Last week we had a good result but we have to go again and you need your best players. We need a result, we need a win, so then we need our best team."
Resting players with a 4-1 lead from first leg:
"It's always serious and we will play our best team. We have to put up a team that can adapt during the game. We know our opponent can because they have a good team, they have really good players. They have a lot of variations, so we have to be aware of that and we have to be ready to go and battle with them."
(Photo: DARREN STAPLES/AFP)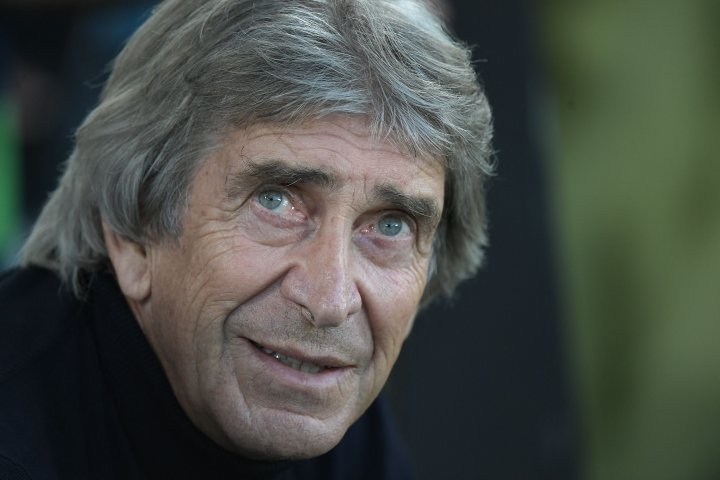 What the coaches said: Manuel Pellegrini, Betis
Belief:
"The most important thing is to believe. We need to play an intelligent game to try to turn the tie around. We mustn't try to score three goals in five minutes. We need to keep calm and give it our best shot from the first whistle to the last, with our home fans behind us."
Fans:
"They've always been crucial for us. From the moment I got here, they've always got right behind us. I'm sure they'll be roaring us on right to the last. They shouldn't have any doubts whatsoever that the team is going to give it everything it has."
First leg:
"A great strike by Antony and United's third goal [scored by Bruno Fernandes six minutes later] changed the game. We need to try to avoid making mistakes; we need to repeat the performance we put in in the first half."
(Photo by Jose Jordan / AFP)
Silva, Edgar and Ruibal come into Betis team
Meanwhile, Betis boss Pellegrini makes three changes to the team that started at Old Trafford: Rui Silva, Edgar and Aitor Ruibal are in for Claudio Bravo, Luiz Henrique and the injured Luiz Felipe, who has tweaked a hamstring.
Key midfielder Sergio Canales returned from injury as a substitute at Old Trafford, and then started in Betis' 1-1 LaLiga draw with Villarreal at the weekend, but returns to the bench tonight.
Four United changes from first leg
For Manchester United, there are four changes to the team that began last week's first leg: Diogo Dalot, Raphaël Varane and Luke Shaw are all on the bench, and Antony is out through illness.
Aaron Wan-Bissaka, Harry Maguire, Tyrell Malacia and Facundo Pellistri are the quartet of new faces. Pellistri impressed as a substitute this time last week, and is rewarded with his first start for United.
Casemiro is about to begin a four-match ban in domestic football after being sent off against Southampton at the weekend, but remains available to start for the Red Devils tonight. He is, together with Bruno, a booking away from a one-match Europa League suspension, though.
Manchester United team news
Manchester United's XI is also in: De Gea, Wan-Bissaka, Martínez, Maguire, Malacia, Casemiro, Fred, Pellistri, Fernandes, Rashford, Weghorst.
Real Betis team news
Betis' starting line-up is in. Manuel Pellegrini has gone with: Rui Silva, Sabaly, Pezzella, Edgar, Abner, Rodríguez, Carvalho, Ruibal, Juanmi, Joaquín and Ayoze.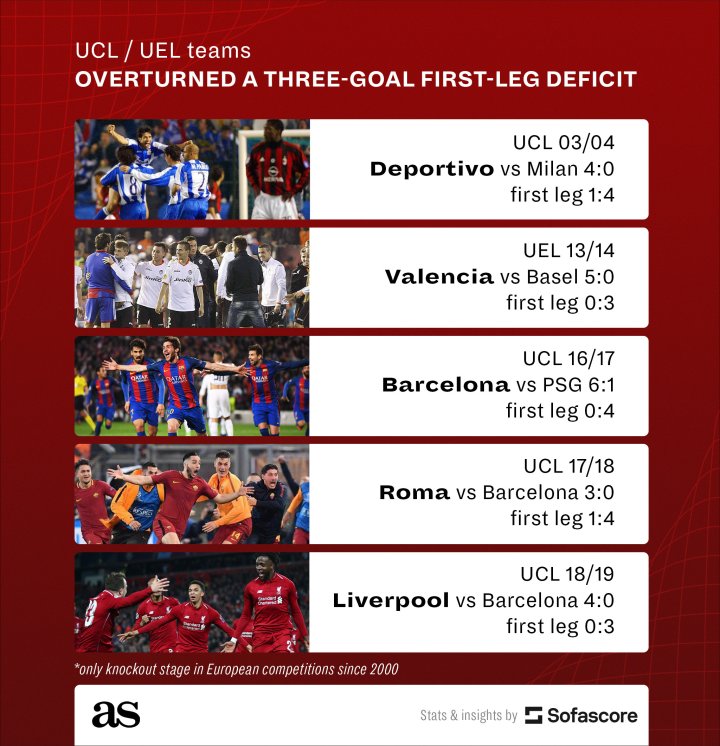 Who has come back from 3+ deficit in Europe this century?
Since the turn of the milennium, the list of sides that have come back from a first-leg deficit of three goals or more in any major European club competition is a very short one: five in all.
Courtesy of our fantastic colleagues at SofaScore, here's an at-a-glance look at that quintet of famous fightbacks.
Betis must emulate UEL's greatest comeback
Betis not only need to overcome their general inability to overturn first-leg deficits if they're to go through tonight; they also need to make Europa League history.
Since the UEFA Cup became the Europa League in 2009, only one other team has come back from a 3-0 first-leg defeat.
That was Betis' fellow Spaniards Valencia, who produced a memorable second-leg fightback against Basel in the 2013/14 quarter-finals.
Paco Alcácer scored a hat-trick, and Eduardo Vargas and Juan Bernat also netted for Valencia, as Los Che won 5-0 at Mestalla, after extra time, to progress 5-3 on aggregate. It's the biggest comeback we've seen yet in the Europa League.
Betis' ropey record after first-leg defeats
A perusal of the history books serves to highlight the size of Betis' task today. Los Verdiblancos have only ever won one European tie in which they lost first leg, and on that occasion they only had a one-goal deficit to overturn.
Having lost 1-0 away to Vejle BK in the first round of the 1998/99 UEFA Cup, the Spaniards breezed past the Danes in the return, winning 5-1 in Andalusia.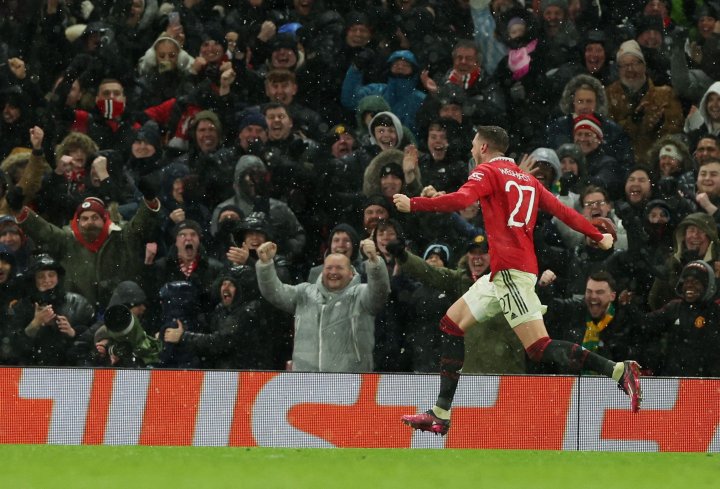 First-leg thumping leaves Betis with mountain to climb
Before utterly falling apart in the second half, Betis actually gave United a decent old dose of the jitters in Manchester last Thursday.
After Marcus Rashford's early opener for the hosts, Ayoze Pérez levelled on the half-hour mark - and, for the final 15 minutes of the first half, Old Trafford was a decidedly nervous place. Pérez even hit the post after a ropey David de Gea pass out from the back.
Once Antony's stunning strike put United back ahead after the break, however, it was one-way traffic. Bruno Fernandes added a quickfire third, before, with time running out, Wout Weghorst finally scored his first goal at Old Trafford. Having struggled to trouble the onion bag since joining United, the Dutchman celebrating his strike with unbridled enthusiasm.
(Photo: REUTERS/Phil Noble)
Real Betis vs Manchester United: welcome!
Hello! After blowing Real Betis away in the second half of the sides' last-16 first leg last week, Manchester United take a three-goal advantage into tonight's return in Seville.
If Betis wish to secure a first ever spot in the tournament's quarter-finals, they'll need to equal the biggest second-leg comeback in the Europa League since its rebranding from the UEFA Cup.
Kick-off in Seville is at 1:45pm ET, about 90 minutes away. Team news should be dropping in around half an hour's time.