REAL MADRID
Real Madrid to speak with Ceballos to discuss new contract extension; Bayern Munich interested
The 26-year-old has performed well in stages throughout the season, with the player set to meet with the club when the Champions League is over.
Real Madrid midfielder Dani Ceballos looked all but certain to leave the club at this time last year, but things have changed dramatically since then: the club have called the player's representatives to discuss a possible date for a meeting in which they can negotiate an extension to his current deal (which finishes on June 30 2023). This meeting will take place when both cup competitions, the Copa del Rey and the Champions League - the two tournaments in which Madrid realistically have a chance of winning - have ended.
Ceballos, whose desire is to stay in the Spanish capital, will make things easy for the club, putting an extension ahead of any other project that might tempt him away from Carlo Ancelotti's side, despite potentially receiving offers that would outprice the contract Madrid are willing to offer. Real Madrid, for their part, are also willing to bend to make things work out, as a replacement with the skill and work ethic of Dani Ceballos would suppose an enormous economic outlay on their side.
Ceballos prefers Real Madrid to any other offer
Real Madrid's call to Ceballos' agency has been a welcome piece of news for the player and those around him, who were hoping for the club to take action and not allow his contract to run out. It is the first time in the whole season that the club have made contact regarding his situation. The player, who would be one of the jewels of the market were he to made available, has not wanted to entertain any offers that have come his way, preferring to wait for the talks to begin with Los Blancos.
Which clubs want to sign Ceballos?
Real Betis, his former club, is not an option, as the Andalusian club have economic issues that restrict them from paying what a player of his talent would demand. Bayern Munich are another club that have made it known they are interested in the midfielder, and they have made contact with his representatives via third parties in order to gain more information on a potential deal. A few months ago, both FC Barcelona and Valencia CF made the same moves, without there being any official contact between the two clubs and Ceballos' agent.
Dani Ceballos is perfectly aware that if he stays at Madrid his place in the starting XI is never going to be guaranteed. He is not scared of competing as he believes that, with his talent, he can succeed at the club. However, he is very conscious of the fact that Madrid may make moves themselves in the transfer market to secure an extra midfielder: if Los Blancos finally sign Bellingham and, as has been reported, extend the deals of both Toni Kroos and Luka Modric, his position in the squad hierarchy may change.
At 26-years-old, he still has a lot of years ahead of him, so sticking with Madrid would mean that he would compete for a place and remain visible in Europe, most of all to the Spanish national team manager. Since the conclusion of the World Cup, Ceballos has been integral to Luis de la Fuente's side, even taking on the number 10 shirt.
Both the player and club want a deal to be agreed
As a result, he will give priority to what Madrid offer him. And given that both parties will go into negotiations with an open mind and with the will to secure a deal, an agreement is a likely scenario. If, however, the negotiations stall, Dani Ceballos' wish is to continue playing in Spain, yet there are few clubs who could afford the financial package that he would require, even on an out-of-contract 'free' transfer. Of those clubs that could afford it, FC Barcelona have shown interest, as well as Valencia, as mentioned. Los Che even contacted the player when he was on loan at Arsenal from 2019 to 2021.
Ceballos has learned how to overcome a difficult sporting situation this year at Madrid, being behind club legends Kroos and Modric, and with Camavinga and Tchouaméni at his side. Despite the competition, Ceballos has played in 37 games this campaign and even the crowd at the Estadio Santiago Bernabéu have chanted for his renewal. The club, it seems, have taken note.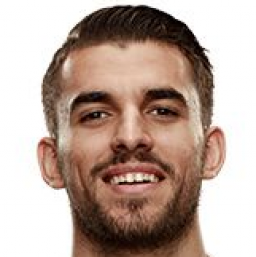 LaLiga Santander 2022/2023
*Data updated to date Apr 22nd, 2023