PREMIER LEAGUE
Reports say Erling Haaland to be offered new contract at Manchester City; would be the highest paid player in Premier League
The Norwegian striker is reportedly set to be offered a new deal amid interest from Real Madrid.
Forgive me, but I can't resist: Manchester City are set to go Haal out to tie Erling Braut Haaland to a new deal that would make him the Premier League's highest paid player, according to reports. The Norwegian striker landed in England last summer and has set the league alight with goalscoring numbers never before seen on such a scale.
Manchester City bought the striker for around €60 million ($65 million) and confirmed his signing on 13 June 2022. Since then, the Leeds-born forward has scored 42 goals in 37 games for Pep Guardiola's side: he leads the way in the Premier League with 28 goals after 26 games and has 10 in 6 in the UEFA Champions League. Now, City want to tie him down to a deal after Real Madrid have expressed interest in signing him in 2024.
Conflicting reports of Haaland's contract
Sport in Barcelona report that Haaland's contract is linked to Pep Guardiola's, and that there was a release clause in Haaland's deal "for €200 million that could be activated in 2024, but that upon Guardiola signing a new deal with the club, Haaland's release clause was extended by a year". However, AS reported that "specifically, [Real Madrid] are relaxed when it comes to the latest revelations that suggest Haaland's release clause is related to Pep Guardiola's contract, who has renewed until 2025. Although the Catalan may have been one of the motivating factors behind Haaland's move to City, it is in fact not true that their contracts are linked."
How much does Haaland earn? What will be his new wage?
Haaland's agent, Rafaela Pimenta, is said to be meeting with City at the end of the summer to take his current deal - from which the player earns €425,000 a week, the same as Kevin De Bruyne and Manchester United goalkeeper David De Gea - to around €570,000 per week, which would be more than anybody in the league. Goals, evidently, mean money.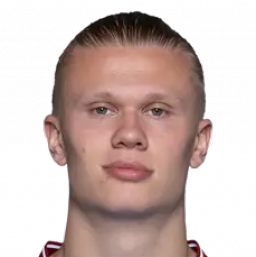 Premier League 2022/2023
*Data updated to date Mar 26th, 2023