Sevilla vs Manchester City summary: score, goals and highlights, Champions League 2022/23
Sevilla 0-4 Manchester City: as it happened
Sevilla vs Manchester City: headlines
- City thump Sevilla to end matchday one top of Group G
- Haaland prodded City into lead midway through first half
- Foden fired in visitors' second on hour mark
- Haaland tapped in third after Foden shot parried
- Dias added late fourth for Guardiola's men
- Dortmund beat Copenhagen 3-0 in Group G's other game
Peeep peeep peeeep! City have overwhelmed Sevilla at the Sánchez-Pizjuán, and go top of Group G. You can't really say that the hosts played all that badly, to be honest. They just had no answer to a far superior side.
Once again, it is Erling Haaland who hogs the headlines, his double taking him to 25 Champions League goals in 20 career appearances in the competition. Blimey. He now has 12 in eight in all competitions for City, too.
A reminder that we also had live coverage of Celtic vs Real Madrid and PSG vs Juventus tonight. Check out how those games unfolded here and here.
Thanks for reading!
Goal! Dias scores - Sevilla 0-4 Manchester City
That's the icing on the cake for City. A moment earlier, the visitors had been denied by a goal-line clearance, but now it is four. Mahrez bustles his way to the byline before fizzing a low ball across the six-yard box, where Dias turns it home! Having hitherto kept a lid on their frustrations, the home fans now do express their anger. Very audible jeers for Lopetegui's men.
Three minutes of time added on at the Sánchez-Pizjuán.
We almost went the whole game without a single booking, but Mir has blotted that particular copybook. He catches Akanji with a high boot as the pair tussle for the ball, and Mr Massa deems the challenge worthy of a yellow.
Just after that Suso shot, by the way, there was a strange moment when Ederson threw the ball straight to the Spaniard, who stroked it back past the Brazilian and into the net. It didn't count, though: Dolberg was adjudged to have interfered with the goalkeeper's throw, having been standing right behind him as he released it.
Januzaj cuts it back from the right-hand byline for Suso, who jinks his way into shooting space. His effort is on target - the first time Sevilla have been able to say that all night - but it's weakly struck and easy for Ederson.
We're kinda waiting for the final whistle here.
Changes for both teams. Riyad Mahrez and Kalvin Phillips are on for De Bruyne and Rodri, while Adnan Januzaj comes on for his Sevilla debut. Isco makes way.
That's a smart save by Bono. De Bruyne shows fine vision to spray the ball from left to right, where Cancelo is waiting to collect the ball and carry it forward. Sevilla's defenders backpedal and backpedal, allowing the Portuguese to let fly from just outside the box - but Bono beats it out! It feels like he may have postponed the inevitable, though. City look like getting at least another before the night is out.
Sevilla replace Papu Gómez with Suso.
A moment before that change was made, De Bruyne had a presentable chance to make it 4-0, but skewed his shot wide from 20 yards or so.
Silva loses it and, just for a moment, Sevilla think they have the chance to break forward. Dolberg carries it towards the City box, but De Bruyne chases back to reclaim possession.
Double change for City: Cole Palmer and Julián Álvarez are on for the goalscorers, Foden and Haaland.
Goal! Haaland scores - Sevilla 0-3 Manchester City
That's Haaland's quarter century of Champions League goals, and City are out of sight. Foden drives forward before shooting low from the edge of the Sevilla box, but Bono gets down to deny him. However, Haaland is waiting to scoop up the loose ball and turn it home. Game very definitely over.
At the other end, Dolberg tries to wriggle himself into shooting space at the top of the City box, but has too many sky blue shirts on top of him.
Right away, Gündogan has the ball in the net - but the flag is up. Foden peeled off into space at the back of the box to nod a right-wing ball down for the German, who stroked it into the net from point-blank range. However, Foden was well offside when the ball was played into the area.
City make their first substitution of the night, introducing Ilkay Gündogan for Grealish.
Goal! Foden scores - Sevilla 0-2 Manchester City
Sevilla probably aren't in it any longer. It's a lovely, lovely goal by Foden that knocks the stuffing out of the hosts just as the home fans were really whipping up the atmosphere to fever pitch. Receiving the ball just inside the penalty area, Foden twists, turns, twists and turns again, then arrows a low shot into Bono's left-hand corner. Game over? Most likely.
Sevilla make a third change, replacing Telles with Kasper Dolberg.
Navas controls and crosses from the right wing, but though he arrows his ball right into the danger area just at the edge of the six-yard box, Ederson is well placed to grab hold before Mir can gobble it up.
The home fans are really making some noise. Sevilla have had to cling on at times tonight, but they're still in this.
Now Rodri takes aim at Sevilla's goal, but his shot from just outside of the box bends a yard or two wide of Bono's right-hand post.
Wow, for all that it's Sevilla who have started the second 45 better than City, the visitors are so close to being two to the good. Having prevented Mir from turning in a dangerous position in the box, City launch a quick break. Haaland feeds De Bruyne, and suddenly the Belgian is in on Bono - but the keeper saves magnificently!
A minute later, Haaland is first to a right-wing cross towards the back post, but can't get the right direction on his volley and it flies behind.
Acuña crosses from the right, but Dias heads away. Back come Sevilla, working it to Navas on the right. He also slings a ball into the box, but again the away side clear. Promising start to the second half for the hosts.
Peeep! The teams are back out in Seville, and the second half is up and running.
There are two Sevilla substitutions to tell you about: Julen Lopetegui has brought on midfielder Joan Jordán and target man Rafa Mir, with Rakitic and Delaney making way.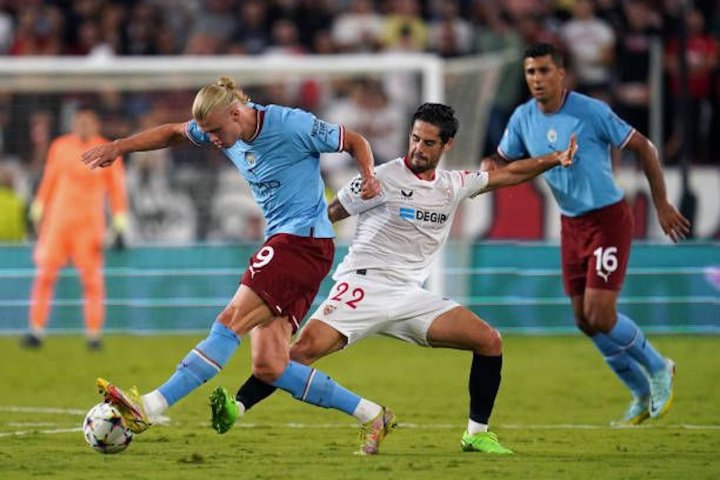 Haaland (left) battles for the ball with Sevilla's former Real Madrid midfielder Isco.
(Photo by Nick Potts/PA Images via Getty Images)
Haaland follows in Morientes, Saviola and Zlatan's footsteps
Opta note that Haaland has become only the fourth player to score on his first Champions League appearance for three different clubs. The Norwegian now has 24 in 20 career games in Europe's elite club competition.
Peeep peeep peeeeep! Mr Massa doesn't add on a single second at the end of the first 45, and that's half time. Sevilla seemed to gain something of a foothold as the half came to an end, but have otherwise been pretty under the cosh. Haaland's goal - his 11th in eight City appearances - separates the sides.
Sevilla have looked slightly better in the last few minutes or so, but then City demonstrate that they have the attacking firepower to double their lead in the blink of an eye. De Bruyne is released into the box, and with Haaland waiting in the middle, gets to the byline and squares it. Delaney is there to make a crucial, crucial interception. Had he not, it was probably 2-0.
That's much, much better from Sevilla. Rakitic lifts it wide to the right to Navas, who volleys a first-time ball to Delaney at the top of the box. He cushions a pass into the path of Gómez, who's arriving at pace. It's by far the hosts' best chance of the half, but the Argentine blazes over!
De Bruyne lifts a free-kick into the Sevilla box, but Akanji can't connect properly with his header.
A moment later, Grealish slips Haaland into the penalty area. He's pushed very wide, but nevertheless goes for goal from an all but impossible angle. It should be fairly easy for Bono, but the goalkeeper rather throws his cap on it, and pushes it back out into the danger area. Thankfully for the Moroccan, nobody in a sky blue shirt is there to make him pay for his sloppiness.
Sevilla cross the City halfway line for what feels like the first time in an absolute age. Gómez gets himself into a crossing position on the right, and his ball is turned behind. The corner falls to Acuña on the edge of the City box, a position from which he looks for Ederson's bottom corner with a first-time pot shot. It's well wide, however. Some encouragement for the hosts, though.
Papu Gómez trips Bernardo Silva just outside the penalty box, giving De Bruyne a chance to take aim with a direct free-kick. It's quite far to the left, though, and the Belgian can only find Bono's side netting.
Having taken the lead, City are really smothering Sevilla now. On the right, Cancelo gets forward and crosses, but the hosts hack it clear. Back come the visitors, though, and Grealish slaloms his way between two, three Sevilla players and into the box, but loses it just as he's preparing to take aim.
The home crowd are audibly starting to fear the worst here.
Grealish clatters Papu Gómez, but gets away with a stern talking-to.
Haaland scores! Sevilla 0-1 Manchester City
Again the Norwegian is on target against Sevilla. Foden receives on the right-hand corner of the penalty box, before slipping it wide to meet De Bruyne's run towards the byline. De Bruyne's cutback is right onto Haaland's boot, and he's not going to miss from six yards out. City lead!
Again De Bruyne shoots over from the top of the Sevilla box. City are beginning to turn the screw.
So much so that...
That's a crucial challenge by Acuña. Dias lifts a glorious diagonal ball right onto Foden's boot on the right, and the winger's first touch takes him past the left-back and into the area. As Foden prepares to pull the trigger, however, Acuña gets back to reclaim the ball. There's the odd timid penalty shout, but referee Davide Massa isn't interested. That Dias pass was as pinpoint as they come; really lovely stuff.
Foden lays the ball off to De Bruyne on the right-hand corner of the box, but it's played to the Belgian's weaker left foot and he skies it high into the Sánchez-Pizjuán stands. City are starting to take control, though.
Dias strides forward and feeds it to Cancelo in the right-hand channel, in a pocket of space to shoot. He looks up, gets it out of his feet and lets fly, but by the time he gets his effort away, a wall of white shirts have closed in around him to block.
A moment later, Grealish receives on the left wing, before scuttling his way into the box and shooting towards Bono's near post. He skews it just wide of the upright and into the side-netting.
It's been a pretty even start in Seville. In truth, not an awful lot has happened, and one suspects that the home side will be absolutely fine with that.
There's a first warning from Mr Haaland. City feed it right to De Bruyne, who has a yard or two to look up and curl over a cross towards the penalty spot. Haaland launches himself at the delivery but doesn't quite get enough on his header, and succeeds only in glancing the ball past Bono's far post.
Sevilla enjoy the first moment of real attacking danger, working it to Navas on the right to get his head down, scamper towards the byline and deliver into the middle. His ball into the box has plenty of venom on it, but Dias gets his head to it and, after initially getting himself in a tangle, Akanji clears.
Peeeep! Underway at the Sánchez-Pizjuán!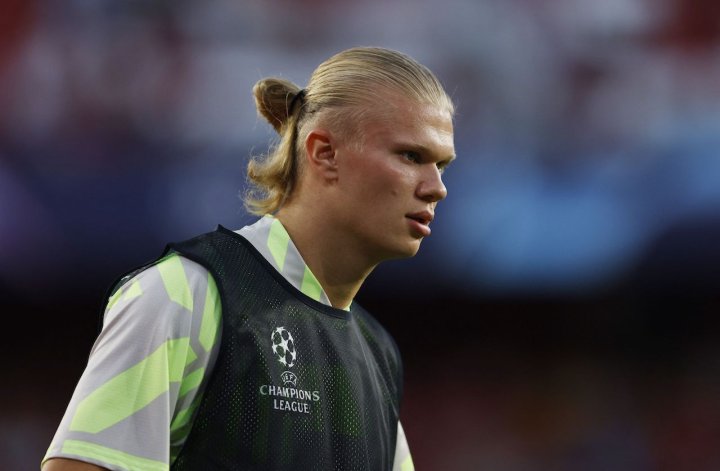 Haaland on pace for 60-goal PL season
The last time Sevilla made it to the Champions League knockout stages, in 2020/21, they collided with the goalscoring beast who'll be lining up against them tonight. Erling Haaland scored braces home and away as Dortmund eliminated the Spaniards 5-4 - and it's such exploits that have left him with the really rather respectable record of 23 goals in 19 career appearances in the Champions League.
This year, the Norwegian has quickly made a mockery of suggestions he might take time to adapt to Guardiola's system at City. He's banged in 10 goals in his first six Premier League games. Were he to keep up that scoring rate, he'd finish up the league season with 63.
(Photo: REUTERS/Marcelo Del Pozo)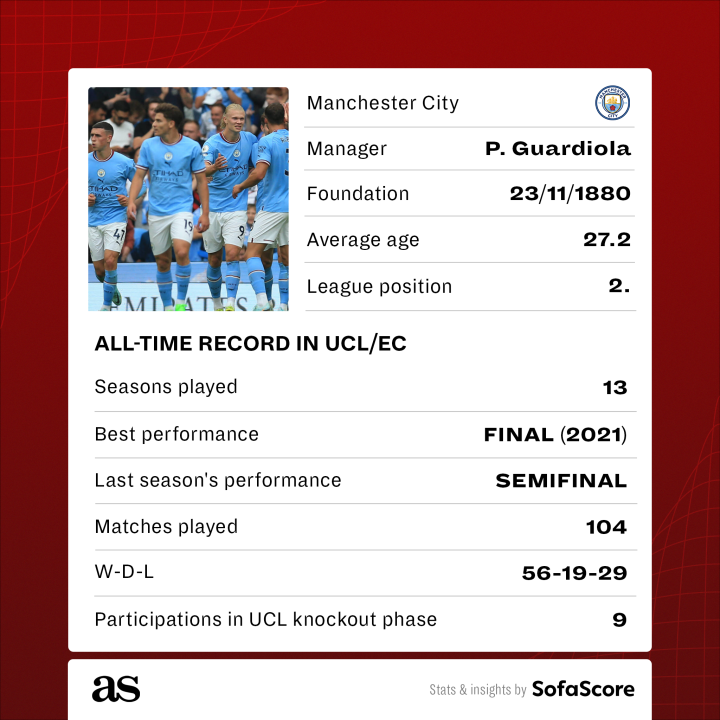 Man City's UCL/European Cup record so far
And, again with thanks to our colleagues at SofaScore, here's how Man City have fared hitherto in the Champions League/European Cup.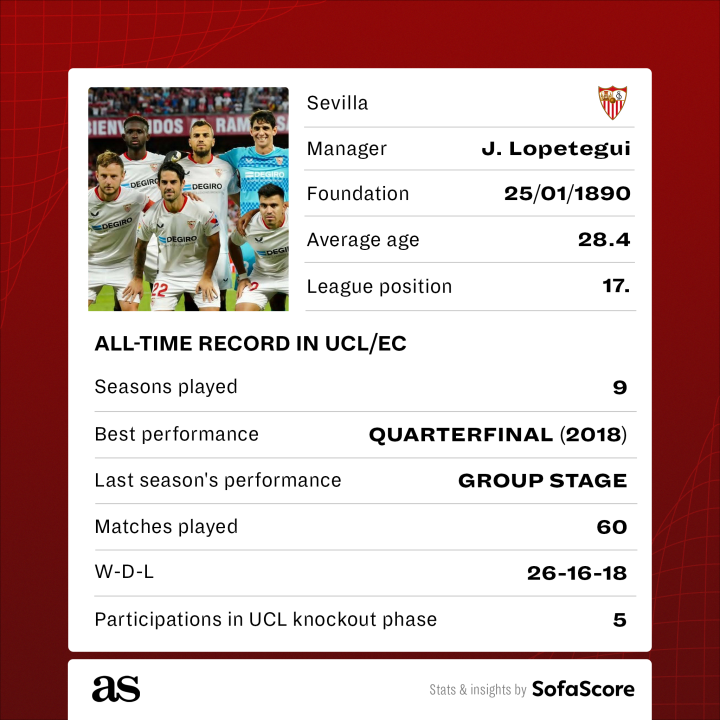 Sevilla's UCL/European Cup record so far
Turning out attentions back to the Sánchez-Pizjuán, here's an at-a-glance look at Sevilla's overall record in Europe's top club competition, courtesy of our pals at SofaScore.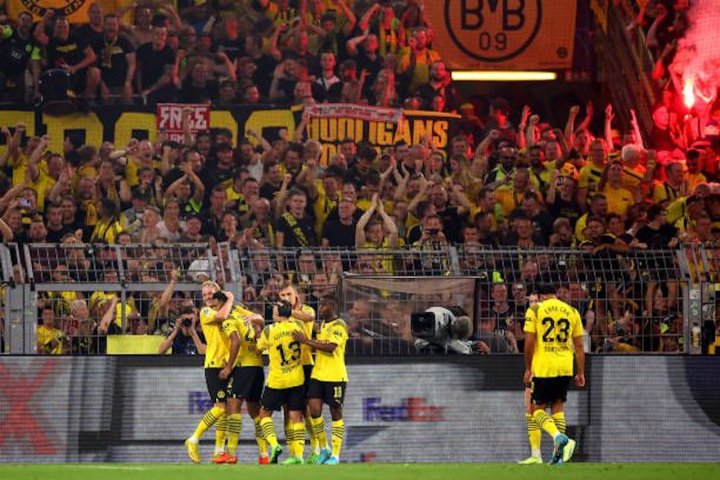 Dortmund thump Copenhagen in Group G opener
Over in Germany, Borussia Dortmund have swept Copenhagen aside in the opening game in Group G, which was one of two 6:45pm CEST kick-offs. Marco Reus, Raphael Guerreiro and Jude Bellingham got the goals for BVB as they triumphed 3-0 at Signal Iduna Park. City are up next for Dortmund, who go to the Etihad Stadium on matchday two next week, with Copenhagen hosting Sevilla.
Elsewhere, two-time European champions Chelsea have been on the end of a surprise defeat in Croatia, Thomas Tuchel's men losing 1-0 to Dinamo Zagreb in Group E.
(Photo: Alex Grimm/Getty Images)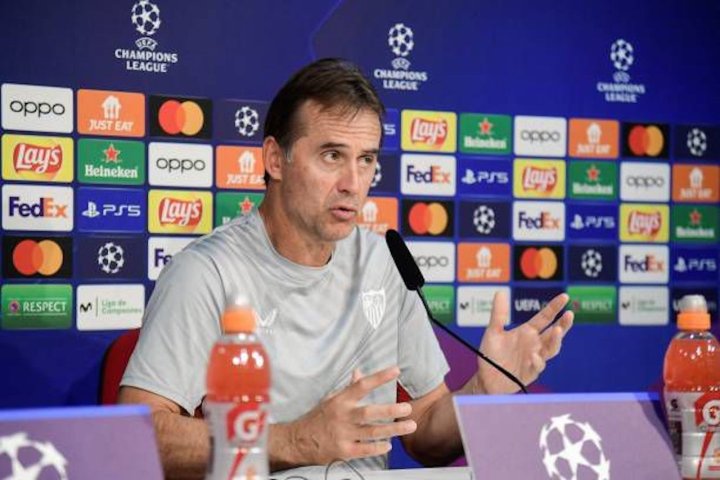 What the coaches said: Julen Lopetegui, Sevilla
Sevilla in the Champions League once again:
"I'm raring to go in a competition that we've won the right to be in for the third straight year. We get going against a top team in City, and that makes it an attractive game for us, no doubt. I'd like to reiterate that it's the world's elite club competition and we've earned the right to be in it. Obviously, we want to enjoy being in the tournament by playing well and getting a good result."
Upbeat despite team's poor run:
"Obviously, everything's easier when you're winning, but I think the team has shown resilience in defeat. Let me explain: despite the circumstances, the players have at times shown their ability to beat top sides and I think have demonstrated their desire to grow in adversity."
(Photo: CRISTINA QUICLER/AFP via Getty Images)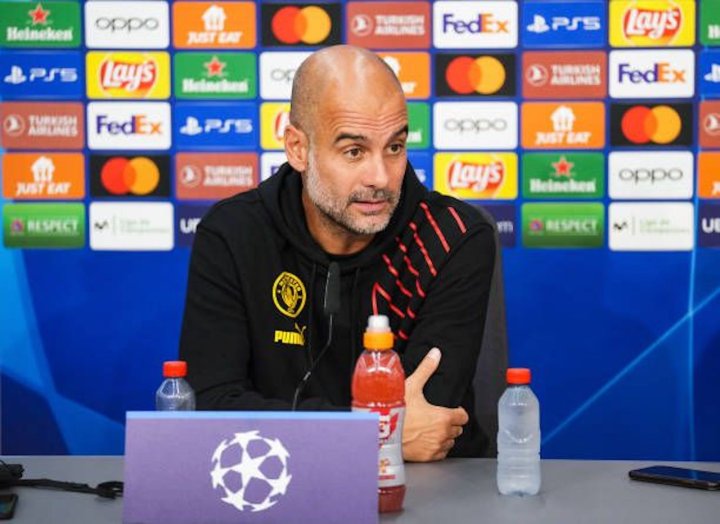 What the coaches said: Pep Guardiola, Manchester City
Under pressure to deliver Champions League at City:
"Sport, not just football, always gives you another opportunity. In football and in sport, you'll lose more than you win in your career. It's a difficult competition, it's a [source of] pride to be here again and we're going to try like we have since day one. For seasons we didn't get much longer and the last years we were [in] the latter stages and tried to perform well. Are we going to win it? Fuck, I don't know."
Kyle Walker and John Stones injuries:
"John is not much. Kyle is not much too, but I don't know if he will be ready for Saturday [against Tottenham], or Dortmund [on 14 September] or Wolves [on 17 September] before the international break."
(Photo: Matt McNulty - Manchester City/Manchester City FC via Getty Images)
AS USA coverage of Celtic vs Real Madrid and PSG vs Juventus
By the way, we also have live-text coverage of two other Champions League games tonight. Join my colleague Paul Reidy if you'd like to follow holders Real Madrid's clash with Celtic, and head over to Paul Rudder's live feed if the heavyweight match-up between PSG and Juventus is more your kind of thing.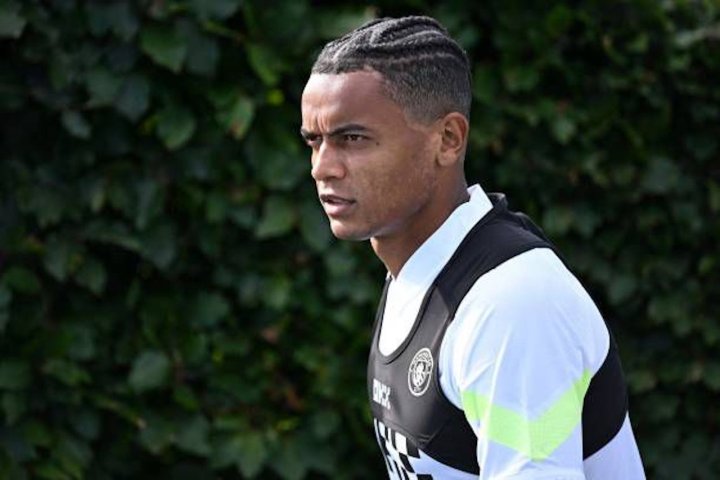 Akanji handed City debut in Seville
As for Manchester City, head coach Pep Guardiola makes three changes to the team that drew 1-1 with Aston Villa at the weekend. Having joined from Dortmund last week, centre-back Manuel Akanji is in for his debut, replacing the injured John Stones. With right-back Kyle Walker also unfit to play, Sergio Gómez comes in at left-back and Joao Cancelo switches flanks. Jack Grealish also returns to the visitors' XI, Ilkay Gündogan dropping to the bench.
(Photo by OLI SCARFF/AFP via Getty Images)
Ex-City man Navas starts as Sevilla make quintet of changes
Julen Lopetegui makes five changes to the Sevilla team that began the weekend thumping by Barcelona. Jesús Navas, José Ángel Carmona, Alex Telles, Thomas Delaney and Papu Gómez come in, with Gonzalo Montiel, Fernando, Joan Jordán, Eric Lamela and Youssef En-Nesyri making way.
Navas and Fernando played for City the last time Sevilla faced the Premier League side, by the way. That meeting came in the 2015/16 Champions League group stage, the Sky Blues winning 3-1 at the Sánchez-Pizjuán. City were also victorious in the teams' group meeting in Manchester that year.
Sevilla team news
Hot on the heels of their visitors, Sevilla have also announced their line-up. Lopetegui has gone with the following 11 men: Bono, Navas, Carmona, Nianzou, Acuña, Gudelj, Delaney, Rakitic, Gómez, Telles, Isco
Manchester City team news
City's team is in. It is: Ederson, Cancelo, Dias, Akanji, Gómez, Rodri, De Bruyne, Silva, Foden, Haaland, Grealish
City face winless Sevilla
Led by summer signing Erling Braut Haaland - who is in double figures already in the English top flight - Man City have boshed in 20 goals in six Premier League games, and are hardly the opposition Sevilla needed right now. While City remain unbeaten this term, Julen Lopetegui's hosts have collected just a point from their first four LaLiga games, and were jeered off at the weekend after going down 3-0 at home to Barcelona.
Sevilla vs Man City: welcome one and all
Hello, hello, hello! Having bid adieu to last season's Champions League with the most spectacular of semi-final meltdowns against Real Madrid, Manchester City begin their latest bid for a maiden European crown away to a seriously, seriously struggling Sevilla side tonight. Kick-off in Andalusia is at 9pm local time/3pm ET, and team news should be coming in shortly.