REAL MADRID
Bellingham ready to continue Zidane's legacy with Real Madrid
The young Englishman spoke about his love for the club as well as his aim to follow in the footsteps of legends like Zinedine Zidane.
"Thank you for joining me on the proudest day of my life, the day I joined the greatest football club in the history of the game. Hala Madrid!"
The first words of new Real Madrid star Jude Bellingham begin a new era for both player and club. It is a remarkable rise for a man who only played his first professional game just four years ago at the ripe age of 16. The boy from Birmingham was quick to thank his family, who were all in attendance at his unveiling at the Real Madrid City compound.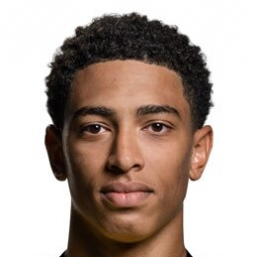 "It's a pleasure to be here. It's the biggest club in history, not many have the opportunity to play here. I am very grateful to those who brought me here to play for this team."
Despite the footballing pedigree of England, very few players have made the short journey across the Celtic Sea to Madrid. Bellingham is the sixth Englishman and the most expensive at over $111 million.
Even rarer for Bellingham is that he has never played Premier League football, having made the route through western Germany. Three years at Borussia Dortmund burnished his profile into the most exciting young midfielder on the planet.
"I've always been a big fan of Madrid, I used to watch them in England. When the players are on the pitch, it's incredible. I don't know... It's a team you always want to go to. It's exciting. It's an opportunity I couldn't turn down."
Rumours had swirled about other potential destinations over the last year, with notable clubs Liverpool and Manchester City initially the front-runners. However, Birmingham's answer to Fernando Redondo made it clear there was only one destination he had in mind.
"It's the greatest club in the history of the game. Not many players get the opportunity to represent this team... It's not that the other teams were bad, of course not, but I chose Madrid."
Bellingham was asked about his new number at the club, 5, and its significance after choosing the 22 for his career so far. He recalled former players to don the jersey, especially Zinedine Zidane.
"I really like Zidane, his legacy at this club and now I have his number. But I am different. It's a number that inspires me. 22 has been my number for a long time, but now I'll wear the 5″.
"Hopefully I can continue the legacy of the number".
They will certainly be some shoes to fill, after all Zidane won six trophies as a player while managing the club to eleven more. Bellingham has only won the German Cup in his career after his old club lost their grip of the German title on the final day of last season.
Another inevitable comparison will be with the last Englishman to play for Real Madrid; David Beckham. A sporting and national icon in his home country, Beckham enjoyed four seasons at Real though only won two trophies.
Bellingham will be hoping to have a more fruitful time in the capital though if the manner of Real Madrid's Champions League demise is anything to go by then it will take some doing.
When asked about the relationship he hopes to build with the other midfielders at his new club, Bellingham was magnanimous.
"I'll be like a sponge around them, they'll probably be annoyed with me after the first week".
He will need to learn quickly. Real Madrid are in a rebuilding stage after the departure of Karim Benzema this summer as well as midfield anchor Casemiro leaving for Manchester United in 2022 while the future of coach Carlo Ancelotti is far from certain. The club is also heavily linked to Tottenham Hotspurs' Harry Kane and PSG's Kylian Mbappe.
"Would I like to play with a player like Kylian Mbappe? Who wouldn't?"
Real Madrid President Florentino Perez beamed about the future of his new star.
"Thank for doing everything possible to make your dream to join Real Madrid come true," he said. "The club's values will be with you from this moment on."