WORLD CUP 2022
What do team captains choose at the coin flip at the beginning of the game?
While the process has been somewhat intact over the years, the coin flip has been a component of professional football since its beginning.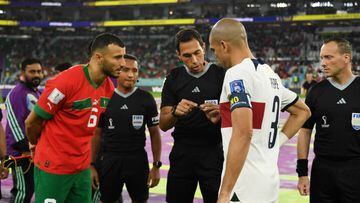 The coin toss is a technical procedure to determine a set of rules; first and foremost is to decide which team takes the kick-off to start the game in the second half and in extra time.
If a team chooses to start the game with the kick-off, the opposing team will get the kick-off and have the first possession of the ball at the start of the second half.
World Cup news:
The Coin Toss
The match referee and two team captains go to the center of the field for the coin toss. One of the team captains chooses heads or tails before the referee tosses the coin. Following the FIFA Rules of the Game, the team that wins the toss decides which goal it will attack in the first half of the match. The team that loses the coin toss takes the kick-off to start the game.
Procedure
Convention declares that the visiting team's captain gets to make the call out of politeness and sportsmanship. Still, the referee could spontaneously determine that the home team is heads and the away team tails.