BARCELONA
"My goal-scoring ratio plunged when I was moved out wide"
Out of all of the British players who have tried their luck in Spain, Gary Lineker took to life in LaLiga better than anyone else.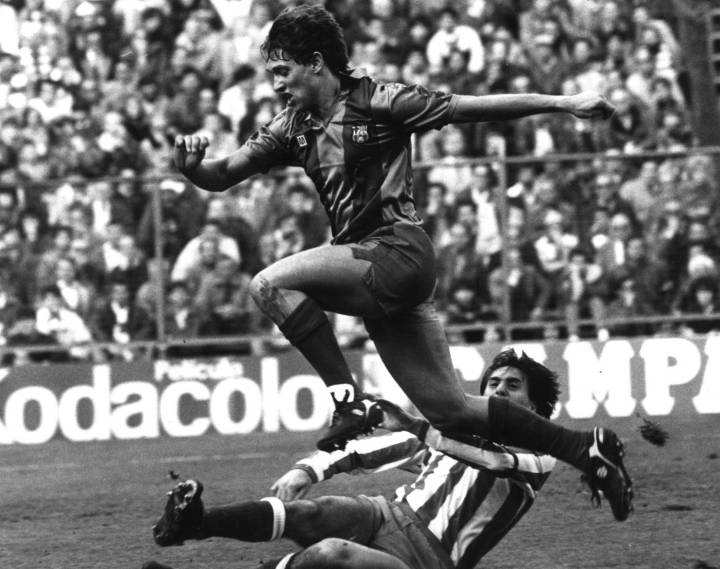 While Spanish players have tended to flourish in the Premier League, the reverse hasn't always been the case when British players have gone in the opposite direction. Out of all of the British players who have tried their luck in LaLiga, Gary Lineker took to it better than anyone else. His league goals record – 42 goals in three seasons with Barcelona set in 1986-89 still stands today. But not for long – Gareth Bale is now level with Lineker and may even break the record when Real Madrid visit Las Palmas tonight.
We're going to do something about Bale who is close to breaking your league goals figure... but to start, what do you remember of your time at Barça?
"I've got a lot of good memories of the first two seasons. I was scoring quite a few goals. In an era when goal scoring probably wasn't quite as easy as it is these days – with a lot of law changes which have helped and better playing surfaces and stuff. But it went well – the hat trick against Real Madrid obviously sticks out, scoring two on my debut was nice. It really takes the pressure off scoring after two minutes, which was helpful. By and large, the first two seasons went quite well. We were also up against a very strong Madrid side generally – you know, the side with the likes of Míchel, [Emilio] Butragueño and [Ricardo] Gallego and all those guys and they pretty much dominated all three seasons that I spent at Barcelona. What really scuppered by goal scoring was having to play wide right in my last season under Johan [Cruyff]. So that kind of killed my goal scoring ratio average quite badly! It was a different kind of football in those days, and different to what I was used to in the old English First division but it was a great education.
Thinking about it, if you had played under Pep Guardiola, you'd have played on the left-hand side, like David Villa....
Maybe! At least he allowed Villa to cut in occasionally! I had to stand the line!
Really? So you weren't supposed to drift inside?
Not really. You could come in if somebody got down the left but he liked the pitch as long and as wide as possible – which I respected. I loved his system but I just wanted to play in a central role where [Julio] Salinas played but he just never gave me the opportunity...
LaLiga's top British marksmen
42 - Gary Lineker (FC Barcelona)
42 - Gareth Bale (Real Madrid)
33 - John Aldridge (Real Sociedad)
24 - Steve Archibald (FC Barcelona)
16 - Laurie Cunningham (Real Madrid)
15 - Alan Campbell (Racing de Santander)
13 - Michael Owen (Real Madrid)
13 - David Beckham (Real Madrid)