REAL MADRID
"Bale can step up when Cristiano's powers wane"
Gareth Bale is one goal away from breaking Gary Lineker's LaLiga goal-scoring record. Part I of an interview with the Match of the Day presenter. New Zealand-Portugal live
How do you value Bale, who's not really a striker, scoring all of those goals?
He's a wonderful talent. Obviously we are totally different kind of footballers. It's great that he's nearing that record. He had a very good first season, culminating in scoring in the Champions League final and that magical goal when he broke down the left in the Copa del Rey final. He did brilliantly well in his first season. His second season he seemed to have a few problems, it didn't turn out so well and the crowd got on his back. But I really admire the way that he stuck at it. It would have been easy for him to say I want to go, and go back to the, I suppose, 'comfort' of an English football team. But he stuck at it and he's played well again this season, scored lots of goals – some really good ones. I think we'd all like to see him stay fit more consistently. But aside from a few injuries I think he's doing really well. He's a great player, he's unbelievably talented. He's always going to be in the shadow of Ronaldo while he's there, because all players are. He could the player that steps up once Ronaldo's powers begin to wane.
Why do you think that could be soon because when he plays with Wales, he's just amazing...
That's right but I think that's because he is the main man there and I think he revels in that, he enjoys it. He can't quite be that yet at Real Madrid because they've got a global superstar there who is pretty demanding and he's always be the No.1. But at the same time, I still see a lot of really good play from Bale. But whereas with Wales, he feels important, he knows he's the primary players and because of that he'll take on more – he'll try to beat more players, he'll try more difficult things while at Real Madrid at the moment, I don't think he feel he needs to do that so much. And sometimes it's easier playing for a country, if it's a country like Wales where, most of the teams will fancy their chances against Wales so they'll have a go. When Real Madrid play, they are pretty tightly-marked, [and their opponents are] very defensive-minded, otherwise they get destroyed. So I think it's a probably a whole different mindset when he plays for his national team.
In the modern game, you can't just roam freely; you have tactical obligations to observe. Do you think Bale is capable of playing that kind of leading role?
I think he could. I think he would do as well. If for example, and let's hope it won't happen, but if say Cristiano got injured for a spell of time it wouldn't surprise me at all if Gareth stepped up to be the star player. I think he's got that ability within him. It's just whether he's got the personal, inner belief in his own ability. I look at him, and I think he has, to do that if Ronaldo's not there. He's more than capable of doing that. He's a wonderfully-talented player
Do you get the impression that in Britain, not many people follow what Gareth's doing?
I can't speak for other people. I follow it very closely. I was huge fan of his when he played at Tottenham and I followed his career closely, I think a lot of people do. Especially the first season, everyone was watching him closely and people were saying 'He's not going to do it, and he did it, and then he came good'. I think people got used him being there and it doesn't become such a big deal for people. We know how insular we are in this country; people only really care about their own team most of the time. But obviously there are a lot of exceptions and genuine football enthusiasts that enjoy football from right around the world but sometimes after a period of time we forget a little bit
So let's imagine that Cristiano's going to stay for two more years because of the FIFA ban. What would you recommend to Bale?
I suppose that depends on how he feels in his inner self. If he's happy and content, then stay there. Wherever he goes, it's going to be a step down really because Real Madrid and Barcelona are the biggest two clubs in the world. You'd put Manchester United up there generally but certainly not in terms of on the field at present. I think it's a great place to be and be part of a wonderful side – obviously they're struggling a bit, they're a bit more individualistic than they are a team at present; they need to sort out the leadership, they need to sort out what they're doing in terms of trainers and coaches and everything else – they hire and fire and things. It's hard to get any kind of consistent performances years in year out if you keep doing that. But I suppose that's the kind of thing you have to put up with. You get a new coach coming in and he might not fancy you as much as the previous one, you never know - it happened to me at Barcelona. You can never be assured of any kind of great longevity at a club like Real Madrid whether you are a player or a manager although generally the big players do tend to stay for a while, because as I said, if you go from there, it's almost certainly a backward step.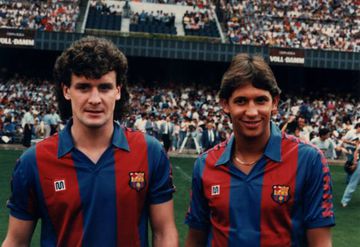 In your case, how did you manage to relax off the pitch so that you could be fresh on it?
It's a little bit tricky because to enjoy yourself off the pitch, you have to be enjoying yourself on the pitch and the other way around. It kind of goes hand in hand, in many ways. If we are all honest, as footballers, if it's not going well on the field, it's hard to enjoy life off the field that's for sure. Personally I put my heart and soul into Spanish, Catalan culture I should say, I learned the language, I ignored all the ex-pat society and sort of integrated myself with Spanish-speaking people so I could learn the language really quickly. You know it's quite easy to enjoy your life in Spain. It's a wonderful place to live – fabulous climate, fabulous food, lot of different things to do, great culture... so it wasn't an arduous experience by any stretch of the imagination. It's a great place to play football and enjoy life and I think grasping that, rather than going there with the attitude that, 'I'll spend a couple of years, get a few quid and come home', which was quite prevalent of players in my time because you have to remember in those days, we didn't earn the kind of money back here that you could earn in Spain or in Italy. So that's why a lot of players went in those days, for the money and to get back quickly whereas for me, the chance to play at a club like Barcelona, enjoy a different country and a different lifestyle, learn a different language was one of the main factors.
Finally, Rafa Benítez is now at Newcastle. The last time he spoke publicly was with you. Do you think he's in the right place?
Ooh blimey! I don't know. From the devil to the deep blue sea. He wasn't given too much of an opportunity really at Real Madrid, it was so short. As I said before about Bale, you leave Real Madrid and it's a backward step. I'm actually quite surprised that he's taken Newcastle. I think it's a tough place to manage, we know that; and if we've talked about the difficulties of interference at Real Madrid with his president there. The managers at Newcastle have not had much say in what players have come in. I trust and presume he would have asked for that in his contract but I don't know. It's quite a while since anyone did well at Newcastle so it's going to be a difficult job for him. But he is a good coach, he's very organized and I'm sure he'll make them more difficult to beat. I just wish he'd had waited another week until after the Leicester game but there we go...