REAL SOCIEDAD 1-0 BARCELONA
Barça stumble again at Anoeta
The Catalan side went behind to an early goal from Mikel Oyarzabal and were unable to crack the resolute La Real defence.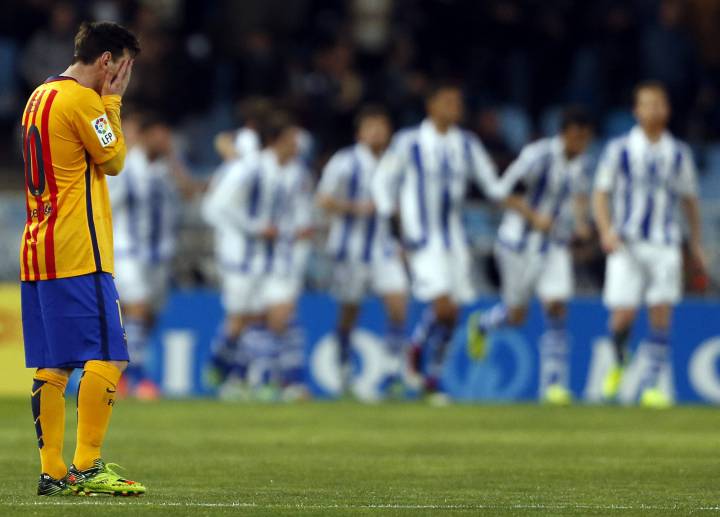 After the pulsating Champions League tie against Atleti at the Camp Nou, Luis Enrique's men looked visibly fatigued this evening as they fell to an early goal in San Sebastian. The Basque team are proving to be something of a bogey side for the Catalan side with this evening's defeat being the fifth in successive league visits to Anoeta.
With no Luis Suarez in his starting line-up (the Uruguayan was carrying out a suspension) Luis Enrique opted for a front three of Messi, Neymar and Munir and clearly lacked the added venom the Barça No. 9 provides.
Barça fell behind early with 18 year old Mikel Oyarzabal latching on perfectly to a Xabi Prieto right flank delivery with his looping header beating Claudio Bravo. The game soon settled into a pattern which was prevailed for the subsequent 85 minutes. Barça domination possession with patient build up play but failing to crack open the wall of blue and white shirts that defended their solitary goal with determined resolution.
The second half introduction of Andres Iniesta gave Barcelona a boost with the player from Albacete adding a new dimension of creativity as the 31 year old came close with a long range shot that Rulli expertly touched away. Luis Enrique's men looked drained and void of creative spark as the likes of Neymar and Messi failed to carve open the resolute La Real defense and ran out of ideas as the clock ticked down.
Six LaLiga games remain in the 2015/16 campaign and Barça still retain a three point advantage (with a superior head to head ) over Atleti and four over Madrid. "Hay Liga" as they say (the league is on)... probably not but with two successive defeats Barça have proved that they are human and have complicated what looked like a formality a fortnight ago.
FT - Real Sociedad 1-0 FC Barcelona
Min 94 | That's it. Barça fall 0-1 in Anoeta
Min 93 | Last minute, Barça unable to get the ball forward
Min 92 | Fine performance from the home keeper this evening as Pique gets carded. Applauds ironically the decision to add just 3 minutes.
Min 92 | Iniesta drives and Rulli saves.
Min 90 | Barça 3 mins (added time) away from second consecutive loss?
Min 89 | Real win a valuable corner as "Hay Liga" (the league is back on) headline writers crank into action.
Min 87 | Just one shot on target for Real Sociedad and that was the 5th minute goal. Change for La Real as goalscorer Oyarzabal makes way for Hector
Min 85 | Both teams looking fatigued as a bullet header from Messi is headed straight at Rulli.
Min 83 | Anxious look on the Barça fans in attendance at Anoeta as the game heads into it's final stages. Early Jan. (0-0 v Espanyol) last time Barça failed to score in LaLiga.
Min 82 | Oyazabal pulls up with cramp as Barça break on the counter.
Min 80 | Change for La Real as Zurutuza comes off for Pardo. 10 to go at Anoeta.
Min 78 | Real Sociedad will 11 men behind the ball now as Luis Enrique shows his frustration on the Barça bench.
Min 76 | Credit to La Real for the discipline they have shown in their defensive style tonight. Barça piling on the pressure now.
Min 74 | Barça now creating more danger as we head into the final 15. Am sure Luis Enrique would settle for a point at this stage. 1st change for La Real, Elustondo off and Zaldua on
Min 73 | Messi almost for Barça after the ball breaks to the No. 10 and Rulli again saves the home side.
Min 70 | Change for Barça (last one) as Sergi Roberto makes way for Rakitic.
Min 68 | Mascherano into the book for mouthing off after Neymar fouls Elustondo.
Min 65 | Twenty five to go at Anoeta. Barça still searching for a spark and a breakthrough. Iniesta has been bright but at present Luis Enrique's side too predictable against two waves of blue and white shirts.
Min 64 | Rakitic warming up and set to join the action.
Min 62 | Dangerous free-kick for Barça, Neymar to take. Right footed and grazes the side netting
Min 61 | Mascherano plays a one-two off the linesman !
Min 60 | Arda having his leg strapped on the Barça bench. Not sure if it's precautionary as the former Atleti player didn't seem to be carrying a knock.
Min 59 | It's Arda who makes way for Jordi Alba.
Min 56 | Jordi Albra stripped and set to make his way onto the pitch. Home fans complain after Arda foul (the Turkish player is already on a yellow).
Min 55 | Great left foot drive from Iniesta, Rulli dives to make a great save. The man from La Mancha making his presence felt in the short time on the pitch.
Min 53 | Iniesta already looking dangerous for Barça, twice his lobbed balls have caught La Real out.
Min 50 | The Anoeta pitch looks sluggish, am no horticultural expert but it looks very patchy and irregular in places despite the recent rainfall in the Basque Country, unlike the lush Camp Nou surface.
Min 47 | Movistar + commentators accuse Barça of looking tired. Luis Enrique was asked the same question in the pre match conference and according to his personal stats they are in better shape than this time last season !
Min 46 | Barça living dangerously as la Real skip through the defense and just fail to get a shot on target.
Min 46 | Both teams back on the Anoeta pitch as Iniesta comes on for Rafinha. 27,000 confirmed attendance at the break.
Half Time: Real Sociedad 1-0 FC Barcelona
Min 45 | That's it Villanueva calls time at Anoeta with the home side one goal ahead.
Min 44 | Rakitic and Iniesta sent to warm up. Barça lacking the creative magic want that both players offer.
Min 42 | Counter from La Real almost ends in a second for the home side. Meanwhile Arda booked for a trip.
Min 39 | Incessant this pressure and possession from Barça. Reminiscent of the second half in Camp Nou for Tuesday's Champions League tie vs. Atleti. The Basque side seem relatively comfortable defending in numbers.
Min 36 | On the earlier subject of kits, we still cant understand why Barça are in their away kit....but it is good to see the match official, Villanueva in gold old fashioned all black !
Min 34 | Arda Turan finds space and his half volley is deflected as Rulli saves. Best chance for Barça. Vela then launches a counter for La Real blazing his shot over the bar.
Min 33 | Possession so far at Anoeta: Real Soc. 28% vs 72% FC Barcelona
Min 31 | Luis Enrique gestures to his side pleading for them to use the flanks. Despite the possession, Rulli yest to be really tested.
Min 30 | Lofted pass finds Dani Alves, but once again the Brazilian defender finds himself offside
Min 28 | Once again, patient build-.up play from Barça with the final ball was lacking to slip through the blue & white wall.
Min 26 | La Real playing with nine men behind the ball and as yet, Barça unable to spring the back-line. Eusebio's men happy to absorb play and strike on the break.
Min 25 | Yellow for Illara after a very late challenge on Busquets. Studs showing and card deserved.
Min 23 | Carlos Vela (who has been linked heavily with a move to MLS (Colorado & San Jose) looking lively for the home side tonight.
Min 22 | Messi's left footed kick deflects off the wall
Min 21 | Dangerous free kick for Barça as Mikel fouls Leo Messi. 25 yards (approx) out and slightly to the left ...Messi territory
Min 19 | Despite being in an offside position, Dani Alves finds himself in acres of space as Barça patiently look for chinks in the Basque side's defence.
Min 16 | An anxious looking Lucho on the Barça bench. The 18 year old La Real striker's goal adding to the tension.
Min 14 | Another dangerous cross from Real Sociedad with Oyarzabal again the target. This time the ball was cleared from danger.
Min 14 | Plenty of noise coming from the La Real faithful as they celebrate their early lead. The running track at Anoeta does no favours in creating atmosphere at the San Sebastian ground.
Min 10 | Barça dominating possession as Luis Enrique's men will look to bounce back against this early set-back. As things stand the Catalan side currently hold a three point lead over Atleti at the top of the table. Still plenty of football to be played at Anoeta though.
Min 7 | Messi picks up a loose ball from a Barça corner but blasts the ball over Rulli's bar.
Min 5 | Goooooooooooooooool, Oyarzabal puts la Real ahead with a looped header.
Real Sociedad 1-0 Barça
Min 3 | Early chance from Munir despite pleas from La Real defence that he was offside. Shot straight at Rulli.
Min 1 | Carlos Vela to take an early corner for La Real, which comes to nothing.
Min 1 | Off we go!, Barça kick-off
Handshakes between former team-mates Luis Enrique and Eusebio. La Real in their traditional blue & white stripes, Barça in their change "senyera" kit.
Previous meetings at Anoeta (last 5 seasons)
The last 5 meetings at Anoeta between La Real and Barça have ended:
2010/11 - R Soc 2-1 Barça
2011/12 - R Soc. 2-2 Barça
2012/13 - R. Soc. 3-2 Barça
2013/14 - R. Soc. 3-1 Barça
2014/15 - R. Soc 1-0 Barça
What the managers had to say
Real Sociedad coach Eusebio Sacristán looked ahead to tomorrow's visit from the side he represented as a player - Barcelona. The Catalans have struggled in recent years at Anoeta but the Basques have three first choice defenders unavailable - the club confirmed that Iñigo Martínez has suffered a tear to his right calf muscle this morning, while Yuri, completing a cycle of five bookings, and Markel, sent off last week at Sevilla, are both serving a one-match ban.
Luis Enrique on Barça's bad run at Anoeta: "It doesn't only stretch back to our last five visits. La Real returned to the top flight nine years ago and Barça haven't been able to win there since before then. It's something that we have to analyze because the pitch there is always pristine, so that's not a factor. It's a long run without a positive result in San Sebastián and we need to think about why we haven't been able to win there. It won't be a simple game. We're in a situation where we need to show that we are strong and assertive. This is an incredibly tough away trip. No team in Spain has the figures which La Real have managed against visiting teams, it's the toughest away game of the season".
Welcome to AS English's live build-up and coverage of the match between Real Sociedad and Barcelona at Anoeta.
Preview
The league leaders travel to San Sebastián on the back of the Clásico loss last weekend but in the knowledge that a victory in Anoeta will probably win them the league. Barça's run-in gets a lot more comfortable after Saturday's match, which is easily the trickiest Luis Enrique's men face between now and the end of the season.
Barcelona have not won in San Sebastián since 2007 and have been beaten on their last three visits to Anoeta.