AS English's European Championship 2016 predictions
AS English casts its eye over the tournament and picks a winner, top goalscorer, player of the tournament and young player.Champions League live online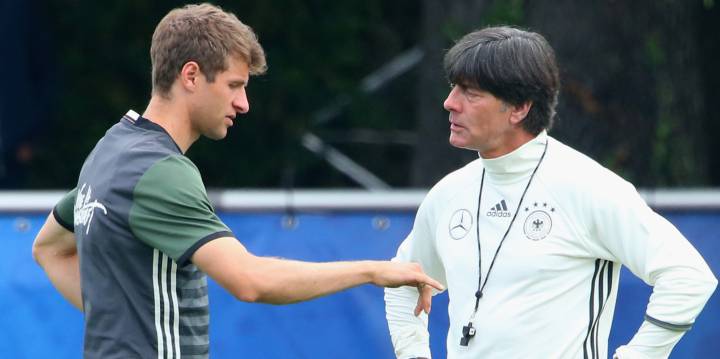 Winners: Germany
It is hard to see any side other than the World Cup winners emulating Spain and France by lifting the trophy in Paris and holding both major tournament titles in tandem. Philipp Lahm retired after leading the side to triumph in Brazil but Joachim Löw's 2014 team remains largely intact with a back four and midfield as imposing as any that will contest the tournament. Thomas Müller bagged five at the last World Cup, a tally bettered only by James Rodriguez, and won the Golden boot in South Africa in 2010 but failed to find the net at all at the Euro 2012 finals, a statistic he will be keen to redress despite providing seven assists in Poland and Ukraine. In Leroy Sané Löw has a potential game changer from the bench and his side has an enviable blend of experience and youthful verve. With Mesut Özil pulling the strings Germany will win Group C at a canter and go on play a third-placed qualifier in the last 16, potentially not facing a heavyweight until the semi-finals, by which time Die Mannschaft will be in full flow and difficult to stop.
Spain and France will also be fancied as holders and hosts but Germany's big game nous may prove decisive yet again. And few would bet against them in a penalty shootout.

Betting: France 3/1; Germany 4/1; Spain 5/1
Top scorer: Nolito
Europe will be treated to several of Herr Müller's trademark non-celebrations in France, but the Germany forward will face some stiff competition for the individual prize. Poland's Robert Lewandowski was the top scorer in qualifying with 13 goals, and bagged 42 in 51 games for Bayern last season. Europe's hottest striking property should feature in the last 16 at least, where Poland will possibly face Switzerland.
Behind the prolific Pole in qualifying was Zlatan Ibrahimovic, who hit 11 including three in the playoffs to see Sweden into the finals at the expense of Denmark. This will be the big man's international swansong and a flurry of goals from the Sweden captain is a possibility, even if Erik Hamren's side are in the group of death. It is worth noting that David Villa top-scored at Euro 2008 on the back of a group stage hat-trick against Russia in Spain's opening match, finishing the tournament with four in total. That could open the door for France striker Antoine Griezmann, who will look to fill his boots in a fairly weak Group A.
But AS English has a little notion, and has already put some money where its mouth is: Nolito. The forward bagged four in Spain's three warm-up games and already has more international goals than main striker Álvaro Morata on the same number of caps. Spain will go deep in the tournament and Nolito will be one of their main outlets for goals, after bagging more than Morata at club level this season as well despite missing eight games with a hamstring injury.
Betting (selected): Thomas Müller 7/1; Antoine Griezmann Cristiano Ronaldo both 8/1; Robert Lewandowski 16/1; Zlatan Ibrahimovic, Nolito both 33/1
Player of the tournament:
Since the introduction of the player of the tournament award, it has never gone to the top scorer. In 2008 Xavi took that accolade ahead of his teammate Villa, in 2012 it was Andrés Iniesta in another low-scoring tournament. In 2004, Greece captain Theodoros Zagorakis took the accolade. The first winner was Mattias Sammer, who beat Alan Shearer to the gong despite the England forward's five goals at Euro 1996.
In France, there are a few candidates but wouldn't it be nice if for once a keeper was acknowledged. Gianluigi Buffon was the Ballon d'Or runner-up in 2006 when Italy won the World Cup while Iker Casillas has plenty of minor gongs but has never got his gloves on a significant individual award. Peter Schmeichel would surely have been honoured with more than a place in the team of the tournament in 1992 when Denmark famously "left the beach" and won the tournament, had the award existed.
It's not inconceivable that the 2016 Euros will follow a downward trend in goalscoring terms since the turn of the century: there were 2.45 per match in 2012, 2.48 per match in 2008 and 2004, and 2.74 in 2000. International football has become a cagier affair and so why not highlight the contribution of the custodians? Iceland are an outside bet to qualify from Group F and could potentially play Wales in the last 16. Keep one Gareth Bale quiet and they could make the quarters. If that happens, on the back of something similar to the six clean sheets kept by Hannes Thor Halldorsson in qualifying, the Iceland keeper's name should be in the hat.
But it's 2016, it's Uefa, and the award is likely to go to someone with a higher profile and more marketable name. Leo Messi won the award at the 2014 World Cup after all. Think Paul Pogba, Cristiano Ronaldo or, possibly, Gareth Bale.
Betting: Paul Pogba 10/1; Cristiano Ronaldo 12/1; Manuel Neuer 33/1; Gareth Bale 40/1; Gianluigi Buffon 50/1
Young player of the tournament: Yannick Ferreira Carrasco
There's an extraordinary amount of young talent at Euro 2016. The aforementioned Sané is likely to leave his mark, while England have in Marcus Rashford a kid who only made his Manchester United under-21 debut last September. For non-fans of the Ukrainian Premier League this will be a first chance to have a good look at much-hyped Ante Coric on the big stage, a player described by his coach at Dinamo Zagreb as being "better at his age than Luka Modric."
Anthony Martial is likely to play a fair role for France after standing out at Manchester United last season while Federico Bernardeschi will do the same for Italy in France as one of few players in a static Azzurri side with a third and fourth gear to move up into to. There is, though, one player who could set the tournament alight in a side tipped to do well: Belgium's Yannick Ferreira Carrasco. The Atlético forward came off the bench in the Champions League final and ran Real ragged, finding the equalizer with a well-taken strike. He can be the bane of many a back four in France, particularly as he is likely to be deployed from the bench when opposition back fours are tiring.
Kingsley Coman of France is another player who could play a key role for his side. The 19-year-old Bayern Munich winger had a fine season with the Bundesliga giants and will be a dangerous prospect for France's opponents with his speed and skill on the wing.
Betting: N/A