GERMANY 0-2 FRANCE
Germany vs France: Result, match report, minute by minute
Two goals from Euro 2016 top marksman Antoine Griezmann was enough to seal a place for hosts France in Sunday's final against Portugal in Paris.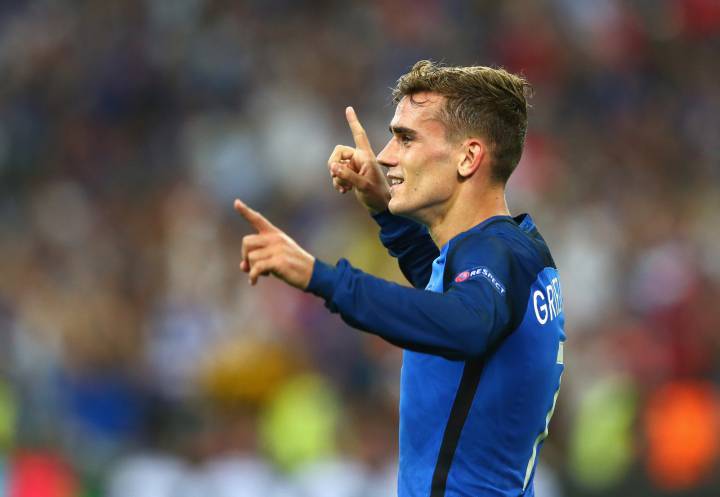 France are in the final of Euro 2016 !
Didier Deschamps can be grateful for some generous match officiating from Italian referee Nicola Rizzoli after the Italian whistleblower awarded 'Les Bleus' a lenient penalty after Bastian Schweinsteiger was adjudged to have handled the ball as the half time whistle beckoned.
Antoine Griezmann dispatched the resulting spot kick to notch his fifth goal for the tournament and the German side went into to the half time interval shell-shocked after Joachims Low's side had completely dominated proceedings in Marseille during the first 45 minutes but tellingly failed to trouble Lloris in the French goal.
The second half picked up with the same pattern, Germany dominating possession but lacking the creativity with the final ball to penetrate the French defense. France were happy to soak up pressure and hit the world champions on the break. It was from one of these surges in the 72nd minute of the game that the second goal arose after some fine work from the otherwise discreet Pobga who saw his delivery tipped back into open play by Manuel Neuer and straigjt into the path of the lurking Griezmann. The Atleti striker stabbed the ball home with the sole of his foot and the Parisian final against Portugal began to become a reality for the bulk of the delirious Marseille crowd.
Germany threw everything forward and the introduction of the busy Sané and world cup winner Mario Gotze wasn't enough as Low's side began to sense that it wasn't to be their night as the woodwork and Lloris kept the tie out of their reach.
France march on in "their" Euro 2016 as Portugal and Cristiano lie ahead in Sunday's final. Didier Deschaps will take comfort in the history books with 1975 being the the last time Portugal recorded a victory over the French side. Cristiano Ronaldo against the vunerable French rear-guard will make for a fascinating contest in Paris.
Germany v France, how it happened:
FT: Germany 0-2 France
Full time: That's it, Rizolli calls time and it's host nation France who take their place in Sunday's Euro 2016 final in Paris.
Min 94 | Germany almost snatch a goal as Lloris pulls off a spectacular reflex stop to deny Kimmich.
Min 92 | Cabaye comes on for France and Euro 2016 top scorer Antoine Griezmann (6 goals ) makes way for the Crystal Palace player.
Min 90 | The Velodrome is a sea of red, white and blue as France head towards the final of Euro 2016. 4 minutes of time to be added.
Min 88 | Gignac tries his luck but yet another weak shot gives Neuer no trouble. A French breakaway goal looking more likely at this point than a German goal.
Min 86 | Griezmann robs the ball in his own half and begins a gallop towards the German goal. A tired shot from the Atleti player poses no problem for Neuer. The decibel levels of the Velodrome have just raised a notch as the fans sense a Euro 2016 final is on the cards.
Min 84 | Matuidi breaks free and over-hits his cross as Sissoko was lying in wait at the back post as Germany keep the pressure on firing balls into the French box.
Min 81 | We're 10 minutes away from a Portugal vs France final. Can the World Champions snatch something from this game as Howedes goes close with a stooping header. France look so poor on dead ball situations a s Iceland discovered last Sunday at the Stade de France.
Min 79 | Sane comes on for Schweinsteiger as the Schalke player almost taps home with his first touch. Germany refusing to give up as we head into the final 10 minutes.
Min 77 | The traditional Gignac for Giroud change that Deschamps lies to make as the Liga MX striker entres the fray for the remaining 12 minutes.
Min 75 | A Draxler free kick goes inches wide...Germany looking to claw their way back into the tie.
Min 73 | Griezmann booked for a foul on Draxler. Kimmich almost drags Germany back into the game with a sweet curling left foot shot which grazes the outside of Lloris' post.
Germany 0-2 France
Neuer only able to palm Pogba's cross back into open play, the ball falls fortuitously to Griezmann and the Atleti player taps home.
Min 72 | Griezmann pounces on a Neuer error and stabs home to make it 2 for France !!!!
Min 70 | Sissoko fouls Kross in a dangerous area for Germany. Ozil takes the kick but the linesman flags for offside.
Change for France: Payet (discreet performance tonight) as Kante takes the West Ham player's place.
Min 68 | German pressure sees the men in white win a corner as the clock ticks down. Nothing resembling a clear cut chance in this second period from Joachim Low's team.
Min 66 | Emre Can makes way for the Bayern player. Germany need an injection of fresh ideas as the World Champion's are looking void of ideas to break down the wall of blue shirts.
Min 63 | Low looks to shuffle his pack with Mario Gotze warming up for the German side.
Min 62 | Emre Can has been quiet for Germany after a bright 10 opening minutes. Low's side need more from the Liverpool player along with other creative outlets in Kroos and Ozil.
Min 58 | Germany just lacking the ability to deliver the final killer ball as France take their time with kick-out's and throw in's. Boateng is down and appears he won't be able to continue. Valencia's Shkodran Mustafi set to replace the Bayern defender.
Min 55 | Packing 11 players behind the ball is somewhat of a dangerous game-plan from Deschamps given what we've seen of the French defense during the tournament and indeed tonight.
Min 53 | France with 11 players behind the ball as Germany move the ball around comfortably. "Allez Les Bleus" rings out from the Marseille faithful as the French fans reilase they are just 35 minutes away from a Paris final against Portugal.
Min 51 | Dangerous from Germany as Schweinsteiger finds Hector and his delivery into the 6 yard area is snuffed out by the French rear guard.
Min 49 | Poor from Laurent Koscielny as he gifts the ball to Germany. Sissoko robs Draxler and the German retaliates by fouling the Newcastle player.
Min 46 | Giroud finds himself in space and fires a tame shot straight at Neuer. Griezmann links with the Arsenal striker and his shot is deflected by Boateng. Bright start from the French side.
Second half:
The teams are back out after the interval. Ozil has been booked we suspect for "words" exchanged with Sr. Rizzoli after the penalty decision.
The Griezmann goal also sees the Atletico Madrid striker move to 5 goals for the tournament to date.
Half time reflection: A controversial decision to say the least on the stroke of half time from the Italian match official which will create all the discussion at the break. Harsh on Germany but Joachim Low will feel his side have enough to overcome this defensively frail looking French side. "Les Bleus" started well but eventually the German side stamped their authority on the game coming close on a number of occasions and they too can look at two Pogba infringements for possible penalties. France will look to get more out of their play-makers after a discreet 45 minutes from Griezmann, Pogba and Dimitri Payet.
HT: Germany 0-1 France
Min 46 | A controversial decision to say the least here in Marseille. Griezmann asks no questions and slots home. Schweinsteiger also carded for the alleged hand ball. Cruel on Germany.
Min 45 | We have a penalty as Schweinsteiger is adjudged to have handled the ball.
Griezmann to take and scores......... But But But pour Les Bleus
Min 45 | Much better last 5 minutes from France as they remember that they are a handy team.
Min 42 | Giroud breaks through on his own and his lack of pace sees him unable to outrun Howedes who intercepts the ball as the Arsenal player bore down on goal. Great chance for Les Bleus but what a clear lack of pace from the French striker.
Card: Evra booked for dangerous play.
Min 42 | Griezmann latches onto an Evra ball and lashes a left foot shot into the side netting.
Min 40 | Another call for a German penalty as Schweinsteiger is bundled over by Pogba in the area. Once again the Italian official is not impressed and waves play on.
Min 39 | Matuidi gifts the ball to Muller who fires off a weak right footed shot which Lloris smothers at the second attempt. The French fans try and rally their side but it's Germany bossing proceedings on the Velodrome pitch.
Min 37 | French free-kick in a similar position to the Payet attempt some 10 minutes ago. Pogba to take and once again beats the wall but straight into the hands of Manuel Neuer.
Min 34 | Deschamps gestures wildly on the bench as Low looks on in a relaxed manner. France need to retain possession and find some way to get the ball to Sissoko and Payet on either flank.
Card: Emre Can for a foul on Griezmann
Min 31 | France unable to get their play-makers into the game with Griezmann, Pogba and Payet looking void of creativity so far this evening. Germany keeping the ball without being troubled by the blue shirts as once again France forget the art of defending and almost gift Germany a goal.
Min 30 | Possession: Germany 65% v France 35%
Min 26 | Schweinsteiger tries his luck with an excellent right foot curler which Lloris has to tip over. Germany really causing the French rear guard headaches with every attack as Low's side have now stamped their authority over proceedings after a poor opening ten minutes.
Min 24 | Dangerous free- kick for France as Payet is caught by Schweinsteiger. Long way out as Payet tries his luck, the West Ham player gets his shot on target but easy for Neuer.
Min 21 | A pattern developing to the game now with the German side holding onto the ball and France breaking with Griezmann and Pogba looking threatening.
A call for a German penalty as Kroos is caught by Pogba just inside the area. The Italian official waves play on but it looked like there was contact from the French midfielder. A let off for Dechamps' side.
Min 16 | The French defense (which has been much criticized in France) is struggling with the German attack as the men in white start to impose themselves on the game.
Min 14 | Comedy defending from France as they fail to clear the ball. Emre Can picks up the loose ball and his weak shot almost catches Lloris by surprise who needs to stretch to keep the ball out. Better from Germany now.
Min 12 | Germany really struggling to get their game together with Schweinsteiger and Boateng culpable of poor mis-placed. Can fires a dangerous ball into the area and Muller just fails to get enough connection on the ball. Best chance for Germany so far this evening.
Min 9 | A barrage of whistles and boos ring out as Germany pass the ball around as the home crowd play their role of 12th man. Howedes concedes possession and France look for Giroud with a long range pass.
Min 7 | Griezmann almost opens the French account after a mazy run in the area, his final right footed shot was weak and palmed away by Neuer. France looking dangerous in the opening stages here in Marseille.
Min 4 | Tremendous atmosphere in the Velodrome as both sides try to establish early ascendancy with France enjoying the greater early possession.
Min 3 | Early danger from France as Payet breaks and his cross ricochets off Emre Can for a France corner.
Min 1 | France get us under way with Niccola Rizzoli (Italy) our match official this evening.
Euro 2016, semi-final #2. Who will face Portugal in Sunday's final at the Stade de France? Stay with us as the action unfolds in Marseille.
National anthem time with Germany first up and then a powerful rendition of "La Marseillaise".
The teams take to the pitch at the Nouveau Velodrome. The good news is that both sides will wear their classic kits this evening. France in blue shirts, shorts and red socks. Germany in their classic white shirts and black shorts combo.
Liverpool's Emre Can is the surprise inclusion in the German starting XI while Didier Deschamps remains faithful to the starting line-up that saw his side secure a 5-2 win over Iceland in Paris last Sunday.
Good evening and welcome to our live coverage from the spectacular Veledrome stadium in Marseille. A perfect evening for football with a balmy 27C temp (Celsius) and a gentle SW breeze.
Team News:
Germany XI:
Neuer; Kimmich, Höwedes, Boateng, Hector; Schweinsteiger, Kroos; Emre Can, Ozil, Draxler; Müller
France XI:
Lloris, Sagna, Koscielny, Umtiti, Evra; Pogba, Matuidi; Sissoko, Griezmann, Payet & Giroud
Hello and welcome to our minute by minute coverage live and direct online of the second semi-final in Euro 2016 which kicks off at 21:00 CEST at the Stade Vélodrome in Marseille. All day we'll be building up to the big game and then seeing who joins Portugal in Sunday's final.
Preview of Germany vs France: Euro 2016 semi-final
Unlike last night's game, this is a semi-final that would not look out of place as the final itself. The current world champions face the tournament hosts and on show will be some of the hottest properties in European football. This is the first time that these two nations have met in a European championship. Let's look at the two sides.
Germany
The team managed by Jöachim Low have reached this stage with a gradual build up in the quality of the opposition as one might expect in this format of competition. Victories over the Ukraine and Northern Ireland and a draw with Poland saw them top their group which gave them the comfortable last 16 match-up against Slovakia where they scored three. By the time the faced Italy in the quarter finals, Neuer and co were yet to concede a goal. Although they needed penalties to overcome the Azzurri their goal conceded in the second half of regulation time was from the spot.
The back-bone of the side has been Neuer, Boateng, Kross, Ozil, and Müller. They do have a few injury concerns though and striker Mario Gómez could be an unlikely loss for them as he has been an important part of what Germany have done well in the tournament so far. Without Gomez, as well as midefielder Khedira and Hummels at the back, France may feel that they'll get some opportunities and with their greater quality as an attacking force they could be the first team to score against the world cup holders in open play.
France
This French side, managed by Deschamps, has got a nation very excited. Their route to this point has seen them avoid any traditional big names beating Romani and Albania before playing out a goalless draw with Switzerland. Although the Republic of Ireland took the lead in the last 16 game - ensuring some nervous home fans - this was possibly when France stepped up to show their favourites tag credentials. Atlético striker, Antoine Griezmann replied with two fine strikes to take them through to a quarter final against minnows, but fairytale merchants, Iceland.
A very confident 5-2 win - which saw the hosts extinguish any threat by half-time - means that they come into this semi-final with their tails up...but they are stepping up big-time in terms of opposition quality.
Lloris in goal, like Neuer at the other end, could play a pivotal role but the likes of Pobga and Payet in midfield will be hoping to have a lot of involvement in dictating how the game develops. Griezmann and Giroud certainly can provide the fire-power that the German defence hasn't seen so far. Two questions for Deschamps are whether he plays new Barça defender Umtiti or brings back in Rami and whether or not he includes Leicester's Kante in midfield.
These are arguably the best two sides in the tournament so expectations are high for a top quality and exciting game. To add extra spice to the atmosphere, France have been clear that they are looking to avenge their single-goal defeat to the Germans at the last World Cup.
Live build-up of Germany – France: Euro 2016 semi-final