Real Madrid to put Isco on the market
Zinedine Zidane's decision to keep Marco Asensio for the upcoming season has compliacted matters for Isco. Real will sell if the price is rightSevilla-Leganés: Copa del Rey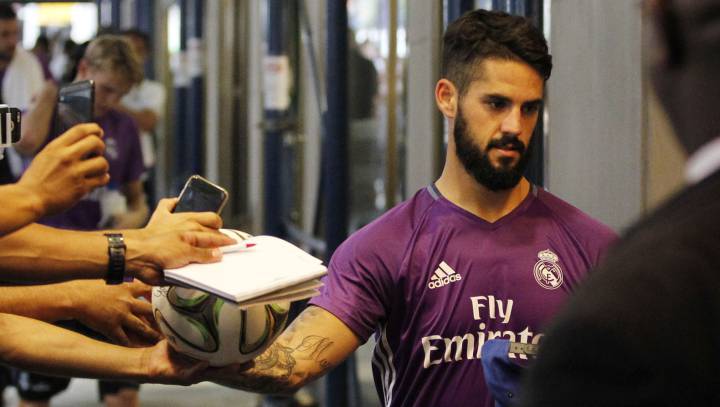 Real Madrid are ready to put Isco on the market. The policy at the club this summer is clear: "Players have to leave before any come in." And it appears that Isco is the frontrunner for the chop – if the price is right. In a summer where Juventus are asking 120 million euros for Paul Pogba and Manchester City paid 50 million for Leroy Sané, the feeling at the Bernabéu is that Isco's price tag should fall somewhere in between the two.
Asensio stay
Zinedine Zidane's decision to retain Marco Asensio for the new season, which he announced last Tuesday, has made Isco's future look rather bleak. Without being specific, Zidane has opened the door for players to leave: "They are all very good, but we have to make some decisions."
More "attractive than effective"
Isco has fallen out of favour at the Bernabéu after his impressive debut season in 2013-14, when he scored 11 goals and provided seven assists in 3,297 minutes of playing time, becoming a firm fan favourite in the process. It was hoped and suspected by the hierarchy that his performances would only get better. However, in the same number of games the following season he chipped in with just six goals and eight assists and this year saw his playing time slashed as Lucas Vázquez emerged as a regular substitute under Zidane. Within the club Isco is viewed as a player who is more "attractive than effective."
Isco failed to hold down a regular place under Rafa Benítez as well and he was subjected to some boos and whistles from the Bernabéu crowd. His output was five goals and 12 assists in 43 appearances, but he featured for the least amount of time in a season since his arrival at the Bernabéu in 2013.
Euro 2016 snub
Isco eventually missed out on the European Championship despite being a regular in the squad during qualifiers, to cap what has been a disappointing season for the former Málaga and Valencia player.