UEFA SUPER CUP | REAL MADRID - SEVILLA
Iborra: "We're not here to see what happens; we want to win"
Sevilla's captain joined Vitolo and Jorge Sampaoli in Monday's pre-match press conference to look ahead to tomorrow's UEFA Super Cup (20.45 CEST.)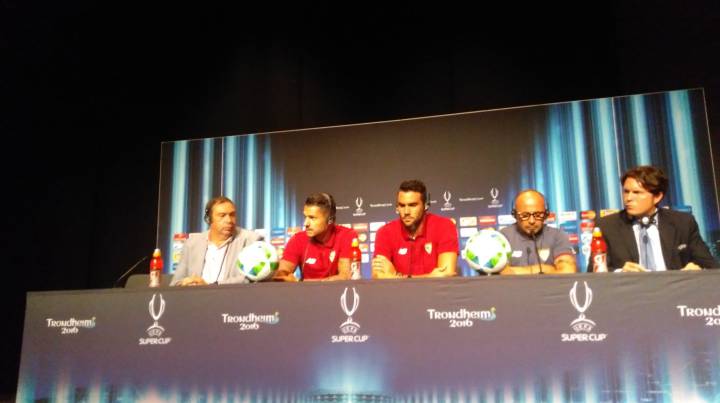 UEFA Super Cup pre-match press conference

Sevilla skipper Vicente Iborra joined Vitolo and coach Jorge Sampoli in answering questions from the media on tomorrow's European Super Cup final against Real Madrid. Iborra warned that the Andalucians have not come all the way to Trondheim "to see what happens - we want to win this final. We've been working very hard and we want to finish off all of the hard work from last season by winning this trophy".
Favorites: "For us, Madrid are the favourites, as they almost always are. But that doesn't mean we have come here to see what happens. We have come here with the idea of being the protagonists in this final and we want to win it. We'll be making it difficult for them - they won't be comfortable tomorrow. We are aware of the rival who we will be facing and the players we'll be up against - in spite of the players they have out. We've come here to win, to put in an intense game and not let Madrid even catch their breath. We have our own weapons with which we can harm them".
Sevilla's identity: "It's the philosophy of the club. We know what happens year after year and we're used to seeing team mates coming and going. Despite all of that we always maintain our identity - we know the club which we are representing and the values we are defending. That will never change".
Key influences on the game: "It's clear that neither of us are at our best level just yet. We have advanced in a few areas though; and the calendar dictates that we have to play this game now. We've done what we can to go into the game in good shape and we have made a huge effort to prepare. The mental side of it also counts. We are here to win, we are ambitious and we want to begin the new season with a Cup under our arm".