UEFA SUPER CUP | REAL MADRID - SEVILLA
Sergio Ramos: "We have players out but we'll stand up to Sevilla"
The Real Madrid captain accompanied Zidane in the pre-match press conference ahead of tomorrow's European Super Cup final in Trondheim (20.45 CEST).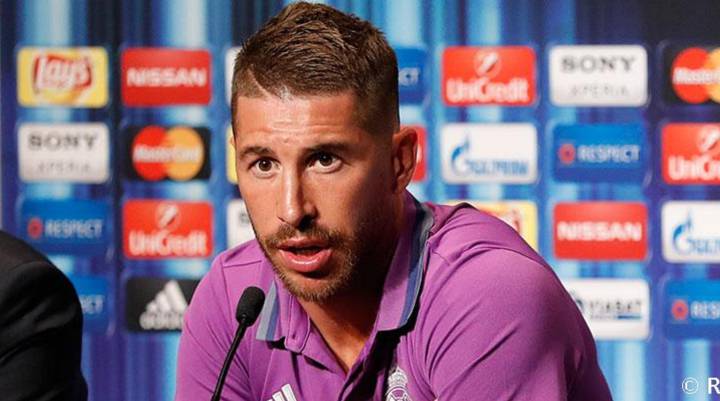 Proud to be leading the team out in Trondheim

Sergio Ramos joined Zinedine Zidane in previewing tomorrow's European Super Cup final between Real Madrid and Sevilla in Trondheim (20.45 hours CEST). The captain, who will be up against his former club, told journalists that despite being without several key players, the team "will gives as good as it gets" at the Lerkendal stadion.
Views on the game: "It's always special to play against Sevilla. It's my two lifelong clubs and that will never change. No I have to defend Madrid and I will do all I possibly can to see that the trophy comes back with us to the capital. I'll be looking after my own interests, which tomorrow, means Real Madrid - despite all of the feelings I have for my old team".
Second final wearing the captain's armband: "It's a reward for all of the hard work done last season. It's a nice feeling, and it's a real thrill. I will be trying to forget about the things I've won in the past, I want a new trophy to dedicate to the fans".
Objectives: "Personal one and collective ones go hand in hand. I want to show my best level on an induividual level; collectively, the madridista DNA means that we are obliged to fight for every trophy we're in. You never know what will happen in football and I just hope that I manage to avoid injuries in the new season".
Five first team regulars out of the Madrid side: "Finals can never come too soon. You alwasys need to be ready. We've done a great job during the pre-season and we're delighted with the squad we've got. With the players who have come up through the youth teams and the younger players we will stand up to Sevilla and we are fully prepared for this final".
Jesé: "It is never the players who make these kinds of decisions. I have a very special affection for him, I've always tried to give him the best advice and I wish him a great future. He always tried to show him level and we are proud of everything he has done. These are just the circumstances of football and it will be the same for him over there. It's a shame that he's leaving us and that there are players who don't get the playing time. Football can produce so many twists and turns that you never know".