Camp Nou displays Esteladas and whistles the UEFA anthem
The Camp Nou showed their anger at UEFA, with 30,000 pro-independence flags in the stadium before the Celtic match.
Barcelona fans angry with UEFA
The Camp Nou showed its displeasure with Uefa during their Champions League match against Celtic. Before the game pro Catalan independence groups distributed 30,000 pro-independence Estelada flags which were then displayed prominently inside the ground.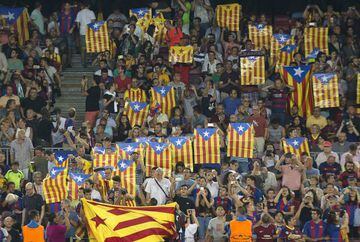 UEFA considers displaying the Estelada flag to be a political statement and has fined Barcelona on several occasions because of its display at matches by the club's fans.
Champions League anthem whistled
But the display of flags wasn't the only reaction from the Camp Nou faithful. Uefa's Champions League anthem was met with vociferous whistles and abuse, as the Barça fans protested the decision by Uefa to fine Barcelona for what the fans see as their right to freedom of expression. Shouts of "Uefa are the mafia" were heard from sections of the Barcelona support.
There were also chants in favour of independence both before the match, and as is usual at 14 seconds past 17 minutes (remembering the events of 1714).