Barcelona 4-0 Manchester City: Champions League match report, goals, result, highlights
The Argentinean ace was on target three times as Barcelona swept Manchester City aside in an incident-packed Champions League match. Sporting vs Barcelona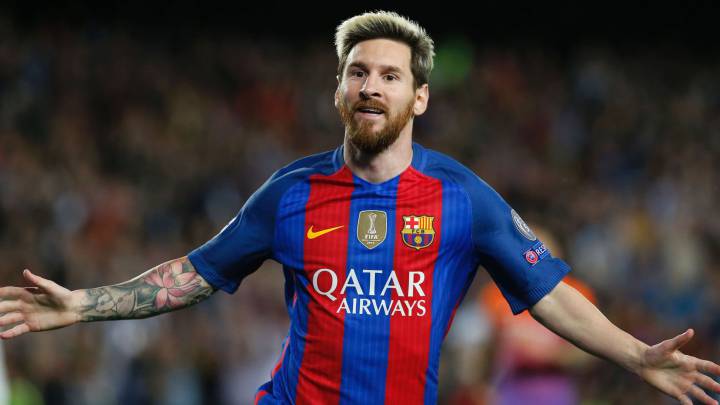 Barcelona 4-0 Manchester City: match report
Leo Messi led Barcelona to a 4-0 rout of Manchester City in the Champions League at Camp Nou, the Argentinean helping himself to a second European hat-trick in as many games as Pep Guardiola's nascent project was torn to shreds in the stadium where he made his name.
Terrible City defending
City will be left rue some calamitous defending, the visitors having been at least on level terms for much of the opening 20 minutes. That parity was brought to an ignominious end when the City back line failed miserably to deal with a loose ball in the area, handing Messi a written invitation to round Claudio Bravo and tuck home the opening goal.
Moment of madness from Bravo
Matters rapidly descended from manageable to farcical for Guardiola's side shortly after the restart when Bravo, in a moment of madness, came out to deny Luis Suarez but succeeded only in gifting the ball to the Uruguay forward, whose attempted lob was well saved by the City keeper, with the only problem that he was several yards outside the confines of his area. Red card and Willy Caballero came on.
Messi hat-trick
Messi extended his side's lead on the hour mark, slamming a trademark shot past Bravo's replacement Caballero and completed his treble minutes later to put the game firmly beyond City's reach.
Enough time remained for Barca substitute Jeremy Mathieu to get his marching orders for two bookable offences in two minutes, reducing his side to 10 men. But that was as far as any equality went with City completely outclassed in every area.
Neymar missed penalty, quickly makes up for it
City continued to fire defensive bullets into their own foot and when Messi was scythed down in the area a fourth goal seemed inevitable, yet Neymar elected to perform a little jig on his run up that fooled nobody, least of all Caballero, who made a comfortable save.
But the Brazilian was not to be denied for long and added the coup de grace with a wonderful individual effort to seal a crushing victory over a Guardiola team that is starting to play in its master's image but was rudely reminded that the house Pep built remains one of football's most revered places of worship.
---
Barcelona 4-0 Manchester City: full time
Min 92 | And that is that! City are thoroughly beaten in Camp Nou as Messi wanders off with yet another match ball tucked under his arm.

Min 90 | Two minutes of prolonged agony for Pep and City...

Min 88 | Goooooooal! Neymar makes amends immediately, firing low to Caballero's left after skinning a few City defenders. 4-0.

Min 86 | And Caballero saves! Neymar does that silly stop-and-tap-dance thing so beloved of strikers these days and sends a weak effort too close to the City keeper, who guesses correctly and makes a comfortable stops to his right.

Min 85 | Penalty! Messi is brought down in the box by Kolarov.

Min 81 | Caballero! The City keeper makes a decent save from Neymar to prevent the Brazilian adding his name to the score sheet.

Min 79 | Silva rather sums up City's evening there, finding himself in space in the area but hitting his pull back straight into the nearest Barcelona boot. Kun Agüero is coming on for Gundogan, 78 minutes too late to have any effect on the outcome. Iniesta goes off as well, bestowing the armband on Messi with suitable gravity, to a colossal ovation. André Gomes is on in his place.

Min 76 | Fernandinho clobbers Messi and the Argentinean is down in some discomfort. Back on his feet, he casts a rueful glance towards the ref for failing to punish the Brazilian's impudence.

Min 75 | Pep Guardiola is lost deep in thought on the touchline, hands stuffed firmly in his pockets, perhaps feeling a touch of nostalgia for the days when he was in Luis Enrique's shoes.

Min 73 | Red card! Mathieu brings down Sterling again, goes in the book again and is given his marching orders!

Min 71 | Ter Stegen again! Another great stop from the Barça denies Kolarov, whose low free kick was awkward.

Min 70 | Sterling slips through a couple of challenges and is almost through but is bundled over by Mathieu, who goes in the book for his troubles.
Min 68 | And that is that now! Messi bags his hat-trick with a simple side-footed tap-in from Suárez's selfless pass in the area. 3-0 now and no way back for City.

Min 67 | You'd fancy that will be it now, City have failed to make much of a dent in Barça this evening despite the patched up defence on offer. De Bruyne and the departed Nolito have been the brightest sparks for the visitors.

Min 64 | Barça have another free kick after Clichy goes to ground in a challenge with Suárez and handles. It comes to nought though and trundles out for a corner, which Barça take short, to no good effect as is so often the way with that ploy.

Min 63 | Ter Stegen! Another fine save from the German denies De Bruyne, who was clean through. Decent performance from the keeper tonight.

Min 60 | Gooooooooal! Messi! 2-0! The Argentinean picks up the ball from Iniesta, drops his shoulder, jinks inside and hammers a left-footer past Caballero. Luis Enrique delighted, Pep fuming.

Min 59 | Barça happy to keep possession for now, probing the City back line. A goal up, a man up and looking pretty comfortable, the home side.

Min 57 | The action resumes and Messi belts the free kick from Bravo's moment of madness well over the bar.

Min 55 | Zabaleta is limping off as Nolito makes way for Caballero. Gaël Clichy is on for Zabaleta.

Min 53 | Kolarov is prostrate on the turf now and it doesn't look too good for the City captain. Willy Caballero preparing to come on for the visitors.

Min 52 | Red card! Bravo loses the plot, coming out to meet Suárez and passing the ball straight to the Uruguayan, who tried a lob and the City keeper makes the save, just several yards outside his area. Straight red, and disaster for City.

Min 50 | Umtiti! The France defender nods just wide from a corner, we're not sure Bravo would have got there had it been a little to the left...

Min 48 | Suárez is left chewing turf again after a rough challenge, the Uruguyan looking extremely displeased by the treatment being meted out in his direction this evening.

Min 47 | De Bruyne fizzes a low ball into the Barça box but Mascherano hacks it clear. The Belgian, operating down the right, then gets a shot off but it's straight at Ter Stegen.

Min 46 | We're back underway in Camp Nou, no furhter changes on either side after Luis Enrique was forced to shuffle his defence twice in the first 45 after injuries to Jordi Alba and Gerard Piqué.
---
Half time:
An entertaining 45 minutes draws to a close with Barça a goal to the good after an utterly incomprehensible defensive blunder by City gifted Messi his strike. Several City players merely stood and watched as Fernandinho slipped and Messi picked up the ball and walked it round Bravo into the net. City could have equalized late in the half when John Stones found himself on th eend of a Silva free-kick but he failed to even hit the target from point blank range, much to Ter Stegen's relief.
---
Barcelona 1-0 Manchester City: first half
Min 46 | Sterling wriggles through a couple of challenges and squares for De Bruyne, who hits the side netting from close range. Appeals for handball against Lucas Digne on Sterling's cross but the ref is unmoved and blows for the half.

Min 44 | City have a free kick in a promising position, Silva lofts in a beauty and John Stones, alone at the back stick, has a free header but pops it wide from a few yards out! Great chance for City goes begging. Suárez does brilliantly at the other end to squeez off a shot on the turn and Bravo makes a photogenic double save!

Min 43 | Nolito gets into a good position but can't find the telling pass inside the area. City have looked more dangerous in the last 10 minutes but other than that Ter Stegen save the visitors haven't troubled Barça unduly.

Min 42 | Silva is clobbered by Lucas Digne on the touchline as the game meanders towards half time.

Min 38 | Piqué is indeed off, to a huge ovation, Mathieu comes on. And we have a yellow card! Fernandinho goes in the book for a thumping challenge on Suárez.

Min 36 | De Bruyne tries to catch Ter Stegen out at his near post but the German is not flummoxed and gathers easily. Nolito then draws a save from the Barça stopper and it's out for a corner, Silva delivers and it's out again for a throw, Silva delivers and Gundogan finds himself in space in the area and Ter Stegen makes a great stop! Better from City.

Min 34 | Suárez goes down in a heap under a heavy challenge from Zabaleta but the cards remain in the ref's pocket, which is pretty much where Barcelona have the visitors in this game so far...
Min 33 | Mathieu is receiving his instructions in the dug-out and it seems certain now that Piqué will go off...

Min 31 | Rakitic gets on the end of a Messi free-kick but sends his header high. Piqué is still not moving freely as Mathieu lumbers up and down the touchline.

Min 30 | Neymar is though and is sent into orbit by Bravo on the edge of the area but nothing is given.

Min 29 | But relief for Luis Enrique as his central defender hobbles gingerly back onto the pitch.

Min 27 | And the City player shows a little of that fristration in hacking Piqué in midfield. No card, but the Barça defender is still down and Mathieu is getting to grips with his tracksuit on the bench...

Min 26 | City have not been anywhere near Barça's goal since the opening few minutes, leaving Ter Stegen and his immaculate quiff less than ruffled. De Bruyne is isolated and Silva hasn't seen enough of the ball to work his magic.

Min 24 | Guardiola is doing a lot of arm-waving on the touchline, the finger-pointed down twirly wrist number being a particular favourite. Busquets concedes a foul on Gundogan.

Min 23 | Barça in control in midfield now, stroking it around and keeping City at arm's length. Suárez goes for a through ball is called offside. Zabaleta gets a stern talking to from the ref after chopping Neymar down in midfield.

Min 20 | And City nearly do the same thing again! What is happening at the back? Suárez this time gets on the end of a fluffed interception and hits the side netting.

Min 18 | We can't emphasise this enough... you will not see a more school playground sequence of defending in the Champions League this season. Shocking ineptitude from the visitors, who gift Barça a one-goal head start after looking fairly comfortable at the back until then.
Min 17 | What on earth...? Messi takes full advantage of a complete balls-up by the City defence to round Bravo and score! The entire visiting back line was just standing and watching! And that is not a good idea when Messi is about. 1-0 to Barcelona, and Pep will not be happy.
Min 15 | Iniesta. Nada mas. What a player.

Min 14 | A loose ball out from Kolarov is picked up and Messi and Suárez try to combine on the edge of the area but City hold firm.

Min 12 | Suárez looks longingly towards the ref after he is scythed down by Otamendi looking to get on the end of Iniesta's first time ball, but the challenge was clean.

Min 10 | Busquets nicks the ball off Silva and Barça break but City are able to thwart the danger.

Min 8 | The change is made, Alba goes off to sympathetic applause and looks understandably less than happy having just returned from an injury picked up on international duty.

Min 6 | Lucas Digne has been told to get his shirt on on the Barça bench... and the Frenchman is getting ready to come on, looks like Jordi Alba is unable to continue. Not good news for Luis Enrique.

Min 5 | Gundogan puts in the first "Evening!" challenge of the match, flattening Sergio Busquets. Rakitic then returns the favour for Barça.

Min 4 | De Bruyne does well to ping in a cross from right under pressure and Mascherano heads it behind for a corner. Silva delivers but it's cleared easily and City regroup in midfield.

Min 3 | Sterling goes on a run and puts in an inviting ball for De Bruyne but Bravo is alert to the danger and smothers the danger at the feet of the Belgian.

Min 2 | Neymar leads the City back line on a merry dance and pulls the ball back but there's nobody there to get on the end of it and City pump it clear.

Min 1 | City get the ball rolling!
---
Barcelona - Manchester City: team lineups
Barcelona XI:
Ter Stegen; Pique, Mascherano, Umtiti; Iniesta, Rakitic, Busquets, Alba; Messi, Suarez, Neymar
Manchester City XI:
Bravo; Zabaleta, Otamendi, Stones, Kolarov; Fernandinho, Gundogan; Silva, Sterling, Nolito; De Bruyne
---
Barcelona - Manchester City: latest news
20:45 | Both sides line up for a photo in support of the Kick Out Racism campaign.
20:44 | The teams emerge from the tunnel onto the greez baize that is the Camp Nou turf. The anthem is drowned out by jeers from the stands, plenty of Catalan estaladas on view. We're about to get underway...
20:40 | Barça! Barça! Barça! The anthem rings out around Camp Nou and the home fans get their vocal chords warmed up for the traditional booing of the Champions League warble...
20:35 | Just 10 minutes until kick-off in Camp Nou now... Barcelona can practically sew up qualification for the knock-out stages with a victory this evening, but can Pep throw a spanner in his old works?
20:20 | City are facing quite a task in the Camp Nou this evening, what with Barça's record against English teams: played 31, won 18, drawn 11, lost 2.
20:15 | Kevin de Bruyne has been tasked with leading the line for Man City tonight. How does the Belgium international measure up against Barcelona's Leo Messi?
20:10 | Nolito is another player facing his former club tonight, the City forward coming through the rank at Barcelona and playing more than 100 games for the reserves, yet only managing two senior appearances for the club in the 2010-11 season before moving to Benfica.
20:05 | Claudio Bravo, City's man between the sticks these days, played 75 times for Barcelona but of course never represented the club in the Champions League, with Marc-André Ter Stegen keeping goal in the cup competitions.
20:00 | Neymar has played 150 games for Barcelona since his transfer from Santos, scoring 90 goals and winning nine titles. Not bad.
19:50 | Meanwhile, Luis Enrique has opted to go for a back four after testing out a three-man defence recently, unless Jordi Alba is going to be pushed up into a midfield four...
19:45 | The big news from the confirmed lineups for tonight's match is that Sergio Agüero has been dropped to the bench by Pep Guardiola, with Kevin de Bruyne up front. In support of the Belgian are David Silva, Raheem Sterling and Nolito.
18:45 | Just two hours to go until kick-off at Camp Nou and Pep Guardiola's latest return to his alma mater. The City boss visitied his old stomping ground with Bayern Munich in the semi-finals of the 2014-15 Champions League and found himself on the wrong end of a 3-0 scoreline, Leo Messi (2) and Neymar doing the damage that would ultimately send Barcelona through to the final. Bayern won the return leg 3-2.
18:00 | Manchester City's John Stones has said he is relishing the chance to test his mettle against Leo Messi this evening. We wonder how he'll be feeling after trying to pin down the Argentinean dynamo for 90 minutes...
17:14 | Man City players were given a warm (?) welcome to Barcelona with one fan shouting to striker Kun Agüero: "You're gonna watch the World Cup on TV". If this was an attempt to mock the fact that Argentina may not qualify for Russia 2018, surely someone should remind him who Messi plays for.
16:19 | Weather report from Barcelona: our man near the stadium has stuck his head out of the bar for a second and says it's a rather pleasant 19 or so degrees. Expect the same in a few hours for the game...with a little more cloud.
15:50 | The two clubs have become pretty familiar with one another of late: this is third time they've been paired together in the Champions League in four seasons. It'd be fair to say Barça have had the upper hand - they've won all four matches in that time (in the last 16 in 2013/14 and 2014/15) scoring seven and conceding just two.
15:18 | A former team-mate of Barça's Rakitic has said he expects the Croat to end his playing days back at former club Sevilla. There's more on that here.
14:23 | Nice to see the two clubs exchanging Twitter pleasantries before their sides go head to head. Real Madrid, take note...
14:12 | It's first against second in Group C this evening, of course, between the two clear favourites to go through. Barcelona sit top with six points from six, while City's draw at Celtic on the most recent matchday leaves them two back on four.
13:42 | We brought you news of Barça's squad for today's Group C meeting below; here's Manchester City's travelling party, which was announced on Tuesday.
13:35 | Barça's Ivan Rakitic spoke to The Times this week, revealing Manchester City's boss is the reason behind his choice of shirt number at the Camp Nou and backing Neymar to take over as the planet's leading player. The full story is here.
13:00 | Pep isn't the only man at one of tonight's clubs with ties to the other. Oh, no. Off the top of my head, there's: Claudio Bravo, Nolito, Denis Suárez, Txiki Begiristain, Ferrán Soriano... Oh, and (ahem) Yaya Touré. Have I forgotten anyone?
12:48 | That win saw Lionel Messi make his comeback from a groin injury suffered in September - and the Argentine marked his return as a second-half substitute by snaffling himself a quick-fire goal.
12:40 | While City warmed up for today's match by being held at home by Everton - their third straight game without a win - Barça bounced back from their defeat to Celta earlier this month with a comprehensive 4-0 gubbing of Deportivo La Coruña at the Camp Nou. It's fair to say the Catalan press are now in confident mood ahead of the visit of Pep.
12:31 | In the mood for a stat attack? Step forward Leo Messi and Kevin De Bruyne.
12:11 | Ahead of kick-off in Catalonia, let us point you in the direction of Aled's match preview below. Oh, it's fabulous.
12:06 | Need all the info on when and where to watch tonight's match? Why, look no further.
11:56 | This isn't the first time Pep Guardiola has been back at the Camp Nou since leaving Barça, of course. He'll be hoping for better than the 3-0 defeat his Bayern Munich side suffered in the 2014/15 Champions League semi-final first leg.
11:15 | Barça confirm that Jordi Alba and Sergi Roberto have been given the medical all-clear; both players feature in Luis Enrique's 21-man squad list.
Barcelona squad: Ter Stegen, Masip, Piqué, Umtiti, Aleix Vidal, Sergi Roberto, Jordi Alba, Mascherano, Busquets, Mathieu, Digne, Rafinha, Arda Turan, André Gomes, Rakitic, Denis Suárez, Iniesta, Paco Alcácer, Luis Suárez, Neymar, Messi.

9:45 | Buenos días one and all! We here at AS Towers are literally (not literally literally) tingling with anticipation ahead of this evening's mouth-watering match-up between Barça and Man City. There are just under 12 hours to go, and we'll be taking you through to the first peep of Mirolad Mazïc's whistle with all the latest pre-match news, info and witty banterness, before bringing you live text coverage of Los Azulgranas against the Citizens.
---
Barcelona - Manchester City: match preview
A special game awaits us on Wednesday night as Barça host Man City: not just for the level of talent on show, but also of course because it sees prodigal son Pep Guardiola return home to Catalonia, this time as manager of Los Cules' opponents.
Barcelona
Luis Enrique's side will be looking to maintain their position as group leaders and remain unbeaten in the competition, having gained six points from their opening two games against Celtic and Borussia Mönchengladbach. Thanks to that 7-0 drubbing of the Scottish champions, Barça were the Champions League's top scorers before Tuesday night's matchday three fixtures.
Barça also come into this game following a 4-0 thumping over Deportivo in La Liga which has helped to silence critics who said that they'd only won against weak sides so far in their campaign and that performances had left a lot to be desired.
Enrique, however, knows that the game against City will be a big step-up from what his side has had to face so far. Manchester City are filled with world stars and have already improved significantly since Guardiola took over the reins in the summer.
While Barcelona will be able to count on their star MSN trident of Lionel Messi, Neymar and Luis Suárez once again, defender Samuel Umtiti remains a doubt following injury.
Player to watch: Messi. After an injury disturbed start to the season, the Argentinian showed that he's back on top form against Deportivo on the weekend.
Manchester City
Pep Guardiola returns to the club where he made his name in charge of a Manchester City side who'll be aiming for a major scalp in Group C.
After drawing with Celtic 3-3, a team against whom Barcelona put seven past, tonight's game will pose a much more complicated challenge. Also, unlike Barça, City come into the game slightly off colour, having been held 1-1 at home to Everton on Saturday.
However, a major boost for City is that they will be able to call on star man Kevin De Bruyne once again following his return from injury at the weekend. It had been feared that the Belgian would miss the match at Camp Nou but he's made a quicker than expected recovery. Luis Enrique and the Barça defence will have certainly taken note.
Player to watch: Nolito. The Spaniard is improving with every game since arriving from La Liga and has scored in his last three games.
---
Barcelona - Manchester City: possible line-ups
Barcelona:
Ter Stegen, Alba, Mascherano, Piqué, S. Roberto, Iniesta, Busquets, Rakitic, Messi, Luis Suárez, Neymar.
Coach: Luis Enrique
Manchester City:
Bravo, Otamendi, Stones, Clichy, De Bruyne, Gündogan, Fernandiinho, Silva, Sané, Iheanacho, Sterling.
Coach: Pep Guardiola
---
Barcelona - Manchester City: live match build-up