Premier League
West Ham fans issue homophobic flyer for Chelsea EFL cup game
It has been all over social media forums today as last night, ahead of the EFL cup tie with Chelsea, Hammers fans circulated flyers which included a song targeting John Terry.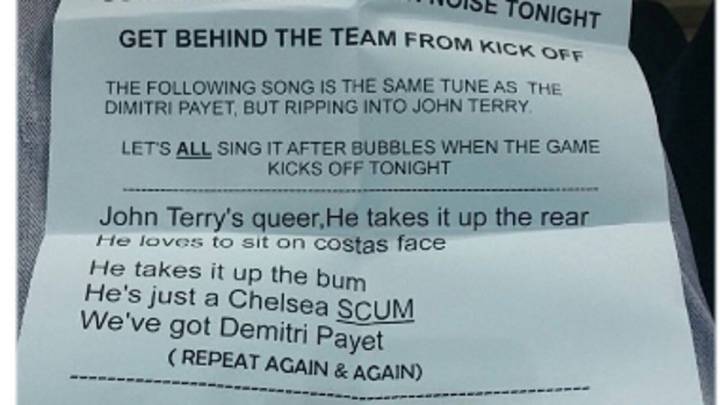 Violence and homophobia
Much has been reported today of the violent scenes that formed the surrounding narrative to the EFL cup match between West Ham and Chelsea on Wednesday night, one in which the home side emerged victorious. From this London police have confirmed that they have arrested seven men involved. Since the match though, photos of flyers circulated for use by Hammers fans have been getting shared in various social media forums.
The flyers were supposedly to get the crowd behind their stars - who have not had the best of times since moving to their new stadium in London - but carried with it a song for everyone to get involved with. The call was for a homophobic song to be chanted at Chelsea captain John Terry.
Strongest possible action to be taken
As well as the work being done to look into the violence in and out of the stadium, West Ham have announced an investigation into the organisation and distribution of the flyers.
"West Ham United are completely and utterly committed to tackling all forms of discrimination in football," a club spokesperson said.
"Working with the Metropolitan Police Service, the club will be investigating the alleged distribution of these flyers, and will take the strongest possible action against those responsible."
Whether those involved in the flyers exercise saw it as a relatively harmless piece of 'banter' remains to be seen but certainly leading figures in both the clubs and the football association have made it clear that homophobic and racial discrimination will not be tolerated. Action is expected to be taken on anyone connected and West Ham United's owners seem to have quite a job on their hands to quell the current trend at their club.