Prosecutors seek jail terms for Neymar and his parents
Brazilian investment fund DIS, which owned 40 percent of the player's rights when he moved to Barcelona, had asked for longer sentencesMonaco-PSG live online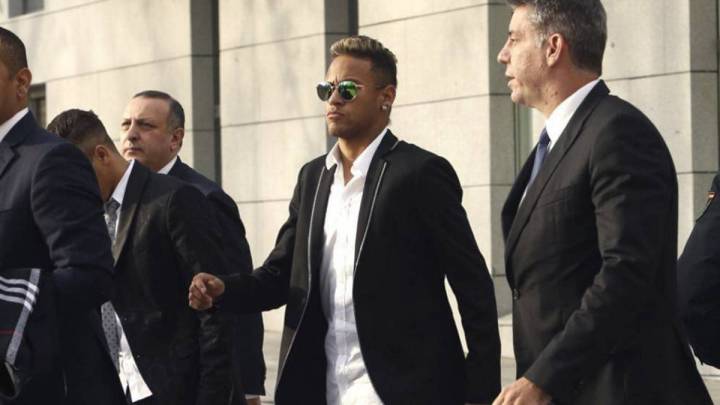 Brazilian investment fund DIS, which owned 40 percent of Neymar's federative rights when he was a player at Santos, and who claim to have been defrauded in the Brazilian star's transfer to Barcelona, have petitioned the Spanish judiciary for a sentence of five years in prison for Neymar and his parents, who DIS accuse of corruption. The Spanish Public Prosecutor subsequently reduced the petition to two years.
DIS on Wednesday presented their lawsuit, which includes a request for jail terms of eight years for current Barça president Josep María Bartomeu and his predecessor Sandro Rosell, in the Spanish High Court. The suit also demands compensation to the tune of between 159 and 195 million euros for loss of earnings resulting from the transfer of Neymar from Santos to the Camp Nou in 2013.
Prosecutors reduce demands
However, the Public Prosecutor reduced DIS' demands to a sentence of two years and a fine of 10 million euros for Neymar and five years for Rosell for alleged crimes of fraud and corruption over the player's transfer. DIS also asked that Neymar be banned from playing football for the duration of any sentence handed down.
In his indictment, High Court prosecutor José Perals, who has asked that the case against Bartomeu be dropped due to a lack of evidence, recommended a fine of 8.4 million euros for Barcelona and seven million euros for Santos in addition to two years' incarceration for Neymar's father and one year for his mother and a fine of 1.4 million euros for the N&N company joint-owned by Neymar Jr. and Sr. and fines of 10 million for each of the accused.
"Victims of fraud"
Sonda, the company of which DIS is a part, said in a press conference that they had taken the matter to court as they feel they have been "victims of fraud." DIS obtained 40 percent of Neymar's rights when the player was 17 and claim that in 2011 the player and his father signed simulated contracts with Barcelona that did not recognize DIS' 40-percent stake in any transfer proceeds.