Zidane: "We were cacking it last year - it's different now"
The Real Madrid manager spoke to the press ahead of Saturday's Clásico against Barcelona at the Camp Nou and said there were no favourites for the ClásicoReal Madrid-Deportivo: LaLiga matchday 20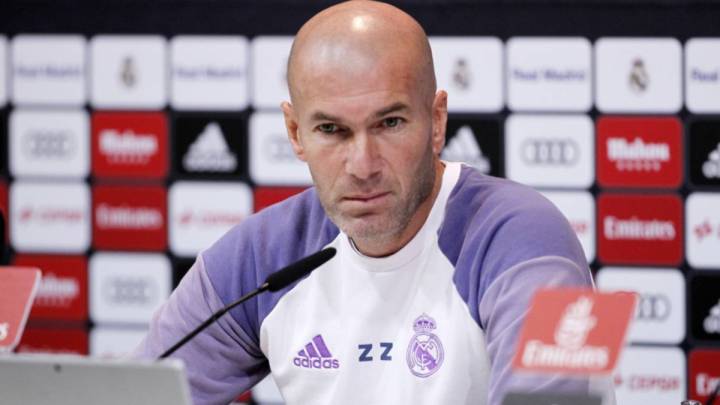 Zinedine Zidane spoke to the press ahead of Real Madrid's visit to Camp Nou for the first Clásico of the season with his side on a 32-game unbeaten streak in all competitions and six points clear of the eternal rival, Barcelona, going into Saturday's game.
Asked how Zidane thought the game would pan out, the Frenchman admitted that last year his Real Madrid side had gone to the Camp Nou "cacking ourselves" but that this year things were different. If Real Madrid win they'll open up a nine-point gap at the top of La Liga, but Zidane refused to say his side were favourites, arguing the match was "50:50".
Zidane press conference before Barcelona game

It's not a decisive game, but you are 6 points ahead...
We always play with a lot at stake, so we'll do the best possible to play a good game.If we play well, if we get into the match and if we concentrate, we can do well.
The objective as always is to win. But would a draw be a good result?
Well we'll try to play a good game. I don't think about that. All we think about isdoing the best we can.
You're on the shortlist for the best coach of the year. What has changed for you since that win in the Camp Nou last season?
Every day I'm getting better. I'm always learning. But not enough time has passed forme to be included in the list of the three best coaches in the world. I am on the listt hough and I'm very grateful for that. There are lots of coaches who should be there ahead of me, but that said, for me, this is a long process. If I'm coach for a longtime I'll get better.
Real Sociedad played very well against Barcelona, barely giving them the ball. Will you play like that, as you did in the Calderón?
Yes, we'll play with a lot of intensity. I didn't focus on the game in San Sebastián because this will be different. And Barcelona are the champions, and the champions are always tough to play against.
Have you decided on your starting XI?
Yes, I've decided. As to Casemiro, he's with us. We know how much he can give us. He's happy to be back.
Kroos isn't ready but he is back with squad. Does Iniesta affect things?
Iniesta won't change what we will do. He's very important for his team, but him playing won't change what we are aiming to do. With Toni we're taking things step by step.
You're very humble; you try to make everyone feel important…
I try and make everyone feel important. That's my job. This is another type of coaching compared to when I was a player, when there were eleven on the pitch and the rest on the bench. Well now we're lucky enough to have more players. I think this is the way forward. Obviously there are players who make a difference, but everyone is important. The group is very important and every player is vital.
You won in the Camp Nou, did you learn a lot from that?
I think tomorrow will be a completely different game. I have a word for how we went there, but it's a bad one... How do you say it? We went there with our culo apretado [literally 'clenched bottom', meaning very scared, in English a similar phrase would be 'cacking ourselves' or 'bricking ourselves'] [Please see note below regarding the original version of this article]. It's going to be a completely different game this year. We're going to try and play as well as we can.
Karim Benzema has done well in the Camp Nou and against Barcelona…
We know how important he is. On the pitch he gives us so much. And in a game like this even more. He's a reference point in games like this and I think he'll do well tomorrow.
Will the game depend on Leo Messi?
People think they need to win, because we are ahead, but it's not like that. We need to win too. About Messi, he's one of the great players out there, but they have lots of other good players.
It's unusual to come into this match six points ahead. In the dressing room how do people see it? Is it enough of a cushion?
I don't know what will happen. We're going there to play football. What happens, happens. We never do those calculations, it's not good. We're going there to play agood 90 minutes.
Florentino Perez has said that you'll stay at Madrid for life, that you're eternal…
Well it's true I'm going to stay in Madrid for the rest of my life [laughs]. I'm very happy in this city. Florentino gave me the possibility to come here and play at this great club, when others didn't want me, so I'm eternally grateful to him. But I know I need to keep winning games. I'm very grateful for his words.
What does it feel like to win in the Camp Nou?
What a question! There's nothing like it. I was lucky enough to play those games. I hope we can ensure people enjoy the game.
You were seen speaking to Modric, have you spoken to Cristiano?
I always speak to him, but he's very professional, he knows how to prepare for the game. What I'm interested in is how important he is for the team. His energy is incredible. I'm happy because he looks happy, he's in good form. He's still hungry. And that's good for the team.
Are Barça weaker than last year?
I don't look backwards.
You're going to Camp Nou as Liga leaders, after 32 games unbeaten and six points clear of Barcelona… do you consider Real Madrid to be favourites?
No. And there aren't favourites. It's 50-50, as it always is.
Which is more important: midfield or attack?
[Laughs]. Everything is important. Not just midfield or attack.
Have you found Barcelona's achilles heel?
No. Because every game is different. We study them like always. But they don't have a weak spot. They are very strong. Tomorrow you'll see two teams who are wanting to play good football.
Are you surprised by your incredible start?
No, because of the amount of work we do every day and the quality of the players we have. They are very professional. It might be surprising to some, but not to me. It's an achievement we've managed because of the work we do. The players, the staff. Tomorrow things could change. What we have to do is focus, and work hard.
How do you feel ahead of the game?
It's a dream for all the players, to be able to play in a Clásico. You only get two a year. And everyone wants to play. Me too as coach, I want to be involved. There's so much expectation. We can't wait to play.
---
Note: In the original text we transcribed literally what Zidane said in Spain "Vamos con el culo apretado" "We are going to the Camp Nou cacking ourselves", however we missed that he'd made a mistake in the tense of the verb (which we should have picked up from the context). He should have said "Fuimos con el culo apretado", "We went [last year] cacking ourselves. Apologies for the mistake.