Barcelona stars' holidays could depend on Copa del Rey draw
Piqué, Neymar, Luis Suárez and Messi are not due back in Barcelona until 2 January, but the Copa del Rey draw could see Barça meet Madrid, Atlético or Sevilla on 3 January...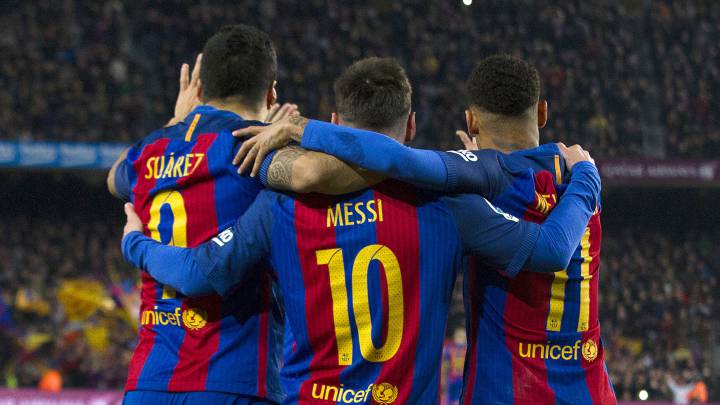 Messi, Neymar, Suárez and Piqué's Christmas holidays could well depend on what happens tomorrow in the Copa del Rey draw. The four Barcelona players were allowed to go on vacation after the last game of the year in LaLiga (a 4-1 win against Espanyol), meaning they started their break on 19 December, while the rest of their team-mates were off on holiday today, after last night's win in the Copa del Rey against Hercules.
Luis Enrique gives Messi, Neymar, Suárez, Piqué longer holidays
And not only did the four leave first, Luis Enrique told them they could come back from them festive break later. The rest of the squad is due back at training on 30 December at 18:00, while the MSN plus Piqué are allowed off until 2 January.
Barcelona holidays depend on Copa del Rey draw
But the Copa del Rey draw, to be held on Friday morning (live on AS English), could well change the situation. The draw is unseeded, meaning Barcelona could meet one of the big names, including Real Madrid or Atlético Madrid.
The first legs of the last-16 ties are scheduled for 4 January (before LaLiga restarts on 8 January, with Barcelona playing Villarreal), but the Copa games can be moved depending on the fixtures and the TV demands meaning Barcelona could even be playing on 3 January. That would mean the Barcelona stars, if they were to take their full permitted holidays, would step off a transatlantic jet almost straight onto the pitch.
Messi staying in Argentina for New Year
Messi is planning on staying in Argentina to see in 2017, while Neymar said he will be celebrating the New Year along with the inauguration of his new house. Suárez is expecting to stay in Uruguay with his family, while Piqué and Shakira are in Colombia, and also planning to spend New Year on the other side of the Atlantic.
Barcelona watching Copa del Rey draw
So while four of Barcelona's biggest names are expecting to enjoy the start of 2017 in the Americas, if the draw sees the Catalan side face one of LaLigas big names, there is every chance a call will go out to tell them to change their plans and get on an earlier flight...
Christmas holidays and the storm after Anoeta
Two seasons ago, before the famous loss in Anoeta to Real Sociedad, Luis Enrique obliged the entire Barcelona squad to spend New Year in Barcelona, and then didn't start several big names, Messi included, unleashing a storm that saw Zubizarreta forced out and a battle of wills ensue between Luis Enrique and Messi, who didn't turn up to an open training session.