Jesé scores his first goal for loan club Las Palmas
The PSG striker, on loan at Las Palmas, got his first goal for the Canary Islanders, against Osasuna.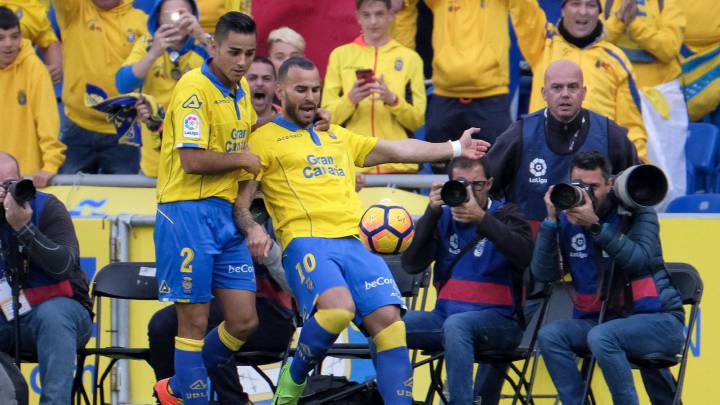 PSG's on-loan striker Jesé grabs first Las Palmas goal
Former Real Madrid striker Jesé, who moved to PSG for 25 million euros in the summer of 2016, has scored his first goal for loan-club Las Palmas, the opening goal of the game between Las Palmas and Osasuna.
Jesé had a disappointing six months at PSG, with accusations of excessive partying and a lack of a cutting edge on the pitch, before making the move to the Canary Islands in January.
Jesé then grabbed the final goal of the game to finish with a brace as Las Palmas came back from 1-2 down at half-time to win 5-2.
Jesé struggling in front of goal for Las Palmas
Jesé has been a regular starter since he arrived at Las Palmas, but despite several decent performances he had struggled in front of goal. In fact in his debut match, against Granada, he came on as a sub and missed an open goal with a Granada going to claim a 1-0 win.
Las Palmas had in fact lost every game Jesé had played in for them, until they claimed a draw at the Bernabéu on Wednesday 1 March.
Jesé strikes, net ends up broken
Jesé's goal was a rasping diagonal drive from just inside the box into the far corner of the goal. The TV cameras instantly focused on the fact that where the ball had impacted the net was ripped; however the damage to the infrastructure was not in fact from the power in Jesé's shot, but from Marko Livaja, known for being something of a hot-head, who ran in behind the ball and kicked the net in celebratory rage, ripping it.
Las Palmas - Osasuna halted for net repair
The game was stopped for a few minutes while the Las Palmas grounds staff tied the net back together.
---
Las Palmas host Barcelona on 14 May as LaLiga reaches its climax. Here's how to watch it or follow it online.