Atlético Madrid fan replies to Real Madrid banner
A letter written by an Atlético Madrid fan in response to the banner displayed at the Bernabéu before the Champions League semi-final has gone viral Atlético vs Real Madrid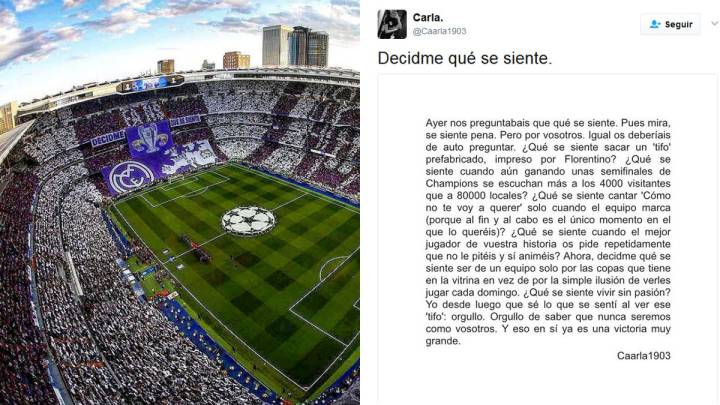 An Atlético Madrid fan has responded, passionately, to the banner Real Madrid displayed before the Champions League semi-final first leg at the Bernabéu, which asked the Atleti supporters how it felt to lose two Champions League finals, in Lisbon in 2014 and Milan in 2016. A banner that has been called at least tasteless, or worse.
Atlético fan responds to banner
The Atlético Madrid fan, Carla (@Caarla1903), responds to Real Madrid's question of how it feels in no uncertain terms:
The letter quickly went viral in Spain, particularly after the official Atlético Madrid account retweeted it.
Carla not quite the perfect Atlético Madrid fan
The sting in the tale came however when Twitter users looked at some of the tweets on the account of @Carla1903, where they found a number of insulting and offensive messages, including "You almighty son of a bitch, hopefully you die @Sergio Ramos" and "Hopefully you break your leg, and once you've recovered, you break it again. Son of a bitch, @ArdaTuran". When this came to light, the account was swiftly shut down.