Voro: "Valencia have told me they are looking for a new coach"
Director of Football José Ramón Alexanco made it official on his return from Singapore; Voro will continue working at the club in a different role.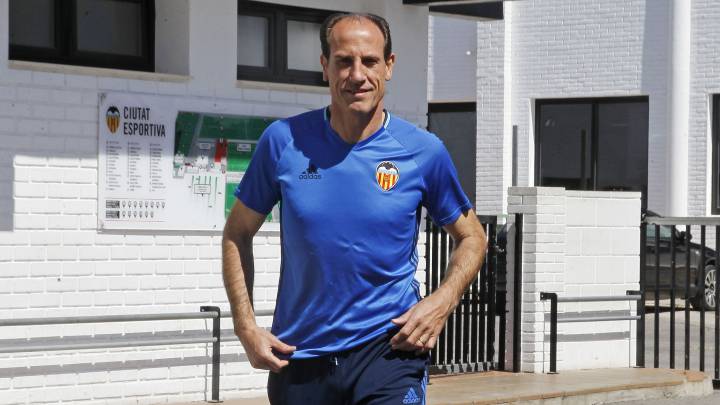 Valencia coach Salvador González 'Voro' beat reporters to the punch by confirming that he will be handed a new role at the club at the end of the season. "The club has told me that they are looking for a new coach", Voro announced at the start of this afternoon's press conference before previewing tomorrow's visit from Osasuna.
Alexanko breaks the news to Voro
Yesterday morning Director of Football José Ramón Alexanco, who returned from a trip to Singapore late last week, told Voro that he would not continue in the coaching post next term. Alexanko revealed that Voro had initially been among the candidates, but the 53-year-old caretaker manager's credit has waned over the past few weeks. Voro preferred to announce the news publicly before telling his players. Valencia are fully aware that this week will be crucial in their search to find a new coach for next season.
"Before taking questions, I would like to tell you that yesterday, the club officially informed me that they are looking for a new coach. As in so many press conferences in which I have spoken about my future, I've always said the same thing, it will be the club who makes the final decision and now they have made their plans clear to me", Voro began
How have you taken it?
I took it well. I've always said that I will never be a problem for the club. I've always had a very clear philosophy. I'm not angry, I don't feel aggrieved, I'm a football man and I know this club and how it works inside out; the club can make a decision based on what's best for them. For me, that's not a problem and nor does it annoy me.
What will you do next season?
I'll continue working for Valencia. I don't know in what function yet. For me, right now that isn't important, I only want to finish the season as best as possible.
Voro looks ahead to Osasuna game
How do you motivate your players for a game like this in which there's nothing to play for?
For start it's going to be a lovely day. It's Mother's Day. Neither team has anything to play for - but we will be playing for prestige. For us, we need to put in the best possible game, come away with good sensations and win. We know that we are going to confront difficulties trying to do that. We have two home games left and Osasuna have already been relegated, they will also want to compete but for us it's different because we are at home and are obliged to win for our fans.
Gayà has fully recovered and Jaume will play tomorrow. We know that we have two great goalkeepers and Jaume hasn't featured this year, apart from in the Copa, and he's a played who works incredibly hard in training. We feel he deserves to be handed a run-out and an opportunity.
LaLiga Santander
Leaders
Messi

12

Goals
Roque Mesa

1007

Passes
Steals
*Update 6 de mayo de 2017
Valencia squad:
Diego Alves, Jaume, Montoya, Cancelo, Santos, Mangala, Garay, Gayà, Carlos Soler, Enzo Pérez, Orellana, Medrán, Parejo, Mina, Munir, Rodrigo, Nani and Zaza.