Muguruza down and out in Paris as Mladenovic marches on
The 13th seed took another step towards ending Roland Garros' long wait for a home-grown winner by knocking out the defending champion in three sets.Halep - Stephens: French Open 2018 final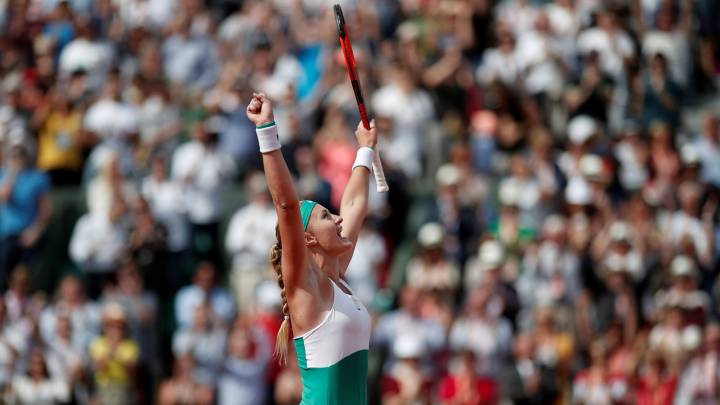 Muguruza 1-2 Mladenovic: match summary
French number one Kristina Mladenovic delighted the crowd on Suzanne Lenglen with a three-set victory over defending champion Garbiñe Muguruza on Sunday, taking the possibility of a first home-grown winner of the French Open since 2000 into the second week of the tournament.
Mladenovic, seeded 13, triumphed 6-1, 3-6, 6-3 to reach the quarter-finals, where she will be joined by at least one compatriot when Caroline Garcia and Alizé Cornet meet in the fourth round, marking the first time since 1994 that France has had more than one representative in the last eight of the women's draw.
Mary Pierce was the last Frenchwoman to lift the Coupe Suzanne Lenglen and Maldenovic's performance in defeating the world number five will lead to quiet confidence that the current national number one can emulate that achievement with the draw having opened wide in Paris.
Mladenovic had to contend not only with Muguruza's power-hitting but also her own serve as she battled to victory in just under two hours, coughing up 16 double faults and landing only 15 percent of her first serves. However, the defending champion was unable to capitalize fully as her broadsides often failed to find their mark. Muguruza clocked up 33 unforced errors and despite targeting Mladenovic's second serve failed to win as many points as her opponent on the slower delivery.
Mladenovic will go on to face Timea Bacsinszky in the last eight after the 30th seed knocked out Venus Williams, the last surviving former champion in the draw, shortly after Muguruza exited a sun-kissed Suzanne Lenglen under a metaphorical cloud.
---
Muguruza 1-2 Mladenovic: as it happened
---
And it's in the net from Garby! The champion is out and Kiki Mladenovic marches on. The crowd on Suzanne Lenglen are loving this. Muguruza leaves the court in a hurry and a very, very bad mood. She might feel some decisions went against her, and the crowd certainly did, but credit to Mladenovic for digging deep and ameliorating the effect of almost 20 double faults with some excellent shot-making and a strategy to keep her opponent moving from side to side, from where Garby's ground strokes become a tad blunted.
First serve long...
Kiki spurns a decent chance to put the pressure on with a poked forehand long but Garby obliges with a double fault for 15-all. Another unforced error from the champion and Kiki is two points from victory. A wonderful forehand finds the line and it's double match-point! 
So far so good for Kiki as she forces Garby long after a brief rally. The court erupts as another drop shot is charged down by Garby but sent back into open court with a fine reaction shot. Garby thinks she's found the line with a winner but it's a shade long, the champ stalking back to the baseline with a face like thunder. Another fine serve and Garby nets for 3-5! She'll serve to stay in the match.
If I were a betting man, I might have a flutter on there being a double fault in the next game... The Suzanne Lenglen crowd will hope it can be avoided though no doubt. A huge roar as Kiki comes back to the line.
Garby gets a forst serve in at the third time of asking but again sends a forehand long to bring up her 28th unforced error. Kiki nets a return for 15-all then sends a backhand out into the trams and it's 30-15. Frantic defence from the champ as Kiki sends her from one side to the other before dispatching a forehand winner. Garby comes in on the next point and hits a clean winner to make it 40-30 then brings out that cross-court backhand again to pummel Kiki into submission, the ball ending in the mesh for the hold.
A cracker of serve has Garby at full stretch and she can only palm a return into the net. And, incredibly although it shouldn't be at this stage, a 16th double fault. Expect Kiki to go hell for leather to avoid having to serve this one out. But she holds and urges the crowd to give it some welly themsleves.
Mladenovic to serve and she could really use a solid, stress free hold here. She's off to a flyer, landing a first serve wide and a forehand winner into the resulting space, oldest trick in the book. A drop shot then comes off and she hasn't been getting much joy out of those either. Then a 15th double fault, just to make it interesting...
Garby races to a 30-0 lead then just, just clips the line with a forehand to bring up three game points. She missed a regulation shot to miss out on the first but then lands another belting forehand down the line to hold.
Garby nets a none-too-troublesome forehand and Kiki has the advantage, a good serve forcing the Spaniard into the net again and that's the game! A valuable gold for the 13th seed.
Muguruza gets a little too much on a second serve that sat up and asked to be hit and it's 30-all. Then an ace! The a double fault... this really is quite bizarre serving from Mladenovic, and it's back to deuce.
A couple of booming forehands sets Garby up a 0-15 but Kiki battles back with a stinger of her own and then, quel surprise, a double fault... 15-30.
A fired up Kiki leathers a return winner off the backhand side to put the pressure on but Garby plays her way out of trouble with that trusty backhand across the court to bring up 30-15. A skewed return and it's game point... A soild serve and it's a comfortable hold, which is exactly what the champion wanted in that situation.
And it's a hold! Muguruza again overhits from a promising position after weathering a storm of shots and Kiki urges the crowd on as she takes a 2-0 lead. Big, big game for Garby now...
A cracking serve out wide, a pumped fist, a roar from the crowd, and it's advantage Kiki
Which fails to find the mark again! Two break points... the first, saved, with a fine serve. The second, saved, as Muguruza pumps a forehand into the hoardings, drawing a few words of admonishment from the Spaniard. Kiki should be the one having a quiet word with herself though as a 12th double fault hands the champ another chance to break. But finally a drop shot pays off for Mladenovic as Garby prods it past the baseline. Back to deuce.
Followed by a double fault, although the net had its say on that one. Kiki sends one long under little pressure and all of a sudden its Garby stepping into the court for a second serve...
Can Mladenovic consolidate? An ace down the T is certainly not a bad start. Cracking hit, that.
Muguruza on the oche to get the third underway and Mladenovic races to 0-30 with a rasping winner. Muguruza then fires long again and the crowd roar their approval as Kiki racks up three break point opportunities. And she only needs one! A drilled forehand down the line leaves Garby static and what a start to the final set for the local favourite.
Muguruza was riding her luck a little at times in that set but with a combination of Mladenovic's service problems and that probing cross-court backhand the defending champion has pulled the scores back level. 
Garby mutters to herself in disgust after netting a straightforward return but then charges onto a drop shot to smash a backhand on to the line. A similar shot after Kiki has been forced to land one in the ta very much zone and then the champ gets the better of a good rally with a backhand winner, at the moment her most reliable flank. Another and it's the set! This one will go all the way then.
Muguruza is finding her targets more often than not in the second set and opens with a couple of powerful ground strokes. Not to be outdone Mladenovic belts a forehand down the line for 15-all but then makes a poor judgement with a slice backhand into the net. Garby delivers a double fault but backs it up with a thuderous serve, only to put a little too much into a drive volley that clears the line by a whisker. A netted forehand and Kiki breaks!
Serving to stay in the set, Mladenovic thinks she's found the line with a forehand winner but Garby calls the umpire down, to a few whistles from the crowd, and it's called long. A dodgy drop shot attempt is prodded down the line for 0-30 but Kiki drags it back to 30-all, forcing her opponent long. A decent serve brings up 40-30 but Garby leaps on a soft second serve and powers a winner down to bring up deuce. Another double fault and it's set point... but a solid serve brings it back to deuce. An timely ace and a Garby error and Mladenovic forces the champ to serve it out.  
Mladenovic opens with a dipping forehand winner and she isn't going to let slip of this set lightly. That would have been a huge hold had she achieved it but Garby has the bit between the teeth. Another forehand error draws a scowl of displeasure from the champ but Kiki returns the favour for 30-all. A stunning shot! Both players find the line with rasping forehands and the 13th seed belts a winner down the line. Fancying a bit of that herself Muguruza does likewise then a favourable net cord allows the champ to club a winner into open court. Advantage.. and game as Kiki nets.
And Muguruza breaks! A venemous return clips the line and Kiki can only lash a harried response out.
The home favourite uses the court well to bring up advantage but Garby whacks a soft second serve straight down the channel. Kiki then does the same thing, a splendid shot on the run and that had the court on its feet. Audible groans through as the 13th seed nets for deuce five. And it's advantage Garby as the net intervenes again.
Mladenovic finds the mesh with a forehand and a rueful glance suggests she knows that should have been a winner. Another double fault, her sixth of the match, at a most inopportune moment and the rumblings of concern are growing louder... crikey, a double double fault hands Garby three break points. Kiki saves one with a serve out wide and a bold down the line winner, then she sends a shot through Garby's racket, how did she not connect with that? Muguruza is then pulled around like pizza dough and Kiki blasts a winner gratefull into open court for deuce. A sizzling forehand cross-court winner leaves Garby with no chance and... a third double fault of the game. The nerves telling a little perhaps. Muguruza forces an error and Mladenovic returns the favour to cheers of "Kiki, Kiki" and we're back at deuce.
Amazing! Kiki finds the baseline with a glorious lob... ah, no she doesn't, it's challenged and called out, but it was a fine effort and calls into question some of Garby's decision making when she has her opponent on the back foot. Another overhit hands Kiki 15-30 and the Spaniard takes a huge risk again with a hammer forehand that just clips the line. This time Kiki is sent the wrong way as Garby comes in to accept the offer of a short ball and then the champ uses her head to force Mladenovic wide by coming into the net and it's a hold, if not an entirely comfortable one.
Garby is jumping on anything hit remotely short now but lacks a little control when the point was begging and sends one just wide. Mladenovic is finding that baseline with unerring accuracy but is struggling a bit to find the court with her serve, gifting Garby another double. A backhand wallop down the line and its even stevens at 30-all but again the champ takes a wild swing at an inviting secind serve and sends it long. A net cord helps Muguruza to deuce but then another straightforward volley with the court open is dumped into the net. Advantage Kiki and a drop shot tempts Muguruza into aiming for the corner but it's just out and Mladenovic holds.
Not to be ruffled for long, Kiki slams a forehand into the zone of no return and although Garby gets a racket on it she can't direct it in. Another glorious point as Kiki defends a couple of shots that had no business being sent back into play and Garby nets to bring up three break points. Two are rescued, then a fine serve, a thump into the corner and a drive volley hit with venom avert an immediate break back. Advantage, long from the champ, deuce, advantage as Muguruza lets fly with some thundering ground strokes and a cracking serve that Kiki can only send just past the service line for a precious hold.
Garby comes out swinging and pins Kiki back to 0-30, a statement of intent from the champ and a briefly rattled 13th seed double faults, then fails to find a corner with a hefty swing and it's a break for the Spaniard! 
Garby decides she's jolly well had enough if this thank you very much and pounds a couple of big serves to pull up 30-0. Mladenovic says fair enough, square go and belts an unstoppable return winner then coaxes Muguruza out wide, too wide, to level the game. Seven unforced errors from the champ... make that eight as she nets a sitter... and that's too many against a player riding the crest of a wave. Another ferocious forehand flashes past Muguruza and Kiki takes the opening set, it has to be said, with some ease.
You have to admire the French crowd for getting stuck into a tardy arrival, drawing a look of disdain from Mladenovic who then goes on to double fault. Good work from Garby at the net brings up 0-30 and she'll be settled a little by actually finding clay with a volley. Kiki bangs down a cracking serve to pull a point back and then plays a phenomenal sliced drop shot that slips under Garby's despairing swipe. Another dead-on serve and trouble is averted, the players then getting back to the business of baseline battering with Muguruza sending one into the trams for Kiki to hold.
The defending champions is a spot of eau chaud early on as the local favourite blasts her way to a double break.
Mladenovic wraps her racket around a solid enough serve and Garby has no answer as the prods her reply long. The champions then misjudges a down-the-liner at 15-all and it's her opponent's turn to sniff an opportunity, which she takes by hoisting up a lob that Garby frames into the front row. two break points, the first saved when Kiki bangs one long but no mistake on the next! A scintillating rally, Garby defending like mad but Mladenovic sends her this way and that before powering a drive volley into open court for a fresh break!
Muguruza comes into the court to bury an unreachable shot into the corner but then lands a backhand return just beyond the baseline for 15-all. A Kiki double fault brings up 0-30 and Muguruza paws the clay in anticipation. A disputed call doesn't go her way and Mladenovic fires a forehand that she can only push into the net to bring up 30-all, much to the delight of the crowd. An overhit gives Mladenovic game point and the Frenchwoman defends valiantly, forcing Garby into an awkward volley at the net that ends up nestled therein. 
Muguruza is struggling to land her service at the moment and opens with a double fault but then clips the T with a solid second and gets the better of a baseline slugfest as Mladenovic pokes one wide. The champions finds her groove at 15-all and pummels a backhand down the line for 15-30 then forces her opponent long with a crunching serve out wide. A weak shot into the mesh hands Mladenovic an opening but some more booming ground strokes give Garby her first mark on the board.
Mladenovic has a tricky serve to read and a second delivery is enough to outfox Garby, who thumps a return into the net. Another decent delivery brings up 30-0 but Muguruza lands a whopping backhand cross-court that Mladenovic can only bat into the net. Garby then nets a straightforward backhand and the 13th seed takes the offering with a strong serve that the Spaniard sends long on the return.
A few errant deliveries from the defending champion and Mladenovic is happy to pounce on a couple of second serves to rack up 0-30. Muguruza forces her opponent wide at the net to claw back a point and then it's back to baseline slugging and the Spaniard sends one long... but saves the first break point with a solid serve and a powerful follow-up. But then she gets a little too excited when presented with some inviting clay and hammers one out of the tramlines to hand Mladenovic an early break.
Muguruza to get us underway...
The skies above Roland Garros are looking pretty clear at the moment so hopefully there won't be any climatic interventions today. A little cloud but nothing too threatening.
In the head to head between Muguruza and Mladenovic the Frenchwoman leads 1-0 through her victory in Marrakesh two years ago.
The players are out on court now after Nadal brushed his compatriot Roberto Bautista aside in straight sets and we suspect this one will be a little more competitive with both players capable of slamming winners from the back of the court.
In the first Grand Slam of the 2017 season Muguruza was knocked out in the quarters by Coco Vandeweghe, who went on to play Venus Williams in the semi-finals. The winner of today's game will go on to face either Venus or Timea Bacsinszky in the last eight of Roland Garros.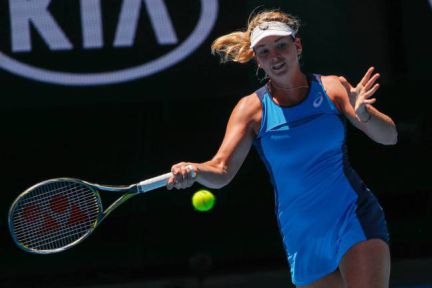 Muguruza is bidding to become the first player to retain the Roland Garros title since the peerless Justine Henin won three on the trot between 2005 and 2007.
Muguruza is currently on a run of 10 straight victories at Roland Garros while Mladenovic has never been this far at her home Grand Slam.
Both players have gone about getting this far the hard way with two tough victories en route to the fourth round but Mladenovic has fought back from two seemingly impossible positions including coming back from 2-5 down in the final set against Shelby Rogers in the last round.
Muguruza vs Mladenovic: match preview

Garbiñe Muguruza will face the toughest test of this year's tournament so far when she takes on French number one and the home support's great hope of Roland Garros 2017, Kristina Mladenovic, in the fourth round.
The defending champion has struggled to find her feet on the crushed brick in Paris but showed glimpses of the destructive ground strokes she deployed last year in sweeping to her first Grand Slam title in her previous match against Yulia Putintseva, a classic little-and-large match-up against a scurrying opponent whose game is characterized by an ability to get everything thrown at her back into court.
Muguruza was also give an almighty run-around by the always dangerous Anett Kontaveit in the previous round, dropping the first set on a tie-break before imposing herself on her unseeded opponent to take the next two for the loss of six games.
Roland Garros embraces Mladenovic as heir to Mary Pierce
However, as Muguruza observed after her win over Putintseva, there are few easy games in the Grand Slam format and every hard-fought victory imbues greater confidence both in hitting and mental fortitude for tests to come. The 23-year-old will require every weapon at her disposal when she takes to a partisan Suzanne Lenglen on Sunday, with the boisterous home fans ready to cheer the new darling of Roland Garros to the rafters in a game between two players aiming to outgun each other from the back of the court.
Mladenovic has reached the fourth round via the hardest possible route, almost going out in the first round to unseeded American Jennifer Brady but prevailing 9-7 in a nail-biting final set. After that scare the 13th seed said the crowd had seen her over the line and it was the same story in the third round when Mladenovic recovered from 2-5 down in the third set to beat Shelby Rogers 7-5, 4-6, 8-6.
Joining Mladenovic in the last 16 are Alizé Cornet and Caroline Garcia, the first time three home-grown players have reached that stage of the tournament since Julie Halard, Mary Pierce and Alexia Dechaume in 1994. But it is on Mladenovic that most French hopes have been placed and the 24-year-old appears ready to assume the mantle vacated by Pierce, the last French winner at Roland Garros in 2000 – not least because Cornet and Garcia face each other in the fourth round.
Muguruza unbeaten since 2015 quarterfinals
Mladenovic has never before been past the third round at Roland Garros and momentum – and the crowd – will be on her side. But Muguruza is now a seasoned campaigner and on a run of 10 straight victories at the French Open stretching back to the 2015 quarterfinals when, seeded 21, she lost to eventual finalist Lucie Safarova, who took a set off Serena Williams in the final.
The winner of Sunday's match will go on to face either Venus Williams or Timea Bacsinszky for a place in the quarterfinals in one of the most open draws in recent memory. The absence of Serena, Maria Sharapova and Victoria Azarenka has been added to by early exits for world number one Angelique Kerber, seventh seed Johanna Konta and ninth seed Agnieszka Radwanska.
That is something that all the remaining players will have in the backs of their minds as the fourth round gets underway but for Muguruza, as the defending champion, there will be slightly fewer nerves when she knocks up with Mladenovic. But as she has shown already in Paris, the 13th seed possesses a ferocious competitive spirit and with the crowd firmly on her side an upset cannot be ruled out.