Pino Zamorano reveals Villar's pressures and bribes
The ex-referee spoke to El Español about how Ángel María would use referees to fix RFEF elections, but vigourously denied match-fixing.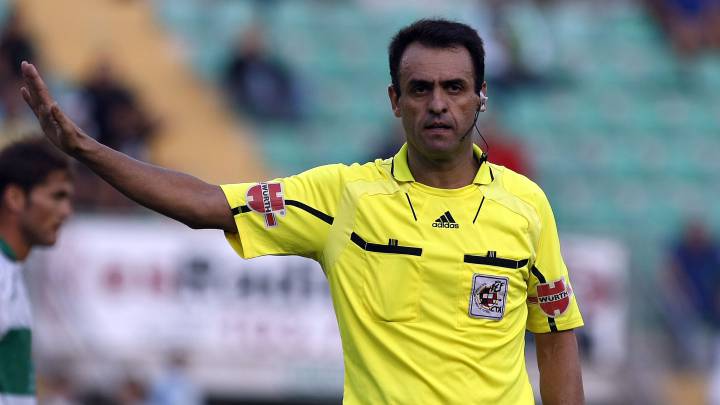 Alfonso Pino Zamorano, a former LaLiga referee, has given an interview to El Español in which he discussed the murky practices of the Spanish Football Federation (RFEF) and its president Ángel María Villar, who was arrested on Tuesday. According to Zamorano, bribes were required for referees to move up a division, and elections were manipulated.
Ángel María Villar used referees to win elections
Zamorano spoke about his time as an assembly member at the Spanish Football Federation, and how the Federation would put in place mechanisms to decide the results of elections.
"People from all over Spain who didn't know me voted for me. Everything is controlled… From that moment on, the machinery of the Federation was put in to action. In this case, by delegation of the referees' technical committee with the territories. They say: "You have to vote for this, this, this, this, and this, so across all of Spain the assembly members that we want are elected'," he said.
Zamorano's revelations about how Villar would use the referees to maintain his power are particularly impactful.
"Outside of the referees, I can't tell you, […] but the referees were directed to vote for Villar. In the end, the referees won the elections. […] One of Villar's pretensions before the elections this year was to increase the number of votes available to referees, because he controls them.
"A few years ago [Antonio Jesús] López Nieto made some declarations against Villar, and in a referees meeting they passed us a document against him [López Nieto] because they wanted to strip him of his position. We were sat together,[Miguel Ángel] Pérez Lasa, [Arturo] Daudén Ibáñez, and me. They didn't sign it, and initially I wasn't going to either, but in the end I got scared and signed. When the season finished, Pérez Lasa, who was going to become an international referee, then wasn't, and they put in Velasco Carballo. And Arturo Daudén Ibáñez, who was top class and could have refereed the final of the Champions League, was sent down to the second division. I have lived with this, I haven't told anyone. You're either with me or against me."
Zamorano had to give away 5% of earnings
Pino Zamorano also spoke about how, upon his promotion to the first division in 2001, he was told to give five percent of his earnings to a 'referees' representative.'
"I went up to the first division with so much excitement, and when you see the people who have supported you sit down with you and tell you that you have to give five percent for that, representation, it's astonishing.
"If you manage to become the representative for two referees and two assistants in the first division, it's five percent of €200,000 for doing absolutely nothing more than going there [to the Federation] and saying that 'this guy is good'."
Ultimately, it is a bribe that referees must pay to advance their careers.
In respect of possible orders to fix the results of certain matches, Pino Zamorano was unequivocal: "Not as far as I know, at least not with me. I'm a soldier by trade and for me, two plus two equals four, and if one day someone had said to me that I had to let one team or the other win, I can assure you that I would have denounced them."