Real Madrid 2-3 Barcelona El Clásico Miami: Full time score, result, match report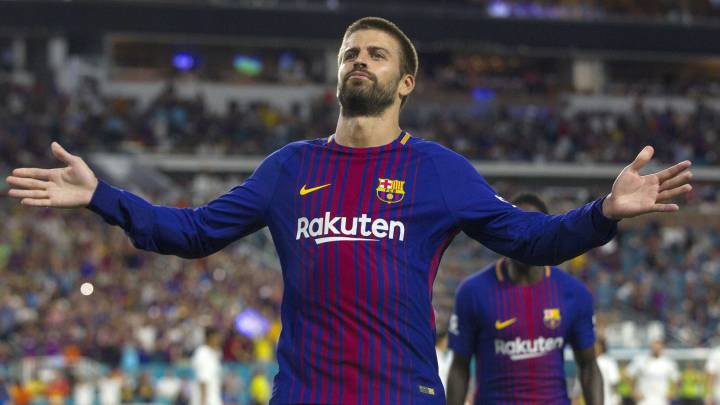 Real Madrid 2-3 Barcelona: match report
The first Clásico in 35 years not on Spanish turf did not disappoint as we saw four goals in the first half and just the one in the second with plenty of chances and a mixture of poor finishing, poor luck and excellent goalkeeping the reason for that.
The game started in a strange fashion as Neymar went down and grabbed his ankle in the first minute. It wasn't clear as to whether he would continue and it wasn't clear as to how he hurt himself either.
In the end he managed to get back on the field and just as he did, after four minutes, Messi gave Barcelona the lead with a deflected shot off Raphael Varane.
Just minutes later, Barcelona were in again and Ivan Rakitic doubled their lead with a rasper on seven minutes. We hadn't played 10 minutes and Barcelona had two goals and barely given Real Madrid a touch.
The reigning Liga and Champions League winners were not set to be embarrassed regardless of the authenticity of a preseason friendly Clásico. After 14 minutes, Mateo Kovacic made a strong run towards goal and drove low and beyond Jasper Cillessen after seeing off a couple of tackles and Real Madrid had finally settled down after a shaky start.
They had their second goal on 36 minutes when Real Madrid broke from a corner and Marco Asensio, the architect of the counter, wound up finishing it too. Jordi Alba misread the ball's path and Asensio waited patiently for it to roll to him before he stroked past Cillessen. It was 2-2 and there were plenty more chances in between the goals as neither team seemed too intent on defending as rigidly as they might in an official game. The fans didn't seem to mind.
The second half was just five minutes old when Neymar put a free onto the instep of Piqué's foot and he finished with ease to help Barcelona sneak their head back in front again. 3-2.
Neymar had his own chance but missed a one-on-one with Navas without hitting the target and just minutes later drove a shot over from a decent position.
There were countless more attacks and chances with Cillessen making an excellent save from Isco on one occassion and then from Isco yet again as he bent it around the post with his fingertips. But we didn't see anymore goals, which seemed like a miracle as Barcelona claimed bragging rights in the first Clásico of the season.
With the preseason over for Real Madrid and Barcelona, attention now turns to the European Supercup for the former and the Spanish Supercup for the latter. If this game is anything to go by, and it probably isn't, we might be in for some hot and heavy clásicos this season.
Real Madrid vs Barcelona live stream online: El Clásico Miami latest news
90'+2'  GAME OVER! Lively first half with four goals and plenty of chances in the second but just one. Neymar's last Clásico? Plenty of talking points.
90'+2'  Borja Mayoral has a crack. But he drags it wide. Last chance for Real Madrid? Barcelona taking their time with the kick-out.
90'+1'  Oscar tries one but Cillessen is not being beaten from there in the form he's in.
86'  Aleña with a shot that is deflected out for a corner. Barcelona win it back after the first attempt to clear the corner is unsuccessful by Real Madrid. They are keeping possession now as the clock ticks down.
84'  Almost yet again! Ceballos curls one to the right of Cillessen's post. So close to an equaliser.
81'  Cilleseen with an absolutely wonderful save. Isco curls one and the keeper gets a finger tip to it.
80'  Aleña fouls Ceballos. 
77' Theo Hernandez fouled by Sergi Samper and the Barcelona player receives a booking for his trouble.
Mascherano, Aleñá, Samper, Digne and Arda on.
here are the changes for Barcelona. Piqué, Rakitic, J.Alba, Sergio and Neymar off. 
75'  Digne down after catching Ceballos' studs. It looked a lot worse than it turned out to be. 
Neymar off too. Vermaelen on.
Casemiro off for Achraf.
Carles Aleña and Mascherano in for alba and Busquets.
72'  Neymar yet again with a dangerous cross but nobody there waiting for it.
70'  Lethal pass by Neymar across to Denis Suárez. he fails to control it first time and eventually takes it down but Marcelo blocks it before fouling the Spanish midfielder.
67'  Vazquez does the hard work be breaking free and into some space but then launches a pass out over the sideline.
66'  Bale takes the ball down and strikes with the left but Cillessen puts it out for a corner. Really nice control from Bale.
64'  Kovacic has a crack. An ambitious crack, but a crack nonetheless. Wide.
63' Mascherano for Umtiti. Alcacer for Suárez and Denis Suárez for Messi.
62'  Rakitic just pushed the referee.
Not sure what they were booked for but continous mouthing at each other might be a good place to start looking.
60'  Carvajal and Suárez booked. 
60'  Rakitic this time... Blocked!
59'  Lovely, lovely save! Isco stands Vidal up and strikes. Cillessen gets down to save. Brilliant.
59'  Yet another chance! Suárez misses this time as Navas saves. 
57'  Lucas Vazquez goes down under a challenge from Jordi Alba in the penalty area. No penalty as the ref waves it away. Alba returns to ask Vazquez what he was playing at?
56'  Another chance! So good by Messi, who draws defenders and passes to Suárez. he plays it to Sergi Roberto and he feeds Neymar but the Brazilian drives over again.
55'  What a chance! Neymar fouled by Carvajal, Barcelona take it quick and Messi plays it to Suárez. The Uruguyuan lets it run to Neymar and one-on-one with Navas, he misses the target. 
53'  Casemiro's chance to go by Neymar now as the Barcelona attacker tries to take him down but fails. He plays it to Bale out on the left but the Welshman's shot is from a difficult angle and can't hit the target.
50'  GOAL! Piqué sidefoots home as Neymar deliver a cross from the free directly onto his foot. Absolutely no mistake from there. Dreadful, dreadful defending.
50'  Casemiro again at the receiving end of a Neymar trick. Fouled again!
49'  Neymar with a nutmeg on Casemiro before he's fouled.
48'  Some good pressure by Real Madrid. It nearly forces Barcelona to cough it up but they win a throw instead.
47'  Isco fouled by Busquets.
46' We are back underway!
Seri Roberto replaces Iniesta.
Isco in for Luka Modric.
Vazquez is in for Asensio, who is also just returning to the team after being with spain's under-21s.
 Vallejo is in in place of Ramos, who is just back from injury.
Waiting to see changes for the second half.
Kovacic in full flight.

45'+1'  HT! 2-2 Two early Barcelona goals by Messi and Rakitic cancelled out by Kovacic and Asensio.
45'+1'  Bae nearly through but has the ball nicked away from him. 
45'+1'  One minute added on as the end of a very exciting 45 comes to an end. 
43'  Casemiro the man who looked to clip him but it would have been harsh. Seemed like he had lost the ball before he went into the tackle.
43'  Messi with a Messi-like run. He makes it into the penalty area despite being pulled and dragged. He goes down but referee ays no. 
41'  Some retribution for Neymar. Carvajal shoulders Neymar as the ball goes out of play. Caught him with an elbow to the back of the head more like.
38'  Messi very dep not looking to create something.
36' GOAL! GOAL! GOAL! 2-2. What a game. Asensio strikes as Real Madrid break on the counter. Asensio started the counter, passes to Kovacic and he plays it back to the goalscorer before he slots beyond Cillessen.
34'  Another couple of chances for Barcelona. Half chances, to be more precise. Suárez thinks about shooting but doesn't. Then Mesis does but vidal ends up trying to cross and sees it blokeded. Marcelo puts it out for a corner.
32'  Straight up the other end and Carvajal blazes the ball across goal. Benzema is there and Asensio slides but neither make it. End-to-end stuff.
31'  And again! error at the back by Real Madrid and Messi is through on goal. He hesitates and should pass but doesn't and sees his shot saved before Varane headers it back.
30'  Varane tries to float a pass over Barcelona to Modric but Barca win it back. iniesta plays it to Messi and he lets fly with the left and drives over.
27'  Rakitic to Suárez and there is so much space in front of him. He plays it to Neymar and he strikes a shot just wide after almost losing Varane. 
27'  How open are Real Madrid?!?!?!
25'  Good move by Real Madrid. Bale touches it down to Benzema. It ends with Asensio on the ball but his cross is low and blocked by Barcelona. Really attacking game.
23'  Messi with the free - deflected over for a corner.
 22'  Varane booked for fouling Neymar. Carvajal was having a nibble just before that. 
21'  Barcelona have a chance as Messi puts Suárez through in the box and he does well to use his body as a shield. Kovacic breaks with it and passes to Modric. Modric drives forward and drives a shot high and over. 
19'  Neymar gives possession away and Real Madrid break. Benzema is running full stretch at Piqué and drives a left-footed shot at goal but it's just wide. He had help on the left from Asensio but went alone. Close.
18'  Neymar has his jersey pulled by Carvajal and he stands on Casemiro's foot as the BRazilian comes to help Carvajal out in dealing with Neymar. Free to Real Madrid.
17'  Another good run by Kovacic and his cross is blocked for a corner by Piqué.
16'  Far better from Real Madrid. They needed a response.
16'  Quite awkward stance from Casemiro and he gives it away but he recovers and wins it back from Busquets. 
14' Lovely finish by Kovacic. He sees off a challenge and drives past Cillessen. 2-1 after 15 minutes. 
14'  Neymar nearly sends Carvajal into the hoardings by the side of the field with a shoulder. Throw to Real Madrid. Carvajal really not happy.
12'  Messi fouled now. Chance for a free-kick in a decent area. Slightly far out though. He clips it to Suárez and with his right, the striker drives over.
11'  Suárez breaks free down the left and gets in but he is too far to the left for a shot. He pulls it back to Rakitic and he drives a strike just wide.
10'  Real Madrid get their first taste of the ball. Ball over the top to Asensio is too long and Piqué intercepts and Barcelona start again.
9'  Real Madrid haven't touched the ball! They have for the shortest of periods, like getting a touch here and there but no attacks whatsoever. Really tame from them.
7' 2-0! What a goal. Neymar down the left and he crosses to Suárez, who just about makes it to it before Rakitic arrives on the scene and drives a shot past Navas. what a start.
5'  Quite a busy first few minutes. A goal, a possible Neymar injury that was a false alarm and now Barca taking control and looking to attack. 
4' GOAL! Messi takes the ball in the penalty area and puts it onto his left before striking. It takes a deflection off Raphael Varane and loops over Kaylor Navas.
3'  Neymar is back on. He seems okay but hasn't touched the ball yet! 
2'  Weird situation. He is off the field now and might not be able to continue. 
2'  Nothing seemed to happen but he's down holding his foot?
1'  Neymar down holding his ankle. 
1'  Luis Suárez knocks the ball back to Sergio Busquets and we are underway!
We are ready for action...almost! Massive hig between Ramos and Iniesta as they decide who tips off.
The teams go out on the field. 
Neymar appears on the big screen during warm-ups and an audible gasp and cheers from the crowd. 
Kroos not fit enough to start as he hurt his ankle during training during the week but he should be good to go for August 8th when Real Madrid player Manchester United. He was out before the game doing running on his own on the Hard Rock Stadium...

Just minutes away from kick-off now.
Meanwhile, Zidane doing his best too. Ronaldo is still on holiday and Kroos hurt his ankle the other day but assured fans it is "nothing serious". Kovacic and Asensio start in their places. Aside form that, first choice back four and keeper.
So, Neymar starts alongside Messi and Suárez. 
Barcelona XI: Cillessen, A.Vidal, Piqué, Umtiti, Alba, Busquets, Rakitic, Iniesta, Messi, Suárez, Neymar
Real Madrid XI:  Navas, Carvajal, Ramos, Varane, Marcelo, Casemiro, Modric, Kovacic, Asensio, Bale, Benzema.
Barcelona's ten things to know ahead of an unusual Clásico; Throughout Friday and also this Saturday there is a 'Fan Zone' for the supporters of both teams at Bayfront Park in Miami. Thousands of people have come to enjoy the Clásico experience.But "Casa Clásico" had to be closed down due to inclement weather. Not a great start!
If Neymar plays tonight, and plays well, it could be a minor miracle.
Reports suggesting that Neymar needs to give Barcelona a decision by tomorrow and that PSG are so confident of landing the player that they are already trying to figure out ways to unveil him. 
  Saturday's game in Miami will be just the second time in history that a Clásico has been played outside of Spain's borders. The story of the first one is a far cry from the mass-media mayhem of the modern version, as Vicente del Bosque, who barely remembers scoring the only goal of the game in 1982, told AS.

Zinedine Zidane spoke to reporters ahead of tonight's game and professed himself happy with his squad, despite rumours of an impending bid for Monaco forward Kylian Mbappé.

 Of course, this version of El Clásico is just a warm-up to at least five contested between two giants of the world game in the coming season. And you won't have to wait long until they meet again with the Spanish Super Cup being played on the 13th and 16th August. That two-legged contest sees the Liga title winners play the Copa del Rey winners, and will have an extra spice about it this year.
Hello and welcome to our live coverage of the ICC match between Real Madrid and Barcelona which is being called El Clásico Miami. The AS English team will keep you posted on all the latest news related to the event throughout the day before Robbie takes over for his inimitable live commentary.
Real Madrid-Barcelona: Live online International Champions Cup, live preview
The first ever Clásico on U.S soil takes place in Miami, Florida on Saturday night or Sunday morning depending on where you're tuning in from. At the home of the Hard Rock Stadium, there are sure to be some hard knocks as we start off a triplet of Real Madrid versus Barcelona clashes with the Spanish Super Cup to come.
On the same field where Dan Marino regularly threw touchdowns, Messi, Bale, Suarez and Benzema will be looking to bag a few goals in what is the first Clásico outside of Spain in 35 years.
Real Madrid: International Champions Cup
Cristiano Ronaldo is out as he enjoys a prolonged vacation after the birth of twins and leading Portugal to a Confederations Cup semi-final in June but Sergio Ramos is back after missing Real Madrid's first two games with a mysterious ear injury. Meanwhile, Dani Ceballos trained with the team after showing signs of limping after the Manchester City defeat.Toni Kroos limped out of training with an ankle knock but assured fans he would be fine in a "few days" although it is unclear as to whether Zinedine Zidane will risk him for El Clásico with a European Super Cup just over a week away followed by two more Clásicos and that's before the season even starts.
Luismi Quezada, Franchu, Manu Hernando and Dani Gómez have all left the United States to join back up wth Real Madrid Castilla's side, which gives Zidane less options and suggests he is ready to play his starters for longer than he has in previous games this preseason.
Barcelona: International Champions Cup
There has been a logjam with Neymar news and speculation ever since reports surfaced that the Brazilian was wanted by, and possibly wanted, PSG. From brushing it off, to assuring everyone that Neymar would remain at the club to accepting they had a Neymar issue to Friday's petulance that saw the player clash with new signing Nelson Semedo before storming off launching footballs out of his path as he left, Barcelona look poised to lose Lionel Messi's heir.
Regardless of business and transfer matters, the one thing Barcelona continue to do well is what's most important, and that is playing football. They were sublime at times against Manchester United and proved efficient on the counter. If it wasn't for United's superman between the posts, David de Gea, they might have led 5-0 at the break before Ernesto Valverde hauled his stars off for their understudies at half-time.
It is as you were for Barcelona under Valverde, with the only real change being Jasper Cillessen deputising in the absence of Marc Andre Ter Stegen in goals. Sergi Roberto did not train on Thursday and sat out with an abductor strain after failing to finish the game during the week against Manchester United.
Meanwhile, Semedo, the antagonist on Friday has settled in nicely and has featured at right-back and most likely will start on Saturday night. The midfield remains the same with Denis Suárez, Sergi Samper and Carles Aleña poking around for playing time in the hope of becoming more prominent in their new gaffer's plans.
---
Real Madrid vs Barcelona live stream online | betting odds
This game may still form part of the pre-season preparations but neither side will want to lose this one. Who do you think will have the early bragging rights? You can back Madrid at 2/1 or Barça at 6/4 at the time of writing.