SPORT
Neymar and Kyrie Irving: different sports but similar situations
Kyrie Irving handed in a trade request and Neymar looks set for PSG but the way both are being handled and the way both need to be considered has to change. Final NBA: Cavs vs Warriors, juego 2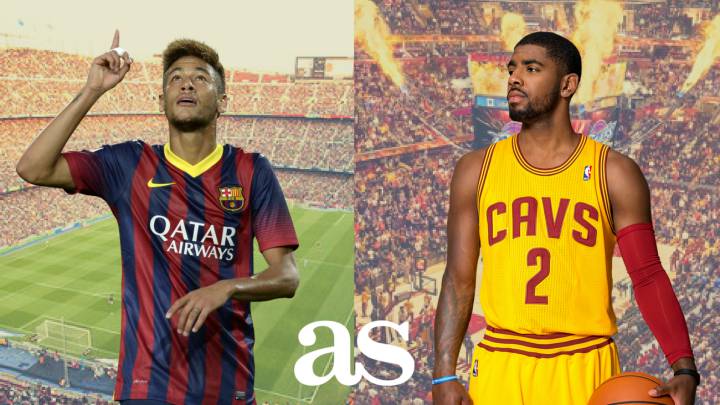 In the NBA, they refer to them as super teams. On July 25th, in a press conference in Washington, Gerard Piqué referred to it as a superequipo and while players love the idea of joining forces to create these armies filled with superstars, the thought of being the bonafide star and effectively running your own team can be too good to pass up; just ask Neymar, Barcelona's Brazilian striker, and Kyrie Irving, the Cleveland Cavaliers point guard, who are both looking to spread their wings and fly this summer away from their respective ball clubs.
It's the summer of the saga and two coming-of-age dramas could be the apogee of the off-season's operations. In Europe, as word leaked out that Neymar was considering an offer from PSG, across the Atlantic Kyrie Irving was handing in his own trade request, one that would see him step out of the shadows of LeBron James. On one hand, Barcelona told Messi's supposed heir that they could not offer him more money but told him to sit tight and continue to play, and win, with Lionel Messi. PSG? They offered him the chance to be their very own Messi with a pay-packet that would coincide with that sentiment.
The questions started pouring in concerning both proposed moves. Why would Kyrie leave, for example, to sign with the San Antonio Spurs where he won't play as much due to Gregg Popovich's rotation strategy, be forced to dig in on defense and won't even be number one with that spot reserved in Pop's heart for Kawhi Leonard, or to another team in a smaller market. Ditto for Neymar, who, if he does go, for many would be leaving the holy grail of footballing philosophy where football is considered religion to play in what's generally considered a second-rate league where he won't be seen on a weekly basis by half the number of people tuning in to watch Barcelona. The problem both players have is that they have left these questions to be answered through the medium of gossip and speculation. If Neymar wants to leave to be with his friends, he needs to own the narrative and take control of the story but this hasn't happened for either player.
Kyrie and Neymar moving teams for money, glory or autonomy?
Barcelona and the Cavaliers both won championships two seasons ago, but were usurped by behemoths in Real Madrid and the Golden State Warriors last season as they battle against the fading of exceptional periods in their history but they face the very real possibility of the one player who could be key to unlocking keeping up the good fight while leaving massive holes in their squads along with questions over decision making at their clubs. If the problem is management, again, Neymar and Kyrie need to let that be known so when history judges, it might take a more sympathetic approach.
And at once, we are seeing two different styles in how the two teams and their respective leaders are trying to keep their players around.
Stephen A. Smith, a sports journalist who makes a living out of these very controversies says, "I had sources in LeBron James' camp literally tell me, and I'm quoting, I'm quoting...'if Kyrie Irving was in front of LeBron James right now, LeBron James would be tempted, quote, 'to beat his ass,'" before assuring us that these were LeBron's exact words.
The closest we got to that in Catalonia was a slap on the back of the head for the Brazilian from Luis Suarez as he arrived late for training. That and murmurs of clandestine meetings that reportedly went on for hours as the M and the S in the MSN trident tried to talk Neymar off the cliff.
LeBron refuted these supposed quotes and has refused to be drawn further on the issue thus far, because he may have felt as though acting as the president was the wrong thing to do. It might also be one of the reasons Irving handed in his trade request - too much power concentrated in one small area of the locker room.
Pique, a man many consider to be a shoe-in for president of Football Club Barcelona when he calls it a day on the field, decided to take matters into his own hands. A tweet saying, "he stays" accompanied by a picture of him and Neymar killed the transfer rumours like a knife to the heart. That was until word spilled out that Neymar was livid at worst and bemused at best with the message and Pique backtracked saying it was not official but his "intuition" that Neymar would stay. Neymar, it seemed, was not for turning and Barcelona's players put themselves on the line to try and convince him to say.
In that same press conference on Tuesday night in Washington, Javier Mascherano, a Barcelona veteran said, "We've all had a little chat with him because it's the group's desire that Ney stays with us" as Barcelona turned on the charm offensive in the hope of making Neymar feel loved.
Barcelona are actively pressuring Neymar to stay while the Cavaliers are standing firm. If Irving stays, he stays, they seem to be saying, but this kind of insolence will not turn the Cavaliers players into a grovelling mass. This is also indicitaive of a league where star power is moving at a faster clip than in football, where safe-guarding your future is not seen as a selfish act, provided it is done in the right manner.
Shoes deals, brand, ego and endorsements for Neymar and Kyrie part of the issues
Both 25. Both highly skilful. Both with the urge to start competing for the top prize opposed to being nominated in the best supporting actor role and both with enough stock build up to court the very best teams willing to offer them the most money.
In an age when endorsements and sponsorships can bring in more money than an athlete's salary, Neymar is busy maximising his own potential on the shoe front while Irving looks to get more out of his feet. Part of the reason why he is said to want a trade is because of LeBron's shoe deal amongst others and you simply can't get a bigger shoe deal with the same company, Nike, when you're not the number one. If the Cavaliers' roster was a chessboard, LeBron is quite clearly the king and Irving has to be content with being the rook.
On Forbes top 100 list of rich athletes, LeBron James ranks number two and Lionel Messi number three. They make $55 and $27 million a year respectively from endorsements. Neymar and Irving are ranked 18th and 38th with $22 and $12 million in endorsements and it's clearly time for that to change, they feel.
The similarities in the situation are startling but both men will have their reasons. What is not up for debate is that a quarter of a century into both of their lives, they are starting to look at their own legacies within their sports and thinking maybe, if they were number 1 at a new outfit, they could drive that team, their own team, to glory and become the man, as opposed to just a man, on a successful team.
Pique said, "Neymar cannot be the protagonist at Barcelona, because the best will always be Messi, always."
Kyrie can never be LeBron either but he can be his own version of LeBron on his own team even if that is in a smaller market on a smaller team without the prop that is one of the greatest players ever to rely on when the going gets tough. For those asking why neither are happy playing second fiddle on great teams, the answer could be that their minds are not designed that way. Greatness, or perceived greatness, cannot be dependent on other influences and must stand alone and out front to be truly recognised as greatness.
Regardless of what happens with either case, we have seen Lionel Messi and LeBron James and feel privileged to have done so but this summer proved that their understudies are ready to step out from their shadows and make some waves of their own. Whether what comes next justifies the supposed hassle they have caused their teammates will be totally reliant on the Irving and Neymar, which is just how they want it.