Barcelona 2 - 0 Real Betis: LaLiga match report, goals, how it happened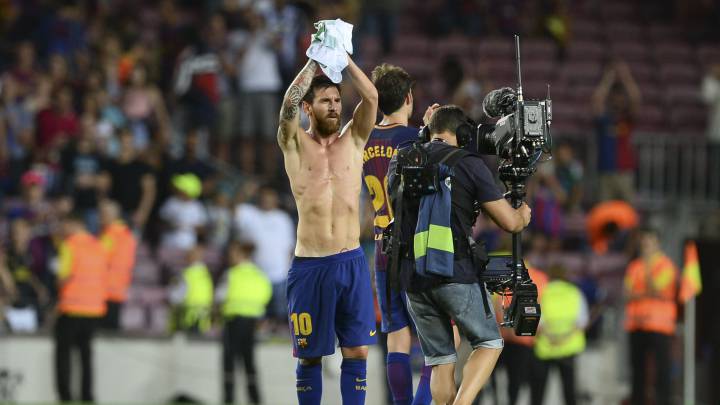 We brought you live coverage of Barcelona vs Real Betis on matchday one of the 2017/18 LaLiga Santander season. Here's how it all went down at the Camp Nou.
Barcelona vs Betis: how it happened
90'+3' And that's it! GAME OVER! 
90'+3'  Messi makes a run through the middle. He wriggles past a couple and then gets taken down but it was fair.
90'+1'  Messi wins a corner for Barcelona as we enter stoppage time. Three minutes to play.
88'  Fabian with a chance. Sergio Leon loses out but it falls kindly to the sub. He blazes over and Ter Stegen still doesn't have to make a save.
86' Lucas Digne replaces Jordi Alba. Big round of applause for the left-back.
85'  Very little to be gleaned from this for Barcelona. The second half has been a walk in the park.
83'  Messi with another shot. Adan saves.
82' Change for Barcelona. Alcacer replaced by Denis Suarez.
81'  Messi hits the woodwork again. Wow. This one was more of a rasper, technically, than a curler but still. Very unlucky.
80'  Real Betis 2-0 down and they are sitting back and waiting for Barcelona to make a move. Strange decision by Quique Setien.
78' Camarasa suffering from the August heat in Barcelona and the work he has put in. He goes off with cramp for Fabian.
76'  Nelson Semedo breaks free and plays a lovely pass in behind Real Betis back four. They manage to get it away but what a run by Semedo. No doubt who owns the full-back spot.
75'  Not entirely sure how Messi found Vidal so free with that pass. Aleix Vidal tried to take it around Adan and the keeper gets a leg to it before Real Betis put it out for a corner.
73'  Sting very much gone out of this one. Barcelona are very comfortable and Real Betis can't invent any chances. Only a matter of time, it seems, before Barca get their third despite not looking entirely sharp themselves.
72' Francis Guerrero comes on for Nahuel. 
71'  Messi fires a free just slightly over the bar.
70' Aleix Vidal is coming on in place of Gerard Deulofeu.
70'  And now Joaquin fouls Deulofeu. 
70'  Sergi Roberto leaves a pass back to Umtiti short and Nahuel takes it on. He drives a shot but it's well and truly over the bar. 
69'  Joaquin with a lovely header on to Sergio Leon but his touch lets him down. Throw Barcelona.
68'  Former Man City midfielder Javi Garcia is coming on for Juanjo Narvaez. 
66'  Some nice interplay by Barcelona and it ends with Semedo seeing a cross blocked up into the air, which Adan gladly accepts.
65'  Deulofeu goes down under a tackle from Barragan but ref says it's a goal-kick. Great tackle.
64'  Camarasa tries to find Narvaez but can't and Barcelonaback on the ball. 
63' Nahuel turns Sergi Roberto upside down and gets himself a booking.
62'  Barragan with the ball through to Nahuel but the ball but it trickles over the line before he can reach it. 
61'  Joaquin fouled by Busquets. 
60'  Messi strikes the post after receiving a pass from Busquets. It took a deflection as Barcelona win a corner.
58'  Aleix Vidal warming up for Barcelona.
57'  Ball in behind by Semedo is too heavy for Deulofeu as it rolls out for a goal-kick.
54'  Narvaez is fouled by Jordi Alba and the left-back might be on thinner ice now after the yellow just a couple of minute's ago.
51'  Jordi Alba with a yellow card for a foul on Nahuel. He's not happy but I'd say when he looks back at it, he might understand.
48'  Deulofeu wins a corner for Barcelona as Tosca blocks a wannabe cross.
47'  Mascherano fouls Sergio Leon as he grabs his ankle.
46'  We are back underway!
When Barcelona are in need, it's not Messi they need, it's Sergi Roberto.
Barcelona enjpying 63% of the possession so far. They've had six shots and Real Betis have had none.
45'  And that's it from the Camp Nou for the first half. Goals by Deulofeu and Sergi Roberto give the home side the lead.
44'  Semedo impressing at right-back.
42'  Sergi Roberto with a high foot and Real Betis have a free out.
41'  And just like that, Barcelona have a two-goal lead and can breathe a little but. Real Betis have thrown this one away.
39' Straight up the other end and Deulofeu grabs a yard on the left and he squares to Sergi Roberto who buries it! No chance for Adan as his defenders were ball-watching. 
38'  Sergio Leon with the chance of a lifetime as he is one on one with Ter Stegen but Mascherano gets back and takes it off his toe.
36' GOAL! Deulofeu drives a low and hard cross into the box. It takes a deflection and goes into the bottom corner of Adan's net.
35'  Messi again. He rattles the upright this time. Adan reaching and nowhere near it.
34'  Deulofeu finds himself free down the right and drives a shot towards the centre. It's beaten away by Adan but there are no Barcelona players to pick up the pieces. Busquets is fouled by Narvaez outide the box. Messi licking his lips...
32'  Betis are probing a little bit more now. Narvaez with a mistimed pass and they lose out again. Barcelona struggling to get possession now. 
30'  Betis getting closer. Sergio Leon flicks one up into the air for Nahuel. Barcelona get back in time to foil their plans of a shot at goal.
29'  Up the other end and Barcelona have a shot with Sergi Roberto. That's blocked too. Corner to the home side.
28'  Sergio Leon breaks free and has Umtiti for company. He cuts inside and then turns back again before shooting and having his shot blocked.
26'  Narvaez bundled over by Umtiti. Needless foul as Barcelona seemed to have Betis contained.
25'  Chance! If anything happens, it will be that man, Messi, who makes it happen. He plays a couple of passes between himself and Busquets and then strikes just centimetres wide of Adan's goal.
24'  Barcelona continue to build but no chances yet and so often very blunt up front.
23'  Audible groans around the Camp Nou as Deulofeu coughs up possession with a poor touch. Busquets then fouls Narvaez and Real Betis have a break.
19'  Joaquin looking for Sergio Leon, I think, but his pass is way off and rolls out for a throw. 
18'  Narvaez buys himself a free as he baits Sergi Roberto into the foul to relieve some pressure.
17'  Deulofeu sees a shot blocked and blocked. Joaquin under pressure has a dive in his own box and ref, rightly, doesn't give the free. Messi sees a shot blocked from the continuation of that.
16'  Alcacer caught out for an offside.
15'  Camarasa plays it out wide to Barragan and he keeps it going frther wide and forward to Nahuel but his cross is off target.
14'  Adan sorting out his wall and despite all the shouting, Messi gets it over it and almost into the top corner. It lands on Adan's net.
14'  Messi fouled by Nahuel.
12'  Free comes in and Mascherano gets a shot at it but blocked and cleared by Betis.
12'  Joaquin stands on Busquets and gives away a free. Messi lines up the free.
11'  Busquets with a through ball that is dived at by Feddal.
10'  Barcelona taking over not in the last couple of minutes. No chances yet though.
9'  Mandi with a foul on Paco Alcacer. Looks to have caught his ankle. A sore one. 
8'  Real Betis trying to make a move down the left but Barragan's pass to Camarasa is seen out of play by Umtiti.
7'  Mascherano fouls Sergio Leon as Real Betis look to break.
6'  Real Betis looking to be proactive but their passing letting them down. Barcelona looking more dangerous at the moment.
4'  Some sloppy passing by Betis at the back and it falls to Messi of all people. He hesitates before taking a shot with the left. Over and slightly wide.
3'  Sergi Roberto with the cross and it bounces in front of both Messi and Deulofeu. The latter has the shot but his side-footed effort is off target.
2'  Ball in behind the back is too strong for Deulofeu. Adan gathers and Real Betis start again.
1'  We are underway at the Camp Nou.
1'  A minute's silence respectfully observed.
The two teams come together and are extended a massive round of applause from the crowd.
The teams out on the Camp Nou turf. Betis in their green t-shirts in honour of the Barcelona victims.
Barcelona have plenty of work to do in the transfer market to make sure they have a team to match what is demanded of them.
There have been over 2.5 goals scored in Barcelona's last 12 home games in LaLiga.
Barcelona won this tie on aggregate 7-3 last season. They only earned four points though as they drew at  Benito Villamarín. 
Barcelona have scored at least 3 goals in their last 8 home matches against Real Betis in all competitions.
Barcelona have scored at least 3 goals in their last 8 home matches in LaLiga.
Barca players to wear Barcelona on the back of their jerseys tonight in memory of the deceased during the terror attacks during the week.
Semedo gets the start again ahead of Aleix Vidal at right back. Piqué makes the squad but can't make the starting team as Mascherano and Umtiti will hold down the middle in front of Ter Stegen.
   Seven new signings for Real Betis today. Feddal, Barragan, Guardado, Camarasa, Nahuel, Sergio Leon, Juan Narvaéz.
It's a front line of Messi, Paco and Deulofeu.
Barca have claimed victory in their last eight home contests against Betis across all competitions.
Betis XI: Adán, Barragán, Mandi, Feddal, Tosca, Guardado, Camarasa, Narváez, Joaquín, Nahuel, Sergio León.
 TEAM NEWS! 
A reminded that Barcelona will be without Luis Suárez tonight. The Uruguayan picked up a knee injury in the second leg of the Spanish Super Cup, and will be absent for a month. Paco Alcácer is expected to take his place in attack. 

It will be an interesting tactical match up at Camp Nou. Real Betis boss Quique Setién likes his teams to dominate possession and be expressive. With Javi García, Camarasa, and Fabián in midfield, Betis will seek to dictate phases of play, rather than just respond to Barça on the counter attack. 
 Javi García, Betis' new signing from Zenit Saint Petersburg, will wear the number 3 shirt. He's a defensive midfielder. Sacrilege. 
Barcelona vs Real Betis: LaLiga match preview
It is sure to be an emotional night at the Camp Nou on Sunday night as Barcelona play Real Betis to open their 2017/18 LaLiga campaign just days after a horrific attack on the beautiful city.
The Barcelona team will wear the name of the city on their shirts to pay respect to the victims of the attack and the minute's silence at every ground in Spain this weekend will hold particular sognificance at the iconic Camp Nou.
There will be nerves too after what was a disappointing defeat and display against Real Madrid in the two-legged Super Cup that ended 5-1 on aggregate that hit the side hard, admitted Piqué.
Barcelona
Ernesto Valverde will start life in LaLiga without Andres Iniesta, new signing Paulinho or Luis Suarez and with Neymar having departed for France, will only be able to call on M from the band formerly known as MSN.
Paulinho's registration papers have not arrived on time and Andres Iniesta is still trying to shake off an injury suffered in the first leg of the Super Cup. Luis Suarez is nursing a knee injury that will keep him out for a month but in the good news column for Valverde, which is getting increasingly smaller, Gerard Pique makes the squad despite going off in the second half of the Super Cup finale with an injury.
Paco Alcacer and Gerard Deulofeu are expected to replace the absent Neymar and Suarez and Andre Gomes could play in place of Andres Iniesta.
As Barcelona are working on new signings with their negotiations for Phillipe Coutinho and Ousmane Dembele currently at standstills along with reported movement for Jean Michel Seri, Ernesto Valverde will be expected to find answers with the players he currently has after a limp display against their eternal rivals last week.
Betis
One of the busiest teams over the summer. Quique Setien is tasked with pushing Real Betis much higher up the table than Gus Poyet and Victor Sanchez del Amo could manage last season.
They lost Dani Ceballos, their crown jewel, along with Cristiano Piccini and German Pezzella but signed Victor Camarasa, Cristiano Tello, Sergio Leon and recently Javi Garcia along with Ryad Boudebouz despite the last name on the list not being able to play due to injury.
Quique Setien is known for his attacking and open style of play which might suit Barcelona or could cause them problems depending on which version of the blaugranas show up. They will have hopes of a top half finish and getting off to a positive start, even if that just means a good display, will be paramount the new manager implementing his style on the team and impressing the fans.
---
Barcelona vs Real Betis live stream online: potential line-ups
Barcelona XI: Ter Stegen, Semedo, Piqué, Umtiti, Alba, S. Roberto, Busquets, Rakitic, Messi, Alcácer, Deulofeu
Head coach: Ernesto Valverde
Real Betis XI: Adán, Barragán, Mandi, Feddal, Fabián, J. García, Camarasa, Joaquín, S. León, Nahuel
Head coach: Quique Setién
---
Barcelona vs Real Betis live stream online: LaLiga betting
Barcelona are overwhelmingly backed by the bookies to take the three points, with a win for the hosts valued at €1.16 for every euro placed. Betis, meanwhile, are priced back at €15.00 for every euro bet on Los Verdiblancos to start the season with a victory.
Place your bet on Barcelona vs Real Betis here