Uruguay 0-0 Argentina 2018 World Cup qualifier: match report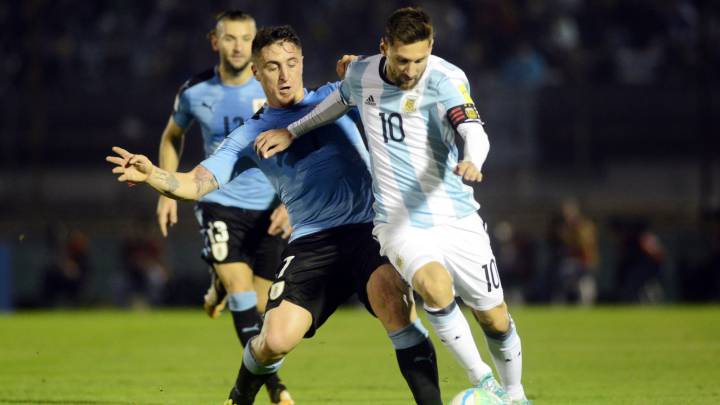 Uruguay 0-0 Argentina: match report
Luis Suárez made it back from injury in time to line out against Argentina at Estadio Centenario on Thursday night but neither he or his Barcelona teammate, Lionel Messi, could find the net in a poor game of football by any standards.
In Jorge Sampaoli's first competitive game as the manager of Argentina, his fingerprints were all over the display to begin with and while the defenders looked slightly uncomfortable to start, they settled into their roles and Lionel Messi started to pick Uruguay apart slowly but surely.
He was involved in Argentina's best move of the game when he dropped his shoulder, leaving two Uruguayans in his wake, before linking up wth Paulo Dybala only to see his left-footed shot saved by Fernando Muslera. It became increasingly clear that it would be Messi, and not Sampaoli's tactics, that would be the difference if there was to be one on the night.
Uruguay, on the other hand, saw there best chance caused by their own goalkeeper, Sergio Romero, who parried a shot by Alvaro Gonzalez that Edinson Cavani almost pounced on only for the play to end with a poor shot by Matias Vecino.
In a game that promised plenty, the fans weren't being given the display they expected but there was time still for things to heat up.
It never happened though.
The biggest news of the night might have been Luis Suárez limping off with what may be a recurrence of the knee injury he was rushed back form in order to play in tonight.
With chances few and far between, Uruguay seemed comfortable enough with how things were starting to pan out as they remain third and with second place in sight. (Colombia drew with Venezuela and Chile lost to Paraguay.)
To even suggest there were half-chances would be a stretch. Javier Pastore played a ball to Mauro Icardi and he went down under pressure from Diego Godín but the replays showed there was nothing in it. Meanwhile, the battle in the trenches raged on.
It ended 0-0 after a dour 90 minutes and Jorge Sampaoli has plenty to consider ahead of a game against bottom side Venezuela next week. Uruguay travel to play Paraguay, who are coming off a 3-0 victory over Chile and will be a tough nut to crack.
Uruguay vs Argentina live stream online: latest news
90'+2' GAME OVER!
90'+2'  Rebound falls to Jose Gimenez but his volley lands safely in Sergio Romero's hands. 
90'+1' Di Maria replaced by Joaquin Correa. 
90'+1'  Ceballo Rodriguez ready to whip in the free. 
90'  Cavani fouledby Pizarro as normal time expires.
86'  Nothing happening at all here.
83'  Christian Stuani is Luis Suarez' replacement. 
82'  Suarez is actually lucky he is going off. He caught Otamendi with a very high foot down along the shin. 
81'  Suarez definitely finished now. He had been limping around for quite some time but went for a ball and grabs his knee as he falls. 
79'  Di Maria and Messi link up and then get Pastore involved, who pulls a cross back to Icardi. Godin puts him under pressure and he falls in a heap. Referee waves his hands to say NO emphatically. No chance of a penalty for that.
78'  Biglia sends it long to the back post and Jose Gimenez dives to head it out for a corner. 
77' Messi fouled now by rodriguez and he receives a yellow. 
75'  Free from Suárez and Caceres trying to drive through a number of defenders to get something on it. No dice.
72'  Dangerous one whipped in by Messi but Uruguay survive the scare. 
71' Dybala being replaced by Javier Pastore. 
70'  Nandez fouls Dybala and Argentina with a chance to swing one in. 
69'  Uruguay awarded a corner after some debate. It hit Rodriguez last and he bought that one with his pleas with the ref. No matter anyway as uruguay commit a foul as the ball flies into the box.
68' Alvaro Gonzalez replaced by Mathias Corujo.
67'  Game just can't seem to get going. Dybala fouls Rodriguez. 
65'  Cavani might be in trouble here. He jumps backwards into Mercado with an elbow into Mercado's face. Free but nothing else. He's lucky. 
63'  Di Maria with the latest cross. Straight to Muslera again.
61' Sampaoli makes a move. Acuña is replaced by Acosta. 
61'  Too much on a pass from Nandez down the line. It goes out for a goal-kick but he crosses and Suárez almost turns it into the goal. It wouldn't have counted anyway.
60'  Still nothing doing. Biglia clips one goalwards but Muslera gathers.
58'  It is indeed. He forces an excellent save from Muslera. Corner to Argentina.
57'  A couple of could-be fouls as Pizarro is stopped by Vecino and then Messi stopped by Godin before Dybala is taken down and ref blows his whistle. Messi territory.
55'  Mercado and Suárez get into it and Romero pushed Mercado away and tells him not to get involved. The former is on a yellow. 
53'  Chance for Uruguay to break but Cacers with a silly ball as opposed to playing it out wide to Nandez. He knows it too. 
51'  What just happened? Suarez was free through on goal. But he looked to slip as Romero approached him to close his angles. Suarez grabs his face as though he was hit by Fazio but he was pulling at straws. He slipped and fell into Fazio and said he'd try and get something out of it. Ref didn't buy it.
50' Suarez goes down in a heap as Mercado jumps into his back. 
50'  Icardi gets a shot away from an impossible angle. Mualera tames it and then picks it up.
48'  uruguay break at speed. Nandez have an old school battle down the end-line before Nandez fouls. Nice lively start to the second half.
46'  A real schmoozle breaking out. Messi was chopped down by Gonzalez and gets a yellow but not before his Argentina teammates can pile on and push and shove him a bit. Was actually quite a dangerous tackle.
46'  No changes for either side. 
46'  We are back underway. 
Óscar Tabárez will be happy enough with how things are going. Sampaoli might consider it though.
Does either coach make a change? 
Argentina nervous to strt but have grown into the game while Uruguay have faded somewhat. Messi with Argentina's best chance of the half. 
45'  Half-time.
45'  Argentina trying to break. Dybala with a nice run and passes to Acuña but it's either behind him or Acuña misread it completely and can't recover.
44'  Mercado fouls Cavani. Seemed trivial but uruguay want a card as it's his third fould, according to Cavani. Just the free for now.
43'  Yet again, Messi the catalyst. Lovely move as he links with Dybala and then strikes with his left. Mueslera forced into a save.
41' Gimenez actually booked for that one. Didn't seem much in it but referee deemed it dangerous.
41'  Jose Gimenez catches a kick on the back of the calf. He gives away the free for having his foot high but tries to explain to the ref what happened. Ref doesn't care. 
39'  Biglia with a strike from way out and it flies just wide. He had Muslera reaching there. Took a deflection on the way out. Corner. Muslera gathers that one.
38'  So close to the opener. Rodriguez shoots, Romato parries and Cavani gets to the rebound first but can't do anything with it as he is closed down. Vecino arrives but his shot is wide. We almost had an opener.
36'  Messi to Di Maria around the back again. He pulls it back, which is all he can do, but Uruguay's defenders positioned well and clear at front post.
35'  Hefty challenge by Mercado on Cavani.
34'  Poor cross is cleared poorlyand it almost lands at Dybala's feet but Uruguay scramble it away.
31'  Really good thinking from Suarez. Cavani wins possession back and the ball rolls to the Barcelona striker. He knows he has zero support and not enough speed to break free so he tries to lob Romero, whoc is off his line. Close but it needed to come down earlier.
30'  Ball in around the back by Messi might have been a shot but it turns into somewhat of a cross. Otamendi reaches at the back post but can't get there. Goal-kick.
29'  Messi with a lovely little flick towards Dybala. He strikes but his shot is deflected out for a corner.
27'  Acuña fouls Cavani and gives Uruguay a chance to build an attack.
25'  Suarez goes in a little late on Biglia. Players from Argentina want a card but the ref resists. It was Di Maria, who left the pass short, that was the cause of that.
23'  Mercado takes a pass from Messi and he runs into it, driving a shot over the bar. Worth a try.
21'  Messi starts a move and that's the best one Argentina have been involved in. He plays it to Di Maria over the top and the PSG player drills a cross across the box. Nobody arriving to meet it but clear as day that Messi, as always, will be key here to anything Argentina do.
19'  Messi being watched by Vecino all night, it looks like. Fouls him this time. Free from a mile out. He plays it to Di Maria but after shuffling and getting the ball out from under his feet, he plays it out over the line with the help of a deflection. Uruguay crowd enjoying every time an attack breaks down.
17'  Again, Argentina lose out in the final third. They've failed to really penetrate Uruguay's defense.
14'  Di Maria with a dangerous cross from the corner. Otamendi is climbing up on Godin's back. Free to the defender. Another fairly obvious one.
13'  Suarez swings it in. Falls to Gonzalez as it is half-cleared and his shot makes it's way to Godin, who is only about 30 yards offside.
12'  Handball by Di Maria. Gonzalez seemed to kick the ball into his hand as opposed to the PSG player making a move to handle it.
12'  Uruguay bossing possession now as Argentina look a little confused.
11'  Mercado down holding his side. He collided with Vecino in the air. Truth be told, Vecino was late.
10'  Another corner. 
9'  Suarez croses with his left, more hopeful than anything else. It should be cleared by Fazio misses it and it rolls out for a corner. 
8'  Uruguay sitting and waiting for Argentina to run into trouble before winning it back and counter-attacking with some early precision.
7'  Vecino finds Cacers and he whips a dangerous ball into the box. Surez reaching but just not able to get anything on it. 
7'  Ball clipped inside to Cavani but two Argentina defenders head away. It bounces just nice for Nandez but his volley is blocked. He wants a handball and penalty, presumably, but decides to keep chasing the loose ball instead.
6'  Di Maria sends a ball in from the left with his left but it bounces up kindly to Muslera. 
5'  Biglia fouls Gonzalez after Messi is dispossessed. Messi was swarmed there very quickly. I'd expect that to be a recurring theme tonight.
3'  Sampaoli's fingerprints on this performance already. Argentina don't look entirely comfortable with the style. Playing around at the back. 
2'  Messi on the move down the right and is stopped by Alvaro Gonzalez. He wins a throw though.
1'  Muslera gathers a through ball looking for Icardi. He is playing for Uruguay but was born in Buenos Aires.
 We are undeway after a slight delay.    1'  
A massive hug between Suarez and Messi. 
The national anthems now being played. A lively rendition of Uruguay's currently plaring in Estadio Centenario. 
Suarez and Cavani warming up.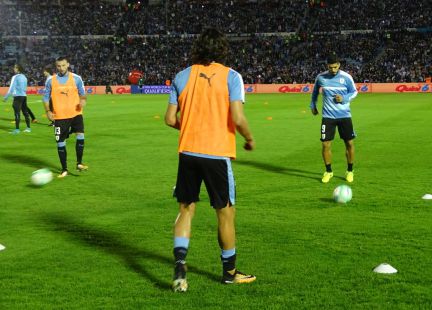 Edinson Cavani leads the way in the goalscoring charts withs 9 in World Cup Qualifying in this group. The closest to him is Felipe Caicedo wth 7 for Ecuador while Messi has just four and Luis Suarez just 3.
They're still a point ahead of Argentina though. 
Uruguay have lost their last two games in qualifying. They were hammered by Brazil 4-1 and beaten by Peru 2-1 in their most recent game.
Luis Suarez does in fact start up front with Edinson Cavani. Starting XI: Muslera, Caceres, Gimenez, Godin, Silva, Nandez, Gonzalez, Rodriguez, Suarez, Cavani.
Argentina's last game in World Cup Qualifying came in March when they lost to Bolivia 2-0 without Lionel Messi, who was suspended. Only three players from that team survive Sampaoli's first competitive game in charge. Di Maria, Pizarro and Romero in goals.
Looks like Sampaoli will play with a 3-2-4-1. 
Meanwhile, Colombia and Venezuela kick off and a loss for Colombia could see Argentina catch them on points (but their goal difference is miles better than the Albiceleste's).
 We have Argentina's team news: Romero; Mercado, Fazio, Otamendi; Acuña, Biglia, Pizarro, Di Maria; Messi, Dybala and Icardi
All the times across the world for the games tonight.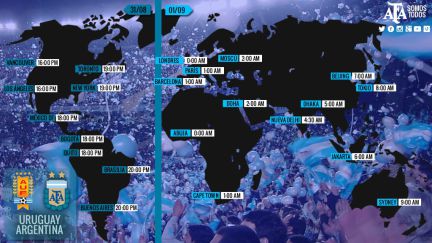 A nice piece on some of the key match-ups between Argentina and Uruguay tonight. 
 This piece by Jonathan Wilson provided useful context to how Argentina are faring coming in to this Rioplatense derby. 
When an over the top security rather brutally whisked a young fan away Messi hit (even higher) hero status... watch the video, it'll make you feel good.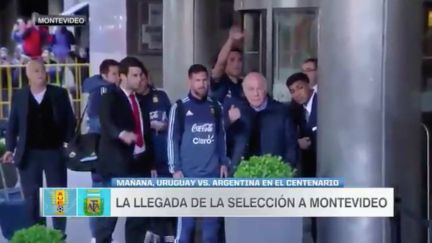 Good afternoon! Join us for the build-up ahead of tonight's match-up in Montevideo!
Uruguay vs Argentina live stream online: match preview
Argentina travel to the Estadio Centenario in Montevideo to face Uruguay (Friday, 01:00 CET) in what is a not quite a must-win game but one that Jorge Sampaoli's side certainly can't afford to lose with the Albiceleste sitting in fifth in the Conmebol standings with four games to play. Finishing the qualifying tournament in that position will not represent disaster for Argentina – a likely final qualifying hurdle of New Zealand, who play the Solomon Islands in the OFC final, awaits whoever misses out on automatic access to Russia 2018 – and Sampaoli has had to contend with the car crash that he inherited from Edgardo Bauza.
A 1-0 victory over Brazil in Singapore in June suggested the former Sevilla coach had steadied a listing ship against the only side to have already automatically booked their place in Russia but Sampaoli faces a task to see his own side through after Argentina slumped to a 2-0 defeat in Bolivia and scraped past Chile 1-0 courtesy of a Leo Messi penalty in the last round of fixtures.
Argentina play already eliminated Venezuela - who have picked up just six points in a wretched campaign - Peru and Ecuador in their final three fixtures, with the latter two sitting behind Sampaoli's side on 18 and 20 points respectively. Peru held Argentina in Lima in the reverse fixture while Ecuador were victorious in the opening round of fixtures in Buenos Aires. Sampaoli will not be eager to take his side to the Estadio Olímpico Atahualpa on the final match day needing a win. Victory in Montevideo could, pending other results, take Argentina up to second.
Uruguay
The big question mark facing the home side is whether Óscar Tabárez will risk Luis Suárez – and incurring the wrath of Barcelona – in a game that also represents a roll of the dice for Uruguay, who are just a point ahead of Argentina and level with Chile and travel next to face a dangerous Paraguay side on the opposition's turf.
The Barça striker injured his knee during the Spanish Super Cup and has not featured for his club since but nonetheless answered the call of his country and may feature. "He has shown signs of recovery that have rather surprised us," Tabárez said.
Even if Suárez does not make the side, Tabárez has Edinson Cavani fit and firing to lead the line. The PSG striker has scored in every Ligue 1 game so far this season and is the qualifying stage's top scorer with nine for his country.
Argentina
Midfield enforcer Éver Banega is suspended for Sampaoli's side and the Argentina boss may opt to go with a three-man defence as he did against Brazil and in a 6-0 drubbing of Singapore in June's friendlies. Sevilla's Guido Pizarro is the most obvious like-for-like replacement for Banega but Sampaoli will trust his attacking instincts to take the game to Uruguay.
Sampaoli took the decision to leave Gonzalo Higuaín out of his squad, suggesting he will seek a fluid forward line with Leo Messi and Paulo Dybala operating behind Inter's Mauro Icardi.
Argentina have managed just six wins in their 14 games so far and were further hamstrung by a Court of Arbtitration for Sport ruling imposing a points deduction against Bolivia for fielding an ineligible player during a 0-0 draw with Chile in September 2016. That result was later adjusted to a 3-0 win for Sampaoli's former side, who he led to Copa América glory at the expense of Argentina in 2015,allowing Chile to leapfrog the Albiceleste into fourth - but that will serve as scant balm to the wound of failing to qualify if Argentina slip up on the pitch again.
"Now we have to play catch-up to get to the World Cup," Sampaoli said after the ruling was announced on Tuesday.
---
Uruguay vs Argentina live online: possible line-ups
Uruguay XI: Muslera; Maxi Pereira, Giménez, Godín, Lemos; Vecino, González, Sánchez, Cebolla Rodríguez; Cavani, Suárez.
Coach: Óscar Tabárez
Argentina XI: Romero; Fazio, Mascherano, Otamendi, Pareja; Pizarro, Pastore, Di María; Dybala, Messi, Icardi.
Coach: Jorge Sampaoli