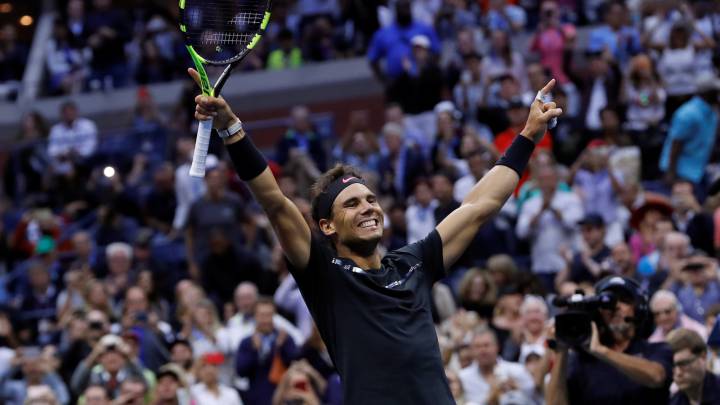 Rafa Nadal confirmed his return to his omnipotent best at Flushing Meadows as he claimed his third US Open title and 16th Grand Slam overall with a straight sets defeat of Kevin Anderson.
At the outset of 2017 it had been two and a half years and a series of debilitating injuries since the world number one had been in the final of a major tournament. Nine months later he has featured in three of this year's Grand Slam finals, winning in Paris and New York and losing in five sets to an inspired Roger Federer in Melbourne.
As both players struggled with physical problems last season the question being asked was whether either could return to the summit of the game and if it turn it was time for the younger generation of players to finally make their mark. Now Nadal and Federer hold all four major titles and the respective ranks of one and three in the world.
Rising stars failed to capitalise at US Open
At this year's US Open it was anticipated that some of those up-and-comers would rise up in rebellion against the established order as was the case in the women's draw with Serena Williams and Victoria Azarenka among the high-profile absentees.
Novak Djokovic and reigning champion Stan Wawrinka had ruled themselves out and Andy Murray withdrew on the eve of the tournament. Nadal and Federer were installed as pre-tournament favourites but it would be other members of the old guard that would provide the challenge.
Juan Martín del Potro hauled himself through an epic five-setter against the cream of the callow crop, Dominic Thiem, and then dispatched Federer in four to set up a semi-final meeting with Nadal, depriving New York once again of witnessing two of the greatest players in history face off at Flushing Meadows. Few would now bet against it finally happening next year.
In the other half of the draw, Anderson rose to the surface at the age of 31 as the likes of Denis Shapovolov, Alexander Zverev and the more established David Goffin and Pablo Carreño Busta burned brightly but failed to last the course.
And so for just the seventh time in the Open Era, two players aged over 30 contested a Grand Slam final. It was Nadal, though, who looked like he was 10 years younger.
Nadal too good for Anderson
Anderson had dropped serve just five times during his run to the final but was broken twice in the opening set as Nadal covered every inch of Arthur Ashe to retrieve the South African's punishing ground strokes. Quicker than he has been in some time, the Spaniard also showed incredible consistency on his serve: Anderson did not force a single break point opportunity.
After an opening set lasting 58 minutes, the players whittled through the second in 39 minutes as Anderson found a little more groove on his serve but failed to make so much as the slightest dent on his opponent's, winning just 21 percent of receiving points to Nadal's 42.
But it was the unforced error count that would prove Anderson's undoing. Intent on keeping punishing rallies against one of the game's greatest retrievers, the South African blasted 40 to Nadal's 11, with only two more winners to show for it than his opponent (32-30).
Nadal also proved as devastating inside the court as in his natural baseline habitat, winning 16 of 16 points at the net as he mixed up his approach – backed by his incredible movement throughout the game – to crush Anderson's resistance.
Widely considered the greatest clay court player of all time, Nadal proved that an old dog can learn new tricks in New York. His four previous titles of the season all came on clay, in Monte Carlo, Barcelona, Madrid and Roland Garros. Before New York, where Björn Borg could never crack the US Open conundrum, he hadn't won a title on a hard court since Doha in January 2014.
US Open final 2017 live online, Rafa Nadal 3-0 Kevin Anderson: as it happened
That's Rafa's third title at Flushing Meadows after his triumphs in 2010 and 2013 and the first time he has played anybody other than Novak Djokovic in the final in New York, the Serb defeating Nadal in 2011.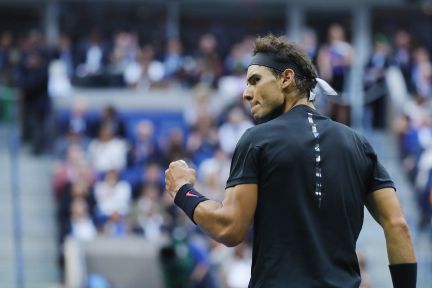 And wins! With a serve volley of course. Rafa Nadal is the US Open champion!
But he can only get a frame to that one and Rafa has another bite of the big apple...
Fine return from Anderson on the Rafa second serve and he saves!
A solid serve, a return punched long and it's match point. "Quiet please". Indeed.
A whopping forehand and it's 30-15. Even Toni was out of his seat there. Rafa forced into attempting a lob and that is only going one way, back into the open court with a slap. 30-all.
A brave New Yorker earns herself a stern glower from Rafa as she offers a screeching "vamos!" And another miscreant does similar at 15-0. They should take names. Rafa unlikely to be put off too much by some vocal incursions into his concentration but Kev hauls himself back to 15-all.
Rafa will serve to become US Open champion.
The Spaniard pummels Anderson back after a cracking return and gets on the board but Anderson finds his serviec groove and some booming ground strokes to bring up 40. An ace hit with all the frustration of a player who perhaps thinks he could have played more games like that in the opening set and it's back to the seats.
The Mallorcan moves to 40 in a jiffy and an Anderson return into the net means another hold to love. A change of racket and a trot back to the line and Rafa looking to go all Cobra Kai now and "finish him."
Rafa toeing the oche as he looks to move to within one game of a 16th Grand Slam and a third US Open title...
Anderson up to 30 in a flash but Rafa gets on the board with a return at the big man's toes. The South African finds the paint with a huge cross court forehand but backs that with one long to the baseline. Rafa slices a backhand return long and Kev holds.
But Anderson hammers a return back onto the Spaniard's laces and Rafa flicks it wide. Kev on 30 on the Rafa serve again.... but nada. The 15-times Grand Slam winner can smell the engraving machine oil now and dismisses the mini-challenge with a trademark welly.
A couple of sallies to the net and Rafa is 40-15 up. He's won 100 percent of points at the tape today.
His tail is up, that's for sure! 0-15 as the South African whacks away a forehand...
A solid hold there from Anderson but is it too little too late? He's getting a bit of treatment on his finger at the changeover as well.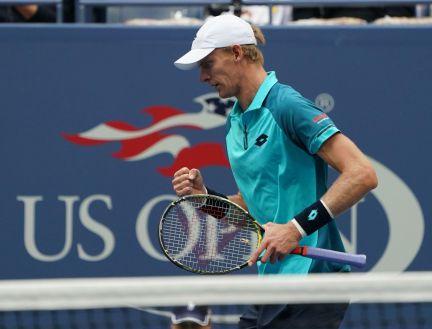 30 up on the Kev serve quickly enough and then 40 as Rafa punches a backhand just wide. A hold to love - his first? - and Anderson at least sends a little message to Nadal there. The Spaniard won't be too concerned though at a break and two sets up.
But Anderson doesn't take it further than that - not one deuce on the Rafa serve all afternoon - and the Spaniard holds.
But what's this? A double fault? That's the first of the match for Rafa and hands Anderson the tiniest inkling of a chance as the Spaniard pops a forehand long on the next point. 40-30.
Bit of a delay as Rafa glowers at some unseated fans but normal service is resumed quickly enough as Rafa comes out of the blocks with a beautiful point.
A wonderful, wonderful volley from Anderson brungs a fist pump and 15-all on his serve but that, essentially, is the type of shot he has to pull out to win a point at the moment from open play. His serve is another matter and two almight clobbers hands the South African the game.
Anderson throws his arms up in frustation as another forehand hits the net. It must be dispiriting playing Nadal in this form and a line call against him when it looked as though he'd hit a winner won't help. Rafa holds again. To 15 again. And is now 2-0 up in the third.
Anderson not goig down without a fight though and cracks a lovely return winner to claim a rare point on the Rafa serve.
Rafa breaks! The South African goes long with a forehand and the world number one is firmly in the driving seat now. 
Another unforced error from Kev brings up a break point opportunity for Rafa...
Anderson pegged back to deuce as Rafa turns the screw. In the whole of the second set the Spaniard lost just three points on his own serve.
The South African is back on serve at the start of the third set.
Anderson has brought his unforced error count down considerably, hitting just four in the second set for six winners, but Nadal cracked 15 winners for two unorced errors across those nine games. 
That Nadal forehand should be framed and stuck on the wall at MoMA for future generations to admire. Rafa whips one across the court at an acute angle for another love hold and is now two sets up and looking unstoppable.  
Rafa moves to 30-0 with some incredible hitting and brings up three set points with an unreturnable serve... 
A booming top spin forehand whipped across court and Rafa moves to within two points of the set. Anderson responds with a blunderbuss of his own to level and sends down a kick-heavy delivery down the T that Rafa dumps into the net. The same recipe brings the same result and Anderson holds. Rafa will attempt to serve it out at 5-3.
Even the net cord is thumbing it's nose at the South African... It looked like the clip was going his way but the ball flops back into his court to hand Nadal 0-15.
  Anderson serving to stay in the second set...
That's the hold for Rafa and the way he is playing at the moment, it's difficult to see how Anderson can do any damage on the Spaniard's service game.
Anderson opens his account but Rafa scowls and sends down a pair of whiplash inducing serves to redress the balance. The Spaniard moves into fifth gear on the next point, covering the court like a whippet and popping a backhand winner away for 40-15.
A rare error from the Spaniard and Kev saves the first... but what a show at the net from Rafa! Three volleys as the 28th seed threw everything at him and Rafa breaks in the sixth game!
Into the net from Anderson and Rafa has two break points... he's won 33 percent of them so far.
Rafa shows his incredible court movement and athleticism to move to 0-30, bringing down an Anderson lob with a crunching smash and then landing a glorious forehand under the South African's considerable reach.
Anderson, it goes without saying, is going to have to find a way to make inroads into the Rafa serve, but in doing so his unforced error count is creeping steadily up. It's a tightrope, and one on which the towering challenger is not walking the walk at the moment. Rafa holds to love. 
Anderson brings up 30-0 with a couple of huge serves but then decides to go toe-to-toe with Rafa on a cross court duel and there's only going to be one winner trying that tactic. The South African pulls out another couple of serves from his kit bag and hammers a forehand down the line for another fairly trouble-free hold.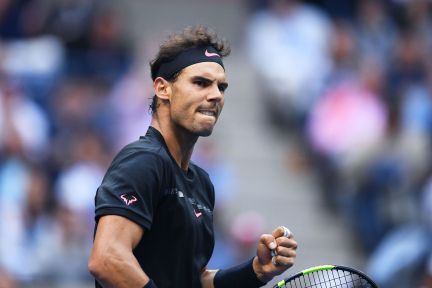 Long from Kev on the back foot as Rafa pounds the backline and it's a hold to 30 for the Spaniard, who has yet to face a break point on his serve. Supreme consistency from the number one.
Make that six! Anderson pummels Nadal from side to side and brings up 30s with an unreachable forehand into the corner. Rafa responds though with a boomer down the T and it's game point... 
Rafa has only five unforced errors in the match so far and has given up just five points on his serve...
And Anderson holds with ease, at least in comparison to the first set.
The South African is getting some joy from coming into the net though, givenhow far behind the baseline Rafa is when he returns. A big serve and it's 40-15.
Rafa's in a state of grace now and has the measure of the Anderson serve.
And he takes it! With a fist-pumping "vamos" from the depths of his soul. A forehand and volley combo, prefectly worked, and Rafa takes the opening set!
Rafa has set point up after a colossal backhand cross-courter on the run.
Anderson into the net again and he reacts well to a net cord to snap a volley back over but it sits up perfectly for the onrudhing Rafa, who swats it away. Anderson sends down a 108-mph second serve though and slaps Rafa's return away for 30-all.
But Rafa is not hanging about on serve and brings up 40-15 after controlling another rally and Anderson then finishes the job for him with a backhand into the middle of the trams. Rafa holds for 5-3.
Well, well. Anderson has a few other shots in his locker and flusters Nadal with a perfectly executed drop-shot.
Uffff. Anderson goes for a straightforward looking forehand but overcooks it and it's just wide. Rafa gets the break!
Oooh, Rafa's got his game face on now. He wallops a return winner and has his fifth break opportunity.
Anderson lands a forehand down the line but Rafa replies with a superb return, giving Kev no chance with a stooping volley at the net. An ace gets his nose back out in front but another forehand error, that's about 20 now off both sides combined, and we are back to deuce. To the sound of Sonny and Cher.
Rafa not happy there as the spare ball flops out of Anderson's pocket, so to speak, and the point will be replayed after Rafa had won the original. That would have been 0-30. It's 15-all as Kev jams a volley away.
Kev sees a chance and opens up for a backhand down the line but misses by a whisker. Big serve from Rafa, net and it's game point. The Spaniard goes out wide with his serve, comes into the net and buries a volley to hold. A few dents there from the South African but the Rafa juggernaut rolls on.
Rafa back on the oche now. He's only lost one point on his serve so far and takes the first, then nets to give Anderson a glimmer. And he takes up the challenge! A huge backhand and a gutsy drive volley and he's ahead on the Rafa serve for the first time...
Another ace, 132 mph this time, and Kev has the advantage. But Rafa whacks a return from miles behind the baseline and Anderson can't bring his frame down to the volley. It was a very tricky one that. Another ace, another challenge from Rafa, mistaken this time and Kev punches a volley into empty blue, punches the air and skips to his chair at 3-2 up!
And holds! With a backhand thrashed down the line... ah, no he doesn't, Rafa saw something nobody else did and called for hawkeye again, this time getting it nailed on. Deuce. Ace. Advantage. A forehand error from Anderson and deuce again...
Rafa challenges a rocket of a serve but doesn't look too convinced... and he's right, plum on the line there from Anderson. The number one skews a return wide and Kev is on point again...
Here we go again? Anderson lays down a big delivery, Rafa punches it long and we're back to deuce. A third double fault and Rafa's got another sniff...
Rafa gets the better of a rally on a Kev second serve to bring up break point....
Some glorious stuff at the net, apparently! A lovely volley takes the big man to 30-15. But he tries the same thing again and Rafa passes him with a huge forehand and there's the first leaping "vamos" of the evening from the Spaniard.
There's more than one big server out there today and Rafa struts his stuff with a first ace. He then moves Kev around like a chess piece and comes into the net with a glorious drop shot. Another well-worked point and a forehand down the later and Rafa holds to love in a minute or so. It was supposed to be other way around... let's see what Kev can come up with in reply.
And then we're back to deuce with a forehand error. Kev rushes the net and Rafa sees an opportunity but grimaces as his forehand drops just outside the trams. And, finally, Anderson holds!
Spectacular from Kev! A long rally ends when the 28th seed blasts a backhand across court, picking out the line with incredible accuracy.
A second double fault from the South African and we're back at 40s.
And back to deuce three as Kev leaps on a short return and buries it somewhere into next week. Rafa challenegs an ace and seems to suggest that hawkeye might be on the blink but it's the South African who errs at advantage, dumping a forehand into the net. Back to deuce, then advantage Anderson as Rafa gets a racket but little else to a piledriver serve.
Anderson misjudges a snatched Rafa return, leaving it only to watch it drop the wrong side of the baseline from his point of view. A colossal rally ensues, both combatants going for some huge shots, and Rafa nets to bring it back to deuce. Anderson returns the favour though and it's advantage Rafa...
A Kev second serve skews off the net cord and Rafa has an opening at 15-30. He's pushed back by some good hitting from his opponent though and goes long on a backhand, then misses another down the line after building a decent point. A cross-court hammer brings up deuce though...
Anderson is hitting some huge shots from inside the baseline and appears to have Rafa a little rattled. The South African is jumping on the Spaniard's second serves and going for the lines, as he knows he must. The world number one holds to 15 but a couple of unforced errors from Anderson helped him out a little. Early statement of intent from the 28th seed.
A huge serve out wide and a second ace though and the big man holds.
A first ace from the South African, at 136mph, brings up game point but Rafa jumps on a second delivery and brings up deuce. 
Nadal strikes early as the players get into a spot of baseline bludgeoning but two huge serves from Kev show what the Spaniard is up against today in terms of break opportunities.
Anderson to get us started...
That pink monstrosity was Rafa's jacket apparently. The world number one is in black for the game, with Kev opting for blue. The players are warming up now and we're about to get underway.
Rafa has not played a lower-seeded player in a Grand Slam final since winning his first at Roland Garros in 2005, where he faced unseeded Mariano Puerta and won in four, dropping the first on a tie-break.
A few high fives for some lucky fans as Rafa makes his way to his seat. He's looking pretty comfortable as he prepares to face the 28th seed. He's only faced one other seeded player this year at Flushing Meadows in Juan Martín del Potro in one of the most open draws in the past two decades.
The players are getting ready to come out now, Rafa positively fluorescent in a garish pink strip. That might be enough on its own to put big Kev off his service game.
Anderson will be looking to keep the points as short as possible in today's final. Nadal, one of the game's great baseline hustlers, has won 58 percent of points from the back of the court during the tournament.
Perfect follow through, great positioning, straight back.... Fine footballing technique from Pablo Carreno Busta of Spain who lost to Kevin Anderson in the semi final of the US Open earlier this week in Queens.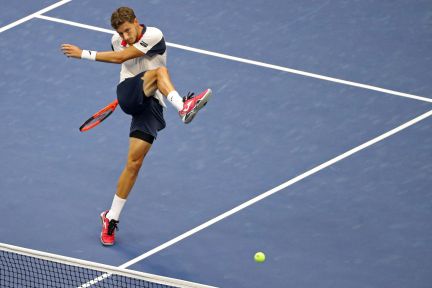 A mild 23C temerpature in Queens (NY) today, ideal conditions for both players and spectators at Flushing Meadows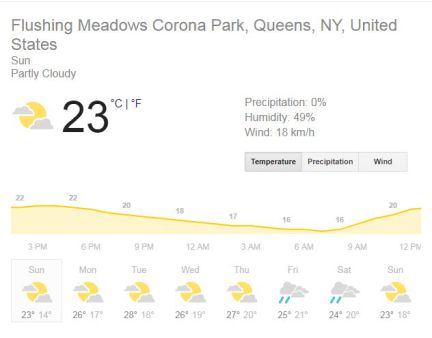 Here's a profile on the man trying to stop Rafa Nadal from adding another major Grand Slam to his career haul. A profile on South African Kevin Anderson, currently ranked no. 32 in the ATP rankings.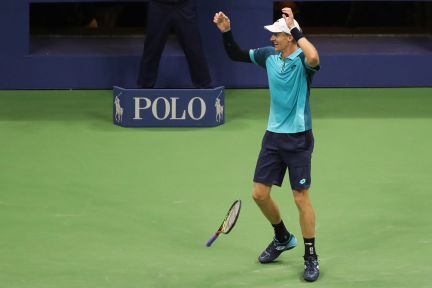 Rafa Nadal is a well known admirer of Real Madrid and friends with many of the first team squad. This is what German midfielder Toni Kroos had to say about the tennis star following his Wimbledon exit this summer.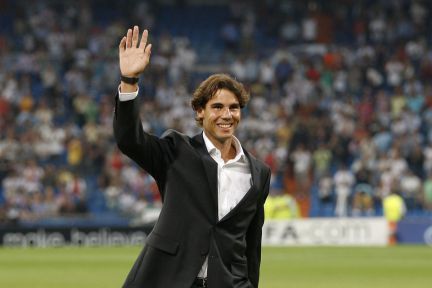 As Spaniard Rafa Nadal closes in on another Grand Slam title in the US Open at Flushing Meadows and interesting study on how much the Mallorca born tennis star is worth?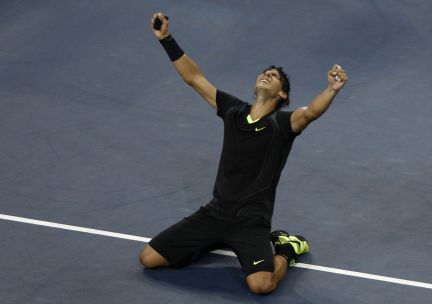 Whet your appetite and read how the 31-year-old Spaniard reached his 23rd Slam final, and his third this year, by beating a hard-hitting, but tired-looking, Juan Martín del Potro.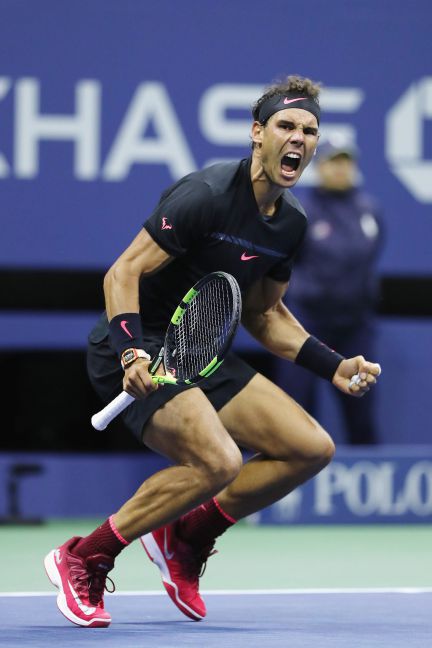 World-number-one Nadal has lifted the title at Flushing Meadows twice before, in 2010 and 2013, overcoming Novak Djokovic on both occasions.  The Serb's and Andy Murray's withdrawl from the tournament undoubtedly paved the way for Anderson's appearance in tonight's final.