Real Madrid 3-0 APOEL Champions League: match report, goals, action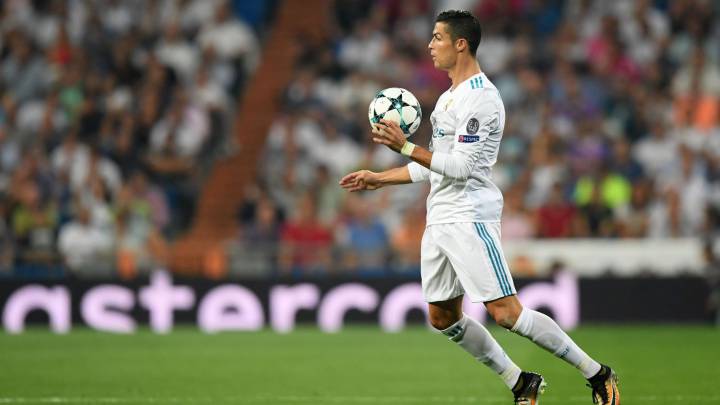 Real Madrid 3-0 APOEL Nicosia: match report
Real Madrid got their Champions League campaign off to a winning start against APOEL Nicosia on Wednesday night at the Santiago Bernabeu with a brace from Ronaldo and a cheeky chilena from Sergio Ramos.
With Cristiano Ronaldo suspened for five games to start the domestic campaign, the Portuguse wasted little time to make a mark in Europe.
He slotted home a Gareth Bale cross at the back post after 12 minutes to give Real Madrid a lead that they were never in danger of losing. They had plenty of efforts in the first half but failed to convert any of them although it just seemed like a matter of time before they would clinch the game and a handy to start to their Champions League campaign.
It would take a little bit of luck, however, as Ronaldo converted a penalty from a questionable hand-ball from Roberto Lago as it appeared to hit his shoulder as opposed to his arm. The referee decided it hit his arm, however, and Ronaldo made no mistake from the penalty spot driving it low and to the right of Boy Waterman.
Two goals to the good, Real Madrid were home and dry and Sergio Ramos locked up the full three points on 61 minutes when Gareth Bale headed down a Marcelo cross only to see the Real Madrid captain swing a bicycle kick at it and put the game to bed.
Real Madrid, maybe, were not as sharp as they might have liked to be but got all three points after a difficult LaLiga opening, which has seen them draw twice against Valencia and Levante in the first three weeks.
They travel to Dortmund at the start of October as the challenges they face continue to grow while APOELA Nicosia welcome Tottenham as their Champions League group stages refuses to get easier.
Real Madrid vs. APOEL Nicosia: as it happened
90'+3' GAME OVER! Real Madrid with the victory over APOEL.
90'+3' Mayoral scores! But it's offside. Ronaldo with a lovely through ball but maybe it was Ronaldo who was offside. No chance it was Mayoral as he was a good three yards on!
90'+2' Modric clips one towards Carvajal but it's too far for the right-back.
90'+2' Three minutes of added time. 
90' Casemiro with a strike but it's deflected out for a corner.
90' Farias booked for going through the back of Marcelo.
89'   Ramos with a tame foul on Farias.
87'   Another ball into the box. Casemiro heads down this time but Waterman collects. 
85'   Ronaldo with his hat-trick.... NO! It is ruled out for a correctly-called offside. Modric with the cross but Ronaldo had strayed a good yard and a half off.
84' Real Madrid with 24 attempts and over 60% possession. Rough night at the office for APOEL. 
83' Pote replaces De Camargo for the last few minutes.
81' Mayoral replaces Bale.
81' Another corner for Real Madrid. 
80' Ronaldo goes up against Rueda again. No free this time as the Portuguese takes it down and recycles the ball.
79' Modric with a cross to .... nobody. Real Madrid comfortable here. The game has ended as a contest a while ago.
77' Aloneftis tries to create something but he's offside.
76' Ball arrives into the box but Ronaldo fouls Rueda.
75' Zahid breaks and Aloneftis strikes but he hits it wide.
74' This one seems to be in the bag! APOEL struggling massively. 
72' Zahid replacees Ebecilio.
72' Isco is replaced by Isco.
72' Double change for both sides. 
71' 20 minutes left here in this one and APOEL look well and truly beaten. They haven't created a single chance in the second half.
69' Bale plays one on to Isco and he fires wide. Shot was dragging from the time it left his foot.
68' Ronaldo again but he misses. 
67' Bale with another cross and this time Vinicius clears. Ronaldo was lurking for another one and remains on a hat-trick.
65' Smart idea from Carvajal as he squares to Bale but Bale can't finish it.
64' Farias chases down Nacho but the Real Madrid defender manages to clear.
62' Chilena by Ramos to make it 3-0. Ball arrives in from Marcelo and Bale heads it down to Ramos. A fairly handy finish to put this one out of sight for APOEL.
60' Farias replaces Sallai for APOEL.
60' Isco strikes over the bar.
58' Isco seeks out Marcelo on the left. A massive round of applause for Isco from Marcelo but he couldn't hit the target with the pass.
57' Kroos has a crack but it flies over the crossbar.
56' De Camargo looking to break free but he's offside.
54' Ronaldo wants a penalty. This time it actually probably was as Lago takes him down but referee ays no this time. Isco fires a shot away and that's blocked on the goalline.
53' Sallai booked for pulling Kroos down. Quite deserving too.
52' Carvajal booked for a foul on Ebicilio.
51' Ronaldo scores! Very questionable hand-ball but Ronaldo makes no mistake.
50' Bale sends a cross into the box and Largo is ruled to have hand-balled. Penalty.
48' Replay shows it didn't cross the line. 
47' Carvajal sends a ball into the box and Ronaldo strikes it against the bar. Looks like it might have gone over the line and Ronaldo certainly thinks so but assistant referee says NO!
46' No changes for either side at the break. We are underway for the second half.
Getting ready for action at the Bernabeu!
They seem to be snapping at their chances. Lacking a number nine, it still seems.
Real Madrid with 65% possession and have had eight shots at goal. They scored from one but the other seven not real chances at all.
45' Ball into the box and Bale challenging Waterman but no harm, no foul. A thoroughly unconvincing half from Real Madrid.
45' Ronaldo takes off down the left and gets taken down by Vouros in the box. He wants a penalty. Not coming though as the ref is not convinced.
45' APOEL playing out the first half with possession. They'll be happy enough with that half of football. 
44' Marcelo cross and it's dealt with by APOEL but just about. Aloneftis breaks but Real Madrid win it back. Dani Carvajal ends up fouling Lago and APOEL afforded a break.
43' Marcelo plays Isco through but ball goes out for a goal-kick.
42' Casemiro scoops one towards Ronaldo but Rueda gets a toe to it and helps it onto his keeper.
39' Ramos gets tangled up with Aloneftis and the APOEL player concedes a free. Ramos got himself into trouble there, maybe unnecessarily.
38' Ronaldo the latest with a failed effort. Marcelo plays it to Bale, who plays it to Ronaldo and he sends it out to Isco. Ball ends up at Ronaldo's feet but he blazes wide.
37' Another blocked shot. This time by Modric. Real Madrid struggling to really create anything.
36' Kroos with the corner and Ronaldo very nearly reaches it. Cleared by APOEL in the end but Real Madrid pick up possession again.
35' Kroos breaks after mix-up from APOEL. He strikes with his left and it's deflected out for another corner.
33' Marcelo shot off his right is blocked. It comes back across the box to Ronaldo but he misses just narrowly.
32' Ball arrives in but Bale heads over.
32' Real Madrid with another corner. Marcelo tries a cross but deflected out by Vouros.
31' Very close to a second. APOEL manage to clear.
30' Corner Real Madrid. They work it short again and Modric ends up having a shot. Ball breaks back out to Ramos. Real Madrid dominating possession.
29' Ramos topples De Camargo over and is lucky not to be booked.
28' Aloneftis breaks after a failed cross by Bale. 
27' Carvajal throws a cross into the box and APOEL head it away.
26' Kroos eventually replaces Kovacic.
25' Modric with a pass to Carvajal and it goes out over the sideline. Really sloppy from Real Madrid.
24' Still no replacement for Kovacic as Kroos warms up. Real Madrid still comfortable at 1-0 but APOEL have looked decent since going behind.
22' Kroos warming up for Kovacic.
21' Kovacic on the ground and has an issue with his groin, or thigh. He's not going to be able to continue.
20' Sallai looks to be through on goal but gets hauled for an offside. Replays show it might not have been the case.
19' Isco looking lively. He has a look for Ronaldo with a through-ball but they're on different pages. It rolls harmlessly wide.
17' Handy one for Real Madrid to deal with. Lago makes a move forward but Ramos cuts it out and taps it back to Navas.
16' Kovacic with a silly foul on Morais. He was on the run but lost the ball and stuck a clumsy foot in on the APOEL midfielder.
14' An almost identical attack and Bale swings it to Ronaldo. He hits the side netting with a header.
12' On the counter and Real Madrid are as incisive as ever. Isco plays it out wide to Bale and he crosses to Ronaldo and he makes absolutely no mistake. He slots home beyond Waterman and nestles it into the side netting.
12' Decent chance for APOEL. Ramos saves the day.
10' APOEL with their first chance of the game. Lago fires one towards Navas and he tips it over the bar. Corner to the visitors.
9' Corner Real Madrid. It comes to nothing after they work it short. Bale header is over the bar.
8' Cleared by APOEL. All Real Madrid so far but they haven't much.
7' Ramos plays it out wide to Carvajal and he wins a corner for Real Madrid.
6' He's back up again and fine. Play continues. Quite a fractured start to the game so far.
6' Marcelo down in a heap now. Seems to be grabbing his lower back. 
4' Casemiro launches himself into a challenge against De Camargo and loses out. Very lucky not to see a yellow card.
3' Dangerous ball into the box by Marcelo. Nearly falls to Ronaldo but a poked shot from Casemiro is all Real Madrid can muster.
1' Ronaldo fouled by Rueda. The Portuguese grabs at his foot but he seems to be okay.
1' We have action! 
Both sides in the tunnel now as they get ready to head onto the hallowed turf of the Bernabeu. 
For all the talk of Karim Benzema and his inability to score against Valencia, his absence tonight will prove is he is really needed in this Real Madrid side.
This stat, courtesy of Phil Kitromilides, is devastating for any chance of an upset tonight. No Cypriot side has ever won an away game in the Champions League 6 draws 8 defeats.
There's plenty more action tonight in the Champions League:
The Bernabeu might be slightly empty but it's looking well.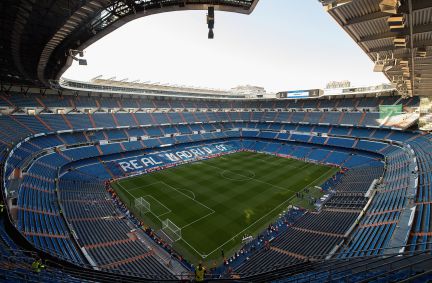 Kovacic looking relaxed.
Real Madrid out to warm-up. Isco looking fresh, Ronaldo looking eager.
Nacho, another player who has found a spot for himself in the side. Raphael Varane is in the squad but does not start due to musculer injuries. Nacho is starting to build up quite the understanding with Ramos as they start for their third game in a row.
Kovacic earning a start tonight ahead of Toni Kroos. The Croatian impressed earlier in the season, and during the preseason, but failed to nail down a starting spot in that very competitive midfeld.  
  The first time we get the chance to see Bale and Ronaldo start beside each other this year. The game that Ronaldo was sent off in, the Spanish SuperCup, he started on the bench. It will be interesting to see if the Welshman can pick up his recent, relatively poor, form.
We have word from our man at the Santiago Bernabeu and he says that he has rarely seen the stadium as quiet as tonight. Have Real Madrid accepted that they'll walk this one? 
APOEL team news is in: Waterman, Vouros, Rueda, Carlao, Roberto Lago, Morais, Ebecilio, Vinicius, Sallai, Aloneftis, De Camargo.
You could say that the big absence is Marco Asensio for Real Madrid. So much has been made of what looks like an "ingrown hair" issue for the 21-year-old. Ronaldo slots in, as many expected, but the young attacker has been lighting it up recently for both Spain and Real Madrid.
We have team news for Real Madrid. Toni Kroos rested by Zidane. Here is your starting XI for tonight: Keylor, Carvajal, Nacho, Ramos, Marcelo, Casemiro, Modric, Kovacic, Isco, Bale, Cristiano.
Another interesting facet of tonight's buildup is whether Zidane will continue to miss a number nine or not. He said recently that his squad is missing a striker and Alvaro Morata has been garnering much praise in the Premier League. That scurinty on Real Madrid's summer business will only increase if results aren't forthcoming in the next couple of weeks, espcially with Mbappé knocking them in for PSG and with the Liga champions linked heavily with him but never truly going all out in their pursuit of the youngster.
Real Madrid have begun 'Operation Armour-Plating' a raft of contract renewals to protect the key players in their squad from unwanted interest from other clubs. Marcelo was announced today, and Isco, Carvajal, Nacho and even Zidane are up next.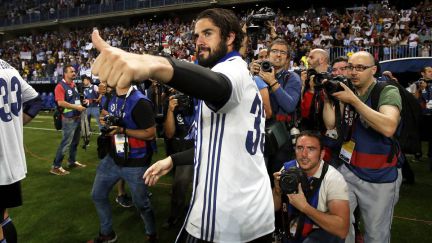 He won't be missing tonight but Marcelo has been handed a two-game ban for his kick out at Lerma against Levante. Plenty of debate regarding whether starting Marcelo and Theo Hernandez, two left-footed left-backs, was the right choice by Zidane. He was likely just rotating but massive decision tonight to see who he opts for down that left-hand side although it will most likely be Ronaldo and Marcelo. 
In the Youth League Real Madrid's lads have absolutely tonked, tonked, APOEL's youngsters. 10-0 the final score. That's got to hurt. The goals came from Dani Gómez (18, 25, 43 (P)), Adri (32), Baeza Pérez 41 (P) , 83, Zabarte 49, and Pedro 62, 71, 77. Real Madrid will likely be top of Group H after the opening match. 


Zinedine Zidane said ahead of tonight's game that his side were "maybe lacking a number nine." Cristiano Ronaldo will probably fill that role this evening but the Real coach does have a dilemma ahead of Sociedad. Time to throw young Borja Mayoral into the deep end? He'll certainly feature if Real are cruising at around the hour mark. Zidane believes...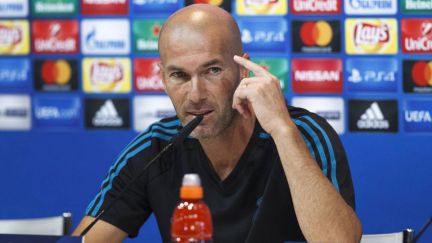 Real Madrid are beavering away on contract extensions at the moment with Marcelo becoming the latest player to put pen to paper. The Brazilian has extended his deal until 2022, by which time he should comfortably overtake his idol and predecessor Roberto Carlos as the non-Spanish player with the most appearances in history for the club after joining in 2006 at the age of 18.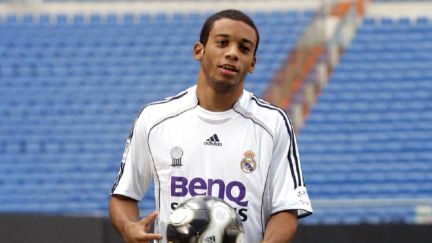 Mourinho's 11 on April 4, 2012 was: Casillas; Ramos, Pepe, Varane, Marcelo; Altintop, Sahin, Granero, Kaká; Higuaín, Ronaldo.
The last time APOEL visited the Bernabéu was in 2012 in the quarter-finals and the side that José Mourinho put out that evening was practically unrecognisable from Zidane's probable line-up this evening. Only Sergio Ramos, Raphael Varane, Marcelo and Cristiano Ronaldo remain from the 11 that beat the Cypriot champions 5-2 that night.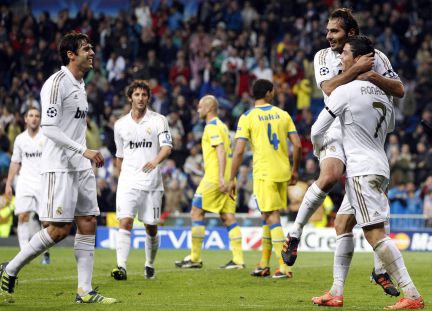 Zinedine Zidane's selection problems are stacking up with Marcelo now out for the next two league games after being handed a two-game ban for kicking out at Jefferson Lerma during Real's 1-1 draw with Levante in the Bernabéu last Saturday.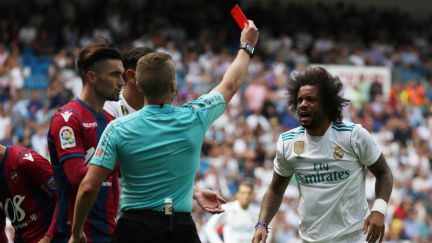 Real Madrid's lack of forward firepower situation has been accentuated with the summer sales of Alvaro Morata (to Chelsea) and Mariano (to Olympique Lyon) and further compounded after Karim Benzema's injury during last Saturday's LaLga gamne at home to Levante.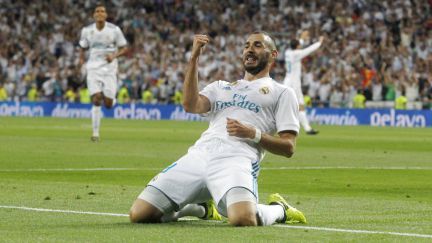 Find yourself at a loose end this evening in the Spanish capital? Why not attend the game at the iconic Santiago Bernabeu and enjoy the big-match atmpsphere of a Champions League night. Tickets are still available for the tie with prices starting as little as 25€.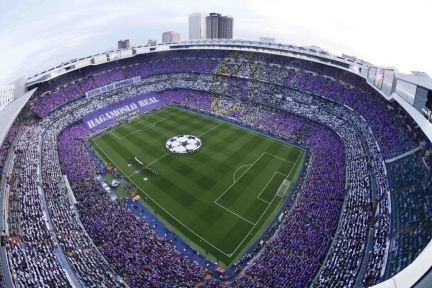 Marco Asensio will not feature for Real Madrid this evening after picking up a boil in a rather compromising place. Club doctors have confirmed that although it became infected there are no serious issues and the 21-year-old has been omitted merely as a precaution and also with the match against Sociedad this weekend in mind, when Zinedine Zidane will be without Cristiano Ronaldo and Karim Benzema against a side who have yet to taste defeat in the league.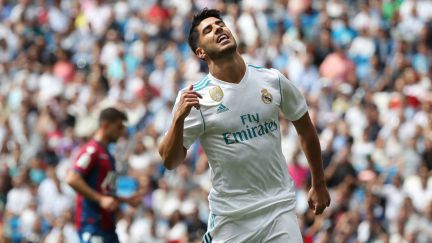 Currently serving a five match league game for his manhandling of the match official in the return leg of the Spanish Super Cup, Real Madrid have missed Cristiano Ronaldo's goals as this article concludes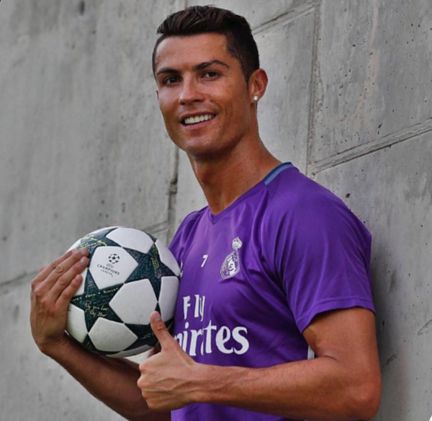 Director of AS Alfredo Relaño casts a glance back at last night's Champions League action in Barcelona and Rome where Barça and Atletico played Serie A opposition in the shape if Juventus and AS Roma respectively. He also looks forawrd to the return to action of  Real Madrid striker Cristiano Ronaldo.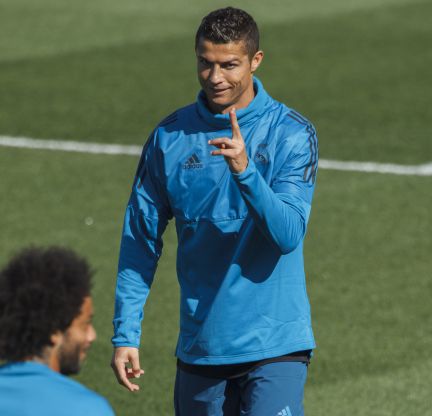 Hello and welcome to our live coverage of Real Madrid v APOEL in the Champions League, MatchDay 1. The game is taking place at the Santiago Bernabéu stadium in Madrid, with kick-off at 20:45 hours (CEST).
Real Madrid v APOEL Nicosia live stream: Champions preview
Defending champions Real Madrid open their Champions League looking to win the trophy for a record, third straight year as Zidane's team go in search of a unique, double-treble with six titles up for grabs – two of them, the Spanish and European Super Cups, already sitting proud of place in the Bernabéu trophy room.
APOEL's ambitions will be a little less lofty than their hosts – but if they could enjoy a repeat run of their best campaign in the competition when they reached the quarter finals in 2012, only to be knocked out by Madrid, then they will be more than happy.
APOEL have been on and off in Europe since making their debut in 2002-3 qualifying rounds of the Champions League. They entered the group stage for the first time in 2009-10, beating seasoned campaigners Partizan in the Play-offs. But with Chelsea, Atlético Madrid and Porto in their group, it proved a struggle for the debutants who bowed out at the group stage.
Giorgos Dinos' troops made the group stage after defeating Romanian side Viitorul then Slavia Prague in the final two qualifying rounds and looked very convincing in their home legs in both of those ties. The Cypriots are no strangers the Bernabéu having played in the White House once previously – they lost that game 5-2 with Esteban Solari, brother of ex-madridista Santiago, scoring from the spot. The only remaining players from the Madrid side from that time who are still at the club are Ramos, Varane, Marcelo, Cristiano and Benzema.
Real Madrid have had an unsettled start to the league campaign with Cristiano Ronaldo serving a five-match ban and a few injury and suspension problems. The team were held in Week 2 against Valencia and again at the weekend by newly-promoted Levante. Zidane fielded a changed side for that match, resting many of the players who had only recently returned from international duty. The Madrid coach is expected to continue with his rotation policy and could hand Dani Ceballos and Borja Mayoral minutes tonight.
Nicknamed Thrylos (Legend), APOEL go into the match after beating Nea Salamis 1-4 on the opening day of the Cypriot league – a result which leaves them sixth in the table.
Real Madrid latest news
Cristiano Ronaldo has one game to serve on his ban which doesn't apply in European competition so he will almost certainly return to the line-up. The big headache for Zidane is who to field alongside him as Karim Benzema was forced out of the Levante game after suffering a hamstring injury and is out for the next four to six weeks. Keylor Navas, who returned from international duty with Costa Rica on Thursday last week, was rested at the week but should resume his place in the XI with Kiko Casilla returning to the bench. Other players who are expected to return to the side are Raphaël Varane, Casemiro and Luka Modric, all of who were rested at the weekend.
Man to watch: Cristiano. After missing the team's first three league games, Cristiano will be champing at the bit and keen to make up for lost time against APOEL. He scored twice in the April 2012 meeting and will surely hope to add to his record tally of 105 goals in this competition. With Benzema sidelined he will be Madrid's main man in attack and will probably be handed a free-roaming role with support from Isco and Bale.
APOEL latest news
Midfield pair Facundo Bertoglio and George Efrem missed the Nea Salamis game and Sallai and Ghayas Zahid could start in their place. Bulgarian defender Zhivko Milanov is also sidelined.
Man to watch: Igor de Camargo. The Brazilian is APOEL's reference up front and was on target for the team twice on the opening day of the league. He has European pedigree from spells with Standard Liège, Genk and Borussia Mönchengladbach and would love nothing more than to see the home team net billowing at the Bernabéu. He scored 12 goals in 28 appearances for the team last season. He can use both feet and has no qualms about shooting from distance.
---
Real Madrid-APOEL live stream: possible line-ups
Real Madrid: Keylor Navas; Carvajal, Ramos, Varane, Marcelo; Casemiro, Kross, Modric, Isco, Bale, Cristiano.
APOEL: Waterman; Milanov, Rueda, Carlão, Lago; Vinicius, Morais, Zahid, Ebecilio, Aloneftis, De Camargo.
Madrid vs APOEL live stream online betting odds
Madrid are the clear favourites to win with all of the betting sites with APOEL 21/1 to pull off what would be a famous win. Cristiano is 3/1 to score the first goal while Varane is 46/1 to get his name on the scoresheet. Igor de Camargo is at 8/1 to beat Keylor and 150/1 to grab a hat trick!
Bet on Real Madrid vs APOEL here: