Real Madrid-Tottenham Hotspur: AS interview with Pochettino
Tottenham visit the Bernabéu on Tuesday night on Champions League business, and we caught up with their manager Mauricio PochettinoChampions League semi-final draw: live online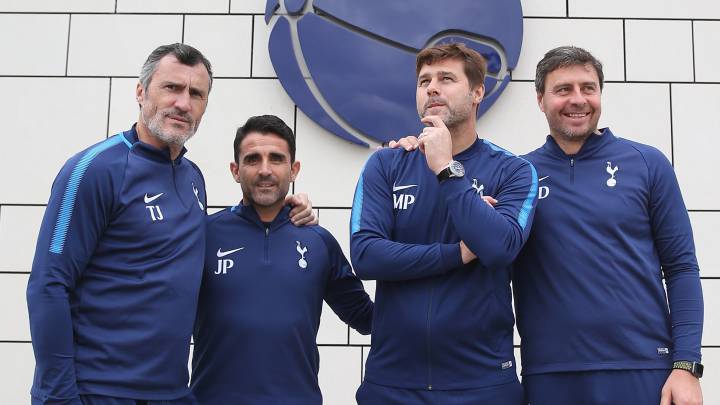 Real Madrid host Tottenham Hotspur on Tuesday night in the Champions League, so we caught up with the Premier League side's coaching team to find out their approach to life, football and how they're planning to beat Zinedine Zidane's men.
Mauricio Pochettino is the visionary, the one who chooses the path, Jesús Pérez is his right hand, who takes care of every little detail. Meanwhile Toni Jiménez (formerly of Espanyol and Atlético Madrid) is in charge of the goalkeepers and Miguel D'Agostino helps out wherever he's needed. Four friends who love travel, life and their work together and on Tuesday, they're at the Bernabéu...
- Once, all four of you were in the same room for an interview Toni was doing, and Jesús had to help out... how did that work out?
- Pochettino: It's always the littlest one who has the idea.
- Toni: It was Jesús. I can speak English, but a whole hour ... I can say one sentence in an hour, but they wanted me to say six sentences in five minutes!
- Pochettino: It was hilarious. Jesús stood behind Toni's chair, the reporter was asking the questions and Toni moved his mouth while Jesús spoke from behind him.
- That story says a lot about you, but there is another. One Thursday, while you were in Southampton, you decided to watch a Europa League match on the computer having already been at work for 10 hours. You all went to Mauricio's room, and ended up sleeping there all around the screen.
- Jesús: It was a really intense period, almost seven months, living in a hotel in our first period in England. We got a lot out of it.
- Is that part of the charm of working in football, the chance to do it with friends?
- Toni: It's clear there is a great connection between us, but the first thing has to be the professional work, which is the base for the rest of the relationship. Doing your work well and seeing, above all, the gaffer's faith in you, makes the relationship stronger.
- Did it all start at Espanyol?
- D'Agostino: Yes, it happened pretty fast. Mauricio was setting up his staff. We joined one by one. We felt [the bond] from the first moment; but it's something you have to work at day by day.
- Pochettino: The first person to join me was Jesús, who paradoxically was the one I knew least. I've known Miki (D'Agostino) for 26 years, since we were kids and we played in the Newell's reserves. I met Toni when we were just over 20, in '94, when we arrived at Espanyol. We're friends. But we're quite clear that at work there is no friendship. It is work and evolution, and challenging each other constantly.
- What defines you as a group?
- Pochettino: We're very grateful to football. Football gives us more than we can ever give to football. We never fall into the arrogance of believing we are more important. The huge respect we have for the sport, makes us feel very, very, very, very, small. We put our individual knowledge at the service of the group and the service of the people and the clubs that rely on us to do a job. We are always open to being able to improve, to learn. We think that football is an open discipline that is constantly evolving, you can't stop.
- Your teams are easily recognisable...
- Jesús: The abilities of the squad can change but the ideas are the same, that everything is possible, that it's possible to get better, that it's possible to compete with other teams who have different resources.
- When you arrived at Tottenham, they were not far off being a top team. What have you done to make Spurs the most consistent side of the last two years?
- D'Angostino: We didn't do anything different to elsewhere, we were rigorous
and aimed to make the players believe in the way of playing. Lots of work
every day.
- It's surprising you keep competing at this level, when you don't have the economic resources of other clubs.
- Pochettino: All the economic agreements have to go hand in hand with the sporting plans and the culture of each club. We came here, we looked at the situation, we tried to understand the people and to create something together, so it's not just our philosophy but one made up by both sides. But the results are the main thing. Tottenham were a sleeping giant, I was just speaking about it to the chairman, Daniel Levy. But with everything he's built in 18 years, in six, seven or eight months, when the new stadium is ready, it's going to be a completely different club to what it historically was. It's a source of pride to be part of that vision.
- I guess one of the big rewards is seeing the evolution of the players. Hugo Lloris, for example, has gone from being unsettled to one of the best.
- Toni: Coaching is important, but there's a lot that isn't physical, it's psychological, it's feeling wanted, feeling important. And then, of course, understanding the principles of the way we're playing. For our teams, the keeper is crucial because we play out from the back. But it wasn't just Hugo, there were lots of people here who were sleeping and they've woken up.
- Harry Kane is another example of a player who has improved spectacularly.
- Jesús: In life, you can feel sorry for yourself: "I don't have this, I don't have that", or you can enjoy yourself, trying to make the most of what you have. Harry was given a base from which he could grow as a person and sportsman. And as he already had talent and determination as a striker, he fought with (Emmanuel) Adebayor and (Roberto) Soldado until he got his chance and he scored. Perseverance has given him his place.
- He seems to cope very well with the rumours about Real Madrid's interest...
- Pochettino: He really takes it in his stride. Harry is a really mature lad, he sees things really clearly. His dream is to do something big at Tottenham, the club he's a fan of. If the big teams recognise your work, and you're in the press, all that does is to encourage you to carry on doing what you chose to do. He is an exceptional person, a humble lad, with great values, very human values. It's a pleasure to coach a player like that because he makes your life very easy.
- And now he's a candidate for the Ballon d'Or. Do you think Dele Alli will reach the same level?
- Pochettino: Why not? It's true he's at a completely different stage in his career right now, but Dele has potential, he has the ability, and that energy, that aura, that you can't ignore. We hope so, he's still young, and he still needs to improve and learn a lot of things. We trying to give him the best tools so he gain stability at this time when it's hard to maintain it.
- It's been said the FA have had you in mind on occasion for the England job. 17 of the last 21 players to make their debut for the Three Lions have been with you at some point. What about Argentina?
- Pochettino: I've been away for too many years, since '94, from Argentina. It's clear that you've got the flag and the Argentinean colours in your heart, but you see it from so far away. Not just the 13,000 km or the 14 hours in a plane, it's that there is a cultural difference. But it's one of the things that would get me excited, like coaching Newell's Old Boys. As is probably also the case with Leo Messi, I'd pay to feel what it's like to be out on the pitch at Newell's again.
- Messi won you your ticket to the World Cup.
- Pochettino: When he gets up and says "I'm going to win this game"... that look, that expression on his face that says "today it happens, today we're going to win" and so it was.
- Where were you when you found out Real Madrid were in your Champions League group?
- Toni: We were in Jesús' office. It's not a bad group, eh? Playing with the best is always awesome.
- How do you see the game?
- Jesús: I think it's very exciting and a challenge to face the team with the most victories in the competition, in a stadium that's famous for the European nights. It'll be a good test of the team's progress.
- What would you pick about Real Madrid if you had to pick just one thing?
- Pochettino: (smiles) With just one thing? Real Madrid has something special, something that's impossible to describe and which you only feel when you play in the Bernabéu or against them. If you haven't played against Madrid in the Bernabéu it's like you haven't been baptised. I was with Jorge Valdano last week and we talked about it, what the club means, the fans, the Bernabéu... it's something you can only feel.
- Could you take your methodology to a huge club like Madrid?
- Pocchettino: It's in constant evolution. Nine or 10 years ago, when I was getting my coaching badge at Las Rozas, I thought it was difficult to coach a team. Later, it starts to be natural, you start coaching, you go up the levels, and now look where we are, in one of the biggest clubs in England. As time goes by we get more flexible, you talk more, you put yourself more in the shoes of the other party, and finally there's no trace left of the arrogance you had when you were a footballer, and you start to enjoy other things. And you put yourself at the service of others. At the end of the day, we're the servants of the footballers, because they are the ones who later reflect us on the pitch.
- I guess you are following closely the situation in Catalonia. From abroad, how do you feel?
- Pochettino: I love and am grateful to Catalonia, to the Catalan people, to Spain. I've got two children who were born in Barcelona, and I instantly felt at home there. Nowadays my two best friends are Catalans, Toni and Jesús. It's made me very sad, and we've suffered at a distance. Nowadays we have access to so much information that it's hard to distinguish what the reality is and what's not true.
And, feeling a huge responsibility, you think the best thing is to think about it. Sometimes we get carried away by ineptitude and that arrogance that we have too as footballers, and we don't step back when we should, we don't establish the solid platforms the people need, because ultimately it's everyday people who suffer.
I don't know much, and from a distance I'll hope and pray that everything works out and everyone finds their path to happiness and to enjoy this life that is so short.
Do you find it difficult to explain the situation to the English?
- Jesús: The feeling from so far away is one of sadness, because we feel like citizens of the world. I, personally, don't believe in reductionism, I think there's more to life than the 25km or 50km around you. And I want my family to speak languages, to be open to the world and to have the chance to live, work and better themselves.



Champions League
*Update 16 de octubre de 2017
Champions League
*Update 16 de octubre de 2017