Formula Two champion Leclerc to lead new Alfa Romeo F1 team
The announcement was made on Saturday days after the iconic manufacturer announced return to the grid after 30-year-hiatus.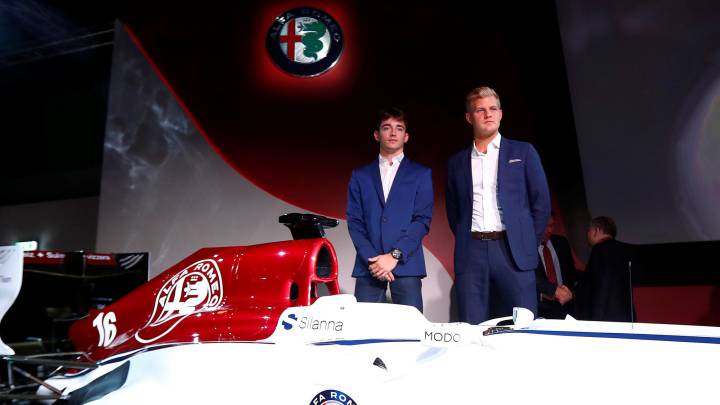 Alfa Romeo are set to make a return to Formula One in 2018 after a 30-year absence from the sport in tandem with Sauber, it was announced earlier in the week.
On Saturday, it was confirmed that Formula Two champion Charles Leclerc will move up to Formula One with the Alfa Romeo-backed Sauber team next season while Marcus Ericcson stays in the lineup despite the Swede failing to score a point in 2017.
The announcement was made by Fiat Chrysler chief executive Sergio Marchionne at a presentation of Alfa Romeo's new partnership with the Swiss team at the Italian marque's museum near Milan.
The lineup leaves Pascal Wehrlein, Ericsson's German team mate, facing an uncertain future with former champions Williams the only remaining team with a vacancy but Poland's Robert Kubica favourite to fill it.
Ferrari-backed Leclerc, 20 and from Monaco, had been expected to get the drive after a dominant season in the official feeder series.
Ericsson's future had been in doubt, with Ferrari-backed Italian Antonio Giovinazzi also a candidate under the new partnership. The Swede does have strong ties with Sauber's owners, however.
Marchionne, who is also the chairman of Sauber's engine suppliers Ferrari, is attempting to reshape the Alfa Romeo brand and the title sponsorship of Sauber is part of that.
Alfa Romeo bring back romance, but only until Ferrari decision
"Formula One is the natural reference point for a marque like this," he said.
Marchionne warned, however, that the deal could end in 2021 should Ferrari leave Formula One at that point because of a disagreement over the direction of the sport under new owners Liberty Media.
Formula One chairman Chase Carey and former Ferrari boss Jean Todt, president of the governing FIA, both attended Saturday's presentation.
Fiat Chrysler (FCA) have invested billions of euros since 2014 to develop new Alfa Romeo models that would stand up against German premium rivals and shed a reputation for poor quality and service that has hit sales in the past decade.
Marchionne is betting on the sporty Alfa Romeo because he believes it can deliver the global profile that the mass-market Fiat brand cannot and far greater sales volumes than top-end Maseratis.
The first two Formula One world championships in 1950 and 1951 were won by Italian Giuseppe 'Nino' Farina and Argentine Juan Manuel Fangio in Alfa Romeo cars. The constructors' championship did not start until 1958.
Ferrari's late founder Enzo started out racing and managing a team for Alfa Romeo, before setting up on his own in the late 1930s. Ferrari celebrated the 70th anniversary of his first car this year.
Alfa Romeo, founded in 1910, supplied Formula One engines in the 1960s and 1970s and returned as a constructor in 1979 before again withdrawing at the end of 1985.
Fiat bought Alfa, whose iconic red Spider 1600 was driven by Dustin Hoffman in the 1967 cult film "The Graduate", in 1986, but several previous attempts at reviving the brand have stalled.