Valverde: "Barça model remains the same as ever"
Ernesto Valverde insisted that the big-money signings of Coutinho and Dembélé are not a departure from the club's traditional values.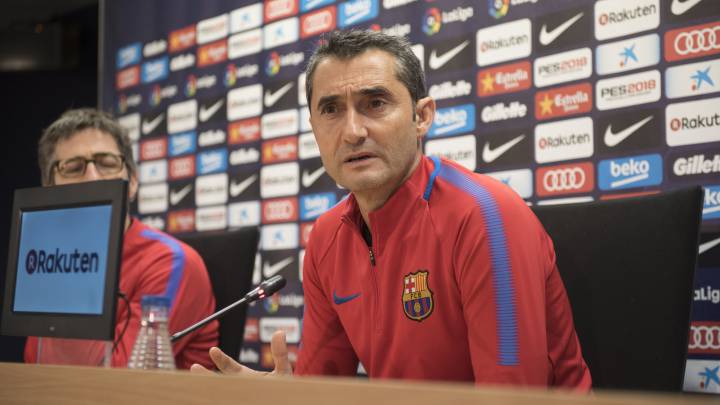 Barcelona coach Ernesto Valverde spoke to the press ahead of the second leg of the Copa del Rey last-16 match against Celta Vigo at Camp Nou.
Barcelona model is the same as ever
How Barça will approach the match: "Our intention is to dominate the match. They'll also want the ball and they do all they can to make sure you don't have it. They press really high. In the first leg they demonstrated that they don't give you a millimetre. In the league match they did well here, but we had a lot of chances."
Celta still have a good chance: "We're a little bit ahead because of the result in the first leg. But only minimally. Celta always score away from home. They've done it in every match. I don't know if it's 50:50 but the tie is still to be decided."
The cheque book replaces La Masia: "The Barça model is the same as ever. Barça have always turned to the transfer market to sign the best players, or a lot of them. Barça are also always looking at the academy to maintain our own style. That is still the case. Xavi, Iniesta, and company are unrepeatable. Sometimes there are more and sometimes there are less."
Valverde hopes Coutinho 'can be a big help'
Philippe Coutinho: "We hope he can be a big help. He can play in different positions, he can adapt to the team. He has the ability to score and assist. We're excited to have him, it's a great signing and we hope that Coutinho is also happy and that he gives us a lot."
Barcelona still unbeaten: "You never look at past form, whether it's good or bad. It must be assessed with time, but on a day to day basis you think about how to keep on resolving things."
Change of formation: "We'll look at that. Coutinho is still unavailable and Dembélé can play on both sides. We'll always try to dominate and win games."
Javier Mascherano: "He's a player who is with us and available".
Iago Aspas: "He's an extraordinary player who scores against everyone. He's a born goalscorer, a tremendous footballer, and a footballer that I love."