REAL MADRID-NUMANCIA
Real Madrid 2-2 Numancia Copa del Rey: match report, action
Real Madrid were held at home against Numancia after beating their opponents 0-3 in the first leg to advance to the Copa del Rey quarter-final.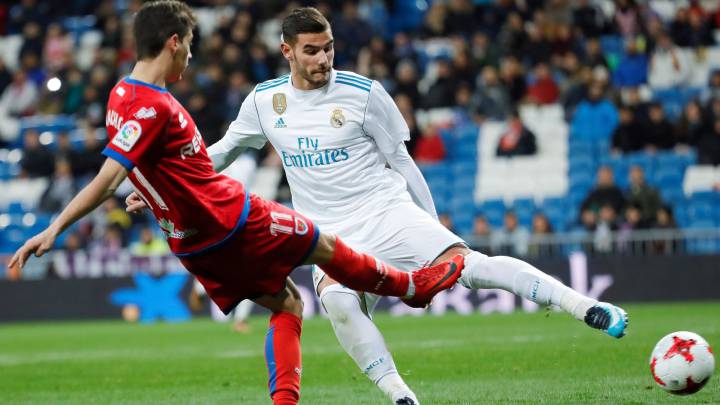 Real Madrid 1-1 Numancia (4-1 agg): match report
The answers Real Madrid have been looking for to get them out of their recent slump were not to be found on Wednesday night at the Santiago Bernabéu. They were pegged back twice after going 1-0 and 2-1 up despite winning the tie comfortably on aggregate.
Zinedine Zidane made 10 changes to the side that drew 2-2 against Celta Vigo last weekend after a clear the air meeting resulted in some of the younger players reportedly complaining about playing time. The chances were dished out tonight with few, if any, being grabbed.
Lucas Vazquez looked very sharp and had Real Madrid off the mark with a rare header after 11 minutes meaning Numancia would have to score four to win the tie. They never stopped attacking to their credit and their brand of football spread Real Madrid out often. They had their reward on 45 minutes when substitue Guillermo turned home a Mateu cross at the back post.
It was Vazquez again who put Real Madrid back on top when Borja Mayoral headed down to him as he turned and struck to make it 2-1.
Zidane tried to shut down the game by bringing Casemiro on and taking off Mayoral but that only encouraged Numancia up the field. They were building with time dwindling down and had a number of chances before Guillermo sent a header past Casilla to draw the Segunda side level on 82 minutes.
They were in the ascendancy too but the ref blew the full time whistle with the scoreline reading 2-2 on the night and 5-2 to los Blancos on aggregate. Zidane will now look to Villarreal at the weekend needing three points while Numancia play top side Huesca in the second division in search of a place in the automatic promotion places.
Real Madrid vs Numancia: live stream online
90'+2'   Game over!
90'+2' Calvo pulls down Isco and is sent off for his second yellow!
90'+2'   Nacho down and suffering from cramp after he jumped in the air with Nacho.
90'+1'   Kovacic fouled by Nieto as he breaks out with the ball.
90'+1'   Two minutes of added time.
89'   Comes in after being taken short. headed back up into the air.
89'   Corner. Nacho says he was fouled by Guillermo but the ref says it's a corner. 
86' Casemiro with a foul on Nacho and is booked. The right winger was flying past him and he brushed him out of the way.
84'   Just watched a replay from Nieto and that was pitiful. Llorente put his hand on his shoulder and Nieto hit the deck.
84' Calvo catches Theo with an elbow to the face and he is booked.
84'   Nieto wants a penalty! He goes by Llorente and hits the deck. Referee says no. Not sure if he looked on there trying to decide or was staring at Nieto for the dive.
82' Guillermo with his second!  The substitute loops it beyond Casilla with a love header. Nacho beaten too easily there.
81'   Milla again but Real Madrid foil him once more. That was a better chance but he looks to be limping away from it. Marcos Llorente the man who stopped him this time.
80'   Corner arrives in and gets sent straight back towards goal. 
79'   Numancia nearly have their second and an equaliser. Kovacic puts it out for a corner as the ball comes into the box.
78' Mayoral off for Casemiro.
77'   Isco wins a corner. Lovely nutmeg inside the box to break free. Strikes, blocked and corner.
76'   Meanwhile, Casemiro waits to come on. The ball hasn't been out of play in minutes! 
75'   After a long, long spell of possession, Achraf drives forward and sends a ball across the box. Nice move and just needed someone on hand to tap home.
73'   Really good chance for Numancia. Nieto plays it out to Nacho and he strikes. Casilla saves and it comes back out to Nacho. He passes to Guillermo but that won't work as he tries to flick it beyond the keeper.
71' Medina is replaced by Etxeberria.
69'   Milla tries a cross but that is very tame. Nice work from Numancia to build into that position but that's poor.
67' Mateu is replaced by Pere Milla.
67'   Cross into the front post but it slides right by everyone. Decent and dangerous ball.
65'   Isco's first input and he strikes at Munir. 
63' Asensio is replaced by Isco.
62'   Achraf looking to make progress down the right as he cuts in but he slips. Numancia clear.
59'   Calvo with a hand up for offside but it was him keeping Vazquez on and he knows it too. He drops his hand and accepts the goal.
59' Mayoral heads down to Lucas Vazquez and he drives it to the roof of the net.
58'   Numancia nearly caught on the counter. Vallejo comes across to save the day.
57'   Real Madrid looking more dangerous but still no breakthrough.
55'   Ceballos with the nicest piece of skills you'll see. He cuts it back to Nacho and he drives over the bar.
54'   Theo Hernandez with a dangerous cross in around the back and it's put out for a corner by Numancia.
53'   Nieto tries to find Guillermo in behind but leaves him with too much to do and Nacho cleans up.
52'   Nacho makes a lively-looking move forward but he id dispossessed and it's an awkward fall. Grabs his ribs as he jobs back up the field.
51'   Ball arrives in looking for Mayoral but Munir grabs it. 
50'   Ceballos with a shot but that's a tame effort.
48'   Isco warming up. Numancia win it back and start an attack.
46'   We are also back underway!
46'   We have a change Achraf replaced Dani Carvajal.
45'+1'   Half-time at the Santiago Bernabéu.
45'+1'   That's it for the first half. 'Si, se puede' sing the Numancia fans. 'Yes, you can do it'. I wonder can they? A tall task.
45' GOAL! What a move from Numancia. Guillermo slots home as Dani Nieto puts Mateu through and he crosses to a waiting Guillermo. Lovely goal. Zidane off his bench and not happy.
44'   Ceballos and Asensio link up in the centre but to intricate and Munir rushed out to grab the ball.
44'   Real Madrid drive forward. Carvajal crosses and it's rejected. He tries again and it goes out to the back post. 
42'   Tame first half really. 
41' Higinio is replaced by Guillermo.
38'   We thought Higinio was good to go but he has to retire on 40 minutes as that muscular injury from early won't let him play any more part in the game.
35'   Another chance and Numancia think they have a corner but the near post cross, low, is knocked out by Higinio.
34'   Casilla straight off his line as Numancia start a lightening fast counter. Carvajal fouled Mateu just before that though and the ref blows for the free and brings it back.
33'   Numancia enjoying a decent spell now in possession. They've failed to really create anything though. 
31'   Corner. Carvajal caught out of position and ball sent into Higinio. Tackled as he tries to poke it toward goal and out for a corner.
30'   Another corner as Carvajal raids down the right.
29'   Chance for REal Madrid but Asensio offside. Ceballos headed into his path and he passed to Lucas Vazquez but he was well off.
28'   Another searching ball into the box but Carvajal chests down for Casilla and Real Madrid's goals remain safe.
27'   Larrea fouls Lucas after a race to the ball that he loses. 
26'   Kovacic tries to do too much with it and loses it but it makes its way to Asensio and he drives a shot over the bar.
24'   Mayoral strikes and that's well wide and never troubling Munir.
23'   Grego sends a long, diagonal ball to Higinio. Way too strong and Casilla watches it roll over the line.
22'   Llorente down grabbing his head after a clash with Sierra, who is already on a yellow. Nothing in it.
21'   Asensio, Carvajal and Lucas linking up nicely on the right. Sent out to Theo on the left. He gives it to Lucas and he turns and shoots. Easy for Munir.
19'   Higinio Marin down hurt after a clach with Marcos Llorente. Looks to be a muscular problem and his night might be over. He limps off.
18'   Grego Sierra carded for a poor challenge on Lucas. No protests from anyone. He sliced him down from behind. 
17'   More good work from Kovacic. He sends it out to Lucas and his cross is too close to Munir.
16'   Numancia all the way back to the keeper as they try to plot how to break down Real Madrid.
16'   Ingenio sent free by Dani Nieto but he cuts inside and sees his shot blocked. Options either side of him there and I think he picked the worst one.
15'   Sent into the box and Vallejo is annoying the keeper but Munir grabs it despite the presence of the big centre-half.
14'   Theo Hernandez drives forward now and Calvo concedes the corner. 
14'   Asensio takes. Shoots and bounces up into Munir's chest. Easy save.
13'   Asensio taken out of it by Elgezabal. He got the ball but referee says it was a dangerous tackle. Free for Real Madrid at the edge of the penalty area.
13'   Casillas fists away and Lucas pushed in the back. Free to Real Madrid.
13'   Numancia with a corner now.
11' GOAL!!! Carvajal with a lovely cross to Lucas and he headers home. Poor defending but a very smart ball and nice header. He headed it into the ground first to totally catch Munir out.
10'   Kovacic picks it back up again. Ceballos back to Vallejo. Very calm from Real Madrid but good start.
10'   Asensio picks it up on the right and takes it inside. He drives a shot into the side netting.
9'   Lucas Vazquez wins a corner.
8'   He kickstarts a move and Mayoral gets it but it's kicked out for a throw. Real Madrid on the attack.
7'   Kovacic drives out of defense.
5'   Ball over the Lucas on the right and he takes it down smartly. Fouled and Real Madrid slow it back down.
4'   Long ball looking for Mateu is too long and Carvajal has it covered anyway. Casilla to restart.
4'   Numancia with another chance as he drives forward. Easily blocked and no real options either side of him. Lots of space for him to run into initially though.
3'   Real Madrid play themselves into trouble and Dani Nieto nearly breaks through. He's surrounded by a couple of Real Madrid players though and dispossessed. Nice chance for the visiting side.
2'   Ceballos with an early touch and he wants it back but Real Madrid decide to go backwards. Only Numancia player to get a touch so far is Munir, the goalkeeper. 
2'   Carvajal whips one across to Nacho, who has moved forward. Real Madrid in Numancia's half early on.
2'   Trying to draw Numancia out. It's them who have to do all the work tonight! 
1'   Real Madrid start off with the ball. Eyeing up Numancia at the moment as they throw the ball around at the back.
1'   Chilly in Madrid tonight.
1' We are underway! 
Levante play Espanyol tomorrow along with Sevilla vs Cadiz and Barcelona vs Celta Vigo.
Just 15 minutes to kick-off now. A quick rundown of results and latest from the Copa. Valencia are through after hammering Las Palmas last night 4-0. Meanwhile, Villarreal look like they're going out as they trail Leganes 2-1 with a few minutes left. Also, Alavés are going through as they lead Formentera 4-1 on aggregate with time running out too.
10 changes tonight for Real Madrid. Complete shake-up for Zidane. They will have an eye on Villarreal but suggestions that it is more about disgruntled younger players not getting minutes than anything else.
Real Madrid won the 1st leg 0-3 but they were under some pressure and Numancia never stopped attacking them. You can have a read of the match report of the night here.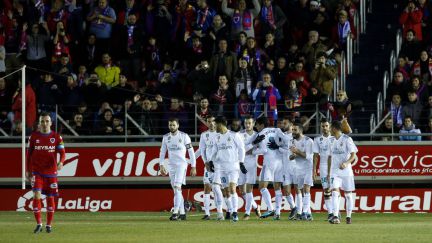 A first start for Deportivo la Coruña's Saúl Garcia, who just joined Numancia. Obviously trying to get him up to speed! Straight into the melting pot for the left-back.
Numancia XI.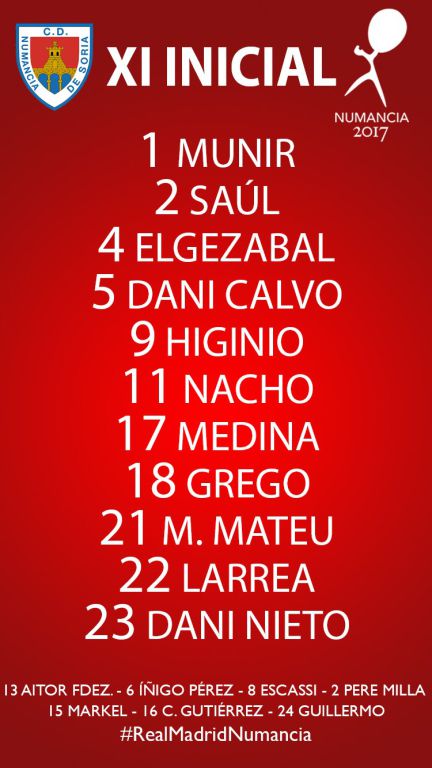 A very young side out for Real Madrid. Nobody can complain after this one. Theo and Vallejo start at the back while Llorente and Ceballos in midfield with Kovacic the most senior of the midfield three. Mayoral starts up top.
Real Madrid team news: Kiko Casilla; Carvajal, Vallejo, Nacho, Theo; Llorente, Ceballos, Kovacic; L. Vázquez, Asensio, Mayoral.
Coutinho signing with Barcelona stole the headlines on Monday but Real Madrid are reportedly keen on answering that with a move for Mo Salah! Tonight's a massive chance for some of the younger players as many suggested in the summer that Real Madrid had their future sorted with Asensio ready to come into his own.
Real Madrid heading into their third game of 12 before PSG in the Champions League. A 50% win rate in the first two isn't ideal. they'll be hoping to put this one to bed early tonight. Villarreal next in LaLiga.
If Numancia are thinking of a comeback, they had some excellent practise at the weekend. They came back from 2-0 down to draw 2-2 with lowly Cultural Leonesa in the Segunda to steal a point as they sit fourth in the table. With their eyes on LaLiga next season, coming to the Bernabéu and seeing what it's all about might add some hunger to their promotion push. This is where they want to be!
1,500 Numancis fans set to take to the Bernabéu tonight!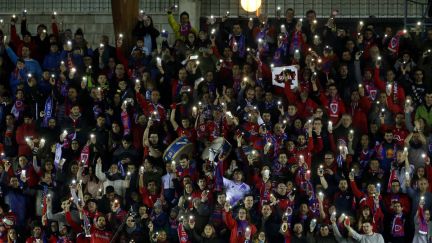 No Bale, Ronaldo, Benzema, Modric or Ramos in the squad for various reasons. Lots of chances tonight for players on the periphery.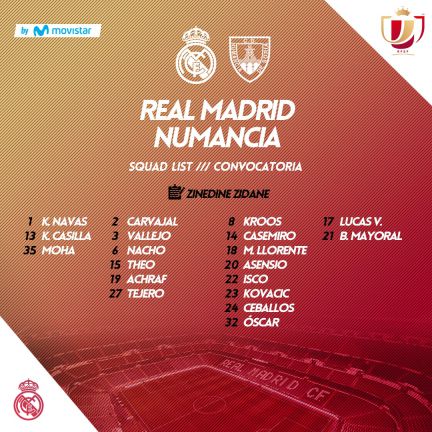 The big news before the game came as a result of the Celta Vigo result at the weekend. Zinedine Zidane was over an hour late to the press conference and there was a dreaded 'clear-the-air' chat amongst his squad. We will see if they respond tonight!
Hello and Welcome to our live online coverage of Real Madrid vs Numancia as the former look to advance to the quarter-finals with a good performance from their younger players while Numancia look to come back from a 0-3 first leg loss and either overturn that deficit or at least make it look more respectable. The game kicks off at 21:30 from the Bernabéu and we will be building up to the action right here!
Real Madrid vs Numancia: preview
Real Madrid return to the Santiago Bernabéu on Wednesday night to finish off a job they started last week in the 1st leg of the Copa del Rey last 16 game against Numancia. The Segunda division side, who have their eyes on a promotion push in the league, have their work cut out for them to overturn the 0-3 defeat they suffered in the first leg.
Real Madrid
All is not well at Real Madrid after the game against Celta Vigo in LaLiga on Sunday night, which los Blancos drew, and some of the younger players reportedly took Zinedine Zidane to task over their lack of minutes. They are likely to be given time tonight to prove themselves as Zidane tries to keep his first choice players fresh for a gruelling run, which ends on February 14th when PSG come to town.
Numancia
Numancia sit fourth in the Segunda division and looked the part against their Galactico opponents last week when they pushed Real Madrid to the very limit despite suffering a three-goal defeat. Their manager, Jagoba Arrasat, can be proud of his side's efforts in that outing but will be hoping for a more positive result with a performance to match in the capital on Wednesday night.