Philadelphia Eagles 38-7 Minnesota Vikings
The Eagles, massive underdogs in the game, will go to the big dance in search of their first ever Super Bowl.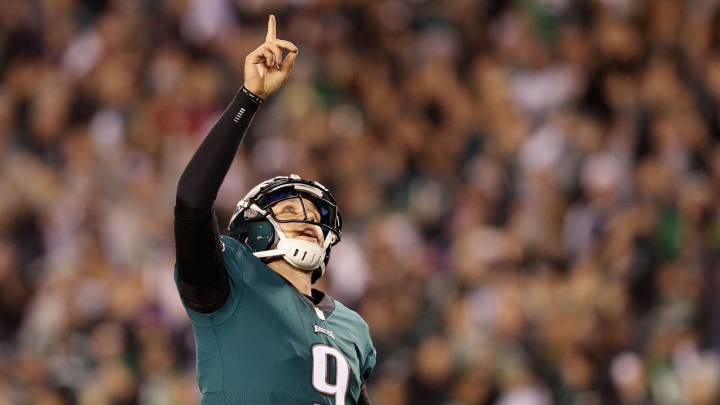 Philadelphia Eagles vs Minnesota Vikings live stream online: updates
They're going to kneel down now as the clock expires! What an impressive display.
    Just over three minutes left.
    Ajayi gets two. They'll just run the clock down. 
Some very upset and confused faces on the Vikings sideline.
Intercepted! That is that. Corey Graham gathers it as it bounces off Thielen.
Keenum had Wright in the back of the endzone. He overthrows him though.
    Diggs catches that and wins a first down.
  So difficult even now for the Vikings. The Eagles have shut down options down the field and these little short passes not really helping anyone.
You know the game is over as a contest when Joe Buck is talking about things that have nothing to do with football. 
  Ertz with the screen. 4th down but the Eagles won't mind punting this away. They have no fear of Case Keenum! 
Going to Blount on the ground again. Flag on the play. Eagles getting desperate. But this one is over anyway! It was an offensive hold in the end.
Even more fights happening here. 12 minutes remaing. Ajayi runs it. Picks up four.
Keenum steps up and throws over the intended target. Almost picked off.
He passes to Diggs. Gain of about five, it looks like.
1st and 10 now for the Vikings. 
Jeffery in the endzone!
3rd and goal!
Ajayi puts the head down and heads for the endline! He can't make it but they're closing in on another score.
Lord, bad to worse for the Vikings. Penalty for a hit on Ertz.
The Eagles are unstoppable.
Burton with another 1st down.
There's another big gain for Agholor. 
    Ajayi left side and gets a gain of one.
No, on review it doesn't hold up. No chance of that one holding up as it quite obviously hit the ground when you looked at the replay.
    Unbelievable touchdown. 
WOW!
    This could be the ball game.
    What does he do?! They have to stay out here. 
    4th down as Keenum misses Thielen. 
To the endzone and to Thielen but that is incomplete.
  McKinnon catches the pass. Big blitz there and he gets the first down! Keenum got that one away just in time.
    Keenum gets rid of it and not it's 3rd and 10!
    Just as they say that, Wright picks up a massive chunk of yards and they have a chance here!
He picks up a first time this time! They're just talking about whether Keenum could be replaced by Bardford? 
McKinnon again picks up nine.
    McKinnon with a first down.
Keenum to Murray on the edge. He only gets back to the line of scrimmage.
Smith TOUCHDOWN!
Smith gets another first down. Vikings are lost here on defense. They can't do anythin against Foles.
    3rd and six now.
    Ajayi with the delayed handoff.
    1st down again!
    BLITZ nearly gets there. Nailed by Barr but passed to Jeffery. 
Ajayi with the run and he gains three. 2nd and seven coming up. The Vikings NEED a stop here.
    Pederson to Smith again and that's another first down.
    They're going to throw everything at Foles, apparently. But Smith with the catch on 1st down.
2nd half is on!
FIELD GOAL IS GOOD! 24-7 at the break. 
  Ajayi taken down and the Eagles ready to kick a field goal. Excellent by Ajayi. Loads of timeouts and that is perfect!
    WIDE OPEN! Ertz with the catch. 15 seconds left and that's a 36 yards gain.
    Nope, Foles is in shotgun and gets it to Ajayi and he gets a first down! 
30 second sleft and you'd have to think Doug Pederson will be happy with his lead. Re-assess and go into the dressing room.
Keenum in trouble and as he is hitting the ground, he throws to Rudolph. 4th down! 
Keenum had Diggs but it's way over his head. The WR barely even makes an effort. He knew that was over his head.
McKinnon with that same pass. 4 yards and out of bounds. 
    Even a field goal would take the sting out of that scoreline!
    Wright with a catch over the middle and Vikes will burn a timeout.
    He gains five and just under a minute left.
    McKinnon again on 2nd and 8. 
McKinnon with another handful but the Eagles will give up that play all day. Keenum needs to do something here!
    TOUCHDOWN! Foles takes his weet time in the pocket. Great compsure with hands and bodies all around him and Jeffrey is wide open.
    Foles sends it WAY downfield.
    Smith nearly breaks free and Kendricks makes the tackle. The former Raven was about to explode into the open field.
Eagles do get the 1st down! Get a TD here and it could be a huge blow to the Vikings hopes. 
3rd and 6! Eagles might just waste this turnover. 2 minute warning upcoming and they will wait it out. 
dumped off to Ajayi and there's a defender with a hold of his foot and he is not letting go! 
Eagles take over. 
FUMBLE! Recovered by Philly.
Four first down so far! Keen in shotgun again. McKinnon catches it and can only pick up three. 
McKinnon with a lovely run and a couple of dodged tackles. 13 yards later and they've got another first down.
    McKinnon with a gain of three!
    Keenan finds Thielen. Another FIRST DOWN! Driving down the field.
    Diggs catches another one. 
    3rd and 6 now as Wright can't break free as he runs to the left.
    Keenum in shotgun now on 1st down. Keenum throws it away. Lucky he didn't take the sack there as he was way behind the line of scrimmage.
Case Keenum finds Diggs for 22 yards down the right-hand side. He was wide open. 
McKinnon picks up two on first down.
Eagles can't make the Viking pay. Big stop for them on third down.
    Foles hits the deck! Nailed by Hunter and that's 4th down. Great sack! 
    Much better from the Vikings. Kendricks gets a tackle on Foles as he went to throw and forces the incompleted pass. 
    The Vikings had them in an ideal position but Ertz, the man he says is his comfort blanket, picks up the first down!
    1st down again and Ajayi picks up about three. 
    Foles finds Ertz and that's good for 15. Awkward-looking throw but perfect for Ertz. 
    Foles fires out of shotgun and Agholor is the target but he's reaching backwards and can't make the catch. 3rd and long. Exactly where the Vikings need to get Foles.
  Eagles now with their own 1st and 10. Hand-off to Blount and he can only gain two yards. 
    Blitz arrives and Jenkins almost gets there but Keenum can't connect on the pass. Eagles going to take over again and have the chance to make this a two-score game.
    Can they get it! They need to sustain this drive.
Keenum with a 3rd and 2 to deal with now. 
1st down for the Vikes and Murray swallowed up.
Blount with the touchdown. Straight ahead! No stopping him. Eagles lead and go from 7-0 down to 14-7 up in no time!
    Ertz with the catch and that's another first down.
    Ajayi manages to stop before the line and that is going to be third down. I think Ajayi had a chance to go over the line there.
Can the Vikings make a stop?
Foles pass caught by Jeffrey. Gain of nine. Vikings not able to get them into 3rd and long situations. Every play is a big chunk. Vikings need to make a stop of some sort.
    Blount with a run and he manages to scrape a first down out of that very basic run up the middle.
    Foles out to Ertz yet again. An eight-yarder.
Foles over the middle to his number one tight end, Ertz, and he CAN grab it. 11 yards and that's a first down.
Foles to Celek. But he can't catch it. Right down the middle and Kendricks is draped all over him.
    Agholor with no gain on an end around. 
    Alshon Jeffrey stoops down to pick up a catch. Foles threw it slightly low but he got it and that's a first down.
    Ajayi again and he picks up another seven. Not bad. Averaging 10 yards per carry on two!
    His adrenaline got him an extra three yards that time!
Eagles 1st down and Ajayi picks up 13 yards. He's all fired up now too.
Vikings can't do anything on that drive after giving up a TD and now the Eagles have a chance to turn the game completely on its head.
    Tied at 7!
    Keenum floats one for rudolph and that's incomplete and Leenum is hit too.
    Keenum on 1st and 10. Hand off to Murray and he gets five.
    Let's see can Keenum bounce back!
    Vikings will have to start all over again.
    Keenum's hand must have been hit there because no way is he that inaccurate.
  3rd and 8 now. Keenum in shotgun again. Way behind the target. Patrick Robinson and get foes for a touchdown. 7-7 upcoming. 
    Diggs aimed at but can't bring it down and he grabs his back. Looks to be in considerable pain. 
    Murray dances forward and gains just two. Fletcher cox again. So hard to run on this Eagles defense. Keenum might have to beat them!
Keenum in shotgun. Perfect throw to Diggs. 1st down.
    3rd down stops McKinnon.
Keenum misses on first down. 
Sherels calls for a fair catch from the punt and he's barged into! 15 yards. Silly from the Eagles. Imploding so far.
    Foles with a perfect throw and catch by Burton but he doesn't get his two feet down. Brutal awareness from the tight end.
    Gain of six for the Eagles. 3rd and 4!
    Torrey Smith is the target way down the field but that is broken up by Waynes. 
    Foles with play action and Nelson Agoholor. 1st DOWN!
We are back in action and let's see what Nick Foles can do. 
  Rudolph with the TOUCHDOWN! What a start for the Vikes. Wide open and that little corner route by Rudolph gives him all sorts of space.
    McKinnon with four yards! 
    Hand-off to McKinnon and he gets around the edge. 10 yards and very close to a first down! They are moving the chains on this drive. 3 first downs in this drive.
Keenum to Thielen. That's about 11 yards again.
11 yards on the 1st down now by the Vikings. 
McKinnon picks up a first yard on the run. Just about though, nice spot but he did get it.
Murray again and he's tripped up. 3rd down coming up and let's see what Case Keenum can do. 
Latavius Murray with a nice run on first down. Six yards. Fletcher Cox on the stop! 
We are underway!
Okay, so the National Anthem was unbelievable. 
Joe Buck and Troy Aikman talking us through this one!
We are almost ready to get underway. Neither of these teams have ever won a Super Bowl.
You can follow the final minute or so of the Patriots v the Jaguars... looks like Brady & Co are going back to the Super Bowl to defend their crown!
Good evening and welcome to our live coverage of the NFC Championship game between the Philadelphia Eagles and the Minnesota Vikings, with the winner off the Super Bowl LII!
Philadelphia Eagles vs Minnesota Vikings live stream: preview
It would have been a very bold, and stupid, person to have predicted that Nick Foles and Case Keenum would be leading their respective teams out in an NFC Championship game this year.
But here we are, and after Foles drove the Eagles to a win over the the fancied Falcons side and Keenum launched that walk-off touchdown in the direction of Stefon Diggs, we have two side who have never won a Super Bowl before in the NFC game.
The Vikings
Coached by Mike Zimmer, the former Cincinnati defensive co-ordinator has built himself a Super Bowl contending team without what you would call a traditionally strong quarterback. Teddy Bridgewater went down along with Sam Bradford before Keenum rose to prominence.
This game will more than likely be decided by the defences but Keenum has more about him, you'd think, than Foles under centre for the Eagles.
If the Vikes can stop the run game early and force Foles to beat them without committing men in the box, it will be a very long night for the quarterback.
The Eagles
After the debacle that was Chip Kelly, the Eagles looked like they would have to play the long game but in Doug Pederson they have found a man who was capable of using the talent acquired in previous seasons to win here and now.
Carson Wentz went down after 13 games and a Pro Bowl year but Foles, who many thought would collapse, has won two of three in the regular season before a win over the Falcons in the divisional round.
It it a similar story for the Eagles who will be hoping to fall back on their defence to force Keenum to beat them. It will be a game of field position and you'd think that whichever of the two QBs can spring a big play or two will be preparing themselves for a Super Bowl in two weeks time.