Tebas: "It's crazy; the Russian ultras should never have been allowed to travel"
LaLiga's president said he was "deeply affected" by the shocking events in Bilbao and hopes that "FIFA and UEFA take note for once".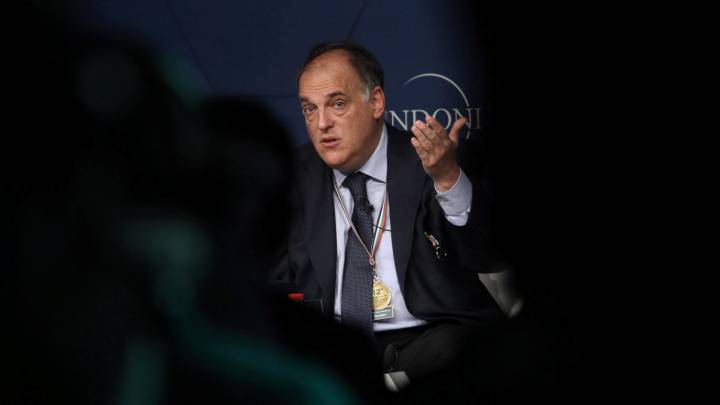 LaLiga president Javier Tebas said he was "deeply affected" by this evening's events in Bilbao and hopes that "both FIFA and UEFA take note of what happened and act accordingly".
Appropriate action must be taken by authorities, says Tebas
Tebas spoke following news that a police officer had died as a result of injuries sustained in a mass rawl between Spartak Moscow and Athletic Club fans before tonight's Europa League return leg at San Mamés. "This is just madness, it is very serious. We need to show zero tolerance to those who bring violence to the game, we cannot be lenient to these people and we have to do everything possible to eradicate violence from football once and for all".
#LaLiga deplores and condemns the death of a police officer following incidents before tonight's match between Athletic Club and Spartak Moscow and extends its deepest condolences to his family and friends. Say no to violence.

— LaLiga (@LaLigaEN) 22 February 2018
UEFA and FIFA must take appropriate action
Tebas, who also sent his deepest condolences to the family of the bereaved police officer, added that he has warned UEFA and FIFA "countless times" about the reemergence of violent radical groups in football. And while tonight's incidents did not take place inside the stadium, it is up to both organizing bodies to ensure public safety before matches during the tournaments they run. We cannot simply look the other way".
Worst possible outcome
He continued: "The Russian ultras should never have been allowed to travel to Bilbao. Some of them will be known to the authorities and that reason alone, it's not surprising that we have witnessed trouble. To cap it all, the worst thing possible has happened, because a life has been lost and that is beyond repair".
Tebas recalled that: "The most serious, recent cases of violence have happened in European competition; in Spain, we have these issues under control but it's when ultras travel to other countries that these barbarians become even more violent".