CHAMPIONS LEAGUE
Barcelona 4-1 Roma Champions League 2018: match report
Barcelona needed some help with two own goals but they saw off Roma 4-1 in the first leg of their clash and look set for another semi-final berth. Jamaica vs USA: Gold Cup live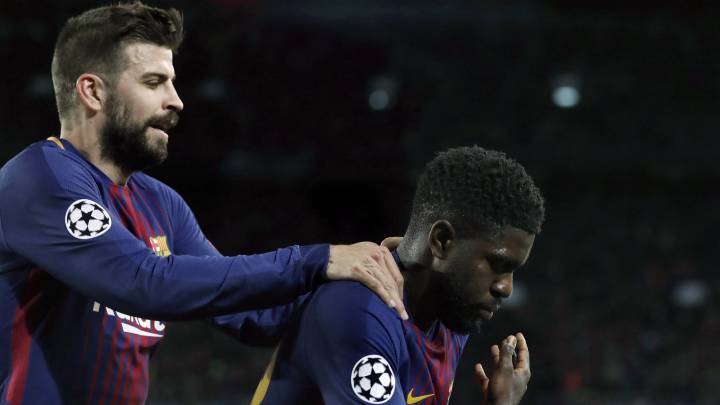 Barcelona 4-1 Roma: match report
Luis Suarez's late strike sealed a 4-1 win for Barcelona against Roma in their Champions League quarter-final, first leg on Wednesday to leave the Catalans on the brink of a place in the last four.
Lionel Messi was not among the goals on his return to the Barca starting line-up but a pair of own goals from Daniele De Rossi and Kostas Manolas had the hosts in control at the Camp Nou.
Gerard Pique made it three, with Edin Dzeko pulling one back before Suarez completed the scoring late on. Roma have a mountain to climb in next Tuesday's return.
Barcelona vs Roma live stream online: as it happened
90'+3' That's it from the Camp Nou. Barcelona firmly in the driving seat.
90'+3'   Messi looks for a pass out to the left but it takes a deflection and loops out for a corner. 
90'+2'   Into the second minute of three added on. Roma have improved but this one looks to be over.
90'   Kolarov whips it towards goal but it's just wide. 
88'   Defrel fouled by Denis Suarez. Nice chance for Roma here on the edge of the penalty area.
88'   Denis Suarez sent it into the box, it was put into the path of Suarez by Manolas. No mistake from Barca's number nine. 
87' Suarez slots home. His first in 11! 4-1 and game over, you'd think.
86' Strootman booke fo pulling Messi down with a sort of clothesline, lasso challenge. Deserved.
83' Iniesta replaced by Denis Suarez.
83' Andre Gomes on for Sergi Roberto.
82'   Suarez to Paulinho and out to Semedo. Rakitic gets it and feeds Messi. Barcelona keeping possession nicely now. Ends with a Messi strike that he chips well over.
81'   Defrel fouled by Piqué and Roma starting to believe. Sent into the box and it bounces a few times before Sergi Roberto clears.
80' Dzeko makes it 3-1! Game looked to be over but that puts some life back into it! Ball slid in by Perotti and some hesitation by Barcelona. Dzeko wins it and slots home finally beating Ter Stegen. 
79'   Perotti with a strike now and Ter Stegen with another excellent save. Maybe slightly more acrobatic than neccessary but a good save.
78'   What a save. Ter Stegen caught off his line and it's knocked over his head to Defrel. He takes it down and drives a shot towards goal. Is that a bird, it is a place, no, it's Ter Stegen flying through the air to recover and save.
78' De Rossi replaced by Defrel.
77'   Sergi Roberto caught in the stomach by Fazio. Winded! Free for Barcelona.
76'   Suarez heads clear from a cross at the front post. Corner for Roma, which Ter Stegen grabs.
75'   Perotti with a strike and that's a orner. 
73' Another change. El Shaarawy replaces Florenzi.
72'   Barcelona pulling Roma all over the field now. Shadow-chasing from the Serie A side.
69'   Messi trying to get one. He receives the ball from the right and strikes but it's straight at Allison again. He doesn't look 100% even if he has been heavily involved.
66' Busquets off for Paulinho. Job done by the midfielder.
65'   Valverde looking to preserve his players now.
65'   Messi in the area. Touched back to Allison. Paulinho warming up.
64'   Roma have improved but I think that's more by design by Barcelona, who are taking a spell to catch their breaths. 
63'   Sent into the back post but that is cleared once it's headed back towards the danger zone.
62'   Roma corner. Kolarov slips and then tries again. 
59' Suarez is back up! He strikes with his right after a little dummy. Allison saves but that's straight into the path of Piqué, who turns it home.
58'   Suarez and Manolas collide and the Uruguayan stays on the ground. Roma won't put the ball out and play continues. Roma with a sustained attack.
57'   Barcelona slowly starting to improve and get into this game. They're 2-0 up but haven't necessarily been playing that well.
57'   Rakitic with another strike from distance and Allison with an acrobatic save. 
55' Another own goal. Umtiti hits the post and it rebounds, Rakitic with the cross and Manolas turns it into his own net.
54'   Iniesta has a strike and again Roma block for a corner. They have loads of men behind the ball but are struggling to create anything themselves. Maybe hoping a 1-0 will do on the return to Rome.
53'   Messi through now and strikes directly at Allison. On his right foot so slightly more difficult for him to execute but got a nice strike on that!
53'   Hand to the face for Alba and he has a word with the referee but nothing doing.
50'   Wow! Florenzi picks Umtiti's pocket in the six-yard box and he nearly turns it back towards goal but the ball went out over the endline. Close and Umtiti was asleep.
48'   Peres moves forward. Kolarov with a dangerous cross into the box. Nearly falls to Dzeko but it falls to nobody. Florenzi strikes and that's well wide.
46'   Rakitic sends one towards the box but it's blocked. Messi to Sergi Roberto and Alba absolutely fires a shot towards Allison. He can only parry it as far as Suarez and he knocks it over the bar. Looked to be offside anyway but a poor miss regardless.
46'   Just 15 seconds in and Roma have a golden chance. Sent into the back post and Perotti heads wide! he didn't expect it to make it to him at the back post and he misses it. 
46'   We are back underway at the Camp Nou.
General feel here is that Barcelona lucky to be ahead. They looked out of sync in that opening 45 and Roma were doing a good job of minmising space for Messi - they had loads of white jerseys around him without leaving the likes of Alba free outside. Suarez a little sloppy too but Roma with very little going forward.
45'   HALF-TIME! Barcelona lead 1-0 thanks to a De Rossi own goal.
45'   Messi shoots but it hits the wall and Roma clear. Barcelona back on the ball and Messi moves forward. He strikes but that's blocked.
44' Messi hauled down by Kolarov and he is booked. Cynical and late foot left in on the Argentine.Publicar
43'   Alba makes it to a ball down the sideline and sends it up into air but catching practise for Allison.
42'   Pellegrini shots and it's stopped by the wall. Barcelona send it clear and Messi chases the ball but stops when he knows he's fighting a losing battle.
41'   This could not be any closer to being a penalty. 
41'   Umtiti fouls Pellegrini on the line and concedes the free-kick.
40'   Messi breaks free and bears down on goal! He is caught and has a look to the ref when he falls. No penalty. Camp Nou think it was but ref doesn't.
38' OWN GOAL! Barcelona take the lead. Ball sent into the box towards Messi but De Rossi turns it beyond Allison. Iniesta the man to play the ball into his path. Unlucky from the Italian.
37'   Suarez down and holding his leg. Barca win it back and he's back up again. Messi gets the ball and is dispossessed.
36'   Long ball to suarez and he takes it down but loses possession. Allison gathers. BArcelona looking frustrated.
35'   More good defending of Messi. Stopped inside the box. Roma break but give it away again.
32'   Roma win a corner but Suarez chests it down at the front post.
31'   Iniesta with a shot from distance. Over
30'   Suarez in the penalty area and he throws Kolarov to the ground before winning a corner.
29'   Iniesta hits the deck and ref tells him to get up. Not a dive but not a foul. Barcelona continue in possession.
29'   Long ball over the top to Florenzi and Semedo recovers well. Out for a restart. 
29'   Messi with another run and stopped again. Roma defending Messi really well so far. 
27'   Ball forward to Dzeko and he loses out again. Suarez with the ball on the left. Links with Alba and then Messi and then it comes back to Suarez. He strikes and forces a save from Allison from a difficult angle.
26'   Ball over the top from Strootman to Peres and he crosses. Piqué ducks down to head clear.
25'   Sergi Roberto and Fazio collide and the Barca player stays down. Free for Roma as Roberto was late but he comes out worse off.
24'   Messi with a run into the box but he's stopped and leaves the ball behind him. Barca getting closer.
23'   Roma break but it's cut out again. Pressure increasing by Barca and they continue to push Roma back.
22'   In the mood for shooting tonight is Rakitic.
22'   Messi with a lovely run into the box and it comes back to Rakitic, who strikes again. Corner! 
21'   Busquets takes a quick free and Florenzi stops it. Play comes back and Barcelona start again.
20'   Yellow balloons on the field now as referee halts play for a second. There's a right few of them. 
18'   Post! Rakitic hits it from a strange angle as he comes back from taking the corner and it curls onto the post. He looked to be just sending it towards the danger zone but nobody touched it and it nearly beats Alisson.
18'   Ball over the top to Alba in behind Roma's defence. He lays it off to Suarez. He's 30 yards out and slightly to the left of the goals and swings his left at it. Hits a defender and out for a corner.
16'   Quite an even one here so far. Barcelona back on the ball. Looking for a way though but Roma are very well organised. Messi looks for Suarez but his run was poorly timed and Roma clear.
15'   Umtiti fouls Dzeko and Roma win the free.
14'   Alba drives into the box but slidin tackles arrives and Barca win a corner.
12'   Roma have improved now and getting a little bit more adventurous. They're holding the ball better.
11'   Messi's hamstring looked fine there. Drives a shot at Alisson outside the box and the Brazilian is forced to dive to his left to save it.
10'   Dzeko pushed in the back by Semedo. Wants a penalty but referee says no. He's very, very lucky.
9'   Roma struggling to string a couple of passes together. Have to rely on Iniesta mistake to win a throw and they keep the ball.
7'   Offside! suarez has the ball in the back of the net. Alba to Iniesta and the midfielder found the striker. He was about two yards offside but a nice move from Barcelona.
6'   Dzeko with the ball and he runs straight into Umtiti.
6'   Luis Suarez with no goal in his last 10 Champions League encounters. Tonight would be a good time to end his worst run in the competition in front of goals.
5'   Messi was through on goal there but offside. He had acres of space in front of him. Replay shows he was just inches off..but off nonetheless.
4'   Barca taking over this one completely now. Roma settling in for the night in a low block.
3'   Messi at the edge of the box and has Alba overlapping but Roma win it back off him and move forward before losing out.
2'   Umtiti clears. It comes straight back down to him and Piqué picks it up. Barca move forward not methodically.
1'   Roma on the attack. Ball sent in from the left and there are two white jerseys knocking about but Barcelona clear it. Good start from the visitors.
1'   Game is underway at the Camp Nou!
    Sergi Roberto one yellow away from suspension and needs to be careful tonight to make sure he doesn't miss the return leg next week.
Champions League blares around the stadium now. 
Players in the tunnel now. Iniesta and De Rossi lead their respective teams out onto the Camp Nou turf.
Before coming on for 35 minutes against Sevilla, Messi was given two instructions. Don't sprint at top speed and don't make any sudden changes of direction. It worked then but let's see if he has fully recovered tonight.

Guillermo Amor speaking ahead of the game says there "is no need to worry about Messi's physical state" after he missed some time with muscular injuries. He also says that Umtiti "is happy here and he is only thinking about what happens on the field and nothing more."
Interesting pre-match reading from Monchi, who did an interview with AS recently in which he said that "it's true that they have not won much for a long time in their history but it has the pressure of a big team" in reference to Roma and says they really, really, really want to win a trophy!

Roma's central defender, Manolas, accepts there is no way to stop Messi. They have to at least try tonight though! 

Busquets only makes it after taking pain-killing injections. Not ideal, surely, but we will see how he holds up to the rigour of a Champions League quarter-final game. 

  Roma are without Nainggolan, who doesn't make it back in time for the clash and is replaced by Pellegrini. Cengiz Ünder is also out for Di Francesco's side.
Plenty to chew on with that team news. Messi and Busquets return, which is no great shock, but Semedo starts and Sergi Roberto will likely push further forward and Ousmane Dembele loses out. It looks like Valverde will play a 4-4-2.
Roma XI va Barcelona: Alisson, Peres, Fazio, Manolas, Kolarov, Strootman, De Rossi, Pellegrini, Florenzi, Dzeko, Perotti.
    Barcelona XI vs Roma: Ter Stegen, Semedo, Piqué, Umtiti, Alba, Busquets, Rakitic, Iniesta, Sergi Roberto, Messi, Suarez.
Hello and welcome to our live coverage of Barcelona vs Roma in the Champions League quarter-final. Kick off is at 20:45 CEST from the Camp Nou!
Barcelona vs Roma live online: preview
Lionel Messi and co. are back in action after an epic comeback against Sevilla that saw them steal a point at the Ramon Sanchez Pizjuan in LaLiga at the weekend despite being 2-0 down. Roma, for their part, drew with Bologna and sit third in the league a long way behind Juventus and Napoli.
Ernesto Valverde only has one of his starters potentially missing with Sergio Busquets still suffering from the toe injury he suffered against Chelsea in the same competition in the last 16 game. Phillippe Coutinho is ineligible, Yerry Mina and Aleix Vidal have been left out of the squad and Lucas Digne is also out injured.
Meanwhile, Eusebio Di Francesco is sweating over Radjna Nainggolan, who is reportedly set to start from the bench tonight. Cengiz Ünder is out too along with Rick Karsdorp. Lorenzo Pellegrini, who has been struggling for fitness himself will reportedly start instead of the Belgian midfielder.
Monchi, the club's sporting director, spoke with AS recently and says the club are very keen to win a trophy and while the Champions League seems like a long shot, they are in the last eight and have nothing to lose against a Barca side that are aiming for a treble.
Champions League
*Update 4 de abril de 2018