Real Madrid: Zidane finds value in Asensio and Vázquez
Marco Asensio and Lucas Vázquez were both key to Real Madrid's victory over Bayern Munich in the first leg of the Champions League semi-final.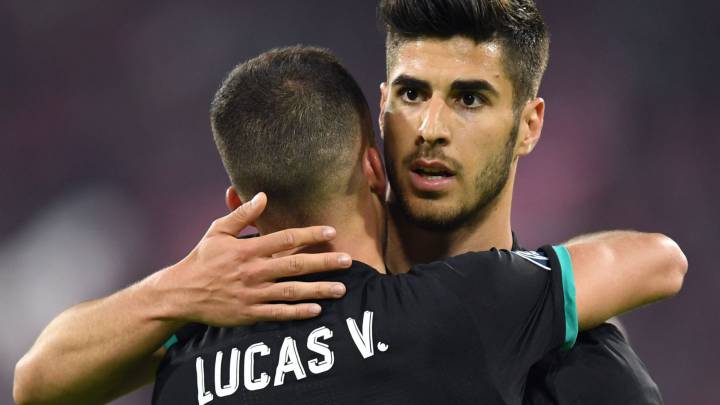 Lucas Vázquez and Marco Asensio may not have seen themselves as important players for Real Madrid at the start of the season. Zinedine Zidane appeared set on his strongest line-up and the Spanish pair did not feature in it. Yet through the strength of their efforts and performances, both have become key for Madrid, from the bench if not for the full 90 minutes.
Asensio and Lucas are placed 13th and 14th in terms of minutes played for Los Blancos this season. Little by little, they have nudged their way on to the pitch and are less than 200 minutes behind Isco and Karim Benzema. In terms of appearances, nobody has featured for Madrid more often than Lucas, with 48, and Asensio, with 47. Even when they do not start, Zidane looks to them for an impact from the bench.
The notable part of the rise of Lucas and Asensio is the relative pittance that Real Madrid spent to acquire their services. Asensio arrived from Mallorca for €3.5 million, while Lucas' buy-back clause while at Espanyol was just €1.5m, meaning they cost €5m in total – pocket change compared to the performances they have given.
It is fair to say Asensio is the higher-profile player. The 22-year-old has scored 11 goals and assisted four more this season. Many of those goals were vital for Madrid, none more so than against Bayern Munich on Wednesday evening. And that is without mentioning the 2016-17 campaign, during which Asensio netted against Bayern in extra-time of the quarter-final and then against Juventus in the final.
Without making much fuss, Lucas has scored eight goals and provided a remarkable 16 assists. The Galician was also key in the quarter-final defeat of Juventus this season, forcing Medhi Benatia in to the foul that resulted in a last-minute penalty for Madrid. He was similarly influential in Bavaria on Wednesday evening, particularly after Dani Carvajal's injury, when he slotted in at full-back and nullified Franck Ribéry.
Their summer will continue when the domestic season ends. Asensio and Lucas' performances for Madrid make it very hard to conceive that they will not form part of Julen Lopetegui's Spain squad for the World Cup in Russia.



Champions League
*Update 26 de abril de 2018