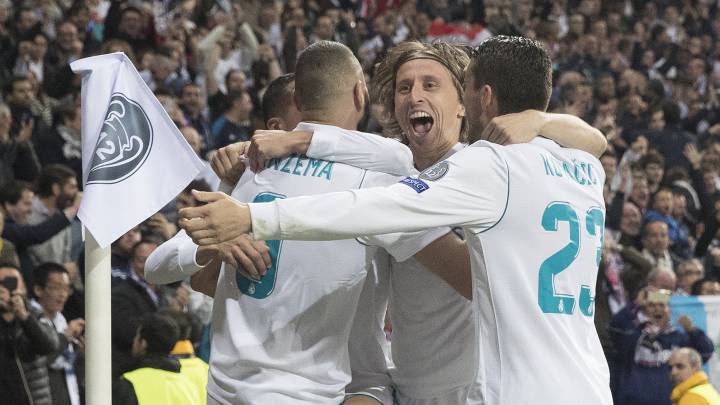 Real Madrid 2-2 Bayern Munich: match report
Holders Real Madrid reached the Champions League final for a third year in a row after taking advantage of Bayern Munich's carelessness in attack and defence to draw 2-2 in their semi-final second leg on Tuesday, winning 4-3 on aggregate.
Bayern defender Joshua Kimmich put them in front in the third minute but Karim Benzema levelled with a free header in the 11th and a goalkeeping howler from Bayern's Sven Ulreich allowed Benzema to tap in Madrid's second at the start of the second half.
James Rodriguez, on loan from Madrid, hit a deserved equaliser for Bayern in the 63rd to set up a gripping finale but despite waves of pressure from the visitors, the Spaniards clung on, becoming the first team since Juventus in 1998 to reach the final for three years in succession.
They will meet either Liverpool or AS Roma in the final in Kiev on May 26, where they will be bidding to become the first side since Bayern in 1976 to win the competition three years in a row.
---
Zidane: "Benzema made the difference and he deserved it"
Ramos: "This team deserves to go to Kiev"
Real Madrid player ratings: Keylor Navas and Karim Benzema shine.
---
Real Madrid 2-2 Bayern Munich: as it happened
90'+5' GAME OVER! Real Madrid are in the Champions League final again.
90'+5'   Bayern throw now. Nervy moments.
90'+4'   Real Madrid taking their times over the throw. Bayern have one last chance.
90'+3'   Another ball sent into the box. Navas saves with Lewandowski lurking.
90'+2'   Hummels heads wide.
90'+1'   Another corner. Ball bobbles around in the box for a minute and is headed clear by Real Madrid.
90'   We will have five minutes of added time.
89'   A couple of Real Madrid players on the floor.
89'   Navas fists it clear but Bayern have a corner. 
89' Casemiro booked for a late challenge on Muller.
88' Varane booked for wasting time.
88' Asensio replaced by Nacho.
87'   Nacho coming on for Real Madrid.
87'   Thiago with a foul on Asensio.
87'   Real Madrid starting to take over now.
86'   Bale is offside as he looks through on goal.
85'   Kroos fouled by Martinez. 
84'   Asensio back to his feet. 
84' Javi Martinez replacing James Rodriguez.
83'   Asensio falls over and hurts himself by the looks of things. 
83'   Bayern mount an attack.
81'   Casemiro coughs up possession and James wins it back. Ronaldo wins it back off his former teammates before Bayern win it themselves. 
80'   Ribery with a chance. Corner.
79'   Muller with a header. Saved by Navas but he puts it out for a corner.
79'   Marcelo cross and that's wide. Ronaldo lurking but it's wide.
78'   Modric with a pass to Ronaldo but Sule blocks it for a corner.
77'   Ronaldo pokes one into Bale and it goes out for a goal kick.
76'   Bale cross into the box. Over the head of Ronaldo.
76'   James with an effort and Navas smothers it. 
75' Tolisso replaced by Wagner.
75'   Bayern with a really good chance. Thiago shoots and that's a great save from the Real Madrid keeper.
74'   Navas saves again.
71' Bale and Casemiro coming on for Benzema and Kovacic.
68'   James chases down the ball. He squares to Muller and he centers to Lewandowski. Cleared by Real Madrid but just about before James fould Marcelo.
67'   Two balls on the field. Real Madrid with a free. 
65' Sloppy game this. Vazquez with a yellow for a foul on James.
64'   Corner Real Madrid!
63' James GOAL! His first shot is blocked and he follows it up with another shot. GOAL as he slots it under Navas.
62' Modric gets yellow. Bayern on the ball.
61'   Ball comes in from the left. Saved by Navas.
60'   Chance for Bayern. Sule shoots off the post. Real Madrid counter.
59'   Another corner! 
59'   Corner comes in and Real Madrid clear. Asensio looks to get on the end of a Marcelo pass but Bayern sweep up. 
58'   Alaba cross and Modric clears. Another corner.
57'   Real Madrid clear. Corner.
55'   Varane clears again. Bayern knocking on the door but nothing doing just yet.
54'   What a chance for Real Madrid! Ronaldo knows that was a perfect chance.
54'  Chance for Real Madrid. Ball sent into the box and Ronaldo shoots over. 
53'   Modric with a cross that nearly finds a Ronaldo leg but it goes wide in the end! 
52'   Ramos and Lewandowski go for the ball. The defender wants a free. The Bayern attacker wants a corner. Corner, it is. Headed wide in the end by Bayern.
51'   Alaba shot. It takes a deflection and Navas saves. Absolutely brilliant reaction save from the keeper.
50'   Ribery with a pass to Muller in the box. He lines up a shot but Real Madrid clear.
49'   Benzema hits the deck as Hummels wins the ball off him. Referee says no penalty and looks like the right decision.
48'   Uphill battle now for Bayern as they need to score twice.
46' GOAL! Mistake at the back from Bayern. Pass back by Tolisso and Ulreich doesn't know what to do with it. Benzema pounces on it and strokes it home.
46'   We are back underway! 
    No changes at half-time from either manager.
Much of the debate at half-time is whether Marcelo handled the ball in the box or not. Our reisdent referee here at AS says it was a penalty and replays show that the left-back handled the ball inside the area. 
Benzema break his Champions League hoodoo.
45'+1'   The corner comes to nothing! Half-time. 
45'+1'   Corner. Bayern have a case to make for handball. Marcelo handles outside the box from a Kimmich cross. Real Madrid put it behind for a corner.
45'+1'   One minute of added time. Benzema looks for Ronaldo but that pass is off target.
44'   Shot by Tolisso. He has loads of space and chances it. Navas is sprawling but that's wide.
44'   Alaba throw. He wants a free too but it's not coming.
43'   Kimmich cross and Ramos clears. 
42'   James has the ball stolen off him and Real Madrid try to counter. No luck though. Bayern back on the ball and they attack down the left.
42'   Ball towards Muller is too long too as Navas gathers.
41'   Ribery fouls Vazquez.
40'   Real Madrid try to clear and that's too long for Ronaldo.
40'   Lewandowski with a pass to Muller. He miscontrols it and Real Madrid clear.
39'   Ramos at the back post from the corner and he heads wide. 
39'   Ronaldo shot. He takes it down in the penalty area and shots. Corner.
38'   Lawandowski with a pass out wide to Muller. Too high. Real Madrid back on the ball.
38'   He carries on.
37'   Varane fouls and he hits the ground with a sore wrist, it looke like.
36'   Strange game this. Neither team really controlling it and it's very open.
35'   Real Madrid back in possession. Asensio runs into the box, crossed by Lucas and Bayern clear.
33'   Hummels with a Messi-esque run and he finds Lewandowski but his shot is deflected into the air. James shoots and hits it wide! Great chance for Bayern.
32'   Nice turn from Muller as Ribery finds him in the box. He shoots and Navas saves.
32'   Benzema on to Modric and he looks for Ronaldo but Ulreich gathers.
31'   Navas off his line and collects. Balle into Lewandowski but he can't make it in time.
30'   Asensio with a run forward and Thiago makes it back in time to clear. 
28'   Kroos with the ball now and Bayern clear again. 
28'   Ronaldo onto Marcelo. He tries to center it but Bayern clear. Corner for Real Madrid.
26'   Marcelo breaks free. Real Madrid back in possession now and tryin gto find a way through Bayern's defence.
25'   Nacho is warming up and looks set yto come on. Ramos is injured.
25'   Kroos fouled.
24'   Ronaldo gets on the ball and he looks for Benzema, it's blocked and makes its way back to Ronaldo. He shoots and it's wide.
23'   Navas gathers the corner.
22'   Corner Bayern. Navas tries to keep it in but Lewandowski sees it out for a corner. 
21'   Kovacic looks for Ronaldo but it's blocked. He was through on goal that time! Hint of offside too.
20'   Real Madrid playing with fire. Muller clean through and Madrid clear. He pulled the ball back and no Bayern player waiting for it! Dangerous from Real Madrid.
20'   Tolisso has a crack. He's miles out and it's blocked. Bayern back in possesison now.
19'   Alaba with a ball into the box now and Marcelo makes a mess of it. Real Madrid clear.
18'   Ball into the box and Bayern survive and bring it out. 
17'   Ramos gets tangled up with Lewandowski in the box. Never a penalty but the Bayern player makes his case. Ref say no.
17'   Throw for Bayern. 
16'   Modric with a nice backheel to Benzema. He continues his run and is nearly in but Ulreich gathers through ball from Asensio.
15'   Throw for Real Madrid. Muller with the cross and it comes off Ramos before hitting the Bayern attack and going out for a throw.
14'   James with the corner. Ramos fouled with an obvious push in the back.
14'   Real Madrid clear. Ball sent in from the left and Real Madrid are caught napping. Bayern win the throw. 
13'   Lewandowski in the penalty area. He cenres but Ramos wins it back and clears. 
12'   Alaba switches off and decides not to mark Benzema at the back post. 
11' Marcelo ball into the box. Benzema heads home! 
10'   Not the best start from Real Madrid but they're bossing possession since that goal.
9'   Sule clears a cross from the left. 
7'   Modric picks it up and Real Madrid win a throw.
7'   Bayern take over now. They attack down the left and Vazquez wins it back. 
6'   Played shot to Benzema. He squares to Ronaldo and he misses. 
5'   Modric fouled and Kroos has the free. Slightly too far out for a shot. 
4'   Real Madrid back in possession now and trying to find a way to goal. Benzema pass in behind is no good.
3'   GOAL! Kimmich slots home. Slack defending from Real Madrid and the right-back slots home.
2'   Alaba with a cross and Muller is lurking. Navas gathers and Real Madrid ready to restart.
2'   Punched away by Navas.
2'   Bayern with with all of the possession early on. Free and James ready to swing it in.
1'   We are underway at the Bernabeu.
Heynckes and Zidane with a warm greeting for each other. 
Game on!

    Just moments away from kick-off now! 
    Zidane made 10 changes last weekend to his side and the players he started are all rested and ready! Not one of the team that starts tonight started at the weekend. 
  Real Madrid looking to build on their 8 wins, one draw and two losses in the Champions League this year.
Possibly the biggest test of Lucas Vazquez' career tonight. He is a winger but has been tasked with playing at right-back against Franck Ribery. That is set to be a proper battle. 
Sergio Ramos believes that a Champions League win is just as important as a league and cup double. 

Martinez not fit enough to start but makes the bench.
All the debate at the moment about how the game will go after that decision by Zidane. Kovacic starts in midfield alongside Modric and Kroos but where will he play? It must mean Modric or Kroos are going to start in a more attacking position? Very interesting decision by Zidane.
Zidane makes a massive decision by leaving Casemiro on the bench tonight.
Bayern XI: Ulreich, Sule, Hummels, Thiago, Ribery, James, Tolisso, Muller, Alaba, Kimmich, Lewandowski.
Zinedine Zidane makes a massive call tonight with his team selection. Kovacic instead of Casemio makes Real Madrid more attacking but possibly exposes them at the back! Benzema starts too.
Bayern Munich's fans gathered in Plaza Castilla in the north of Madrid, a few minutes walk away from the Bernabéu, ahead of Champions League semi-final against Real Madrid. And they put on quite a show...check out the video

Real Madrid XI: Keylor Navas, Lucas Vázquez, Sergio Ramos, Varane, Marcelo, Kovacic, Kroos, Modric, Asensio, Cristiano Ronaldo, Benzema.
Word coming in that Casemiro is on the bench and Mateo Kovacic starts for Real Madrid. Lucas Vazquez starts at right-back!
Real Madrid's Karim Benzema has played in 11 Champions League semi-final matches, but has a pretty poor goal scoring rate, having managed only two. 

James Rodriguez played 111 games for Real Madrid. He scored 36 times and had 41 assists. He says he won't celebrate against his former club if he scores tonight though beacsue the fans were always good to him at the Bernabeu.
Bayern Munich rested practically all of their first team players at the weekend and named their youngest side since 1971 in the Bundesliga. 
This is the game of the season for Real Madrid. Here are five reasons why Bayern need to be afraid of Real Madrid! 
Zinedine Zidane used the Liga victory over Leganés to hone a couple of ideas ahead of tonight's game. We had a pop at second-guessing his starting line-up in the Bernabéu.

James Rodríguez, who is making his return to the Bernabéu this evening after joining Bayern on loan last summer, said in his pre-match press conference that he holds no ill-feeling towards Zinedine Zidane, who rather froze him out of the first team last year, and will not celebrate if he scores against his parent club. We'll believe that when we see it if he hammers in a winning free-kick in the 90th minute to make a point...

From Lewandowski's prowess in front of goal to Bayern's record against Real Madrid, Zidane's side have a lot of reasons to be wary this evening at the Bernabéu. Here are the five main threats the German champions pose. 

Zidane said during his pre-match press conference that Real Madrid won't sit back against Bayern looking to defend their lead but will go out to attack. You can read everything the Real boss had to say ahead of the game here. 
Isco failed to make the matchday squad after a late fitness test and that many force Zidane into a change of formation from the 4-1-4-1 he deployed in Munich. The main question marks for the Frenchman are in defence, with only five players available. Does he start Nacho in place of the injured Dani Carvajal and risk losing his only central defensive cover if the Spaniard pulls up after a month of inaction, or slot winger Lccas Vázquez in to the back four and play Gareth Bale on the right wing? Real's full squad for the game is here. 
Zinedine Zidane stands on the cusp of history this season. The Frenchman is between 180 and 240 minutes (plus penalties if needs be) from becoming the first manager in the history of the game to lift the European Cup / Champions League in three consecutive campaigns. We don't mind admitting, we wish we'd had a fiver on that when he was appointed back in January 2016.

There is plenty of history between these two sides, who have lifted old big ears a staggering 17 times between them. Thanks to the good people at Opta, you can have a look at some key stats ahead of tonight's game here.
As ever, we've thrown together a handy guide as to how and where to watch this evening's game. Or, you could of course stay right here and follow it with us as we bring you all the latest news and build-up.
Hello and welcome to AS English's live coverage of the 2017-18 Champions League semi-final, second leg clash between Real Madrid and Bayern Munich at the Santiago Bernabéu on Tuesday May 1, 2018, with kick-off at 20:45 CEST.