Barcelona says goodbye to Iniesta
Players, staff, friends and family said goodbye to the midfield legend at a special event held at the Camp Nou on Friday night.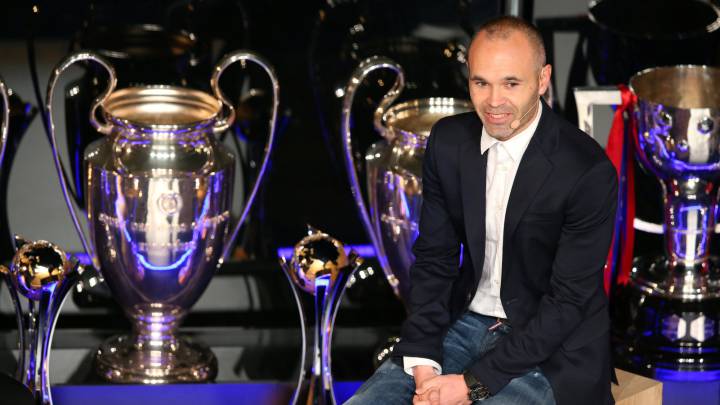 Barcelona said goodbye to the already legendary midfielder Andrés Iniesta this evening, Friday, at the Camp Nou, under the 'Infinit Iniesta' (Infinite Iniesta) slogan which the club are using to mark the end of the player's career with Barça.
The invitation-only institutional event for the only player to ever sign a life-long contract with Barcelona started at 21:30, with the current squad and coaching staff, plus the directors, former team-mates, players and coaches, as well as family and friends all in attendance.
The event started with a video showcasing many of the midfielder's finest moments in a Barcelona shirt, before presenter Jordi Évole introduced a clearly nervous Iniesta, who admitted he could never have expected an event like this.
Iniesta, sitting in front of the vast quantity of silverware he was involved in winning for Barcelona, said the decision to leave was one he'd thought about a lot and that he knew that the end had to come and now was the time. Asked how his final days as a Barcelona player were going Iniesta said: "Being honest, it's really difficult. It's hard to accept it after all this time. I'm trying to enjoy it. I'll try to enjoy Sunday [his final game for Barcelona] when I say goodbye to what's been my home. It's very emotional".
Infinite video messages from the world of sport
There were video messages from Xavi, Lineker, Eto'o, Ramos, Neymar, Casillas, Ronaldinho, Victor Valdés, Del Bosque, Guardiola, Puyol and a host more of figures from the world of football and beyond including Nadal and Gasol. Guardiola said he was "pefection, perfection." Everyone finished by making the infinity sign, leaving Iniesta nearly in tears.
Iniesta's teammates
Various important people from Iniesta's life joined him on stage, with Eto'o the first up to chat to Iniesta on stage before the crowd. Eto'o admitted that in his first training sessions the first person who impressed him at Barça was Iniesta. "He made everything look easy, he made the difficult stuff look easy".
Xavi Hernández was next up on stage, who was also asked about the first time he trained with Iniesta: "He just did everything right. He'd just come up [to the first team] and he did it all perfectly. And he's an example of everything that's good, he's a leader, great team-mate, he's always thinking about the team." Xavi finished by saying simply,"you're a legend, no matter where you go, you're a legend".
Busquets, Piquet and Jordi Alba also came up on stage, with all of them telling anecdotes about their time with Iniesta, clearly happy to have shared a major part of their careers with him, and sad to be seeing him leaving. Piqué admitted he thought they were going to have more time with him.
The five players and Iniesta enjoyed a lengthy chat about Iniesta's finest moments, the finals he played in, and the laughs they shared during his career, before Barcelona president Josep Bartomeu came up to give the club's thanks to Iniesta, saying that although Barça feels that he still has so much football to give, everyone at the club respects his decision. Bartomeu then stressed that Iniesta has "lifelong contract with Barcelona" and they expect to see him back at the Camp Nou.
Iniesta then gave his farwell speech, saying he'd never imagined the moment would come when he would say goodbye to the club. "I never wanted to talk about titles, only about giving thanks to all the amazing people I've met during my time at the club". The midfielder, on the point of tears at several points in the speech, thanked everyone including the fans, the physios, the directors, his family and the other players. "It's been a pleasure being your captain, and I'll miss you all so much", he said.
Iniesta's last match for Barcelona
Iniesta's final match for Barcelona will be on Sunday, 20 May, at 20:45 against Real Sociedad at the Camp Nou. The Barça captain will then receive the Liga trophy for the 17/18 season, before celebrating the club's league and cup double with the fans, who will have the chance to say goodbye to their hero.
Xavi, Puyol and Mascherano's goodbyes
Barcelona also organised goodbye parties for Carles Puyol, Xavi Hernández and Javier Mascherano, but these were held in the Auditori 1899, at midday. For Iniesta, the club wanted to make a bigger statement, and held his goodbye during prime time, at the Camp Nou.
Iniesta announces his departure
Andrés Iniesta announced on 27 April this year that he would be leaving Barcelona at the end of the season. Having spent 22 years at the club the player said that while it was difficult to make the decision, he could not allow himself to be "in a position where I feel uncomfortable at a club which has given me everything and made me who I am".
Initial rumours suggested that Iniesta would be signing for Chinese club Chongqing, however so far nothing has been confirmed and further rumours suggest that he may be more likely to transfer to a Japanese club.
Iniesta has however confirmed he is leaving Europe and going somewhere where he will not have to face Barcelona.