WORLD CUP 2018
Disappointing Nigeria fall to Czech Republic in final warm up
A first half goal from Tomáš Kalas in a rain-delayed international friendly in Austria was not the preparation the African side were hoping for as they head to Russia. Cruz Azul vs America: Liga MX, live online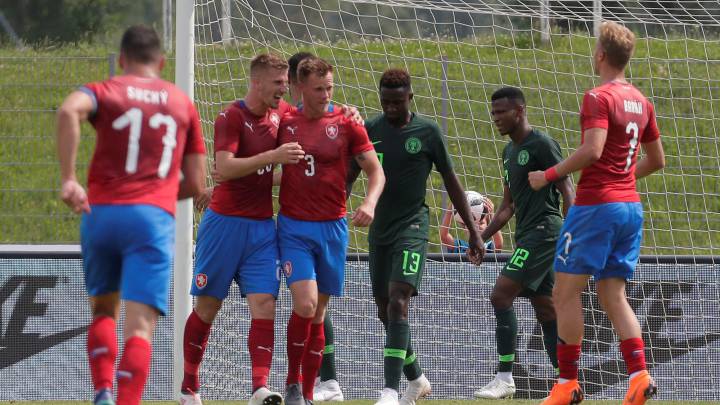 Czech Republic 1 - 0 Nigeria live online: how it happened
89' GAME OVER! Nigeria desperate for the World Cup to start already. Hardly convincing today.
89'   Nope, that won't cut it. Nigeria ruled offside in what is an increasingly rare venture in Czech Republic's half.
85'   This one is sputtering out now. Nigeria have failed to properly trouble Czech Republic and they've run out of ideas.
83' Moses off for Musa.
80'   It is a corner. But it's sent in and goes wide in the end.
80' Change for Czechs. Boril on for Jankto.
79'   Headed in at the back post. It scutters across the box and then out after a shot and looks like a save from Uzoho. 
77'   Czech Republic respond with a corner of their own.
75'   Nigeria applying some pressure now, they're not quite piling the pressure on but they look to be getting closer even if conditions continue to deteriorate.
72'   Nigeria want a penalty they're right too! Surely. Ebuehi pulled down with an arm around his torso inside the box but referee thinks contact was initiated outside. Free for Nigeria. Moses takes Ogu ends up on his back in the six-yard box but no penalty. Hard to get a proper look at it but would have been tame.
71'   Ighalo and Idowu off now for Nigeria as Oderuo and Elderson replace them.
69'   Quite scrappy from Nigeria but Ighalo gets a yard for himself although Pavlenka is closing him down. He clips it over and it just isn't his day.
67' Soucek off for Travnik.
67' Horava for Husbauer.
66'   Free for Czech Republic.
64'   It's really, really raining.
63'   He catches it nicely but that catched someone on the head in the wall. He's down holding his face. It was actually Sural, who caught the ball to the nose. 
62'   That's promising now from Moses, who drives forward and wins a free for Nigeria. Free in a dangerous spot. Moses' right foot will fancy this angle.
60'   The teams are making their way back to the field and we are back underway. Still raining but they've decided it's grand to play on!
60' 60'They've just stopped the game. Fairly torrential rain.
58'   Ighalo wants the ball inside but Idowu gets his angles wrong and drives the cross over the bar. Absolutel lashing rain!
55'   Moses pick off before Jon Obi Mikel wins it back with a crunching tackle. Ball comes in from the left in the end but that is to nobody. Idowu delivers. Nigeria remain directionless up front.
54'   Iwobi on to Moses. No room to move forward for Nigeria.
52'   Nigeria with an attack but that ends in a goal kick.
51'   Another delay and this time it's Jankto, who falls in a heap after a tussle in the air. He is grabbing his head. Some water on it and then he's fine. 
49'   Sural clip`ped with an elbow by his own teammate. Won't be a free as it was his own player. Ekong explains to him that it was his own teammate when he complains. I think Sural accepts the explanation.
48'   Czech Republic on the ball now and Nigeria very slow out of the blocks again. Coufal with the throw.
Vaclik is replaced by Pavlenka.
Abdullahi is replaced by Ebuehi for Nigeria.
46'   We are back underway for the second half.
45'   HALF-TIME! Czech Republic lead through Kalas' sloppy goal.
45'   Dangerous cross sent in from the left as Czech Republic give Nigeria one more scare before the end of the half. Corner in the end for the Czezhs.
43'   Another corner and Ighalo goes close but there was a free before that. Really good save from Vaclik but there was a free for an infringment before that. Nigeria have definitaly improved here.
41'   Another corner. that's tame as headed away before it even reaches the front post. Nigeria end up winning a throw.
38'   Nigeria ruled offside there as Jon Obi Mikel drifts off. Rohr looks on and you can't imagine he's happy at the moment with Nigeria's display. They've been better recently though. Half-time quick approaching though.
36'   Nigeria looking for a way through. Ndidi with a hit and hope effort. It nearly catches out Vaclik and goes just wide. That's the closest Nigeria have come. Good effort.
34'   Jon Obi Mikel plays it forward but Nigeria lose out and Czech break. They have the ball now and look comfortable.
33'   Idowu lands quite hard on the ground after an aerial battle. He looks shaken up after that one with some medics around him. Let's see if he's okay. Possibly just winded as he landed on his back. 
32'   Ighalo gets a rar strike away for Nigeria. Blocked and out for a corner by Czech Republic.
31'   Schick breaks free and gets it onto his left. He's in front of goal with Uzoho closing him down and he blazes over. Probably should have hit the target but he was under pressure from all angles.
31'   Nigeria back in possession. That goal has helped them move up a gear but still quite stagnant on the ball. 
29'   Corner comes in and Balogun misses with his header. Better from Nigeria but they need more from non-setpieces.
28'   Into the back post and it's headed out by Sural. Jon Obi Mikel in around the scene too. Corner Nigeria.
27'   Nigeria need to get this together here because they've been really poor. A couple of free but nothing of note in attack for them yet. Just as I type that, Moses wins a free at the edge of the box. That'll be swung in.
25' GOAL! Czech Republic Corner is played short and swung in. It lands to Kalas and kind of mishits it as it bounces over Uzoho.
24'  Free for Nigeria. About to be sent in again by Moses. A couple of Nigerian jerseys jumped for that and it's glanced wide in the end. Ighalo in the mixer along with another green jersey. Might have been Troost-Ekong.
22'   Nigeria taking a chance to settle on the ball now. They're throwing it around at the back. They've been poor so far. Not intent in attack and quite shaky at the back.
21'   Another close call. This time it's Jugas who sends it over at the back post from the cross. Didn't catch the header cleanly at all.
20'   Another corner.
20'   Nigeria playing with fire. Another corner after a scramble in the six-yard box. 
19'   First attempt was poor but strike comes in from Schick that Uzoho saves. Another corner.
17'   Another corner for Nigeria to deal with. Same side too out to the right of their goal.
16'   Soucek on the ground now after a challenge in the middle. Free for Czech Republic.
15'   Balogun fouled with a late challenge from Schick.
14'   Another tame attack from Nigeria ends with an offside. Sloppy from Ighalo, who was a mile off.
13'   Another blocked shot. This time it's Moses, who is rejected.
12'   Czech Republic on the attack now against through Sural but Nigeria doing well to block shots left, right and center.
11'   Corner comes to nothing.
9'   Corner for Czech Republic comes in at speed but it's headed out just as fast. Bobbles around in the box after coming back in and Jankto wins a corner after a shot.
8'   Hand ball by Moses stops a Nigerian attack.
7'   Czech Republic on the attack now and they're rejected befor Jon Obi Mikel is fouled by Jugas.
6'   The Chelsea player strikes and forces a save from the keeper. Vaclik grabs it!
5'   Nothing doing for Nigeria. Abdullahi has a go down the right but he gets turned around. Jon Obi Mikel tripped up in the middle buy Suchy. Free for Nigeria as Moses stands over it. Probably better off for a left-footed free-taker. It's a bit far out too.
4'   Abdullahi bundled over and he takes the free. Czech Republic break and Uzoho chips it to a defender before Nigeria start an attack.
3'   Slow start here but Czech republic probably the quicker starters. They haven't created anything of not though and neither have Nigeria.
2'   There's an early foul and Nigeria win the free. Moses sends it towards goals but it's headed out by Czech Republic.
1'   We are underway!
    Nigeria wearing their away jersey today. They made some noise with their jersey recently after it sold out in three minutes! That's how sharp it is. You can see for yourself here.

    Some lovely minstrel music playing in the background. Not a huge crowd at the NV Arena but a few Czech fans squeezed in with some Nigerian fans making some noise too.
    Two teams make their way onto the field.
A very good attack for Nigeria today too as Ighalo is starts alongside with Iwobi, Ndidi and Moses. It looks like that is who Rohr will start in Russia as this is their last game to hone their system. The former Watford striker hasn't scored since January 2017 for Nigeria though. Could be worrying for the manager.

Check out this article on Nigeria's goalkeeper, Francis Uzoho. he is just 19 and never really looked like he would start but could be set to be the Super Eagles' number one in Russia this summer. Good chance for him today.

Nigeria XI to play Czech Republic: Francis, Shehu, Ekong, Balogun, Idowu, Obi Mikel, Ogu John, Ndidi, Ighalo, Moses, Iwobi.
Czech Republic XI to play Nigeria:Vaclik, Kalas, Suchy, Jugas, Coufal, Soucek, Jankto, Husbauer, Barak, Schick, Sural.
    Team news coming your way soon! 
Hello and welcome to our live coverage of the international friendly at NV Arena in Austria between Czech Republic and Nigeria on 6 June 2018, kick-off at 15:00 CEST.
Czech Republic live online: preview
Nigeria lost their most recent warm-up game against England and drew against DR Congo before that. They are preparing for the World Cup and despite the fact that their jersey is turning heads, their play on the field could be doing better.
Czech Republic, who are threading water in wait for the European qualifiers that start after the World Cup, were embarrassed 4-0 by Australia. Nigeria will be hoping their European opponents have takent their eye off the ball with the summer in view in hope of landing a win before they head to Russia.
They play Crotia first in a difficult group before playing Iceland and Argentina. Alex Iwobi scored against England and is vital to any hopes his nation have. They haven't won in four games and haven't kept a clean sheet in that time either.