Free speech campaigners take the field in pre-World Cup protest
Campaigners rolled out a soccer pitch in central Paris with posters of journalists jailed in Russia.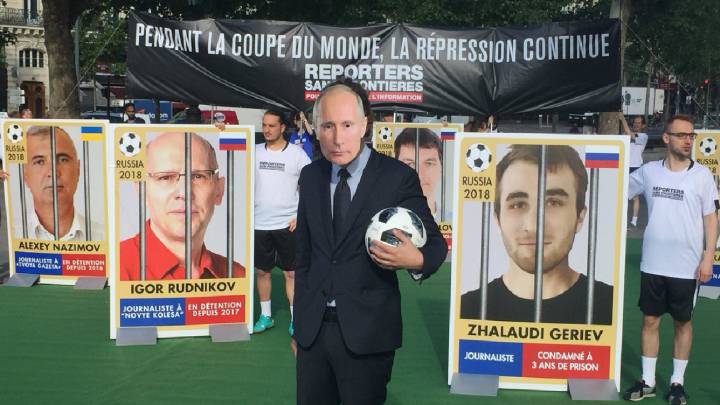 Free speech campaigners rolled out a soccer pitch in a plaza in central Paris on Wednesday with posters of jailed journalists as the players, in a protest regarding press freedom in Russia on the eve of the World Cup, Reuters reported.
The posters, standing like stickers from a collector's football album, bore the faces of several journalists jailed in Russia, peering out from behind bars.
A big banner reading 'During the World Cup, the clampdown continues' was deployed during the protest.
🔴An RSF protest on the eve of the #2018WC in #Russia – a fake football pitch in Paris with 7 imprisoned Russian journalists displayed on the pitch. Russia has less press freedom now that at any time since the Soviet Union's fall. pic.twitter.com/FqFNtuwOUT

— RSF (@RSF_inter) 13 June 2018
Russia unfriendly to journalists
Media watchdog organization Reporters Without Borders (RSF), the organizers of the protest in Paris, says there are seven imprisoned journalists in Russia due to their work and that 34 have been killed since Vladimir Putin took power of the country in 2000.
'The cameras are going to be focused on the pitch, on the corridors leading to the changing rooms, but what we want to do is focus them the other way, on Russia the country,' RSF's Christophe Deloire told Reuters.
RSF ranks Russia near the bottom of its list of countries where journalists can freely do their job.