Isco miffed by Cristiano hat trick: "I'll never talk to him again!"
The Spain midfielder chatted to El Larguero about Lopetegui's arrival at Real Madrid: "He's a great coach who helped me a lot when I was struggling".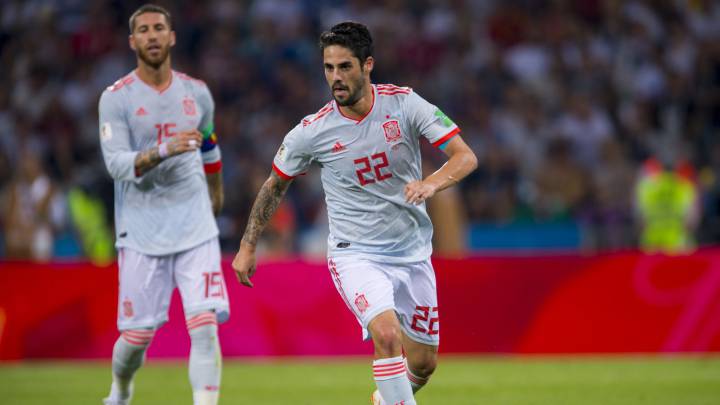 Isco Alarcón took time out from his duties with the Spain squad to chat to El Larguero. The player gave his thoughts on Julen Lopetegui's arrival at Real Madrid and also how La Roja are faring at the World Cup, with tomorrow's game against Iran the priority on everyone's agenda. Isco says we shouldn't be surprised by the results we have been seeing Russia - including Spain's 3-3 draw with Portugal on Friday night.
"At the end of the day this is the World Cup and the level of competitivity is fierce, no one is going to gift you a game. We have to remain faithful to our style, to the kind of game we have been playing up until now which has brought us success. It was a shame to draw our opening match, conceding a goal right at the end because we had been playing well.
Unexpected results at Russia 2018
Out of the favourites, Brazil and Argentina both drew, Germany lost and only France won - just...
Yes - at the World Cup, everything is complicated. You have to put in 200% in every game and even if you do, that won't guarantee you'll win. All of the teams are very motivated, there are some very strong teams and it's just very, very dificult.
Do you think Spain is as good as it appears from the outside? Have the players managed to get over the change of coach just two days before the World Cup kicked off?
It's true that it was a complicated situation for us to be in, but the hope and belief the squad has is way beyond any setback. I think we showed great maturity to deal with what happened and we realize that the most important thing of all is that we are here at the tournament. It's a nice challenge for us to confront and we have to give everything we've got to put any issues behind us; we have to pull together and take this forward, like we did against Portugal.
What was your first reaction when you heard the news?
None of us expected it. [Lopetegui] had been with us for two years, battling to get us to the World Cup, but these things happen in football. The sooner we put it behind us the better - it's not going to do us any good mulling over the past. Now we have to focus on our football, work hard on our game in training and prepare well for our games. The only thing that counts is what happens on the sporting side.
Isco backs Lopetegui
Do you think it's good news that Lopetegui has taken the Real Madrid job?
Yes, I'm really happy for him, he deserves it. "He's a great coach who helped me a lot during times when I was struggling to make my mark. I'm sure he'0s going to do well at Madrid.
How's De Gea? Has he been affected by the Portugal game?
He has a great deal of experience, he's one of the best keepers in the world. These things happen and especially to goalkeepers because if a striker makes a mistake it doesn't matter but if a keeper does, it tends to get magnified. I've known David for years, he's happy, focused, feeling confident and he has the support of the whole squad.
Cristiano hit a hat trick with just three touches - his first from the penalty spot, the second thanks to an error from De Gea and the third from a direct free-kick - an area where he has been struggling in recent times...
Don't talk to me about Cristiano! I'm not going to speak to him again after what he did the other day... (laughs). He doesn't have a high strike rate, but when he has his day… his first two goals gave him confidence and got him looking for a his hat trick.
Do you think you could end up as player of the tournament?
We're still at the start and it's not something I have in mind. The team comes first. If the team does well and we go far then it's easier to be considered for those kinds of individual awards.
Griezmann announcement
If you had to make a decision about your future, would you do it in a documentary video?
People do a lot of things these days and if it means they can make money then… Money talks these days. I think Griezmann had already made his decision a while ago but wanted to make it more high profile news…
As a Real Madrid player, would you prefer Griezmann to join Barça or stay at Atlético?
I don't really mind either way. If he stays at Atleti, he will make Atleti a better teams and the same if he joins Barça. He's a very good player who makes a big difference.
22