Nigeria 1-2 Argentina: Group D, World Cup 2018: match report
Scenes of heartbreak were replaced by scenes of joy as Marcos Rojo sent a rocket to the net to see Argentina through to the last 16 of the World Cup at Nigeria's expense. USA vs Mexico: FIFA Friendly live online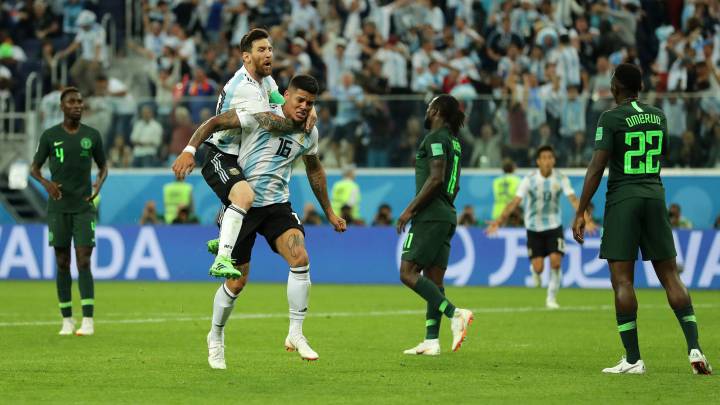 Nigeria 1-2 Argentina: match report
Argentina kept their World Cup hopes alive after a scare against Nigeria on Tuesday night. Messi had given them hope in the first half, which was cruelly snatched from them in the second half before Marcos Rojo appeared in the penalty area to bury a volley into the bottom corner with the clock ticking down in the game and on their hopes of World Cup glory.
It could have been Lionel Messi's last World Cup game and after their meltdown against Croatia and all of the talk that ensured after that loss, you wouldn't have been out of line to consider them broken. But the battled and bloodied Argentinians fought to the death to give themselves a chance of a deep run into the tournament or, at the very least, one more day in the sun.
Messi slotted home after 14 minutes when Ever Banega lofted a lovely ball into his path. With just three touches, the ball was rocketing past Francis in Nigeria's goals. Things took a turn for the worse from there though. Nigeria took control and Argentina took a backseat.
They didn't score but could have had a penalty when Rojo kicked Iheanacho in the face in the penalty area at the end of the first 45 but escaped punishment.
Mascherano was as lucky though as he pulled Balogun back in the area at the start of the second half and conceded a spot kick. Victor Moses got a chance to display his nerves of cast iron steel to roll the ball beyond Armani to level things and put the Argentinians out as it stood.
There was huffing and puffing and chances from both sides but it looked like it would end a goalles draw when Gonzalo Higuain drove over from a very nice angle. There was more drama to come though.
Rojo popped up with a peach on 86 minutes. Gabriel Mercado sent the ball in from the right and the defender could not have caught the ball sweeter from the six-yard line as Francis was left fastened to the floor as he watched the ball shoot by him again.
It sent Argentina through to the last 16, turning heartbreak into scenes of joyfulness. Di Maria wept, Argentina fans sang and the players surrounded Messi to celebrate their qualification. They will play France on Saturday at 16:00 and whether you want to believe it or not, they are now contenders to go all the way.
Nigeria vs Argentina live | World Cup 2018 Group D: latest news
90'+4' GAME OVER! Argentina are through to the World Cup last 16.
90'+4'   Argentina players off the bench telling the referee to blow the final whistle.
90'+4'   Argentina fans going nuts and singing at the top of their lungs. They've given themselves a chance to compete in the knock-out stage.
90'+3' Musa is replaced by Simy.
90'+3'   Messi throws himself at the ball and puts the ball out for a throw. Brilliant defending from Messi from the front! Excellent.
90'+2' Jon Obi Mikel booked for a foul earlier in the play. Foul on Higuain.
90'+1'   Messi races down the left and he crosses but it's blocked off himself and wide.
90'   Rojo sends a clearance out of the stadium!
Perisic scores against Iceland and that should be Argentina through.
89'   Higuain gallops forward. Argentina taking the sting out of this one now.
87'   The whole stadium goes nuts. What a goal and what a finish to this game!
87'   Sampaoli goes absolutely nuts.
86' BALL COMES IN! Argentina go ahead. Rojo scores. What a ball, what a finish.
86'   Messi tries to send one out wide and Mercado is waiting for it.
86'   How is that not a penalty? It's chaos. A bloodied Mascherano is chasing the ref. Surely the game has to stop.
86'   Shot comes in and Ighalo hits the side netting. It looked like it was gone in.
85'   Ndidi fouled by Banega. Free for the Nigerians from outside the box. Quite a dangerous one.
84'   This is nerve-wracking stuff. Shot comes in from Ighalo as he breaks in on the left.hand side. Ball rebounds to three Nigeria players and it's blocked.
83'   Pavon fouls Musa. He clips his legs with the ball in the air.
82'   Corner sent in and that's kicked up into the air.
82'   Corner. Pavon sends a cross in and it's blocked out by Etebo. Argentina to take.
81'   There's another Higuain miss. It's pulled back to him and he drives over.
80' Aguero comes on for Taglifico.
79'   Nigeria want a freebut the ref says it was a dive. Messi drives down the left-hand side and the ball is sent in but Argentina can't get a body on the end of it.
76'   REF says 'No, no, no, no!' and Nigeria aren't happy. He points to his head and says it was an accident. Goal-kick for Argentina.
75'   The ref goes to VAR!
75'   Ighalo misses. Musa plays it across to him and the ball is flicked up into the air. The striker shoots and it's blocked for a corner. They want a hand ball. They might get it too.
Meanwhile, Iceland have drawn level against Croatia.
74'   Argentina win another corner.
74'   Argentina back up the field. This is like deja vu.
73'   Mezo passes it out over the endline.
73'   Argentina win a corner. Pavon takes and Argentina set up to launch another attack. 
72'   Ndidi with an absolute belter. He nearly scored too! Lovely play by Nigeria to get into the position. Argentina starting to struggle.
71'   Pavon gives it away. Argentina are not fit for purpose at the moment.
68'   Pavon wins a corner. He plays it to Messi and Musa wins it back off him. Nigeria counter. Argentina win it back. 
67'   Messi dispossessed. Nigeria with a very controlled defensive display so far. They don't even look like they're under the cosh.
66'   Pavon with a dangerous cross and it's grabbed by Francis.
65'   Banega with a ball to Di Maria and he miscontrols it. Argentina's biggest players disappearing at the moment.
64'   Referee getting all sorts of abuse now. Nigerian player not happy after hitting the deck.
64' That's a foul by Banega as he slides in on Ndidi and catches him late. It wasn't the challenge, it was the mouthing after the fact.
63'   And now Messi is fouled. Argentina with loads of the ball but no chance of breaking through Nigeria.
61'   Argentina with their own break. Omeruo chases Pavon but he can't keep up. Cross come sin and Troost-Ekong clears it for a corner.
61' Enzo Perez is replaced by Pavon.
60'   Nigeria showed just then that they are really dangerous on the break. They're sitting deep now against an increasingly-desperate Argentina.
59'   Musa races clear. He turns Mascherano and leaves him for dust. His cut-back is blocked out.
58'   Argentina pick it up all over again. they are back in possession. This game is about to get very, very interesting.
57'   Banega with a lovely cross into the box. Higuain close to it but it's cleared.
56'   Ball comes in and Ndidi is whistled for putting an elbow into the face of an Argentinian defender.
55'   Tagliafico goes down as he goes over the top of Ighalo. The half-time sub is down injured too and that's a free to Nigeria.
54'   Balogun goes down in the penalty are again and Rojo is not happy with his jumping around! he goes down and has a word in his ear as he is on the ground.
52'   Now Banega with a very well times tackle in the box. He gets the ball off Ighalo but he had to be careful. It's out for a corner.
50'   Moses puts a hand across Di Maria and he falls in the penalty area. He wants a spot kick but the referee rightly tells him to get up.
50' Moses just rolls that home. Straight down the middle.
50'   Mascherano not taking this lying down as he talks to the referee and tries to make his case. The referee sends him back away from the scene. Loads of pushing and shoving. Moses to take the penalty!
48' Penalty! The referee blows Mascherano for pulling down Balogun. He gives a yellow card.
48'   Two Argentine defenders combine and head it out for a corner. Etebo the man to take but not before the referee can have a word with a couple of lads in the box.
48'   Nigeria send the ball in and they win a throw. Musa to take. 
48'   Ighalo fouled by Rojo.
47'   Banega with a sliding tackle to win the ball back off Moses. Lovely tackle too. Argentina back on the ball. Higuain squeezed out and Nigeria attack again.
46'   No other chances. Argentina get us back underway in St Petersburg.
  Former Watford striker, Odion Ighalo, comes on for Iheaneacho.
Nigeria the better team for half of that half.
45'+2'   Ball sent in and cleared. Sent in once more and it's caught by Armani. Referee blows for half-time.
45'+1'   Mercado with a fairly nasty one now as Nigeria push for the equaliser at the end of the half.
45'   He's down on the ground and we are back underway but that should have been a penalty?!
45'   Ball into the box and Iheanacho hits the ground. That looked like a kick to the head. It's a high foot and a penalty if the letter of the law being applied.
44'   Problem for Nigeria is they can't do anything with it up front either.
44'   Nigeria not out of this game completely. Argentina have backed off in the last couple of minutes. They can't get the ball out from the back and even when they do, they can't keep it up front.
43'   Mascherano takes a knock to the head and the referee stops the game. He is back up and okay and we are back underway.
42'   Mercado waltzes across to take the throw.
41'   We had a delay there and Moses didn't know what was going on. It's not a corner at all. It's a throw.
40'   Iheanacho with a ball down to Musa. He chases it down as Armani comes out of his area. 
38'   Nice move from Argentina. Banega, Higuain and Messi link up before their number 10 sends it to Di Maria. He shoots but it's blocked.
37'   Argentina very happy with their start here. They're happy enough to just calm things down now and maybe get to half-time, regroup and figure out how they're going to attack the second half!
35'   Mascherano fouls Etebo after a little battle with the midfielder in the middle. Mascherano and the ref exchange words in the middle of the field. Free sent in and headed up into the air. Armani gathers.
34'   Messi takes the free. Left-footed effort. He goes in the opposite direction and he rattles the post! What an effort.
32' Di Maria races clear. He is through on goal and Balogun hauls him down. Yellow card is the call. Chance for Messi to take the free now. That was a really dangerous attack and Banega the bman who set him free again.
32'   Foul by Enzo Perez on Mikel.
31'   Banega and Di Maria almost link up again. Lovely touch from the PSG player and Banega tries to head back to him. Balogun steps in and wins it back. But Argentina are back in possession. This is going to be a very long night for Nigeria.
30'   Banega and Di Maria almost link up with a perfect move. Nigeria put it out for a throw to prevent the one-two. Argentina taking control of this one again. Messi the difference so far.
29'   Francis back up and Argentina back up the field too. Banega to Higuain and he loses it. Nigeria launch it forward and Armani grabs it.
27'   Higuain set free inside the box. He gets a touch on the ball and Francis save but he took a nasty knee to the head. Higuain fell into him to be fair. 
26'   Banega wraps his leg around Etebo and no free. It's advantage for them as they try to move forward but with no luck. Long ball across the field to Moses and it's out for a throw.
25'   Tagliafico with what looked like a foul throw. Then he kicks it up off Moses' face for another throw.
24'   Banega into Di Maria and he loses the ball. Higuain works hard to win it back but concedes a throw. Nigeria trying to come back into this and Argentina not as dominant as they were but still, Nigeria the second best team so far.
22'   Otamendi drops his should into Balogun as he tries to see the ball out for a corner. No free and he sets down a little marker too! 'This is my territory here, pal'
21'   Banega on the run again and he mishits the pass. He has to scramble to try and recover and he ends up putting the ball out for a throw.
20'   Etebo goes nuts. He has a shout at the referee and the ref, Cuneyt Cakir, tells him to calm down. He does and they make up in the end.
18'   Victor Moses with a corner. He races down the right-hand side and his cross is blocked out behind the line. Iheanacho to take. He does and it's cleared. Argentina break through Di Maria. Etebo puts his hand up to his neck and pushes him over. Di Maria makes the most of it and it's a free to Argentina. 
16'   That will settle Argentina right the way down now. Angel di Maria wins a free down the left-hand side. 
14' THERE HE IS! GOAL! Lionel Messi scores. Argentina take the lead. What a finish with his right foot. Ball sent in over the top from Banega with a perfect pass and Messi takes it down. With his second touch he buries it into the back of the net.
14'   Mascherano is having an absolute nightmare so far. A couple of poor passes.
13'   Argentina started well but show they are still prone to a mistake or two. They get picked off and Iheanacho fails to take advantage. A laboured shot is blocked before he even gets to striker it properly.
13'   Higuain takes it down and Perez plays it inside to Messi. His pass inside is picked off easily.
12'   Etebo pulled down by a very defensively-positioned Higuain. He is playing very deep. Nigeria recover now. and move forward. Argentina chasing them with gusto and Mascherano slides in to win it back.
12'   They are playing such a high line. And now they win a throw. 
11'   Argentina player better football now than they did in the previous two games. Ball out wide is crossed in and Nigeria, looking shaky themselves, clear.
10'   Argentina back on the ball. Otamendi beckons a player to come to him and Argentina have space.
9'   Argentina in control again. Banega just feeds Messi and he drives forward before he tries a little pass across the box. It's blocked and Argentina recover but they can't do anything with their second effort either.
8'   Iheanacho wins a throw and Musa goes to take before dropping it for Mikel. Argentina fans whistle the delay. Musa ends up having a crack when the shot eventually comes in.
8'   Tagliafico breaks into enemy territory. He has a shot as he is falling over and he drives it wide. More promising from Argentina.
7'   First time the game opened up properly.
6'   Mascherano loses the ball and Musa gets it. Otamendi jumps in and two Argentinian defenders close him down. Throw. Nigeria attack and Argentina jump in to block it. Now Argentina counter. Messi hauled down. Free for Argentina. 
6'   Nigeria win it. Musa on the ball and a buzz around the stadium when he gets it. Argentina win it back though and they continue to dominate the opening stages of this game. Still no chances though.
6'   Di Maria chases one down the left. He is offside. First involvement down that left-hand side. Smart run from the winger but just a little hasty.
5'   Ball down the line to Higuain. Miles off target but Pipa applauds the effort.
4'   There's a free after Enzo Perez is taken down on the right-hand side. A little bit exaggerated but he wins the free. Argentina move forward and the ball inside is grabbed by Francis. He clears. Some whistles from Argentina fans as they want him to hurry it up. Just four minutes in and they are already in a massive hurry.
3'   Banega on the ball. Messi plays it down the right hand side and it's out for a throw to Nigeria. 
2'   Nigeria with their first spell on the ball and Idowu loses out. Nigeria pick it back up again and after a bit of a hurry, they lose it again. 
2'   Otamendi with a ball across the field to Tagliafico. Miles over his head. Very tame start to this one.
1'   Argentina take the ball out from the back. Higuain drops deep and gets his first touch. Banega too, who is already directing things.
1'   We are underway! Jon Obi Mikel kicks us off.
    Maybe a genuine question.
    The coin toss is done and we are ready for action....almost.
    Some very serious faces on display on the Argentinian players. Armani, the keeper who makes his debut tonight, looked particularly nervous.
    Plenty of psychoanalysis ahead of the Argentinian anthem and the looks on the players faces.
    The Nigerian national anthem blares first in St. Petersburg. 
    The two teams meet in the tunnel and they make their way out onto the field.
    Here is a look at the group ahead of the games. 


    Some eyes of course will be on the Iceland and Croatia game. They can qualify with a win and a Nigeria loss depending on the swing in results. It's all to play for tonight. We will be bringing you the goal updates on that game too.
    Francis, Depor's 19-year-old keeper, will be up against Messi today. He has only played a handful of games for the LaLiga side and this is the biggest test of his career. Argentina have only scored once in two games and will be baying for goals today.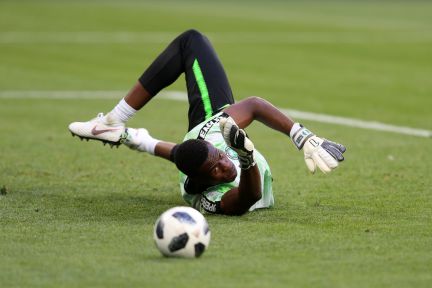 Mikel wearing a protective glove after taking a knock to it in the Iceland game.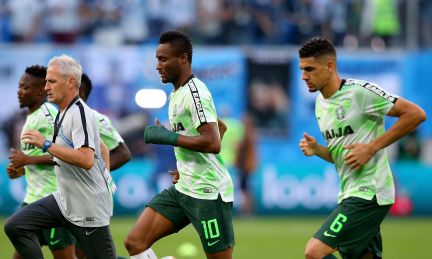 This is the moment of truth for Argentina.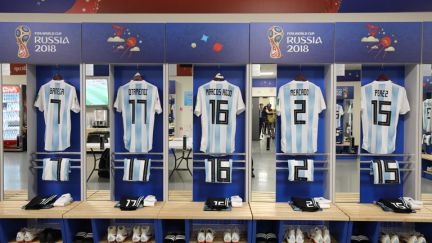 This is Franco Armani's debut for Argentina. No pressure! The River Plate keeper is 31 and Sergio Romero was supposed to be the starter. Then Willy Caballero made a mess of his chance. And now .... cometh the hour, cometh the man! Well, truth be told, we don't know anything about him but we hope he does okay for himself.
    Here's how FIFA think they'll line out but I doubt Enzo Perez will be playing as a right midfielder.
    Banega comes in and so does Rojo too. It looks like a 4-3-3 from Sampaoli with Perez, Mascherano and Banega in the middle and Di Maria, Messi and Higuain in attack. Or maybe a 4-3-1-2?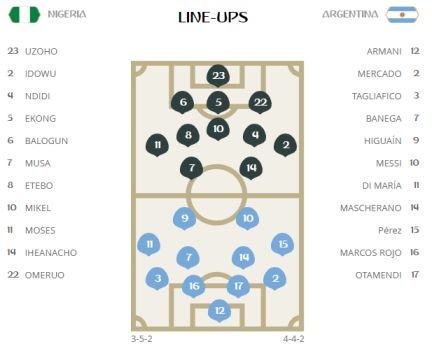 So we have Sampaoli's team news and a glimpse into his mind and what he might be thinking for this moment of truth. He starts Higuain and drops Aguero, who was critical after the Croatia defeat. He said "let him say whatever he wants" in a very dismissive manner after the game when asked about something Sampaoli had said after the game. He also drops Caballero, who dropped a clanger against Croatia, that led to the first goal.
    Nigeria XI: Francis, Omeruo, Balogun, Ekong, Idowu, Etebo, Ndidi, Moses, Mikel, Musa, Iheanacho.
    Argentina XI: Armani, Mercado, Tagliafico, Rojo, Otamendi, Mascherano, Perez, Banega, Di Maria, Messi, Higuain.
    Nigeria have seen over 2.5 goals in their last 4 matches against Argentina in all competitions.
    It's really all eyes on Argentina tonight though and what Sampaoli does. He is reportedly ready to drop Aguero and install Gonzalo Higuain as the team's striker.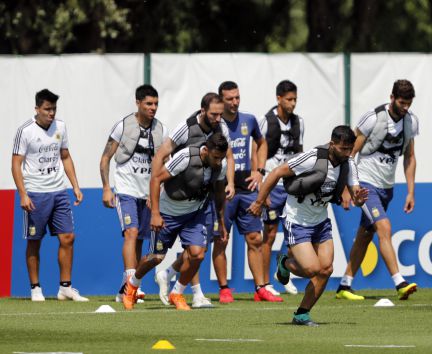 Rohr's switch to a three-man defence against Iceland and it worked a treat for them. Iceland barely created a chance and Nigeria looked dangerous in attack. We are awaiting team news to confirm what Sampaoli and Rohr are thinking.
    BUT... there is another team playing tonight too! Nigeria sprung to life in that game against Iceland and Ahmed Musa was excellent. His two goals sealed the deal for Nigeria and gave them a chance heading into the last game of the group.
    "The way the match was structured against Croatia didn't suit Messi," Sampaoli said ahead of the game. "We'll try to make it better and hope that he will be able to receive the ball a lot more."
    Another good read by Pablo Zabaleta on Messi and the pressures on him at the World Cup with Argentina. He says, "the happiest I saw Lionel Messi when I played alongside him for Argentina was in 2012 - he scored a hat-trick against Brazil in New York, and he played the whole game with freedom and a smile on his face." No sign of that smile in the last two games but there might be abandon in his play tonight and that could be something to behold.
    You really have to read this by Jorge Valdano on where Argentina went wrong. It is at once emotional but well argued and insightful. Top stuff.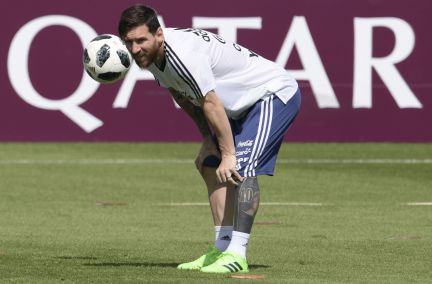 As always, we've pulled together a simple guide for anyone needing to check what time the game is on in their part of the world, as well as info on broadcasting options to complement our live footballing lyrics. Here you go... Nigeria - Argentina: how and where to watch
  Why don't you get yourself in the mood for what promises to be an exciting night's action by perusing our preview below, which was carefully crafted by our very own Rob Train just for you. Yes, you!
Where it gets more complicated is if Nigeria draw with Argentina and Iceland beat Croatia (other factors will decide between the Africans and islanders) or if Argentina and Iceland win (again, we check the finer points). Don't worry though, as both games progress I'll keep you bang up to date with how it affects the group.
Nigeria currently sit second in Group D, on three points after an impressive second half display in game two against Iceland, and know that a win ensures they go through along with Croatia. The islanders have the solitary point they secured in their opening game with Argentina, and play group leaders Croatia knowing in win is required to have a chance of progressing. Argentina, also on one point, sit bottom of the group and also need a win if they are to have any hope of qualifying. (A quick guide to Argentina's path here)
It's Tuesday, 26th June 2018, and teams are starting to take their places in the round of 16 at the World Cup in Russia. Tonight we will see which, if either, of Nigeria and Argentina can join them and prolong their stay.
Nigeria vs Argentina live | World Cup 2018 Group D: match preview
Rob Train
Argentina would not have predicted the hole they find themselves in Russia before the tournament, which they went into among the favourites as is customary, but anyone who watched their qualification campaign would have had more than an inkling that Jorge Sampaoli's World Cup campaign was built on sand.
It required a Leo Messi hat-trick in the final round of qualifying to ensure the Albiceleste did not suffer the ignominy of missing out on the tournament entirely and it may well require another wave of the diminutive magician's wand to prevent his side from stumbling at the first hurdle in Russia.
There are various permutations in Group D but only one that need concern Sampaoli and his misfiring players: Argentina have to beat Nigeria in Saint Petersburg to have any chance of reaching the last 16. They also need Croatia to beat Iceland, and Zlatko Dalic has already indicated that he will rest several key players in the other group encounter on Tuesday.
Argentina have been crucified by their national press after a 1-1 draw with Iceland in their opening game and a 3-0 hiding from Croatia in their second.
Redemption is not out of the question for Sampaoli's side but they will need to show considerably more guile and grit than they did against Croatia to get past an energetic and skilful Nigeria side who will be acutely aware that a draw do them quite nicely unless Iceland are battering Dalic's side in Rostov-on-Don.
Sampaoli may be tempted into a complete rethink after his side were humbled last time out. Ángel di María, Paulo Dybala, Giovano Lo Celso and Gonzalo Higuaín all started on the bench against Croatia and given it is a must-win game, the Argentina coach is not afforded the luxury of a patient approach.
Whether Willy Caballero retains his place in goal after his error handed Croatia winger Ante Rebic a free goal to start Croatia's rout remains to be seen but as was said before the tournament, Argentina's wealth of attacking talent is easily unbalanced by a mediocre midfield and a suspect defence.
Nigeria will go into the game with plenty of confidence after beating Iceland 2-0 in their previous game – the first time the Scandinavians had conceded more than once at a major tournament – and in the knowledge that Argentina will be bowed by the weight of pressure on their shoulders from the outset.
And if Sampaoli and his charges needed any further proof that the stars are aligned against then in Russia, Achilles the cat, who has correctly predicted the score of all three World Cup matches played so far in Saint Petersburg, has tipped Nigeria for victory.