REAL MADRID
Exit Strategy: 9 Real Madrid players with their futures in the air
Lopetegui was presented on the 14th of July as the new manager of Real Madrid and was confronted with several issues to deal with including Ronaldo and Bale. USA vs Curaçao: Gold Cup live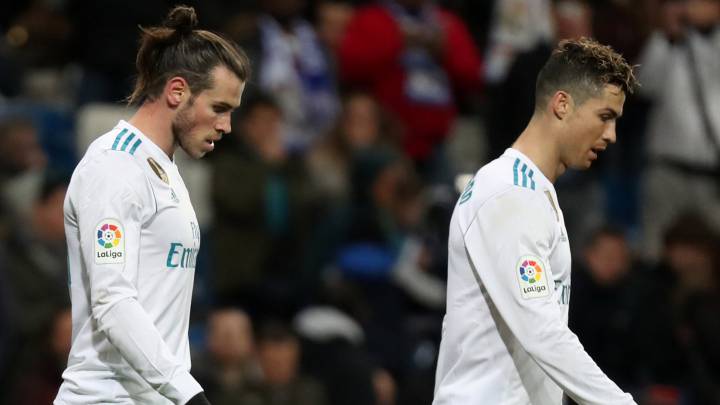 Julen Lopetegui was introduced as the manager of Real Madrid on June 14th and, since then, has been working in Valdebebas along with his assistants to plan for next season. The manager had plenty of open cases on his desk when he took over and they must all be resolved. The issue of the goalkeeper, signings, sales and loans (Omar Mascarell has already been sold to Schalke) have to be dealt with and Casilla, Achraf, Vallejo, Marcos Llorente, Ceballos, Kovacic, Borja Mayoral, Bale and Cristiano all have uncertain futures. Benzema deserves his own article as Carlo Ancelotti has asked De Laurentiis to sign the striker to bolster Napoli's options. He is still under contract with Real Madrid and doesn't want to leave and the club will have to assess a deal if it comes in.
Kiko Casilla
Madrid want to sign a goalkeeper to compete with Keylor Navas, a man who was undisputed as the starter under Zinedine Zidane. The club has already signed Lunin, a young Ukranian for the future, but Lopetegui has to decide on a loan, to keep Casilla as the third keeper (this would mean Luca Zidane's departure) or to send him to Real Madrid Castilla. He is aware that after three years at the club, his future is away from the Bernabéu. Allisson from AS Roma was the favourite but his high price and Monchi's tough negotiating stance has brought Thibaut Courtois back into the conversation. Madrid value Casilla's good attitude and will help him out if he is to leave.
Achraf
The future of Achraf is linked heavily to Álvao Odriozola, Real Sociedad's right-back, a player they want to sign to reinforce their side this season. His release clause is €40 million. If Odriozola does arrive, it will be at the expense of Achraf's place. Last summer, Real Madrid's idea was to loan Achraf to a La Liga club but Zidane chose to sell Danilo to Manchester City. Achraf stepped into the breach when Carvajal went down with a heart confition and this forced him to mature in a hurry. His performances were good but prove he is a bet for the future and not the present at the club. For this reason, a loan makes the most sense, and Borussia Dortmund are the club most interested in signing Achraf. Alavés and Real Betis are also interested.
Jesus Vallejo
Before Zidane's resignation, Real Madrid had plans to move Vallejo on in exchange for a defender with more experience as the 21-year-old's future hung in the balance. It wasn't that they didn't have confidence in. It was the opposite. They are very happy with his commitment and attitude but they want to loan him to keep his development going and so they don't stall his growth. The arrival of Lopetegui helps him as he has always shown faith in the defender. He even took him to Russia to help him grow and to train with Spain's first team squad. He did miss 19 games last season but with Lopetegui in charge, Vallejo is delighted. Getafe are the latest club to knock on the door enquiring about his services and he would be open to a loan if Real Madrid decide it as he has always put the club and their decisions first.
Marcos Llorente
Marcos Llorente has decided to leave Real Madrid this summer. He was vital to Alaves' performance in 2016-17 but turned into little more than a decorative piece in Zidane's side last year. Zidane did not trust him and only gave him 1,064 total minutes. He gave him six starts in the Copa del Rey and just five in the league of the 13 he played in. He was left out of the Champions League squad in nine of 13 encounters and played just 23 minutes in that competition. Not Lopetegui has to decide what to do with him. The player does not want to spend another year sitting on the bench. Alavés continue to dream of his return.
Dani Ceballos
Signed for €16.5 million last summer after winning the best player award at the European under-21s with Spain, Ceballos arrived to help out Luka Modric but Zidane never had faith in him. It was refreshing when he played and scored two against Alavés but he spend his time between the stands and the bench throughout the year. He finished the season having played the least amount of minute 899. Lopetegui's arrival certainly changes things but he still won't be a vital player in the team. Ceballos knows what club he is at and he knows how young he is but he stil wants to play more and both sides could reach an agreement on a sale. Real Betis would be delighted with his return.
Mateo

Kovacic
The Croatian has gone public with his desire to leave Real Madrid. At 24 years of age, he wants to be the protagonist and he has communicated to the club his wish to find a place where he can be the main man. In Madrid, they still rely on his and his contract does not finish until 2021 with a release clause of €300 million. These two things will force any interested club into sitting down with Real Madrid to negotiate. He currently has six clubs interested in his services: Roma, Napoli, Inter Milan, Juventus, Manchester United and Tottenham Hotspur.
Borja Mayoral
Borja Mayoral returned to the club last summer after a loan deal at Wolfsburg to replace the departed Mariano and Alvaro Morata. But Zidane didn't rely on him and he only played 927 minutes last season - only Ceballos played less. This was despite scoring once every 132 minutes. Every time he played, he showed character and hunger for goals. Because of this, the club might consider a loan or sale with a buy-back clause. He could turn into the next Morata, who left for Juventus and returned to the Bernabeu with international recognition as a world class striker. Real Betis, Getafe and Levante are all paying attention to his situation.
Gareth Bale
It was Gareth Bale himself who declared his need to sit down with the club and potentially leave if that's what it came down to. He said he thought he had earned his place in Real Madrid's eleven for the Champions League final but lost his place before coming on and scoring a cracking goal. "I need to play every weekend," he said. "I have to sit down and talk to my representative," he continued. Lopetegui's arrival makes the sky a little more blue for Bale but he has suitors and could still leave. His agent says he has offers to the tune of €150 million but Real Madrid might request more considering his performance in the Champions League final and the price they paid for him in 2013 - €101 million. A lot depends on Neymar and Cristiano Ronaldo and what dressing room they call their home next season.
Cristiano Ronaldo
The 'hot potato' at Real Madrid. Cristiano Ronaldo, 33 years of age, distanced himself from the the club after they had sealed the victory over Liverpool by saying it was very nice to play at Real Madrid and that he would give his answer in the next few days about his future. That 'answer' never came. Cristiano's anger comes from Florentino Perez promising a payrise that never came. In addition, Perez' constant flirting with Neymar has not helped. The Portuguese does not understand the obsession with the Brazilian and his future will not be resolved until the end of the World Cup. Without doubt, this is the biggest question mark hovering over the Bernabeu this summer.