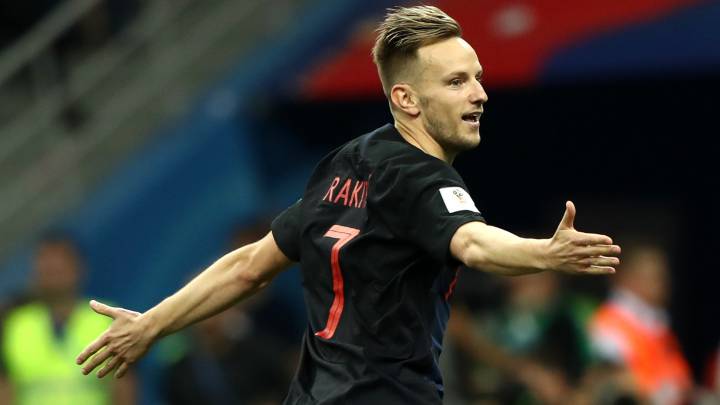 Croatia 1-1 (3-2 on penalties) Denmark: match report
Croatia beat Denmark 3-2 in a penalty shootout to reach the quarter-finals of the World Cup on Sunday after the round of 16 clash finished deadlocked at 1-1 after 90 minutes and extra time at the Nizhny Novgorod Stadium.
Luka Modric had the chance to send his team into a quarter-final against hosts Russia with a penalty four minutes from the end of extra time but Danish goalkeeper Kasper Schmeichel dived to his left to save the spot kick.
A dramatic start with two goals in the first four minutes promised a full-blooded contest to decide who would meet Russia in Sochi on Saturday after the hosts beat Spain on penalties in Sunday's early game.
Denmark went ahead after 57 seconds when Mathias Jorgensen scuffed the ball over the line off the foot of goalkeeper Danijel Subasic but Mario Mandzukic had the Croats back on terms with an equally scrappy finish three minutes later.
The remainder of the contest failed to live up to the frenetic start with the physical Danes successfully nullifying the threat of the Croatian midfield that lit up the group stage of the tournament. Ivan Rakitic scored the winning penalty after some excellent saves from Subasic and Schmeichel in goals for the respective sides. Croatia carry on in the competition but will need to improve if they are thinking of progressing beyond the next round.
Croatia vs Denmark: how it happened
  Rakitic to take the penalty that could win it for Croatia. He slots home. Never in doubt. Croatia are through to the quarter-finals.
   Joergensen to take. Subasic saves with his feet. Heartbreaking stuff.
    Pivaric, the sub, steps up to take. He takes a long run up to it. Schmeichel saves.
    Schoene now. He cleans the mud from his studs. Takes and Subasic saves. 
  Modric steps up. Brave man. He slots it home.
  Krohn-Dehli takes the ball and places it very gently on the spot. He slots home! Nice penalty.
  Kramaric stops before he takes and he slots it home.
    Kjaer, the captain up, and he absolutely buries that. Top corner and Subasic barely even dives. 
    Badelj steps up now and he Schmeichel saves with his feet.
    Eriksen misses it. Subasic saves it onto the post. 
Denmark up first as Eriksen makes his way to the penalty spot.
  Referee giving Subasic and Schmeichel a talking to now to explain what they can and can not do.
120' GAME OVER! More penalties. 
120'   No, that won't do it. Croatia work it really well and then Kramaric drives a shot over the bar.
120'   Croatia really improving now in the last couple of minutes.
119'   Modric tries to end it again with a shot. Sends it straight at Schmeichel.
118'   So, we will have penalties, it looks like. 
116' Modric has his penalty saved. Schmeichel saves it. He goes to his left and saves the penalty.
116'   Modric to take. He is up against Schmeichel. 
115' Schmeichel wants VAR and even if he gets it, it's still a penalty. 
115'   Schmeichel wants VAR. Lovely ball by Modric to Rebic. 
114'   Penalty for Croatia. 
112'   Attention turning fairly swiftly to penalties! Who would you prefer in goals for a penalty shoot-out. Schmeichel or Subasic?
112'   Jorgensen with a header and that's wide. 
111'   Denmark continue to look more dangerous but I'd be lying if I said this game was fun. Both teams seem happy to let it go to penalties.
108'   Sisto came on at half-time in extra-time for Braithwaite.
108' Mandzukic coming on for Badelj
108'   Pione Sisto gets the ball on the left and he does a full turn before shooting. He curls it just wide with his right.
106'   Jorgensen breaks free and sends it towards goal.
106'   Aaaaaaand we're back!
105'+1'   15 minutes left.
105'+1'   That should do it. A throw for Croatia and they can't do anything with it. Ref blows it up.
105'+1'   One minute of added time in extra-time's first half.
105'   Ball sent in to th front post and it's cleared again. Schmeichel tells his players to calm down as he has a goal-kick.
105'   Corner sent in and Denmark clear. Modric picks it up and wins another corner!
103'   Lovely ball by Modric to Kramaric and he sends a shot that is deflected up over the bat and Schmeichel takes no liberties with it. He touches it over to makes sure it doesn't sneak in.
101'   Deep into the first half of extra-time. This game tcontinues to have penalties written all over it.
99'   Schoene with a lovely little backheel and shoots. Drives it wide but Denmark continue to look more threatening.
98' Krohn-Dehli coming on for Delaney.
98'  Kjaer on the ball. Denmark looking for a way through.
97' Kramaric comes on for Perisic.
97'   Eriksen sends one back towards goal and it's out for a throw to Croatia. 
96'   Corner sent in and sent back out for a throw.
95'   Eriksen down the right and it falls to Braithwaite. He crosses and it's cleared. Knudsen cuts inside and strikes a cross low and hard. Cleared for a corner! Denmark definitely looking more dangerous.
94'   Denmark have started this half of extra-time with more purpose. Eriksen wins it and plays it to Schoene. 
93'   Corner and Schoene sends another one in but it's out for another corner as it takes a deflection.
92'   Knudsen with a cross from the left. Headed into the danger zone and Croatia head away. Schoene sends it back towards goal and catches Mandzukic with an elbow as he does so. Quite unlucky. Mandzukic should be okay.
91'   We are back underway! Let's hope the next 30 is more exciting than the previous 85.
Kjaer and Modric up for the toss before we start extra-time.
90'+3' GAME OVER! We are going to extra-time for the second time today.
90'+3'   Corner for Denmark and Subasic sends it clear with a fist. Braithwaite volleys it back towards goal but it was always going wide.
90'+2'   Rakitic with an effort that nearly sneaks past Schmeichel. He probably had it covered though. Wide in the end.
90'+1'   Three more minutes.
89'   I would be very, very surprised if this didn't go to extra-time.
89'   Shot from Schoene and that's wide. Goal-kick for Subasic. 
87'   Ball into Schmeichel and he gathers to relieve some pressure on Denmark very recently. Croatia looking really dangerous.
86'   Rebic with a lovely move and cross to Perisic. He misses the ball and it's out for a corner.
86'   Really well done by Kovacic. He chases down a lost cause and the Danish defender lets him win it, thinking he has no chance. But he backheels it and Croatia win a throw. Brilliant.
85'   Croatia trying to break the deadlock. Cross blocked for a throw. Vrsaljko takes and Vida chests the ball to him down. 
84'   Perisic with an effort that goes just over the bar. Rakitic to Pivaric and Perisic tries it from a strange angle at the front post. Lands on the roof of the net.
83'   Kvacic really doesn't look comfortable. He tells the physios that he's okay. He just came on the field. 
82'   Jorgesen ball down to Subasic. Saved. Neither side able to do anything here. Kovacic on the ball and he drives forward. He lands really heavily on his shoulder as his head also hits the turf.
81' Pivaric replacing Strinic. He can't continue and has gotten through a hefty amount of work! 
80'   This is meandering to extra-time.
78'   There's another shot and Rebic drills it into Schmeichel's bread basket.
77'   Modric with a shot. That goes well wide. Vrsaljko crossed the ball and Denmark fail to clear. Modric will feel like he could have done better.
75'   Poulsen not happt. He battles with Strinic and gives away the free. He feels it was him who was being fouled.
73'   Chance for Denmark and that dribbles wide.
72'   Ball played into Jorgensen and he strikes low at Subasic, who saves with relative ease. He parries it into his own path.
71'   We have another change and it's Kovacic on for Brozovic.
68'   Perisic whistled for falling on the ball, it looks like, as Schmeichel line sup for the free out the field. 
66'   Cornelius is replaced by Jorgensen. 
64'   Perisic down the left and he breaks into the penalty area. He has so suffice with a corner. That comes in and Rebic chips one into the box after it's cleared and comes back down. Schmeichel with a ferocious fist clear.
61'   Delaney with a nice run and he finds Braithwaite, even if it wasn't meant. Braithwaite's touch lets him down even if he didn't know much about the ball that came to him.
58'   Both sides technically solid and good on the ball but they're not creating enough here!
58'   Denmark play it out and Poulsen wins a throw. Croatia back in possession and they try to work their way through the Danish defence. Perisic on the right. It's a nice ball but it's too far away from Rakitic. It rols out for a goal-kick.
56'   Poulsen with a ball into Braithwaite, who picks it up in a nice position. Oh, that shot was dreadful! He hit it off balance and it goes about 15 yards wide.
53'   Braithwaite races onto the through ball he was never going to get to and clashes with Perisic. Free for Croatia.
51'   Subasic gathers a long ball now and Croatia restart.
50'   Ball down to Mandzukic by Modric, who saw his run with laser vision. Mandzukic ruled offside though.
49'   Ball down the right and it's sent into Mandzukic. Goal kick in the end.
47'   Joergensen launches one forward and it's cleared by Croatia. Rebic absolutely clattered down the line by Dalsgaard. Quite the collision! Free Croatia.
46'   We are back underway and there have been a total of one change at the break. Christensen off for Schoene.
45'+2'   Half-time. 
45'+1'   Mandzukic down with an injury. He is up and limping around and will go off the field but it looks like he is okay to continue.
45'   Croatia on the ball and ball out to Strinic in the end. It rolls to Rakitic and he drives a kick at it with his left. Schmeichel smothers it.
44'   Very tactical affair now. Both sides probably happy to see half-time after such a crazy start. They have both settle into the game though.
42'   And another corner from Denmark. This gave hard really slowed down. Just as I type that, Eriksen lofts one into the box and it clips the corner of the goalpost. Dangerous for Subasica who was left scrambling backwards.
38'   Rebic wins a free now as Dalsgaard pulls him down. Chance for a delivery from Modric. It is a perfect cross and Lovren almost heads it home. Slides by the post with a host of Denmark players standing looking at it.
36'   Schmeichel nice and slow with this goal kick.
34'   Strinic drives forward and concedes a free. He hits the ground maybe looking for a sneaky penalty but he is the one caught for pulling a Danish player's jersey.
33'   Denmark throw in the end.
33'   Croatia pressing up the field now and cross comes in. Croatia keep it and Rebic shoots. It's blocked and Modric picks up the ball. 
32'   Ball comes straight back down and Subasic grabs it.
32'   Eriksen with a nice delivery and Croatia manage to get it away.
31'   Cornelius makes a nuisance of himself and forces Vida to head out over the endline. 
29'   Schmeichel punches away a strong effort from Rakitic. It's followed up by Rebic and Rakitic finds Perisic with a lucky pass back into the danger zone. He strikes it into the ground before following up and blazing over the bar. He wants a corner. Ref says no, so does Schmeichel.
27'   Braithwaite through again. Eriksen finds him with the pass and he slides to shoot. Subasic saves it, it hits Braithwaite and it's out for a goal-kick. Unlucky but Eriksen finding some nice space in the number 10 position.
27'   Braithwaite drives forward but he runs himself into trouble.
26'   Rebic with a really nice ball into Mandzukic but it's slightly too heavy and Schmeichel grabs it.
25'   Modric with a nice ball to Mandzukic and he can't stop it from going out for a throw.
23'   Corner worked short and Christensen crosses. It's blocked and Denmark keep the ball. Schmeichel looks for Eriksen down the line but it's over his head and out for a throw.
23'   Eriksen in a dangerous position and he shoots. It's blocked by Vida and that's out for a corner. 
22'   Cross from Perisic and it's cleared. Ball crossed in again and it's all the way across the field. 
20'   Penalty shout from Croatia. Mandzukic being pulled to the ground as he gets in front of Joergensen. Ref has a quick chat to VAR and they say play away... no penalty! Mandzukic still thinks it was one anyway.
18'   Eriksen with a lovely through ball to Braithwaite. His touch takes the ball away from him and Cornelius picks it up. 
17'   Cornelisu with the ball over the top looking for Poulsen. Subasic gathers that one again with no problem.
16'   Braithwaite gets the ball down the line and tries to flick it on to a teammate but it's straight to Subasic.
15'   Rebic with a cross and that's headed out. Croatia back on the ball.
15'   Croatia looking far more dangerous than Denmark at the moment. Modric cross and it's put out for a throw.
14'   Another dangerous attack by Croatia and it's brought down to the endline before being clipped inside. A few Croatian players running in to meet it but it's over all of their heads. Schmeichel lets it long but Subasic gathers that one.
13'   Nice cross as Lovren climbs for it but it's headed out. 
12'   Really nice effort from Perisic but it hits the wall and heads out for a corner. Modric to take.
11'   That could have been a penalty. Joergensen clips Rebic and he hits the ground. Ref, correctly, decides that it's outside the penalty area and says so! Rakitic and Perisic standing over it.
10'   Long ball down to Poulsen. Modric freed by Delaney on the counter.
10'   Another throw for Denmark, further up the field this time. 
9'   Croatia on the ball now and have control of this one. They can't do anything with it that time though as it goes out for a throw.
8'   Cornelius with a cross from the right but that's over everyone. Out for a goal-kick to Croatia.
7'   Croatia taking control now as Rakitic finds Modric. 
6'   Cornelius whistled for a free. 
4' GOAL! What is happening? Mandzukic buries the ball in the back of the net. Vrsaljko drives a shot towards the penalty area from the right that goes awry. It falls to Mandzukic and he buries it.
3'   Denmark launch is long as Croatia try to get control of this. What a start for Denmark.
2' GOAL! The ball into the back post. Delaney pokes it to Joergensen and he shoots through a sea of legs. It hits Subasic and hits the back of the net.
1'   Throw for Denmark. And they launch it into the box! GOAL!
1'   Eriksen ready to get us underway and he does! Denmark on the ball in the fourth last 16 tie!
    Formalities over and done with. We are ready for action.
    And now time for Denmark's anthem. 
    A very emotional Croatian national anthem first.
    Teams in the tunnel and ready for action. Kjaer of Sevilla leading Denmark out and Modric of Real Madrid leading out Croatia.
    Denmark XI: Schmeichel, Kjaer, Knudsen, Christensen, Delaney, Eriksen, Braithwaite, Jorgensen, Dalsgaard, Yurary, Cornelius.
    Croatia team news: Subasic, Vrsaljko, Strinic, Perisic, Lovren, Rakitic, Modric, Brozovic, Mandzukic, Rebic, Vida.
    Now, we have the battle of two midfield maestros.  
Zlatko Dalic's side are emerging as geniune contenders for the title after drubbing Argentina in a perfect group phase but Denmark, who qualified in second with a solid if unspectacular opening three games, will be determined to advance their own cause as two of the world's finest midfielders, Luka Modric and Christian Erikesen, go toe-to-toe.
Croatia and Denmark will duke it out in the Nizhny Novgorod Stadium on Sunday evening for a place in the quarter-finals of the 2018 World Cup and we'll be bringing you all the action live on AS English.
Croatia vs Denmark: match preview
Croatia will look to make good on their "Golden generation" tag against Denmark in the Nizhny Novgorod Stadium when they face Denmark in the last 16 of the 2018 World Cup on Sunday evening.
Blessed with arguably the finest midfield of any competing nation in Russia, Croatia topped Group D in style with three wins from three, including a 3-0 drubbing of Argentina, scoring seven times and conceding just once.
Denmark, who reached the showpiece in Russia through the playoffs, had one of the meanest defences in the group stage and went through to the knock-out stages in second place behind France. However, Age Hareide's side have managed only two goals in their three matches to date and are heavily reliant on the quick feet and nimble mind of Christian Eriksen.
The Danes did manage to keep France quiet in the their final encounter so Croatia may find opportunities at a premium and Hareide does have other weapons in his armoury including wingers Youssef Yurary Poulsen, who returns from suspension for this one, Pione Sisto and the so-far little used Ajax striker Kasper Dolberg, who possesses an instinctive eye for goal.
Croatia, the perennial dark horse, have seen the draw open up a little after landing in the half that does not feature Brazil, France, Uruguay and Belgium and are in a good position to emulate the class of 1998 and their third-placed finish in France.
The winners on Sunday will go on to face either Spain or Russia, with one of Sweden, Switzerland, Colombia or England waiting in the semi-finals. For many of Croatia's current squad, not least captain and talisman Luka Modric, Russia will probably be their last shot at World Cup glory.
Denmark will be a tough nut to crack but Croatia go into the game as favourites, a label they rarely carry in major tournaments but one that is starting to look more comfortable around their necks in Russia after a perfect group stage.