Brazil 2-0 Mexico: World Cup 2018, last 16 goals, match report
Goals from Neymar and Roberto Firmino ensured a relatively straight-forward win against Mexico in the last 16 game at Samara Arena on Monday. USA vs Mexico: FIFA Friendly live online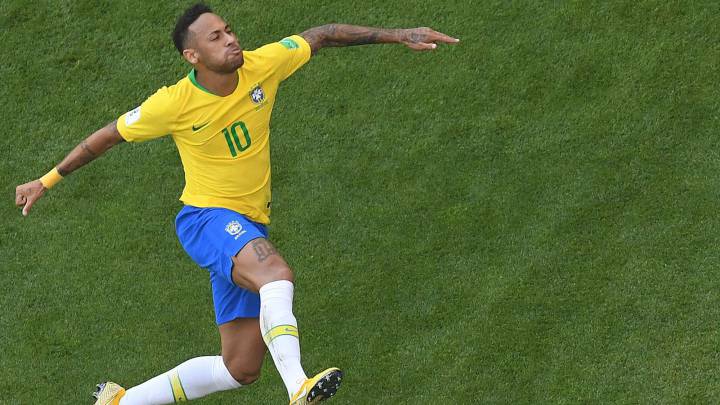 Brazil 2-0 Mexico: match report
Brazil made their way into the last eight of the World Cup thanks to a straight-forward win over Mexico at Samara Arena on Monday afternoon. Goals from Neymar and Roberto Firmino were enough to ensure the win as Mexico ran out of steam and couldn't find a way through Brazil's back four.
Mexico had the better of the opening exchanges but failed to capitalise on what looked like a solid plan. They were attack the full-backs, in particular Fagner on the right, and Hirving Lozano and Carlos Vela were having success down the wings.
Brazil, who started slow, ended up picking things up before long and had a flurry of chances before the half-time whistle.
The warning signs were there though. Neymar made it 1-0 after 51 minutes when a shot from Willian went awry. It landed at the feet of Neymar and he slid home. There was no way back for Mexico at that stage as they were torn between going for it and minding the house with Neymar growing increasingly more dangerous on the counter.
Any hopes of an El Tri comeback were ruled out when Roberto Firmino tapped home a Neymar shot that turned into an assist. It was 2-0 with just a couple of minutes to play as Brazil continued to reject any Mexico advances on goal.
It is the seventh time in a row Mexico have been knocked out at this stage of the World Cup while Brazil march on. And while they continue to flatter to deceive, they continue to get the job done when it matters most.
Brazil vs Mexico live online | World Cup 2018, last 16: latest news
90'+6'   GAME OVER!
90'+6'   Layun hits the ground under a challenges from Miranda. Goal kick. 
90'+5'   Raul Jimenez heads a cross up into the air. Alisson grabs it.
90'+4'   Mexico all out of ideas and they're about to exit the World Cup.
90'+4'   Ball out wide to Layun. Crossed in and Silva heads clear. 
90'+2'   Lozano strikes but that's a mile wide.
90'+2'   Neymar gets turned upside down and no free this time.
90'+1' Brazil make a late change. Marquinhos comes on for Willian.
90'+1'   Six minutes of added time.
89'   Simple as that from Brazil.
88'   Neymar runs down the left-hand side and Firmino pokes it home. That should be game, set and match.
87'   Offside. Vela the man ruled out as Alisson gets a fist on a high looping pass.
85' Coutinho being replaced by Firmino.
85'   Jimenez gets the ball but he hits the ground. No free but Mexico keep it and it's sent in by Layún. Fagner heads up into the air and it's another corner.
83'   SIlva down grabbing his ribs after taking a hit. Mexico players circle and tell him to get up.
82'   Brazil have been really solid in defence.
81'   Another pass down to Vela but that's out for another goal-kick.
80' Fernandinho coming on for Paulinho.
80'   Lozano with another cross. He's looking for Jimenez this time but that's no use. Alisson never in doubt grabbing that one.
78'   Mexico look tired and you'd wonder where they are going to get a goal from. Long ball over the top to Lozano and it's just perfect. He brings it inside, tries to cross and it's blocked out for what looked like a corner. It hit Lozano on the way out though.
77'   Neymar fouled again. Salcedo fouls the Brazilian as they try to break.
75'   Shot from Willian and Ochoa saves again.
72'   Neymar survives.
71'   Neymar rolling around now after being slightly stood on. He is having some sort of a fit, it seems.
69'   Cross comes in from Herrera. Lovely cross headed out and it falls perfectly to Guardado. It's blocked by Brazil again.
68'   Another really good attack from Mexico and Vela with a wayward pass. Brazil counter and Neymar shoots. It dribbles by the post and out for a corner as Salcedo gets a stud on it.
66'   Neymar caught by Herrera. He takes his time getting up.
65'   Paulinho seemed to go through the back of Lozano but not given. Mexico continue to attack and Lozano gets it from a lovely pass from Guardado. He shoots a mile wide though. Really poor effort.
64'   Willian with another effort. He drives that at Ochoa and he saves. Corner and the keeper isn't happy with how easy the shots are flying in.
62'   Long, searching cross from Layun but that's no use to anyone really. Aside from Alisson, who will be delighted with the catching practise.
61'   Nice attack from Mexico. Raul ball into Lozano. He shoots, it's blocked and falls to Vela. His shot is tipped over by Alisson.
60' Chicharito is off for Raul Jimenez.
59' Casemiro with a foul on Lozano and he is out for the quarter-final.
59'   Paulinho with a lovely shot and Ochoa saves it. His 22nd save of the game. 
57'   Jonathan dos Santos hits the ground and ref says no free. Looked like he did have a bit of a jump there. Brazil recover and then cough it up again.
57'   Ball over the top from Jesus to Willian and it's out for a throw.
56'   Willian to Casemiro. He plays it to Neymar and his strike is a mile over the bar.
56'   Osorio rejigging things.
56' Jonathan dos Santos will replace Edson Alvarez.
55' Willian is pulled back on the counter. Herrera is booked. 
53'   Jonathan dos Santos coming on for Mexico. Osorio has to go for it now!
53'   Corner comes in and Mexico threaten. Vela takes the ball down and moves into the box. Dangerous but slide comes in and Silva gets the ball. Another corner. Layún's shot is saved by Allisson.
52'   Guardado with a shot. It's blocked but Mexico a corner from Lozano's blocked cross.
52'   Salcedo launched himself at the shot from Willian, which kept Neymar onside.
51'   Neymar with the goal. Ball sent in from Willian. It looked like a shot from Willian but Neymar knocks it in.
50'   What a run from Gallardo. Coutinho just gave up as he chased him. He strikes over the bar though.
49'   There's another dangerous attack and it's crossed into the box and Salcedo clears. Another corner.
48'   Lozano runs at Mexico's defence and Brazil win it back. Neymar versus Layún and it's corner. Neymar plays it short. Coutinho cuts inside...waits, and waits and then strikes. He forced a good save from Ochoa. Another corner.
47'   Ball inside by Neymar and Jesus picks it up. He has Willian out to his right but goes alone and can't find the chance to shoot. He does eventually and it's blocked.
46' We are back underway and it's the yellow of Brazil who kick us off! 
    Marquez is replaced by Layun.
    There is talk that Chicharito might be injured but yet to be confirmed. 
That half certainly had a nice flow about it, swinging one way and then the other. A nice change from some of the negative football we've witnessed in the last 24 hours. 
45'   Mexico do indeed make it until half-time. They were improving in the end but the ref halts any hopes of a goal before the break.
44'   Ball sent in from the free and it's into Allisson's hands. Ayala close to it but can't get to it. Allisson launches and tries to free up Neymar and Ochoa rushes off his line and passes it to a teammate.
43'   Lozano got a little but lucky in that situation. His pass was poor and Luis jumped in thinking he could get it.
43' Corner headed out by Marquez. Lozano gets it and leaves Vela a little bit short. He gets taken out by Filipe Luis and the Atlético Madrid man is booked for that foul.
42'   Another attack. Neymar looks for the pass in behind and Mexico recover and clear again.
41'   Coutinho and Neymar combine down the left. Cross comes in and beats everyone. It's all the way out to Willian. He fires a cross in and Ochoa grabs it.
39'   It's quite far out but both Neymar and Coutinho lining this up. Neymar hits it and it's well over the bar. Mexico need to just calm down, keep the ball and get to half-time here as Brazil are really getting into the swing of this. I think Mexico know that too.
38'   Oh, a really sore one on Neymar. Edson Alvarez catches the Brazilian late in the air and he gets booked for the challenge.
38'   Coutinho strikes and it's blocked up into the air. 
36'   A foul on Neymar as Marquez is whistled. Brazil improving in this game. They heeded those early warnings from Mexico.
35'   Willian crosses and the ball beats everyone. Ends up at the back post with Mexico on the ball. They move forward and Guardado is fouled by Miranda.
34'   Another corner for Brazil.
33'   Mexico playing with fire. Jesus with a run into the box and he strikes. Blocked and there is a hint of a handball but the referee says no. Really dangerous chance there for Brazil. They have it back again.
32'   Willian versus two defenders. He slips and loses out. Brazil win a corner and Willian took a really heavy hit in the stomach. Looks like he is winded and he remains with his hands on his knees. 
30'   Really well done by Edson Alvarez. He let the ball over his head and it falls to Neymar in a dangerous position. He sticks with the task, however, and slides in to disposses the Brazilian. Mexico recover and Guardado is fouled.
30'   Another nice move from Mexico. Chicharito sends it out wide to Vela. He strikes but that's well wide.
28'   Gabriel Jesus with a foul on Guardado and ref plays advantage. Mexico a little bit rattled with that last Brazil attack. They bring it down the left and Vela moves inside. Really nice move from Mexico but Brazil recover. They've upped the intensity in attack.
27'   Such a dangerous ball. Ochoa first the free away. Falls to Jesus, who shoots. Brazil continue to apply the pressure and Mexico survive.
25'   Herrera bundles Coutinho over.
25'   Brazil continue to apply pressure but Mexico hanging on.
25'   Neymar takes Alvarez to school and turns him so easily. He shoots but Ochoa saves. 
23'   Mexico try to move the ball forward against. Herrera looks for Lozano but his pass is off target. 
21'   Another really slick move by Mexico involving Vela. He plays it to Herrera and he fakes a shot before getting it onto his left. He shoots and it's blocked.
19'   Mexico on the ball again and Fagner fouls Vela.
18'   What a move forward by Mexico. An overhead pass by Chicharito and it's played then into the path of Vela. He plays it across to Lozano. He strikes but Filipe Luis blocks it. 
17'   Brazil improving. Ball out to Willian and he crosses. Blocked by Salcedo and it's out for a corner.
16'   Long ball looking for Neymar and it's out for a throw to Mexico. Neymar was sure it went out for a Brazilian throw but maybe he was just doing that to try and convince the ref.
15'   Mexico are looking really good here. Ball in by Lozano after a lovely take-down. He sends it across goal and Chicharito can't get a touch on it. 
14'   Neymar to Gabriel Jesus and he loses it before winning it back. Brazil back on the ball. They're trying to take the sting out of a very lively Mexican attack.
13'   Mexico attack again. They win another corner. Herrera could have taken that down with his chest. He can't though. Corner comes in and Mexico back on the attack. 
12'   Filipe Luis launches the ball down to Salcedo. That's straight to Ochoa.
10'   Vela with a beauty of a pass down the line to Chicharito. He breaks into the box but the ball gets caught under his feet and Brazil clear. Mexico continue to apply pressure though and win a throw.
8'   Fagner puts it out for a corner. It's sent in and it falls to Chicharito. He's offside but a kick on it before Allisson came out and flattened him. Brazil set to launch it up the field.
7'   Neymar with a free into the box and it's headed out by Edson Alvarez. Mexico counter and Vela can't get a cross away. Guardado gets it and Mexico restart.
7'   Mexico won it back through Guardado but the ball out from the back to Alvarez is out for a throw.
6'   Brazil throwing it around and the back and good pressure from Herrera on Casemiro, forcing him back to Allisson.
6'   Neymar, who is playing more centrally. He strikes with his right and Ochoa punches it clear. Brazil win it back and they start another attack.
5'   Coutinho puts all sorts of pressure on Edson Alvarez. He pushes him in the back and it's out for a goal-kick.
4'   Brazil win the ball back and Miranda restarts their attack.
3'   Nice cross from Guadrado and Allisson with a weak punch out as far as Hirving Lozano. He strikes it on the volley but it's blocked by Miranda and it's a corner.
2'   Brazil take it down and throw it around the back. Filipe Luis to Coutinho and he hits the ground. He wants a free but it's not give. Mexic attack.
1'   Guardado with the ball down on the left and Fagner forces him to put the ball out for a goal-kick.
1'   We are underway in Samara. Mexico get us underway.
    That's the end of the national anthems. Not like a like stirring of emotion before these affairs. 
   And now time for the Mexican national anthem. 
    A jolly national anthem. Brazil team singing it loud and proud. So are plenty of the fans in the Samara Arena.
    The kids make their way out to the field with the flags and the players follow them out shortly afterwards.
    Warm-ups are underway in a roasting Samara. It's 34 degrees there today.

    Mexico have been knocked out of the World Cup in the last 16 for the last six World Cups in a row.
This is definitely going to be fun at least! Osorio says he is definitely going to attack. He says, "Tomorrow we'll try to dispute possession, we have midfielders with a lot of talent and we can utilize numeric superiority to keep the ball." 

    Meanwhile, Hector Moreno is suspended for Mexico and he is replaced by Rafa Marquez. The 39-year-old has a task on his hands today!
    Nothing too shocking for Mexixo or Brazil in that team news. We will start with having a look at Brazil. Marcelo misses out due to injury after he suffered a back spasm against Serbia. Filipe Luis replaces him. Also, Tite sticks with Gabriel Jesus up front instead of Roberto Firmino. The Man City star hasn't been massively influential but Tite likes what he brings to the side.
    Brazil XI: Alisson; Fágner, Thiago Silva, Miranda, Filipe Luis; Coutinho, Casemiro, Paulinho; Willian, Gabriel Jesús, Neymar.
    Mexico XI: Ochoa; Álvarez, Ayala, Salcedo, Gallardo; Rafa Márquez; Vela, Héctor Herrera, Guardado, Lozano; Chicharito Hernández.
    A fine article on Casemiro being Brazil's steadying hand. He should be tested today with Lozano and Vela in such fine form.

Ahead of this intriguing match, Mexico manager Juan Carlos Osorio revealed that he had told his Brazilian counterpart that their best player was Barcelona's Philippe Coutinho. "I told him Coutinho, ahead of the rest," he explained.
Brazil come into this clash with a familiar foe - having faced each other 14 times since 2000 - after topping Group E where they faced Serbia, Switzerland and Costa Rica. After a shock win over Germany in their opening fixture, Mexico ended as runners-up in Group F, behind Sweden.
Hello and welcome to our build-up and live coverage of the highly anticipated match between Brazil and Mexico. Both sides have shown signs of their particular strengths in the group stage, as well as some potential weaknesses, and now have a chance to secure a place in the quarter finals of the 2018 World Cup in Russia.
Brazil vs Mexico live online | World Cup 2018, last 16: preview
Germany, Argentina and Spain have all left the World Cup building. Three of the favourites ahead of the Fifa tournament struggled in their groups and for the two that escaped, their end was just another game away. This leaves Brazil and France as the standout teams looking to lift the famous trophy in just 13 days time but with so many upsets already witnessed, today's clash will hold little fear for the underdog, Mexico. And their more illustrious southern counterparts would be wise not to let any amount of complacency filter into the camp.
Brazil
The samba boys strutted into this summer's spectacle feeling optimistic. Not only did they have a squad that most countries would dream of, their talisman was going to have recovered from his injury just in time to add the cherry on top of the icing of a rather tasty cake. Neymar, as it has turned out, has not been the star of the group stage, and has occasionally cut a frustrated figure, however, if those games were just to allow him to gather sharpness ahead of the business end of the competition then we may be in for something special over the next couple of weeks.
From their much-trusted goalkeeper, Alisson, to their Premier choice of Gabriel Jesús or Firmino to lead the line, this Brazil side is itching to deliver. Thiago Silva and Miranda can handle most forwards and despite the loss of Marcelo (this game likely to have come too early for his recovery) Filipe Luís is a more-than-capable replacement. Add the solidity of Casemiro in the middle of the park and the creativity of Coutinho ahead of him, and the expectation surrounding Tite's current Brazil makes sense. If Neymar does find anything close to his best swagger, watch out!
Mexico
We've seen both sides of this Mexico team in just three games in Russia. The positivity that swept them to a tremor-creating victory against World Cup holders Germany in game one, was reversed in their final game against Sweden, one that cost them top spot in the group. Although they may not be saying it out loud, the prospect of facing Switzerland (in the so-called 'easier' side of the draw) would surely have been preferred to matching up against the tournament favourites and five-time winners.
In saying that, maybe this is exactly the fixture that Juan Carlos Osorio's team needs. Mexico have after all won six of their last nine competitive fixtures against Brazil, losing just twice, and should go into the Samara Arena full of confidence. But the central American side aren't known for getting past this round at World Cups. Their defeat to the Netherlands in the last 16 in 2014 was the sixth successive time El Tricolor have been knocked out in the second round. They last reached the quarter-finals when they hosted the tournament in 1986 and despite featuring at 15 World Cups they have only appeared in the last eight twice, both times as hosts.
Hector Moreno is a big loss for Mexico. Without his presence in the heart of the defence, they know the team will be stretched even further by the guile of the boys in yellow.