World Cup Final match report: France 4-2 Croatia
A Mandzukic own-goal, a penalty from Griezmann and second half strikes from Pogba and Mbappé sealed France's second World Cup. Cruz Azul vs America: Liga MX, live online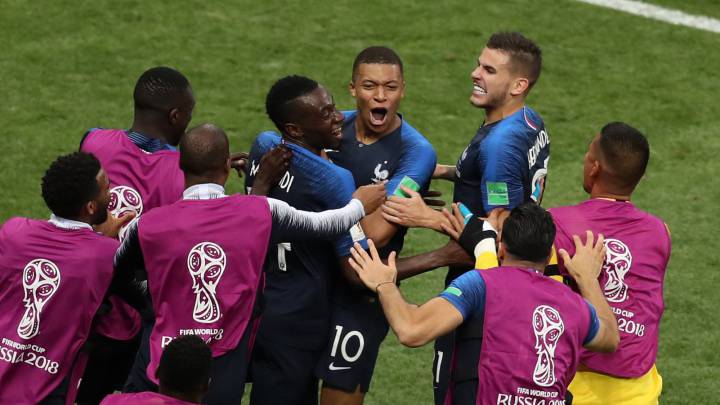 World Cup final France 4-2 Croatia: match report
It was fitting that the best World Cup in modern football history should finish with a game as action-packed, controversial and exciting as France versus Croatia on Sunday in Moscow. They were pitted as two opposites; A tired underdog versus an energy-filled favourite. In the end, it was two teams with seemingly no fear of losing and with everything to gain at the Luzhniki.
We were treated to three goals in the first half alone. And we had six by the time it was over. That's more than the last three World Cup finals combined and as many as the last four. It is the first time since 1966 we saw as many goals in the final too.
France opened the scoring when Antoine Griezmann bought himself a free and clipped it towards goal. Mario Mandzukic headed it beyond his own keeper and we were off.
Just 10 minutes later, Ivan Perisic sent a screamer - with the help of a deflection - beyond a sprawling Hugo Lloris as the intensity that both sides started with began to produce results. Zlatko Dalic said his side were still dreaming before the game and they weren't about to let an own goal derail their pursuit of glory. Their supposed destiny could not resist the force of a debatable VAR decision though.
On 38 minutes, we had the game's turning point and one that will be debated long after the champagne has stopped pouring. A corner came in from Griezmann and Ivan Perisic's hand caught the ball. The referee went to VAR and decided it was a penalty. Griezmann stepped up and slotted home to give France a lead they would not relinquish.
In the second half, Croatia started with more intention but France got their third when Paul Pogba scored his first goal of the tournament. He slotted him a left-footed effort when his right-footed chance was blocked back out to him.
Kylian Mbappe made it four with a relatively tame effort from outside the box and at that stage, the tiredness was starting to show in Croatia's legs. The three stints of extra-time, sixty minutes in total, was causing mistakes, unfinished runs and lapses in concentration. France seemed to be getting sharper - all 11 of them except Hugo Lloris, that is.
Mario Mandzukic pulled one back when the keeper made a dog's dinner of a clearance, or non-clearance. He tried to go around the long-legged striker and the Croatian poked it home. Croatia were given hope and Lloris was begging the football god's to speed up the clock.
But France took the sting out of their challenge and wrapped up a convincing World Cup win after an unconvincing run. Regardless of aesthetics or style, Didier Deshcamps' side are the world champions after an incredible summer of football and a World Cup final that will live on in the memory.
World Cup final France 4-2 Croatia live online | live updates
90'+5' GAME OVER! France win the World Cup!
90'+5'   Surely it not for Croatia.
90'+4'   Perisic down the left and Pogba sees it out for a goal-kick.
90'+3'   Free clipped into Pogba. Handled by Vida?! No, it's not given.
90'+3' Vrsaljko with a foul on Griezmann. He slides in and Griezmann saw him coming.
90'+1'   We will have five minutes in this World Cup final.
90'+1'   Vrsaljko blown for a foul on Tolisso. 
90'   Croatia getting frustrated now. Foul by Brozovic and it's sent straight down to Subasic.
89'   Rakitic outside the box and he forces the issue. Strikes over the bar.
88'   Perisic crosses and Lloris gathers.
87'   Shot by Fekir and that's grabbed by Subasic.
86'   Croatia down the right again but the ball to Vrsaljko is off target and France win a goal-kick.
84'   Pogba down on the ground now after he was pulled down by Mandzukic.
83'   Pogba foul and Croatia have a free. Taken quickly to Perisic and he won't let it carry on. Rakitic not happy and gets it back. Rakitic sends it straight to Lloris.
82'   Lovely ball into Pjaca but he can't control it and it's out for a goal kick.
81' Pjaca coming on for Strinic.
81' Fekir on for Giroud.
81'   Two more subs ready to come on. One for either side.
80'   Mbappe counters. He falls down against Vida but the referee tells him to get back up again.
79'   Croatia holding the ball now as France sit back. 
78'   Rakitic takes a strike and that goes just wide. Croatia really testing this France backline.
76'   Lovren concedes a throw. Lucas Hernandez to take and he takes his time.
75'   Croatia putting pressure on now. A flurry of balls into the box and each of them beaten away. Shot from Vrsaljko in the end and that's a mile wide.
74'   Ball back to Lloris and he picks it up as Perisic approaches this time. The French fans breathe a sigh of relief.
73'   Plenty of breaks now in this second half. Mandzukic down getting treatment. That was after Brozovic went down under a tackle from his own teammate Dejan Lovren.
73' Tolisso is coming on for Matuidi. 
71' Kramaric is coming on now for Rebic.
69' WHAT A MESS! Ball back by Umtiti and Lloris makes a mess of it. He tries to go around Mandzukic or something, I'm not really sure, and Mandzukic just pokes it home. This has been crazy. Six goals!
65' MBAPPE! That's 4-1 and France won't be caught now surely. Mbappe slots it home and Subasic is left doing in no-man's land. Lucas Hernandez with the excellent run and pass to the attacker.
65'   This is the problem for Croatia now. France counter and almost make it count but they can't get the ball out to the right quick enough.
65'   Rebic strikes but it's blocked by Pavard. 
63'   Perisic crosses and it's cleared. He bulldozed Lucas out of the way and there's no free. Croatia keep attacking.
61'   Corner now and it's headed out at the front post.
61'   My word. France go close again. Matuidi with the ball into the box. It's headed to Giroud and he tries an acrobatic effort. It almost falls to Griezmann but it's put out for a corner instead.
59' Mbappe plays it to Griezmann. And he plays it to Pogba. First effort is blocked and then the second one is not. He curls it home. 3-1 for France!
59'   Mbappe versus Strinic. 
58'   Lovren is fouled by Giroud and he's not happy. Perisic down the left and he clips it inside but it's too heavy and out for a throw on the other side.
57'   Griezmann drives forward now after Croatia lose it in attack. Vida slides in and France win the throw.
55'   Griezmann moves forward now and he plays to Matuidi. Out and Croatia drive forward.
54' Kante off for N'Zonzi.
54'   So, so dangerous from Croatia. Rakitic with a ball into Mandzukic and Lloris saves but he was offside anyway. 
52'   Now we have four intruders on the field as they are brought down and dragged off the field. That was strange.
52'   Mbappe with a run down the right and Vida is literally grabbing at fresh air. He strikes and Subasic saves.
49'   Mandzukic with another move forward and it's cleared by France. They win another corner and it's driven wide on the volley.
49'   What a dangerous ball down to Mandzukic. Varane gets a toe to it and Lloris comes out to chest it and save the day. Croatia have really started this half with intent.
48'   Rebic puts it out for a goal kick though.
48'   Really dangerous and France can't deal with it properly. 
48'   Rebic with a lovely strike with his left. Rakitic fed him the ball and he strikes but it's tipped over by Lloris.
47'   Griezmann lets fly with his left. He recieves the ball from Giroud but Subasic saves.
46'   We are back underway for the second half! No changes for either side at the half.
    A very controversial half of football. The referee, I think, was right for the penalty. His hand moves down towards the ball. 
45'+3'   That's it! What a half of football.
45'+3'   Another really dangerous ball down into the ball and Perisic can't get anything on it. 
45'+2'   Ball down into Mandzukic and he chests it down to nobody.... Himself and Perisic got their wires crossed.
45'+1'   Corner for Croatia now and we will have three minutes of added time. Rakitic with the delivery and Vida throws himself at it. He slices a header wide.
45'   Croatia win another corner as Umtiti receives treatment.
45'   Umtiti is down grabbing his knee. Looked like a player fell on top of him during that earlier corner. 
44'   Sent into the front post and France put it out for another corner. Cleared this time by Giroud.
44'   Lovren with a strike at the back post and it's out for a corner. Bounced up nice for him but he strikes it straight into a defender.
43'   Three or four fouls in a row. Mandzukic is pushed in the back by Umtiti and the ref plays advantage but no advantage comes.
42'   Rakitic drives forward and Pogba slides in to win it back.
42'   Croatia win a throw now as they try to level things up before the break.
41' Lucas Hernandez is booked for a foul. Not a yellow but the ref decides it is.
40'   Mbappe down the left and he squares. Croatia clear.
38' He slots it home. Griezmann with his fortnite celebration. He sent Subasic the wrong way.
38'   Griezmann to take now. 
36'   Perisic, who scored the equaliser, handles the ball and Subasic has to save Croatia now.
36'   He has given the penalty.
34'   The referee is having a chat to his VAR lads. And he calls for it! He is going to have a look at it.
34'   Corner for Croatia. Griezmann sends it to the front post. Matuidi heads it on and it's handled by Perisic.
32'   Rakitic with a ball down the right-hand side. Perisic races towards it and barges into Lucas. Throw for France. This has been a great final!
30'   Mbappe with a run in behind but the header on by Pavard saw Mbappe caught on the wrong side of the defensive line.
30'   This is high intensity stuff now.
28' WHAT A FINISH! My word. Perisic absolutly buries it. Left foot. Sent into the box and Vrsaljko heads to Mandzukic and he heads on. Perisic takes it down and absolutely drives it beyond Lloris.
28' Perisic breaks and Kante fouls him. Quite silly really as Perisic was going nowhere in a hurry. Kante has to play the next hour on a yellow.
27'   France really putting pressure on France's passes out from the back. Croatia finding attacking avenues harder and harder to come by.
25'   Croatia work it out from the back. Brozovic ends up heading the ball out of play and France have another chance to counter.
25'   Lucas wins a throw. 
24'   Ball delivered in and there are a whol load of players on the ground. Lloris punches away. Croatia win it back and Mandzukic delivers to Rakitic. His volley is miles off but Croatia have responded well.
23'   Mbappe races forward but Croatia survive. Just about. Perisic is fouled by Pavard on the counter.
21'   Modric with a decent ball in and Vida heads wide. Always rising over Lloris' goal.
20'   Uphill now for Croatia. Kante fouls Modric down the right-hand side. 
19' GOAL! France take the lead. Mandzukic heads the ball beyond Subasic. That will do down as an own goal.
17'   Griezmann looked like he dived. Free for France in a dangerous position.
17'   France best spell. It's short but looked quite dangerous. They win a free now as Griezmann is hauled down by Brozovic. 
16'   France coming into this now. Rakitic slides in and wins it off Giround. But Giroud wins it back. 
15'   Rakitic heads into Perisic's path and he breaks free. His cross is poor though and France get it away. 
14'   Perisic wins it off Mbappe but can't stop the ball from going out for a throw.
13'   Pavard all the way back to Lloris. He launches forward again and Croatia win it back. 
12'   Rebic prevents a Lucas Hernandes attack down the left
12'   Ball into Perisic and he takes a lovely touch but can't get a shot away. Goal-kick for France.
11'   Perisic with a first time cross and he clips it to a French defender. 
10'   Ball down the right-hand side and Umtiti just nudges Mandzukic off the ball.
10'   Giroud and Brozovic clash but no free and Croatia take the ball out again.
9'   Another ball in, this time from the right. Headed away again. Rebic fouls Pogba as he takes the ball forward.
9'   Nice corner and Giroud heads away. He had back-up arriving with Lloris but either way, France clear.
8'   France very slow out of the blocks here.
8'   Strinic sets up to take a throw. He plays it to Rakitic and he plays it back to his left-back. Mbappe stays with him and concedes the corner.
7'   Clipped down the left-hand side and Croatia win the throw. They win a free now as Modric gets set to take.
6'   Croatia are well-drilled. France slightly shocked as to their aggressive approach to start.
5' Hectic start to this. Very loud in the stands but no real pattern emerging just yet. 
3'   Perisic breaks with Mandzukic beside him. He does a stepover and loses it but France concede the throw. Good pressure from Croatia to start.
2'   Pavard with another throw now and Lloris gets his first touch. Modric presses high up the field and Umtiti's ankle is caught. Referee has a word with a Modric and France win the free.
1'   We are underway in the World Cup final. Croatia on the ball to start. France buzzing around and trying to win it back but Croatia calm things down and they end up conceding a throw.
    Asked what side of the coin, Russia or Coca-Cola?? No heads and tails. Weird.
    That's it. Massive cheers as the national anthems end. Action is almost upon us.
    Seven Nation Army blares. Two teams emerge onto the field. Flags wave and the national anthems are ready to be played.
    Two teams in the tunnel and almost ready for action. everyone looks surprisingly relaxed. Griezmann whistling, Modric staring into the middle distance. 
    Philipp Lahm brings the World Cup out and takes it out of the box they had specifically designed for the occasion. 
    They are bringing out a World Cup blanket onto the field. And now the flags are unfurled. That means we are close to national anthems and one step away from action. 
    That's all he is doing? That was disappointing but at least it's over.
    Now, it's time for Will Smith. Don't know that particular song but he's giving it loads.
    Nicky Jam just finished up. Okay, I guess, if that's what you're into.
    The official ceremony is underway. All I can see if people in a variety of costumes jumping around dancing. It's actually quite confusing. 
Kaka, who wasn't too shabby on the dancefloor himself, says for Luka Modric, football is "like a dance".
    Croatian fans on Nikolskaya street in central Moscow

    Today is the first ever day that Atlético Madrid will have a World Cup winner! Incredible really. They didn't have a single player in the World Cup squad in 2010 and no player from any other country has represented them while winning the tournament either.
    Subasic limbering up nicely. He hurt his hamstring against Russia but was fine against England and is good to start again today. 
    Teams emerging from the tunnel to start their warm-ups. Massive crowds already in the stadium an hour before kick-off. 
    Maybe slightly hyperbolic but Former Germany international Stefan Effenberg said he preferred Mario Mandzukic to Neymar and feels the Croatia star would be worth €200 million if he was younger.

    Zlatko Dalic will have to mastermind a first victory over Les Bleus to lead his country to glory in Russia in a re-run of the 1998 semi-final as they have played France five times and never won.

    Loads of talk of iunjuries, fatigue, knocks and whatnot. Not changes! This is a World Cup final and it seems nobody was willing to give up their place in the team over muscle soreness or fatigue.
    Croatia XI: Subasic, Vrsaljko, Lovren, Vida, Strinic, Rakitic, Modric, Brozovic, Perisic, Mandzukic, Rebic.
    France XI: Lloris, Pavard, Varane, Umtiti, Hernandez, Pogba, Kanté, Mbappé, Griezmann, Matuidi, Giroud.
    Zlatko Dalic says Croatia are not done dreaming yet: "We are still living our dreams, we are so close. Through my life and career, I went the hard way. I did not want to be just an average coach in Croatia. I had to start from the lowest club," he said. "Within a year in Asia, I became the best coach, and for three years, I was coach of Al Ain [in the United Arab Emirates], who are like Real [Madrid] in Europe. That was a tremendous experience for me. I coached two of the biggest clubs in Asia, so when Croatia's call arrived, I did not hesitate."
    The similarities between Sunday's World Cup finalists are few and far between, starting with a match-up between one of the favourites and a surprise package.

    Paul Pogba not counting any chickens before they've hatched. ""I'm really happy, but I don't want to feel proud yet," he explained. "I want to wait. We haven't achieved anything yet."
    Croatia have invited neutrals to get behind them on Sunday!

    Also, we make a case for each of the six players who could win the Player of the Tournament award.

    Hello and welcome to our live coverage of the World Cup 2018 final between France and Croatia from Luzhniki Stadium in Moscow on Sunday. We will have build-up, team news and stories from the stadium as we look forward to the biggest game in international football.
World Cup Final France - Croatia live online: preview
It's the final very few predicted as France take on Croatia at the Luzhniki Stadium in Moscow on July 15 at 17:00 CEST. While Croatia might not have been making very much noise before the tournament, they have captured imaginations as the country with a population barely north of four million plays in the biggest game there is in world football. Ivan Rakitic says each of those 4.3 million will be on the pitch with the players on Sunday afternoon. They might not be as star-studded as France but they have endurance and that might cause France problems.
France have a team laden with stars but have not been pushed outside of their comfort zone so far. On their journey to the final, they have not been taken to extra-time and that might prove a curse or a blessing against Croatia. Have the got the mettle to really scrap it out? Or have they been keeping their opponents at arm's length because of how good they are and can they do the same again.
These questions and plenty more will be answered come Sunday night. It is the first time since Zinedine Zidane's headbutt against Italy that France have made it to the final of the World Cup and it has been two decades since they won it on home soil in 1998. They got to the final of the Euros two summers ago and have been building steadily ever since. Blaise Matuidi missed the quarter-final against Uruguay never looked as complete as they did against, say, Belgium, after he returned. He suffereed a ribs injury against Belgium but should be okay to play in the final but if he does continue to struggle with that knock, it would be a massive blow to Deschamps' template.
Kylian Mbappe and Antoine Griezmann could catch Harry Kane for the winner of the Golden Boot and they are both on three goals each. The two are battling for a potential play of the tournament award too. Mbappe's pace and exquisite attacking play has seen him captivate the world and at 19, it has been something to behold. Griezmann's more practical displays have split opinion but they are no doubt impressive given he is moonlighting as a midfielder. He is not concerned with his own role and the sacrifice it takes as he explained in the press conference before the game.
Mario Mandzukic says Croatia reaching the World Cup final is "a mircale" and their attempts to play the underdogs has caused Blaise Matuidi to call b*llshit on claims that they will be tired.
Croatia are driven by their midfield but the class they possess in that area sometimes overshadows just how functional and important their attack players are. Ivan Perisic, Mario Mandzukic, Ante Rebic and whoever manager Zltako Dalic plays to fill out his midfield and and attacking six whether it be extra midfielder Marcelo Brozovic or Andrej Kramaric, they have done well. The flexibility Dalic has shown in his team selection and approach has been important they have plenty more talent on the bench including Real Madrid's Mateo Kovacic. Dalic will have to call upon some of his bench players on Sunday as Ivan Perisic could miss out due to a muscle injury and Ivan Strinic also went off in the semi-final against England.
The manager, who was only called up as a last minute replacement in October 2017 to save the country's qualifying campaign. He is fending off rumours of interest from the Premier League but if he can mastermind a victory over France in the World Cup final, he might be offered a role as the patron saint of Croatia in the coming weeks.