Modric back training while waiting for Florentino to return
The Real Madrid midfielder will hold a face to face meeting with the president when he will tell him his plan to take up Inter Milan's offer of a four-year contract.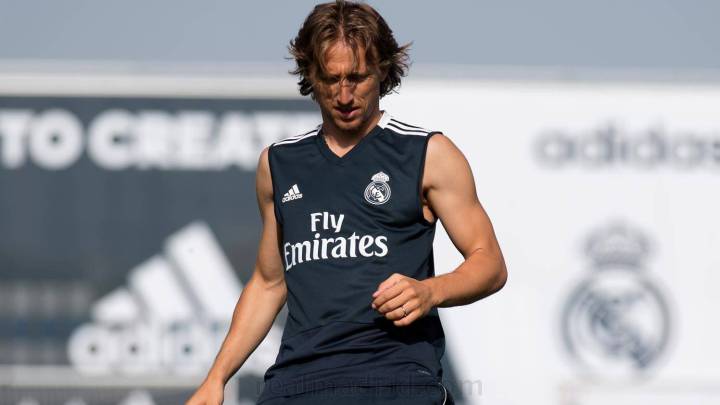 There was a fair bit of speculation as to whether Luka Modric would turn up for this morning's training session in Valdebebas - his first day back at work after the summer holidays and with doubts about his future occupying the front pages of the sports press in Spain and Italy. Inter Milan are making great efforts to bring him on board for the new season and the player is willing to accept the offer. But Modric did show up today and worked out alongside Casemiro, Marcelo and Varane. His compatriot and club team mate Kovacic, who also wants to leave, exercised on his own inside the gym at Real Madrid City.
Busy summer for Modric
Modric arrived on time, a couple of minutes after 9am this morning. It's been 74 days since he was last on duty with Real Madrid - on 26 May for the Champions League final in Kiev. Since then he helped Croatia reach the World Cup final and was voted the best player of the tournament. But now Modric is thinking about leaving. Real Madrid however, are prepared to renegotiate his contract and offer him a pay rise but won't allow him to leave. In Milan, they have offered Modric a six-year deal during which he would take home 150 million euros after tax - the first four seasons with Inter and the final two in China's Super League.
La Gazzetta: Modric will tell Madrid he wants to leave
According to reports in Italy today, Luka Modric will be meeting with General Director José Ángel Sánchez and will tell him personally of his wish to leave Madrid and join Inter. But that will depend on the outcome of the meeting Modric will hold with Florentino Pérez, who is due to arrive back in Madrid today from the US tour with the squad. La Gazzetta dello Sport report that Florentino has a gentlemen's agreement in place with Modric in which the player would be allowed to leave if he put in a formal transfer request. It appears that as far as Modric is concerned, that moment has arrived...